Question: What do kids love more than pancakes?
Answer: Making their own pancakes!
At Slappy Cakes, this is exactly what kids get to do.
Originally from Portland, Oregon, the Tung Lok Group has brought in Slappy Cakes to Singapore with two outlets, one at The Grandstand and the other at Resorts World Sentosa. The dining concept is simple, sit down at a table which has a built-in non-stick griddle and make your own pancakes.
---
-- Story continues below --
What type of pancakes you want to make is a bit more complicated. You have a choice of different permutations and combinations of batter, fillings and toppings.
Choice of batter includes buttermilk, peanut butter, chocolate and even zucchini. Next, you have the options of ordering "fixings", a code name for fillings you can include into the pancakes. These run the gamut of sweet strawberries ($3.00) and chocolate chips ($1.50) to savouries such as pork sausage ($3.00) and roasted mushrooms ($2.00).
Jars of golden syrup can be found at the tables but if that is not to your fancy, you can also order from a selection of syrups, spreads and jams.
Making the pancakes could not be simpler. Just squeeze the batter out onto the non-stick table griddle, dress it anyway you like and flip them over with the spatula provided when it is time to cook the other side. You cook it and dish it straight onto your plate!
After a while, round pancakes become way too boring. We bet that you would start dreaming up all sort of shapes and designs to create with the pancake mix.
Woof! Woof!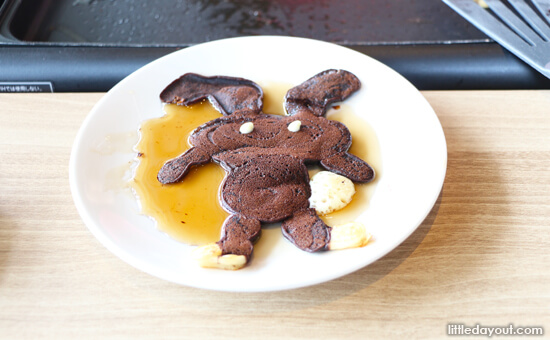 Bunny Pancakes
In case the thought of having only pancakes for a meal does not whet your appetite, there are other more substantial all-day breakfast items on the menu. The Classic Breakfast ($16.50) includes scrambled eggs with crispy bacon, toasted brioche and breakfast potatoes, or you can try the Country Fried Steak ($18.50) which consists of a hand-battered, fried chicken steak.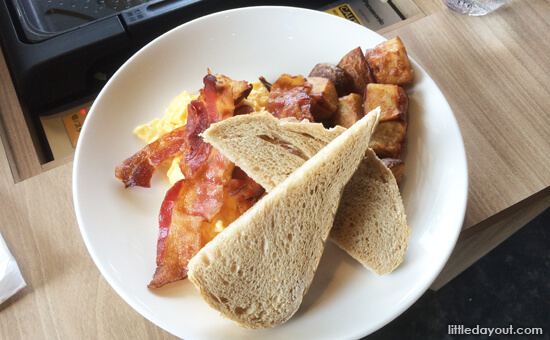 Slappy Cakes
The Grandstand
200 Turf Club Road (Old Turf Club in Bt.Timah)
#01-20/21
Singapore 287994
+65 6465 1814
Slappy Cakes
Resorts World Sentosa
26 Sentosa Gateway (next to Universal Studios)
#01-29
Singapore 098269
+65 6795 0779