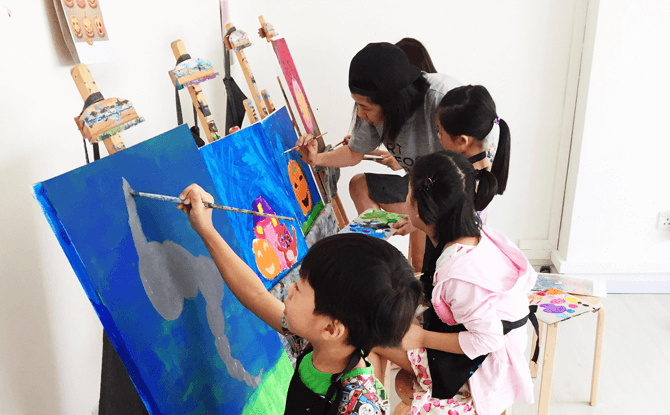 Like the nature of art itself, art jamming has many definitions, but all agree that art jamming is for everyone, regardless of age or skill, and there are plenty of places to get art jamming in Singapore.
How is it different from painting away by yourself at home? Well, other than materials such as paint, high-quality canvases and brushes being provided for you, there are options for staff to help you along your art creation journey, space for you to turn it into a social activity with friends and family, and the gorgeous environments are sure to inspire works of art.
Art Jamming in Singapore
Art jamming is a fantastic way for families to bond and express themselves.
We've sourced ten different places for art jamming in Singapore where you can try this fun activity for yourself!
Artify Studio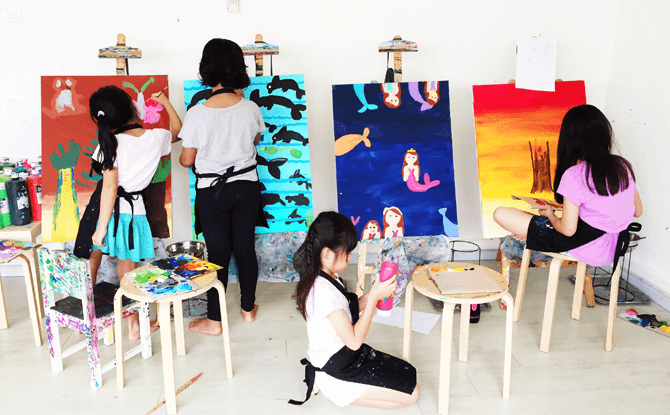 Branded as "a space to connect with people", Artify Studio is a hidden treasure in Textile Centre. They organise personalised workshops as well as parent-and-child art jamming sessions where the parent and child can bring back two personalized canvas paintings as keepsakes.
Artify Studio also runs the Liberty Art Jam with a "Pay by Honour" system. There is a recommended rate but with the flexibility to pay slightly more or less as needed. This is a fantastic way to allow art to be affordable for everyone, as well as an opportunity to prove that there's still so much kindness and goodness in the world.
Artify Studio
200 Jalan Sultan, Textile Centre, #08-05, Singapore 199018
---
Motion Art Space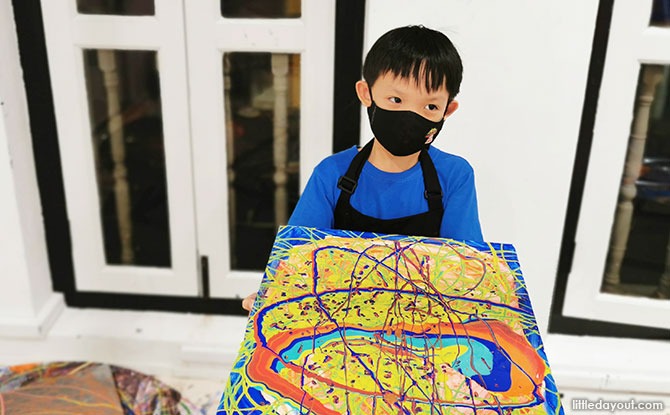 You don't have to be artsy to paint. Gather your friends or family and head to Motion Art Space at Arab Street for a quick and effortless art jamming session. Let the laws of physics do the trick of painting for you! Plan your colour palette, get the pendulum in motion and let go! More details here.
Motion Art Space
36A Arab Street (Level 2), Singapore 199735
---
Boulevart
Worried that you will run out of inspiration on what you should paint? Have no fear! Located at myVillage @ Serangoon Gardens, Boulevart provides a conducive environment, a large selection of reference cards for inspiration along with all the necessary materials.
Their simple price structure makes it a hassle-free experience, allowing more energy and time to immerse yourself in the art jamming session. Visitors might have to make bookings to avoid disappointment as they are often closed off for events. Look out for the chalk art on their blackboard which is entirely done up by themselves!
Boulevart
1 Maju Ave, #01-03,Singapore 556679
---
Arteastiq
Hailed as the place where art jamming in Singapore first started, Arteastiq is conveniently located in town and aims to deliver two of the best things in life: food and art.
Arteastiq has two art jam studios located in the city at Mandarin Gallery (flagship) and Plaza Singapura. They have many different daily special offers that make it a great date place, bonding location and even a place to celebrate birthdays! They also have a delightful menu serving up delicious meals such as chicken and waffles, crabcakes and matcha cheesecake, all served like pieces of art themselves.
Arteastiq
333A Orchard Road, Mandarin Gallery, #04-14/15, Singapore 238867
68 Orchard Rd, Plaza Singapura, #03-70/72, Singapore 238839
---
Heartroom Gallery
Heartroom Gallery has open art jamming sessions that provide a social environment for visitors to meet likeminded people and experience art. Enjoy the process of working individually or collectively with others to create a piece of art. You can also check out their art classes where you can learn brush painting, manga drawing and many more. Find out more here.
Heartroom Gallery
Blk 44 Owen Road, #01-311, Singapore 210044
---
Art Jam Studio
Specializing in 'paintertainment', Art Jam Studio has an interesting concept of payment as it is based on a membership fee. However, this means that you get exclusive access to the fantastic rewards, such as priority booking over non-members, discounts for art materials, workshops and even free art jamming sessions, just to name a few! Great for those who want to go art jamming in Singapore.
Art Jam Studio
8 Burn Road, #05-10 Trivex, Singapore 369977
---
My Art Space
My Art Space is hidden away along Orchard Road at Istana Park. It has a gorgeous open concept studio with views of trees and flowers in the park! Perfect for art jamming in Singapore. They also have workshops, flexible timeslots and the promise to fulfil social responsibilities through their community art projects, which shows just how much heart this space has!
My Art Space
31 Orchard Road, Istana Park, Singapore 238888 
---
Cups n Canvas
Grab a cuppa' and a brush to get started with your art jamming experience in Singapore at Cups n Canvas. You can get a delicious meal and snacks ranging from sandwiches, pasta, dessert, and of course, cups of tea and coffee too.
Cups n Canvas
139 Selegie Road, Singapore 188309
---
ARThaus Singapore
ARThaus is a space where adults and children are able to discover, explore and express freely the creativity in them all set in a stress-free and cosy environment. Children can be signed up for their workshops with ARThaus' art educators.
ARThaus Singapore
901A Bukit Timah Road Singapore, Singapore 589619