"I can't make art." That's something common people might say but this newly opened art studio, Motion Art Space, lets anyone and everyone make a modernist masterpiece, with the help of Science.  
Motion Art Space, located at Arab Street, is the place for some therapeutic art. It makes use of pendulum swings and different tools to create a unique piece of art even your art teacher is impressed with. We were given the chance to experience the process and it was good fun plus the chance to add some personalised décor in your home.  
---
First Steps to Making Art at Motion Art Space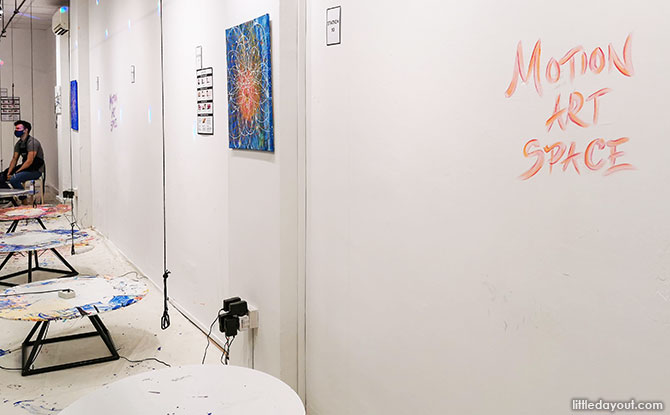 The one-hour session sounds short but it really doesn't take that much time to create a "masterpiece". Depending on what you feel like doing or plan to do, the first step is to conceptualise and choose your colours. The package includes five colours – four basic colour options and one premium colour choice. Basic colours include yellow, orange, red, pink, purple, blue, green, white and black. Premium options include gold, copper, silver, shiny purple, turquoise and shiny blue. You can even mix your own colours.  
---
-- Story continues below --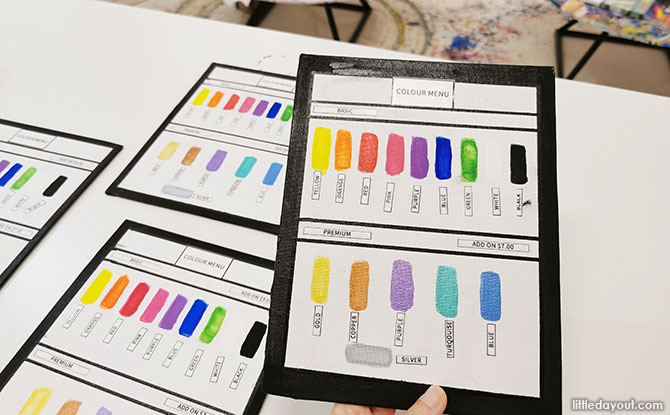 After choosing the colours, you have to choose your tools – brushes, stirrers for mixing, containers for the pouring of paint and paint bottles that can be hooked onto the suspended chords for making pendulum patterns.  
Get inspired by the different pieces of artwork at the studio or watch the videos shown on the screens. There are plenty of techniques you can try – pouring, dripping, pattern-making or just free-styling.  
---
Getting a dose of Art and Science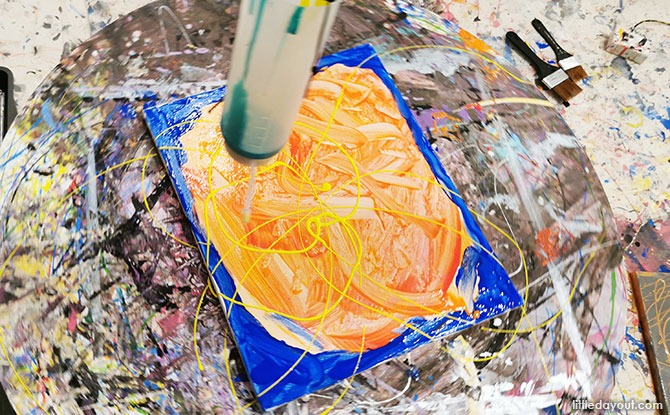 Next is getting started on the piece of art. If your mind is as blank as the canvas, don't worry, the instructors at the studio are there to guide you. Children might find the process easier since they would just delve into the artwork without much thought. I enjoyed watching my son freestyle his piece with his chosen colours and brushes, then using all the different techniques.
As each station has a spinning worktop, you can adjust the speed and watch the magic happen. Choose to layer different colours or repeat colours into the containers, hook them up or pour them out onto your canvas. You could also paint a base colour and layer it on with other colours.  
Just a small push – the magic of gravity and inertia will work (in your favour). You can form curves, arches, circles, elliptical patterns that would be otherwise impossible using freehand. The tools like spinners and suspended pendulum help you to create art with the laws of science quite instantly.  
It was the perfect opportunity to do some experimental art. And I wish I had three more canvases to work on!
---
Worried about Getting Dirty? 
Motion Art Space provides aprons as well as foot covers. The paint used is all non-toxic and washable, so don't worry too much about getting paint on yourself.
We cleaned ourselves up quite quickly after the session even though there was paint almost everywhere! Where else can we make such a huge mess without having to clean up? 
---
Parent and Child Bonding Session through Art and Science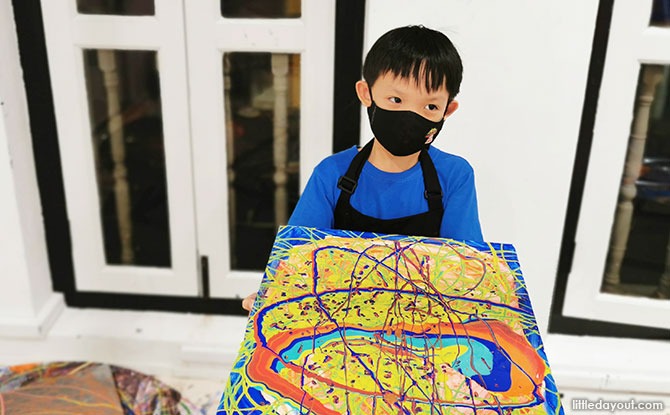 It was a fantastic experience creating art with my son at Motion Art Space. It was a chance to make a colourful mess (with no consequences) and a space parents would approve of! It had been a stressful season for both of us and it was lovely to enjoy each other's company and destress while making art the way we want.  
It was also a chance to learn about the laws of gravity while painting or letting gravity paint the canvas. Anything was possible with some imagination.  
Motion Art Space will be offering holiday programmes aside from their regular programmes. Check out more information here and on their Facebook page.