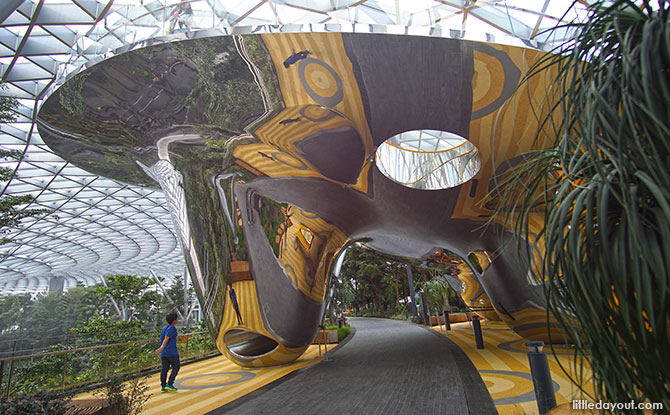 Canopy Park at Jewel brings a world of play and fun attractions for all ages at the top of the Changi Airport complex. With whimsical gardens, amazing views and one-of-a-kind play attractions such as slides, nets and mazes, Canopy Park is a must-visit spot at Jewel Changi Airport. Here is a Canopy Park Jewel Changi Airport review to help you get the most out of your visit to this exciting new attraction.
Canopy Park is located at the top level of the Jewel complex and opened to the public on 10 June 2019. The 14,000 square metre space has play attractions and gardens which provide plenty of entertainment for international travellers and local visitors alike.
Entry into Canopy Park is ticketed. There are additional fees for selected attractions.
Attractions and What to Expect at Canopy Park, Jewel Changi Airport
Topiary Walk
Topiary Walk is one of the imaginative gardens at Canopy Park. Brightly coloured animal topiaries in the form or orangutans, chameleons and birds beckon visitors to stop and take a picture.
---
-- Story continues below --
Foggy Bowls
Designed by The Exploratorium in San Francisco, Foggy Bowls features four concave bowls integrated into the garden. Kids can enter the sunken bowls which range from 30 cm to 65 cm in depth and have a foggy mist envelope them.
---
Petal Garden
This floral garden at Jewel Changi Airport has displays of seasonal flowers from all around the world.
---
Discovery Slides
Part sculpture and part playground, Discovery Slides is one of the highlights of Canopy Park. The Discovery Slides, designed by Carve from Netherlands and built by local company Playpoint, offers plenty of fun. From the outside, they look like shiny, reflective sculptures. Inside, there are four slides to try swooshing about on. The top of the Discovery Slides structure, at 6.5 metres high, also acts a brilliant vantage point to survey the view of Jewel Changi Airport and the HSBC Rain Vortex.
Access to Discovery Slides, Foggy Bowl, Petal Garden and Topiary Walk is included in the basic admission fees to Jewel's Canopy Park.
---
Manulife Sky Nets – Bouncing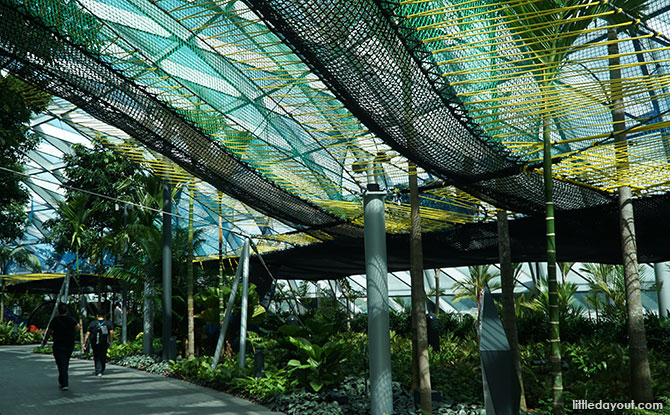 The one of two sky nets at Canopy Park at Jewel Changi Airport, the Manulife Sky Nets – Bouncing is designed to be springy and bouncy. You can expect great fun bobbing up and down within the different sections of the Manulife Sky Nets – Bouncing. There is also a slide to help you shortcut your way around the 250-metre long play area.
---
Manulife Sky Nets – Walking
Not for those with a fear of heights, the Manulife Sky Nets – Walking is a thrilling, 50-metre long net that will bring you over a 25-metre high, five-storey void. The net is taut which makes it easy to walk on. Once you are up the first, steep section, you will have thrill of making your way back down back to firm ground with nothing but the net between you and the ground far, far below.
---
Mirror Maze
Designed by the world's leading maze designer Adrian Fisher from the United Kingdom, the Canopy Park Mirror Maze will challenge to get out without getting confused by the interplay between the mirrors and the plants above.
---
Hedge Maze
Singapore's largest indoor hedge maze has decorative gates and a circular look-out platform which serves as the pay-off for navigating your way through the maze.
---
Canopy Bridge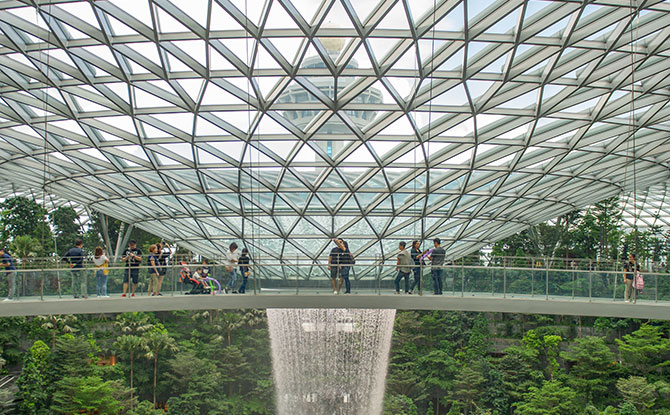 Venture out on to the Canopy Bridge to get a view of the HSBC Rain Vortex and Shiseido Forest Valley. The 50-metre long bridge also has a special party trick – at the centre of the bridge is a 20-metre glass bottom section. Experience the thrill of standing 23 metres high off the ground.
The Hedge Maze, Mirror Maze, Manulife Sky Nets and Canopy Bridge have additional admission charges.
---
Entry to Canopy Park
Canopy Park at Jewel Changi Airport opens to the public on 10 June 2019. Tickets to Canopy Park can be purchased online or onsite.