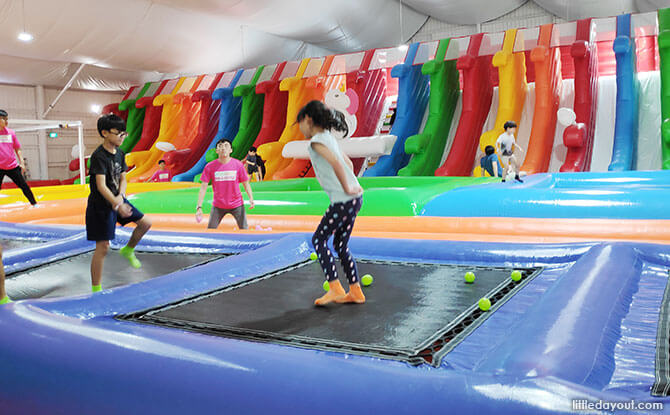 To many, when we think of "cardio", the dreaded picture of running long miles on end or doing other seemingly mundane activities might come to mind. However, a day at one of the trampoline parks in Singapore is another way to go about getting your heart rate up while having lots of fun!
Discover where you can bounce away at a trampoline park in Singapore.
---
Trampoline Parks in Singapore Where You Can Spring Into Action
1. Bounce
At Bounce Singapore, its facilities are equipped for jumpers who are there to just experience some air time and also great for practitioners who wish to have a space to try out some skills at any of the eight adrenaline filled arenas! Get a warm-up at the 28 trampolines in the Free Jumping Arena that also has walls that you can try to climb up. Other areas at this trampoline park in Singapore include high-performance trampolines that enable greater bounce and height, a dodgeball court, an obstacle course as well as an elevated platform for you to take a leap of faith! Find out more here.
2. Katapult
Away from the hustle and bustle of town and housed amid the greenery of Orto Leisure Park, Katapult features over 8000 square feet of custom-made, interconnected trampolines! The fun happens at the main court where there are over 30 interconnected trampolines.
---
-- Story continues below --
There is also a Katapult platform where jumpers can free fall into Katapult's massive airbag! There is also an area where you can try wall-running, an advance manoeuvre pioneered in the Cirque Du Soleil. There is also a new rock wall that one can climb before free-falling back into a foam pit! Check out their website for the latest promotions and events.
---
3. JUMPRROCKS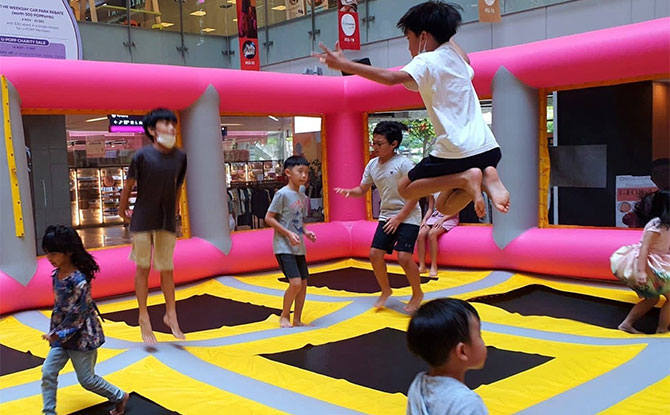 Located in KINEX, JUMPRROCKS is more than a trampoline park. It has mega structures, ball pits aside from trampolines. There are also daily sessions in the Battle Groundz with plenty of games. Visitors can try the obstacle course and compete with one another through creative challenges. There are options for open classes as well. Get the details on what to expect at JUMPRROCKS.
---
4. Spring Rolls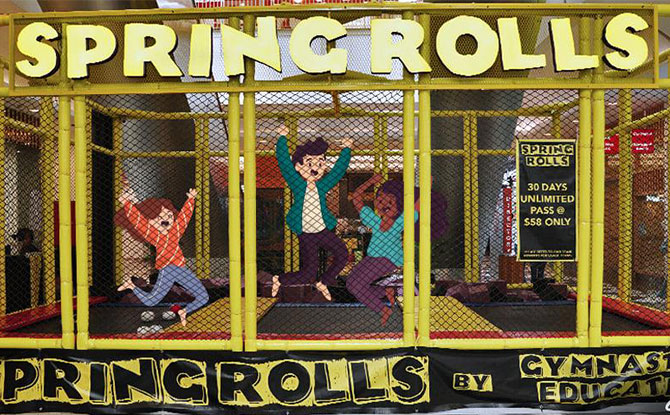 Spring Rolls' trampoline park is the smallest of the trampoline parks in Singapore, but still just as fun and less intimidating for little kids. Their outlet at Jurong Point and divided into two zones: a trampoline platform for kids to bounce as high as they can, and an area for them to dive into foam pits! Trampolining is a great activity for the little ones as they can pick up and develop their gross motor skills in a fun environment. Check out this site here for more on Spring Roll outlets.
---
5. SuperPark Singapore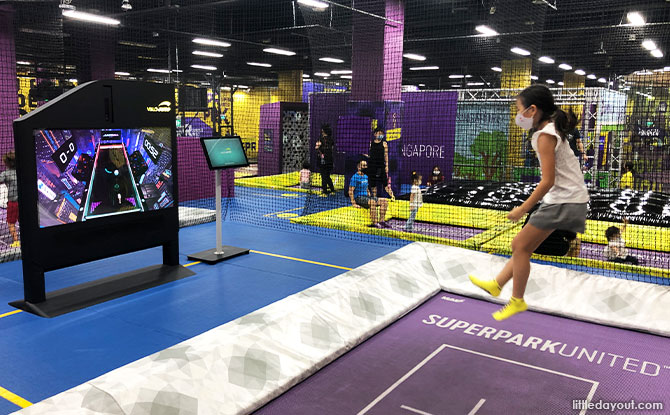 A indoor theme park with over 20 activities? Head to Superpark to get moving and try all kinds of sports like baseball, basketball, futsal and more. Although the trampolines are just one part of this attraction, they were the best-loved. Bounce and compete with others through AR games, this adds the fun factor to bouncing! Freestylers can also have their turn at the other trampolines. Book your tickets here.
---
6. Bouncy Paradise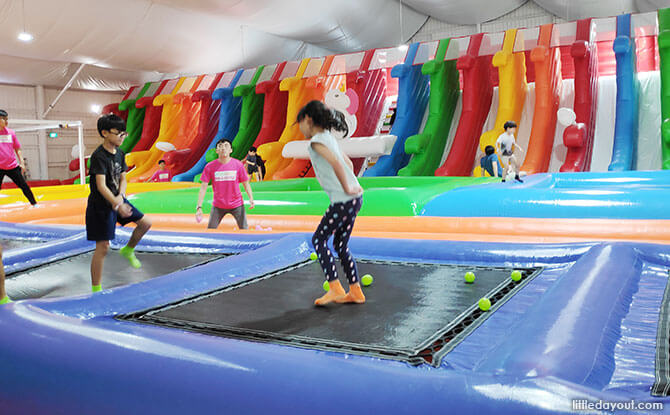 Five ball pits, 20 sliding lanes, trampolines and obstacles courses – kids can literally bounce off walls at Bouncy Paradise. There are a few trampolines to try, right next to the ball pits. Head to this paradise where one can bounce delightfully all the way. Details and tickets here.
7. Action Motion
Valo Jump at Action Motion, HomeTeamNS Bedok Reservoir makes use of motion capture technology and AR elements so that players can jump while playing mini games on the screen. Find out more about what's to expect at Action Motion at HomeTeamNS Bedok Reservoir.
8. AirZone Singapore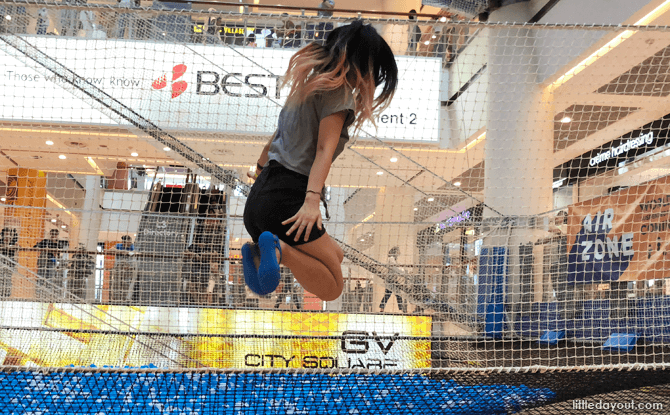 Not exactly a trampoline park but AirZone Singapore will have you springing up and down at this unique attraction at City Square Mall. Get more details about AirZone Singapore.
---
9. Manulife Bouncing Nets
Jewel Changi Airport also has its own version of a trampoline and its the Manulife Bouncing Nets. The attraction within Canopy Park is essentially one big trampoline. Find out more about the Manulife Bouncing Nets.
---
Trampolining Classes – Levelling Up with the Trampoline
10. Trampoline Singapore, Gymkraft
How about trampolining as a sport? You can take classes at the recreational or competitive level at this trampoline gym. Get some guidance to do the tricks you have always wanted to do. Level up at Trampoline Singapore. Find out more here.
---
11. The Yard
Getting serious in trampolining? The classes at The Yard will help aspiring trampolinists develop strength and awareness to perform foundational jumps, basic and intermediate body landing skills and somersaulting concepts. Learn about schedules here.
---
12. Singapore Trampoline Academy
Another training facility that specialises in competitive trampolining, Singapore Trampoline Academy has programmes for beginners and athletes. The curriculum is developed by qualified and experienced international coaches. Details are here.