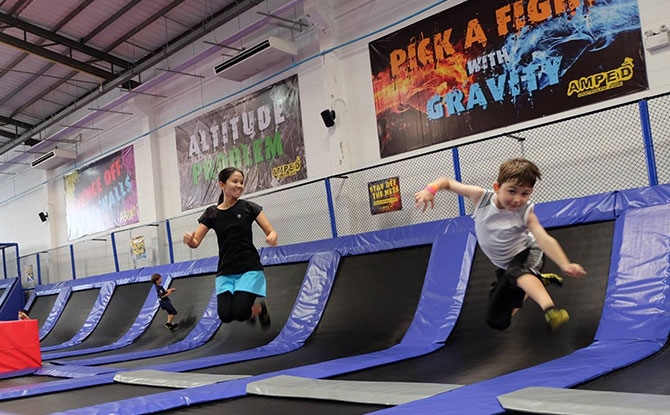 To many, when we think of "cardio", the dreaded picture of running long miles on end or doing other seemingly mundane activities might come to mind. However, there's another way to go about getting your heart rate up while having lots of fun! Bounce away at any one of these trampoline parks in Singapore.
---
Trampoline Parks in Singapore
1. Bounce
At Bounce Singapore, its facilities are equipped for jumpers who are there to just experience some air time and also great for practitioners who wish to have a space to try out some skills at any of the eight adrenaline filled arenas! Get a warm-up at the 28 trampolines in the Free Jumping Arena that also has walls that you can try to climb up. Get the Slam Dunk at the arena that has basketball hoops and try aerial tricks at the Big Bag arena that has a massive soft landing spot on a giant inflatable bag sits in a five-foot-deep pit.
Other areas at this trampoline park in Singapore include high-performance trampolines that enable greater bounce and height, a dodgeball court, an obstacle course as well as an elevated platform for you to take a leap of faith! Find out more here.
---
2. Katapult
Away from the hustle and bustle of town and housed amid the greenery of Orto Leisure Park, Katapult features over 8000 square feet of custom-made, interconnected trampolines! The fun happens at the main court where there are over 30 interconnected trampolines.
There is also a Katapult platform where jumpers can free fall into Katapult's massive airbag! There is also an area where you can try wall-running, an advance manoeuvre pioneered in the Cirque Du Soleil. There is also a new rock wall that one can climb before free-falling back into a foam pit! Check out their website for the latest promotions and events.
---
3. Amped
Located close to Fort Canning MRT station, the Amped trampoline park has 35 interconnected trampolines that give lots of space for fun and play! Some interesting areas that you can enjoy include dodgeball, a foam pit, a slam dunk zone, and even a parkour wall! There is also a gladiator pit that you can enter to engage in some friendly battle and test your coordination and balance while in "combat!" Check out their website for the latest promotions and events.
---
4. Spring Rolls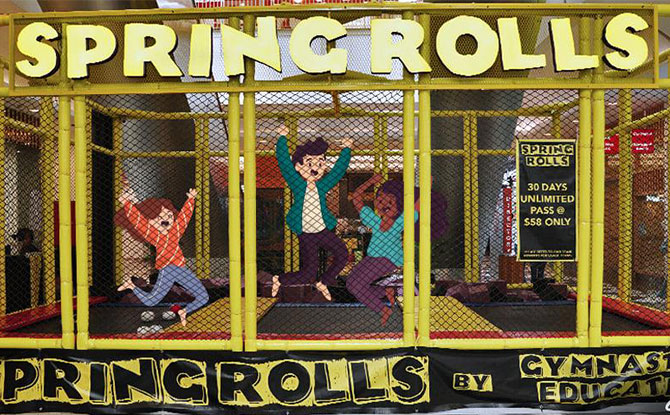 Spring Rolls' trampoline park is the smallest of the trampoline parks in Singapore, but still just as fun and less intimidating for little kids. Their outlet at Jurong Point and divided into two zones: a trampoline platform for kids to bounce as high as they can, and an area for them to dive into foam pits! Trampolining is a great activity for the little ones as they can pick up and develop their motor skills in a fun environment. Check out Jurong Point's Facebook page for more information and this site here for other Spring Roll outlets.