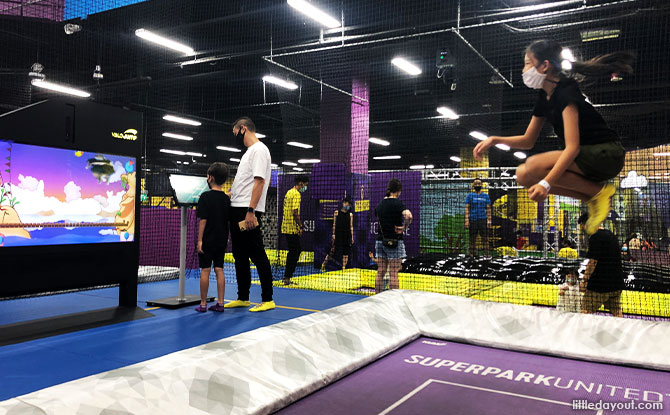 Get set for a super fun time at the newly reopened SuperPark at Suntec City. With more than 20 sports-centric activities as well as new activities and sections to look forward to, here's a first look at the different activities that you can look forward to trying on your next visit!
---
Same segments, Bigger fun
At the reopened Superpark, many of the favourite arenas and activities made a comeback. Here are some of the activities that we remembered from the first opening of SuperPark
Head on over to the Ninja track which is a miniature version of a Ninja Warrior obstacle course. There are three different segments to conquer with various obstacles that test strength and balance.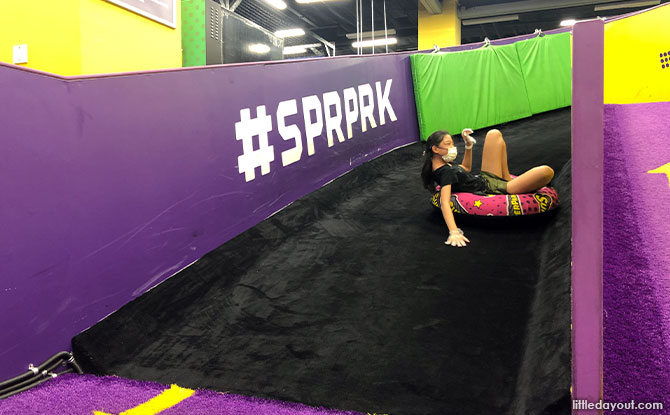 The Tube Slide was a popular ride with the kids at our previous visit. Players can pull their tube up to the second story and slide to the bottom! Hold on tight as you make your way down!
You can also try the Flying Fox, which is fun for both kids and adults! As long as you reach the height limit, you can zip your way across the park!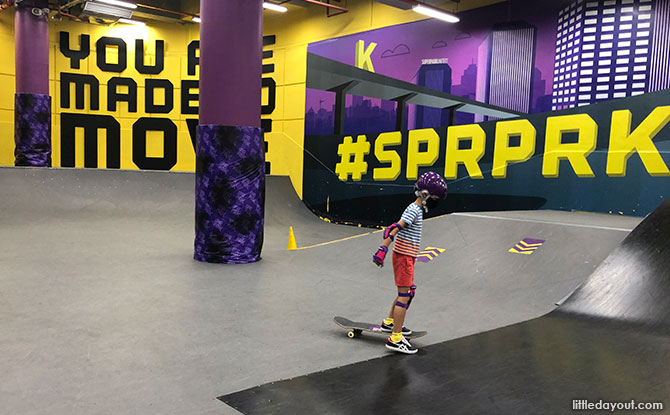 Skaters can return to SuperPark to practice and show off their moves at the Skate and Scoot World! Bring your skateboard or scooters, or borrow it from the park to nail that Ollie and Tre Flip! Covered shoes are required for this activity and players will have to wear safety gear such as knee pads and helmets.
There are also three rock climbing walls of various levels and suitable for kids and adults of various ages. Do note that covered shoes are required for Clip 'n' Climb and Skate & Scoot World. Clip 'n' Climb and Skate & Scoot World only operates one hour per session on weekdays
Other returning sections include an arena with fast-paced activities. Put your hand-eye coordination to the test at the baseball cage! Enter the net and try to get the highest score by hitting the balls as many times as possible.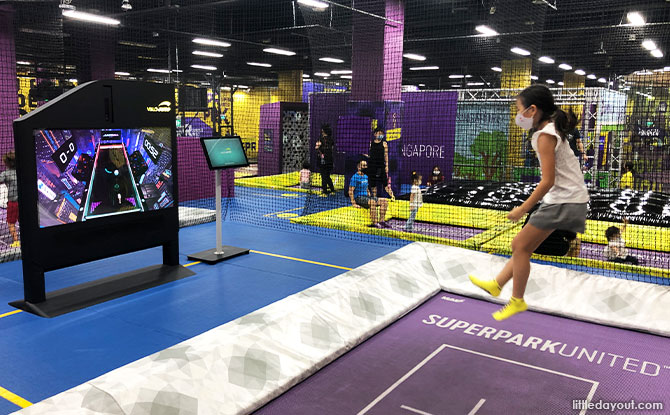 The e-trampoline in the trampoline section is where players can see an augmented version of themselves and play various minigames all while jumping on the trampoline. This arena was one of our favourites and a must-visit when heading to SuperPark. There is also an adult and kids trampoline section for visitors to enjoy and do tricks such as wall runs.
The augmented climb wall has many different interactive e-activities to choose from as well as adjustable difficulty levels.
---
New Activities at SuperPark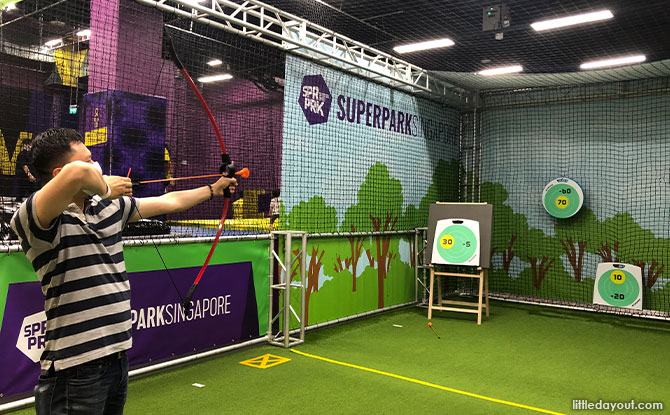 As part of the new reopening of the park, there are a few new activities to try. One of them is Archery. It allows players to aim a crossbow and arrow to test their hand-eye coordination and strength all at one station.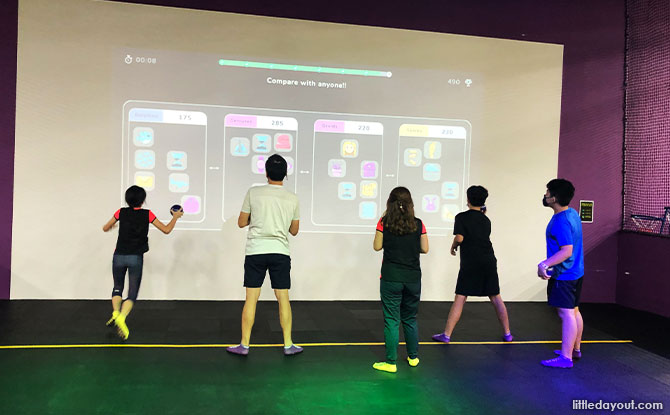 Another new activity we didn't notice before was the Teacher Lu arena where players can use the props as well as themselves to play a series of minigames. This is a great section to visit if you're at SuperPark with family or a group of friends.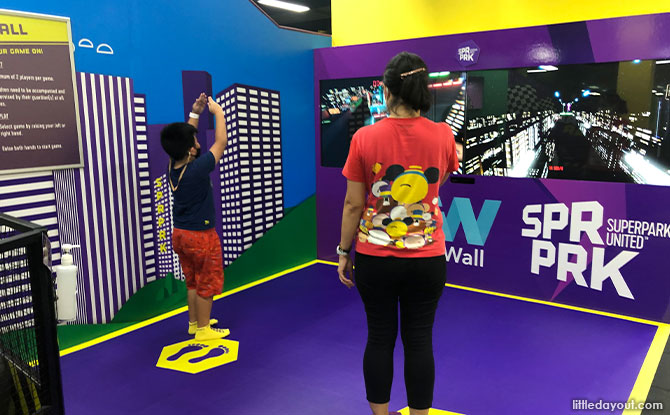 The iWall also had a few new games such as Ski Jumping, Deepsea dash and Parkour. Stand in front of the sensor and play using your bodies as the remote. Certain games need players to move in various directions, ensuring a full workout!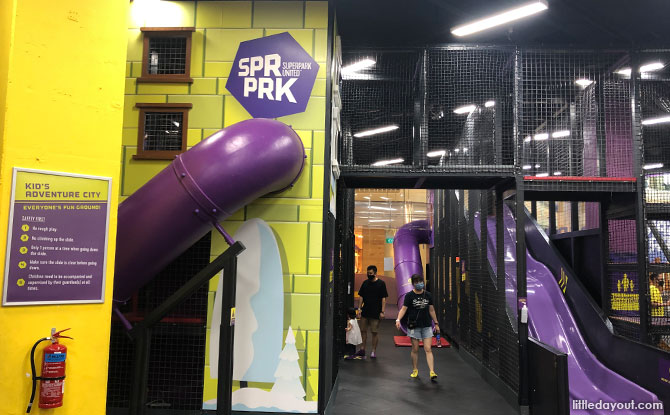 You can also enter Kid's Adventure City which is a huge playground filled with different play elements, tunnels, levels and super-fast slides.
---
Fun For The Little Ones at SuperPark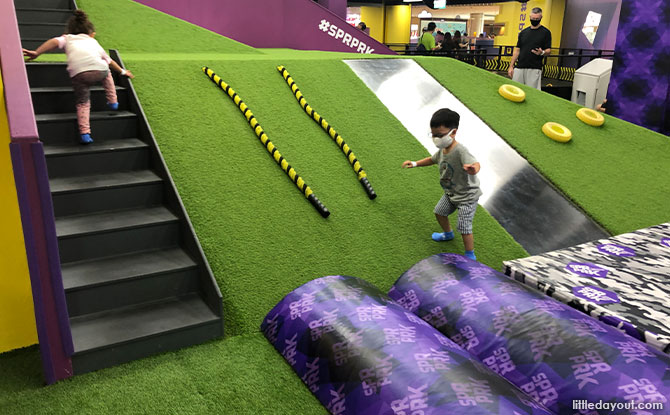 Filled with a soft play obstacle course, a small climbing wall and the signature Sliding Mountain, the kid's gym is a great section of the park to bring toddlers or preschoolers for some fun and bonding time.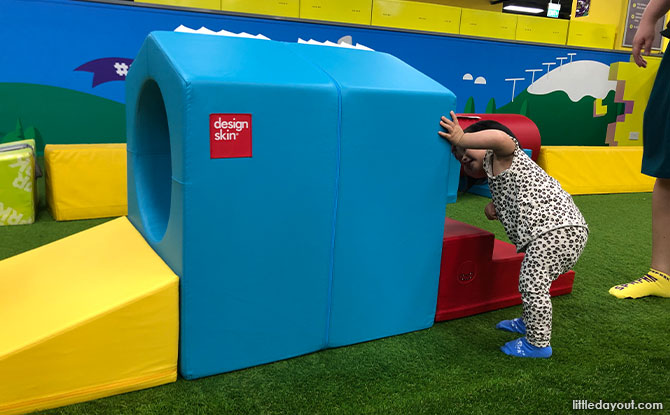 Now it has an expanded area with lots of kid-friendly obstacles and space to run around.
Young wheels- lovers will also be pleased to know that tricycles are now an option at the hugely popular Pedal Car Track.
---
SuperPark's Supershop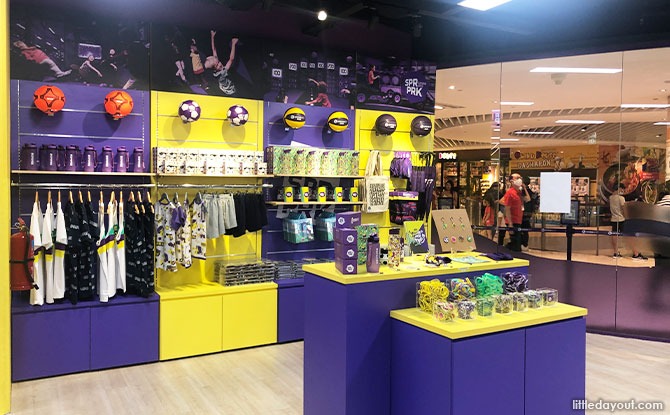 A new feature of the SuperPark, SuperFans can indulge in some retail therapy at the SuperShop which features sports-related gears, stationery and lifestyle accessories. Some products that SuperFans can buy include tote bags, water bottles, badges and card cases.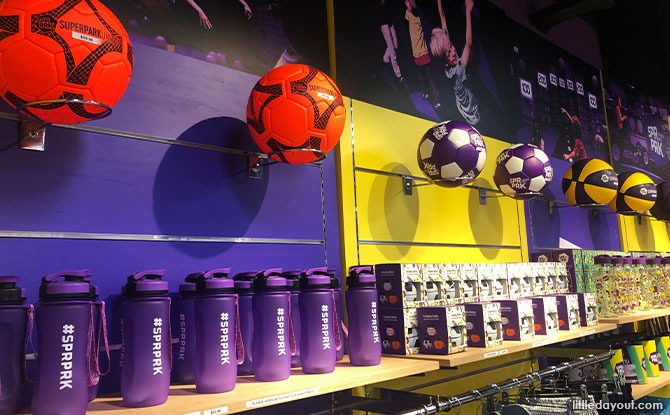 There are also tops and tank tops along with the various types of balls that are used in the different SuperPark sections.
---
SuperPark Suntec City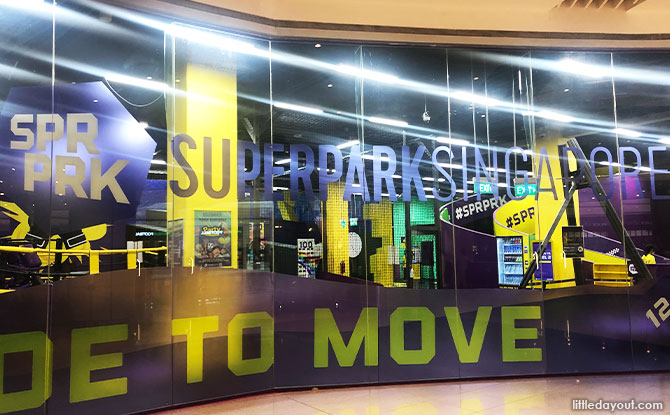 As SuperPark continue to stay safe and observe safe management measures, play sessions at SuperPark are now limited to two-hour per session with controlled capacity intake. Face masks must be worn by all age six and above. Mask exemption applies for selected activities such as SuperClimb, Trampoline and Augmented Climbing Wall, but must be worn promptly after.
Visit their website here for more information and read our article here for more facts and things to note about the reopening of SuperPark Singapore.
SuperPark Singapore is located at 3 Temasek Boulevard, Suntec City Mall, #02-477 (North Wing), Singapore 038983.