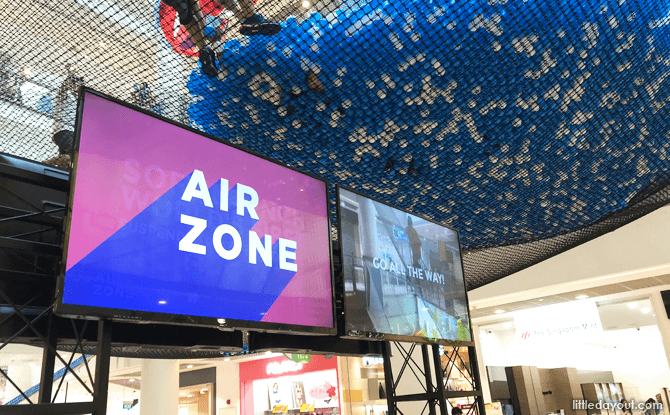 Airzone Singapore is the country's first-ever air-suspended net playground is now at City Square Mall! With three levels of elevated fun, up in the air, it is a unique and thrilling experience for all ages!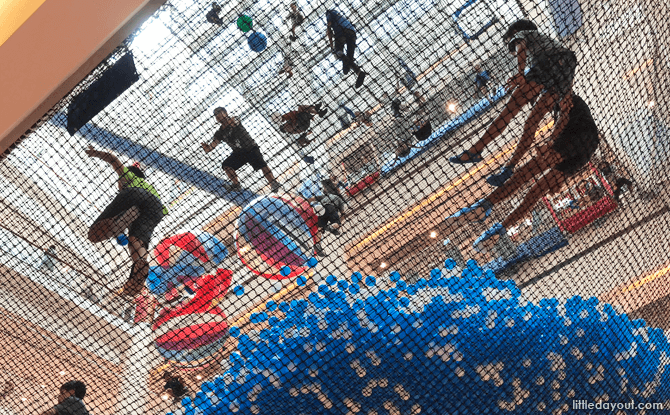 We're sure that many are excited to visit this place for themselves. Here are the different activities that you can get up to at Airzone Singapore and some important tips to ensure maximum fun!
Gear Up
After purchasing your tickets, you will have to attend a safety briefing before being allowed into Airzone. According to Airzone Singapore, the nets have been "over engineered" and are able to hold the weight of two fully-laden Singapore passenger buses lying on their side. Furthermore, safety checks are conducted before opening and "ground rules", such as only allowing one person up the slide at a time, are enforced.
Once the briefing is out of the way, you can enter Airzone and make your way up the first rope ladder where the fun begins!
Ball Pit at Airzone Singapore
On the first level of the Airzone Singapore play area is the Ball Pit.
Filled with over 40,000 balls in a net suspended in the middle of City Square Mall, it's definitely offers a different mall experience. You will find many people "splashing" around the pit of blue and white balls.
On the same level, there is an open netted space which is great for experiencing the "walking on the moon" sensation, jumping up and down, as well as just enjoy lying down with family and friends while being suspended almost three levels up in the air! Talk about a view!
Inflatable Fun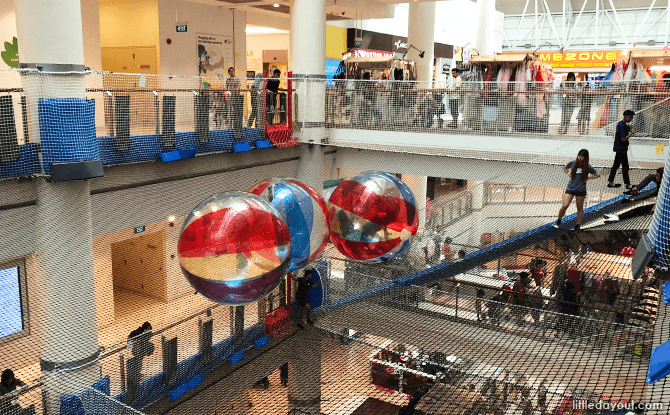 One "floor" above is where you can find huge inflated balls. You can push them around or even try hopping on them. It is all pretty pointless, but who says you need a point to have fun!
There is also lots of space for chilling out too. Just be careful not to get run over by the huge inflated balls rolling around.
Net Maze
Climb to the next level and you will find a rope maze. Here, visitors need to find the quickest way in and out of rope labyrinth.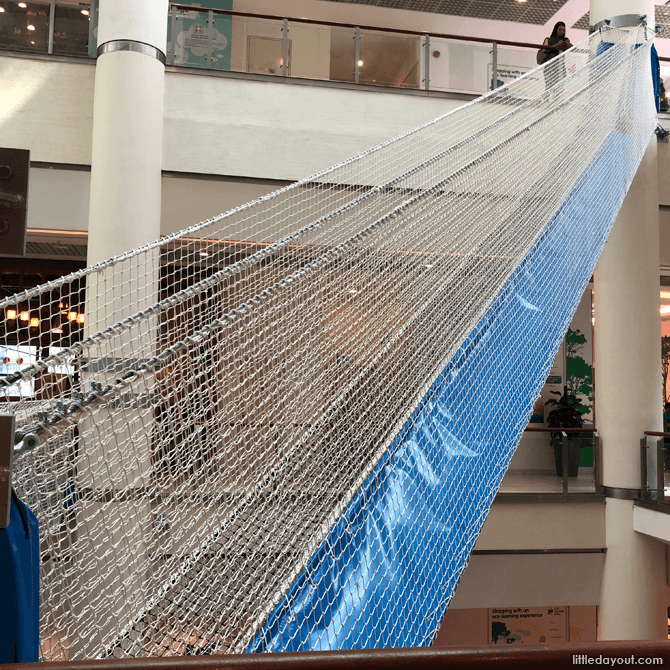 There is also a slide that you can climb up to and make your way down from.
Catching Some Air
Airzone Singapore's ticket sales open daily from 10.45 am with the first session starting at 11 am. There is unlimited playtime for those go from Mondays to Thursdays, and sessions from Fridays to Sundays are charged per hour. The last admission at 9 pm.
Arrive early before your given timeslot. Make sure that you use the restrooms before your Airzone session as no re-entry is allowed.
Do remember to dress in shorts or pants and not skirts or dresses. Covered footwear or shoes with straps should be worn.
Children under seven years old must be accompanied by an adult.
Regular admission tickets to Airzone Singapore costs $20.
Airzone Singapore at City Square Mall
Address: Level 2 (North Atrium), City Square Mall, 180 Kitchener Road Singapore 208539