When it comes to Eurasian food in Singapore, one name always comes up, Quentin's The Eurasian Restaurant.
Located in the midst of a quiet neighbourhood in Ceylon Road, Quentin's The Eurasian Restaurant serves up authentic Eurasian food based on family recipes at the Eurasian Community House. It is named for its chef-owner Quentin Pereira who learnt Eurasian cooking from his parents and grandparents.
Eurasians refer to those born from the marriage between Asians and Europeans. Long before "fusion" became a buzzword among food writers, Eurasians were serving up delicious food that fused together Asian and European cuisines.
And, this is just the case at Quentin's The Eurasian Restaurant.
---
-- Story continues below --
Family-style Dining
The restaurant is immediately visible as you enter the Eurasian Community House. It has both an outdoor, open-air seating area, where a live band plays on selected nights of the week, and an indoor, air-conditioned dining room.
Quentin's The Eurasian Restaurant offers communal, family-style ding. Dishes are served for everyone to share, accompanied with servings of rice. Each dish portion is proportioned for two to three persons to share.
While waiting for the food to be prepared, you can snack on the complimentary fish keropok (crackers) provided at the table.
When we visited, we had the Fried Devilled Wings ($14), Curry Captain ($18.50), Roasted Porku or Roasted Pork Belly ($18.80), Porku Tambreyno or Pork Sambal ($18.50), and Turmeric Cabbage ($7.80).
If some of these dishes sound spicy to you, that's because Eurasian food characteristically features a rich blend of flavours, from chilli to tamarind and the tang of vinegar.
The menu provides an indication of the spice level of each dish so that you can make an informed choice based on your spice tolerance.
Catering for Kids
Kids are not forgotten either – not by a long shot.
There is a kids menu with sure-hit dishes Fish & Chips and Fried Chicken. Both of these are served with tapioca and yam twist – instead of potato chips, it is served with tapioca and yam chips.
Alternatively, there is Kid's Chicken Pasta Stew on the kid's set menu.
Each of these sets come with a choice of freshly squeezed apple or orange juice as a beverage and a scoop of ice cream for dessert.
Other menu items that may appeal to kids is the Corned Beef Fried Rice ($7.50) and starters such as Shepherd's Pie ($14).
Quentin's Children's Playroom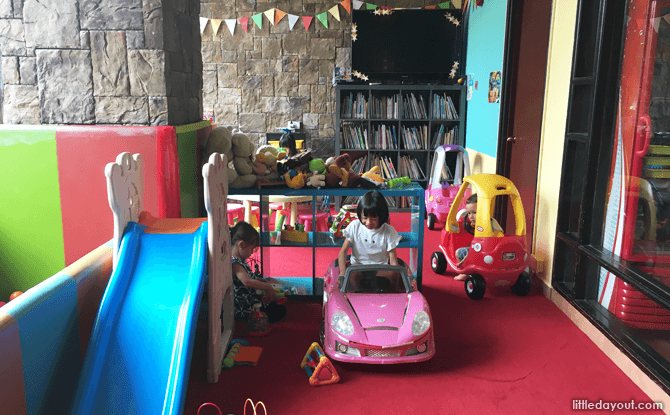 One feature of Quentin's The Eurasian Restaurant that will definitely appeal to young children is the children's playroom. This indoor, air-conditioned, closed-off playroom is located next to the indoor dining room.
It is stocked full of wonders for kids to amusement themselves with. There is a mini ball pond, ride-on toys and a masak-masak corner for young ones to play-pretend.
Kids who wish for quieter activities can cosy up at the playroom's library corner.
Quentin's The Eurasian Restaurant's children's playroom is for kids who are six years old and under.
Things to Note
A few other points to note.
Quentin's The Eurasian Restaurant also sells cakes for celebrations. Take note that this also means that they charge "cake-age" (ala corkage) for external cakes brought into the restaurant.
The restaurant is also good for big group outings because of the communal, family-style setting. They were able to accommodate our group of nine adults and six children for lunch and there were two other big groups dining there at the same time. Nonetheless, it is advisable to call ahead to make a reservation in advance.
Quentin's The Eurasian Restaurant
Location: Eurasian Community House, 139 Ceylon Road, Singapore 429744
Opening Hours:
Tuesday to Friday
Lunch: 11.30 am to 2.30 pm (last order 2 pm)
Dinner: 6.30 pm to 10.30 pm (last order 10 pm)
Saturday & Sunday
Lunch: 11.00 am to 2.00 pm (last order 1.30 pm)
Dinner: 6.30 pm to 10.30 pm (last order 10 pm)
Closed on Mondays