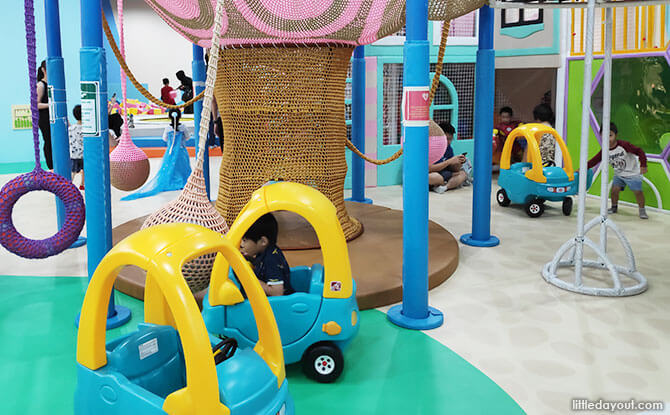 The latest indoor playground in the East – SMIGY opened its doors on 20 September at the new Paya Lebar Quarter Mall. You can't miss this bright, pastel-coloured playground which has its own retail store next to it. With such a cheery façade, the children were really excited to dive in and start playing at SMIGY PLQ.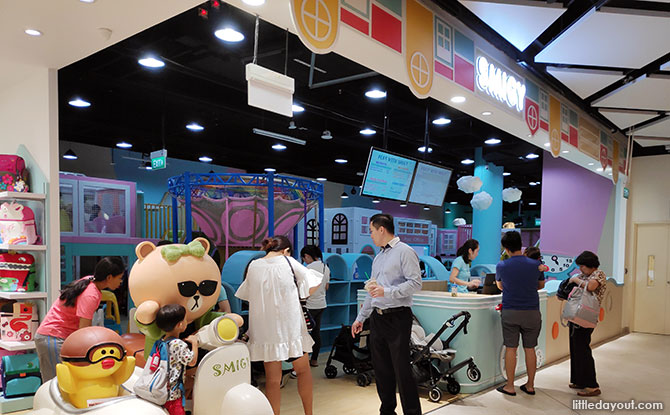 SMIGY has eight stations with ball pits, play-pretend zones, costumes, an interactive touchscreen, obstacle courses, sponge pit, swings, huge building blocks as well as little corners with toy kitchens, dollhouses and activity boards for the little ones. There is a good variety of toys and corners appropriate for all ages.
---
Dress up and be a Superhero or a Princess and Play Pretend at SMIGY PLQ Indoor Playground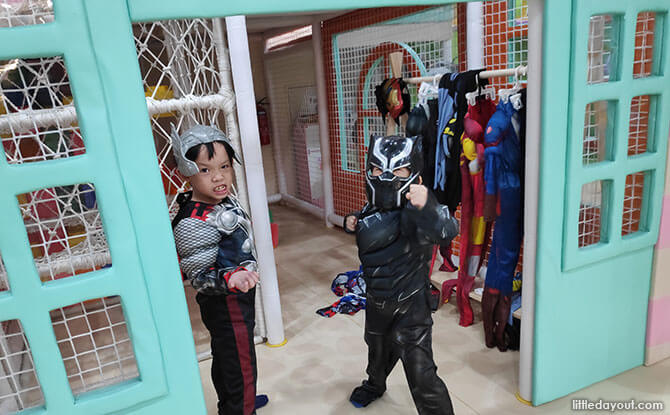 ---
-- Story continues below --
Don't be surprised to see "Thor" sliding down or "Snow White" at the ball pit. The children were thrilled to find a good selection of costumes to wear. It was a marvel watching how some remained in character during the entire playtime.
There is even a dressing table for the princesses to ensure they are looking their best. Who knows? Prince charming might be just around the corner.
We spotted wooden toys like a teatime trolley, dollhouse and a toy kitchen to stir up the imagination of children who like play-pretend. Even the boys had an exhilarating time racing around with the teatime trolley, serving wooden popsicles and desserts.
---
Two Ball Pits and One Sponge Pit for extra soft landings
The centre of attraction at SMIGY is the huge ball pit with a large interactive touchscreen, where two slides converge as well as a wind machine that magically pushes the balls upward, leaving them spinning in midair.
We loved the idea that the interactive touchscreen lets the children collaborate and play together to achieve a common goal – be it throwing balls at monsters or targeting the floating clouds to turn them into rainbows.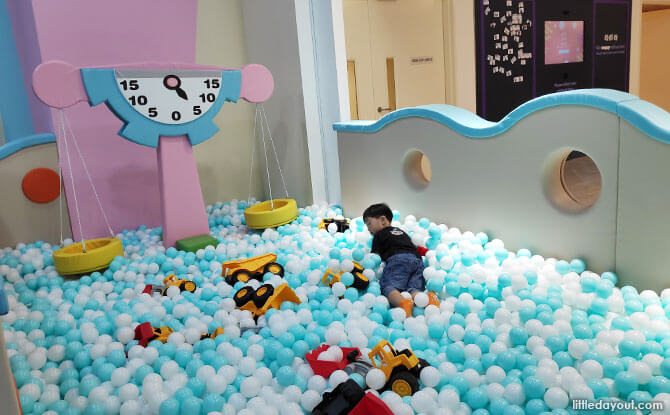 SMIGY also has another ball pit for the younger ones who might prefer less action and a quieter environment. While smaller, it has plenty of construction toys and a giant weighing scale for constructive play.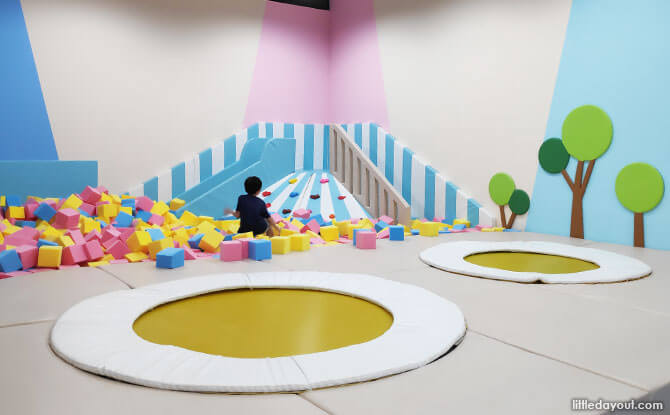 An area with two trampoline nets and a sponge pit with a climbing slope is situated near the entrance for those who love diving or sliding into pits. It has plenty of space for caregivers to rest or watch as the children play.
---
Swinging, Bouncing, Crawling, Sliding….
Given the 5000 sq ft space that SMIGY has, it certainly has designed its space well to fit in different elements that involve various motor skills. The children could slide down using float tubes, crawl through the obstacle courses and tunnels, navigate the roads using the ride-on cars and swinging on the whimsically knitted netted balls.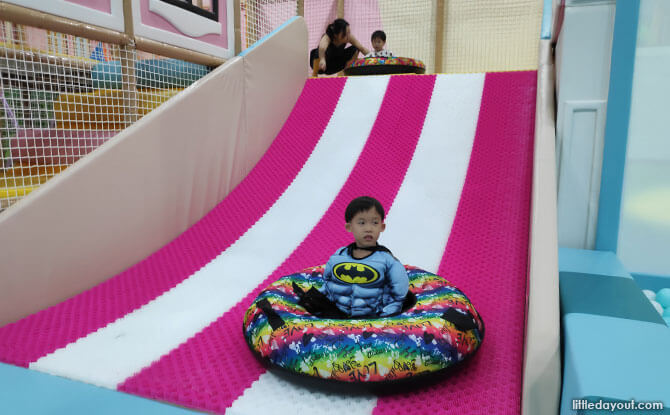 Adults may need to help the little ones pull the tubes back up on the spikey slope and watch out for collisions. We did not see staff monitoring the use of the tubes while we were there, hence parents and caregivers need to be mindful of safe play at SMIGY.
---
The Youngest are not Forgotten – Activity Boards and Toys Aplenty!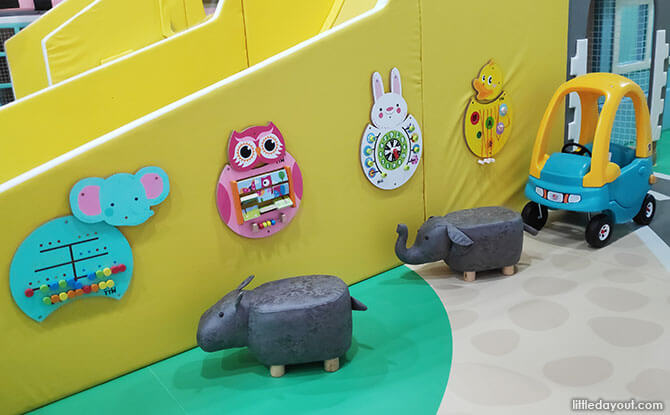 The range of toys and equipment are well-curated and of course, in excellent condition. There are several corners where the babies can play safely away from the "main traffic" – walls with activity boards, cozy corners with toys and also huge building blocks to build towers.
SMIGY considered the needs of the youngest in planning their play spaces and parents would certainly appreciate that.
---
Spaces for Special Occasions at SMIGY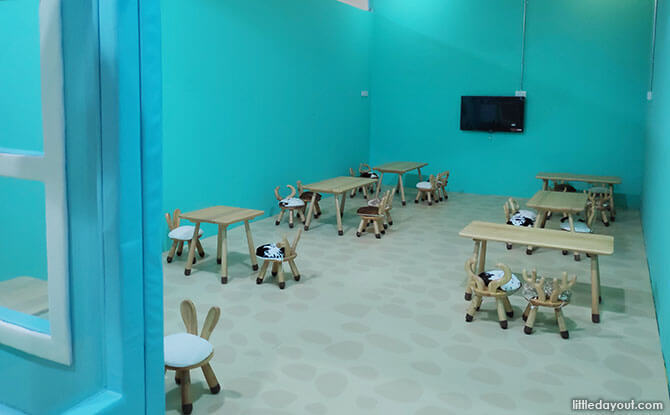 There are two spaces for rental available at SMIGY, decked with a LCD screen, child-sized furniture – the rooms are conveniently located right next to the play area. However, it could be a tad noisy as we could hear the excited screams of the children playing in the main area. We hear that there will be other parent-child activities held in the near future – so look out for that!
Head on down to SMIGY for the whole family to play in the comfort of air-conditioning, connected directly to the Paya Lebar MRT Station (Circle Line exit).
---
SMIGY, Indoor Playground at Paya Lebar Quarter Mall
Where: #03-05-06
Ages: 12 months to 10 years
Bring your own socks, otherwise each pair costs $2
Admission Prices:
Weekdays (Unlimited Playtime)
2 to 12 yrs: $22, Below 2: $16
Weekends, Public and School Hols (Limited to 2 hrs Playtime)
2 to 12 yrs: $26, Below 2: $18
Additional Playtime: $5 per 30 Mins
Free for 6 mths and below (adult chargeable at $6). 1 adult enters free with every paying child. Additional adult chargeable at $6 per adult.
Information correct as of September 2019.