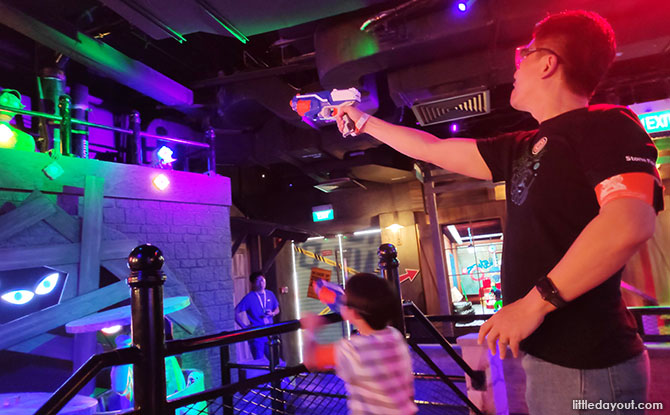 A sprawling 18, 000 sq ft of Marina Square is now home to the first-ever NERF Action Xperience Arena ("NAX" for short) in the world. And yes, Singapore once again clinches the first spot, this time in the world of a mega blaster-centric activity zone.
The NERF Action Xperience Arena would appeal to every NERF fanatic, including the grown-ups who will not be able to resist the blaster-toting opportunities.
NAX is a partnership between Kingsmen Creatives and Hasbro and integrates multiple-themed activity zones to encourage family and community bonding through play.
Time to get off the screens, boys, girls and adults!
With four-themed activity zones and private event spaces, energy and stamina is mandatory for play. Two out of the three zones are for children or man-children above seven years, while one is meant for children 3 to 6 years.
Team-up and battle it out at COMPETE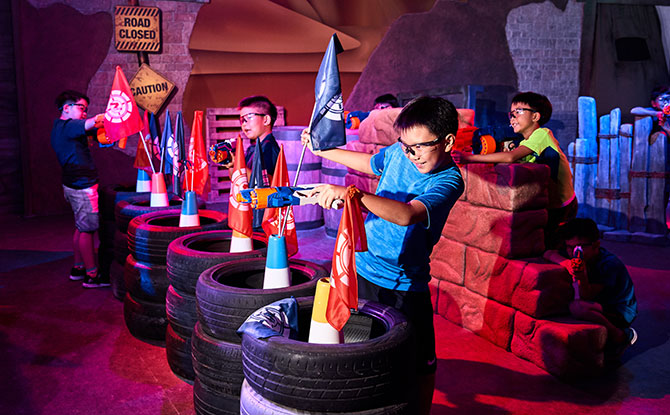 COMPETE is a team-based NERF battle ground with two worlds – Zombie City and Camp Dune.
At Zombie City, search for the vaccines to fight the zombies and look for the coloured targets your team needs to shoot. Also, finding missiles gives you extra points. Watch out and stay away from the walking dead before they find you.
Do note that COMPETE is for players 7 years and older.
CONQUER the Summit, Glacier, Ice Cliff and Volcano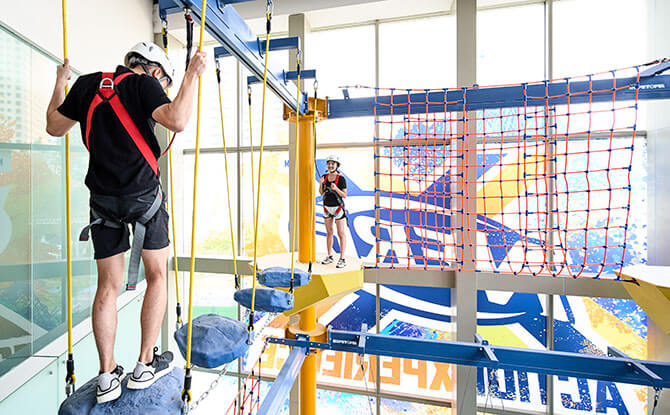 Volcanos, glaciers and an ice cliff – the CONQUER zone has harsh terrains and high element challenges for the thrill-seekers. Aspiring mountaineers will love the challenges here.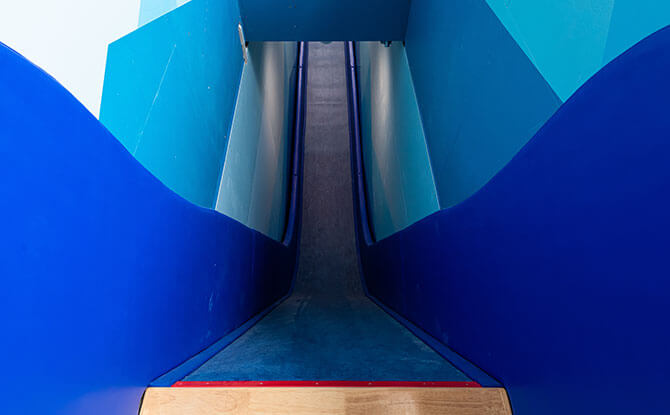 "The Glacier" is a heart-stopping slide with a steep drop that leaves you wanting more. Definitely one for the adrenaline seekers. After sliding, try climbing to the peak at "The Summit". Cautiously pass rope courses, step on moving rocks and don't look down!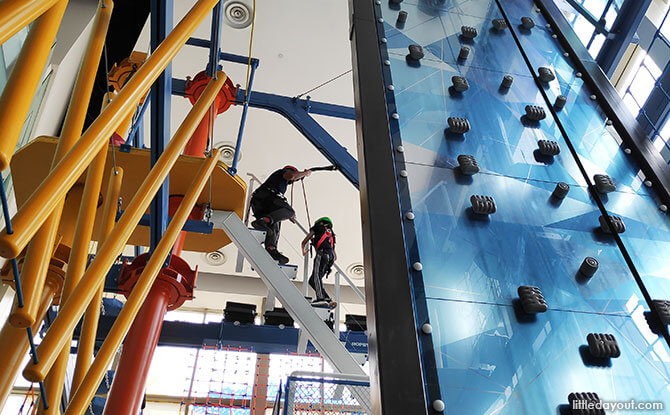 "The Ice Cliff" is a transparent rockwall to conquer and you can up the challenge with another competitor on the other side. Fastest climber wins!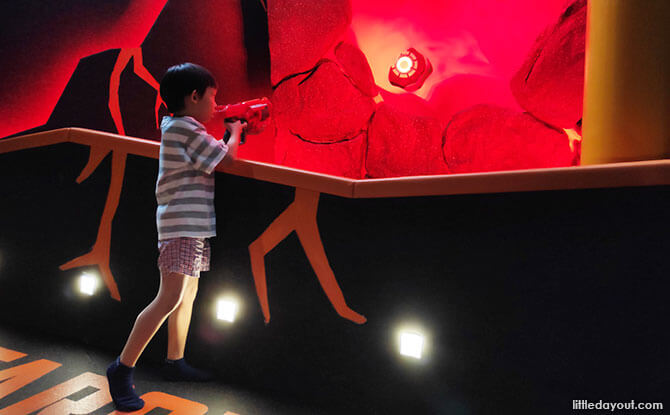 At "The Volcano", navigate through obstacles, aim your blasters at the hovering and moving targets and jump into a foam pit. Your timing is clocked, so press the buzzer once you are done. It is shoes off for getting into the lava pits.
CONQUER is for players 7 years and older.
CHALLENGE – Ideal for Little Ones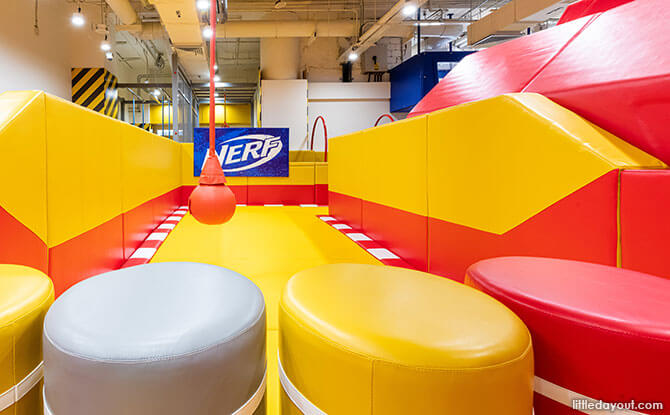 The shape of the CHALLENGE zone is derived from the inner workings of a NERF blaster and perfect for the younger ones to expend their energy crawling, climbing, ziplining.
The four sections expend the energy of the little ones enough to keep them busy while their older siblings blast away.
Go racing at "The Racetrack" and speed through the air on a zipline while knocking down obstacles. Then duck, dive and go over hurdles at "The Pitstop".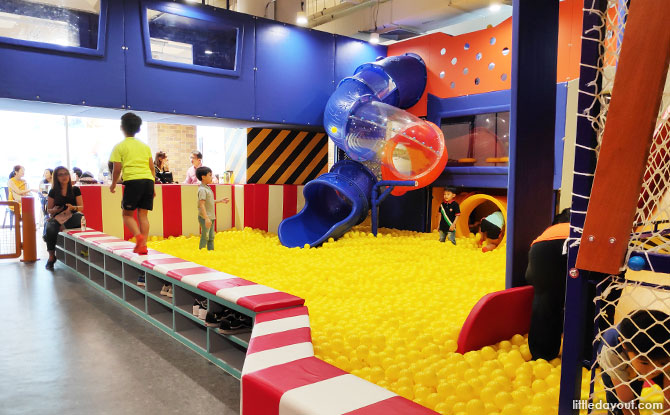 "The Engine" is most likely where the children will spend most time in as it features various roadblocks and after the final barrier, they are catapulted into a pool of giant NERF dart balls. What fun! And, of course, it isn't a great playground without a ball pit.
The younger ones also have their own rope course on "The Expressway" where they weave through the ropes at a less intimidating height compared to their older peers.
CHALLENGE is suitable for kids 6 years and below.
Unleash the Little Graffiti Artist and CREATE
The blaster can also be used in creative ways. Therefore at the CREATE part of the arena is possibly a mums' favourite. Design your own t-shirt or tote bag and use the little NERF guns to dye them bright. It could get messy but the protective gear provided should reduce any potential dye-sasters. The children's masterpieces also become wonderful memorabilia.
Lock & Load at the NERF Retail store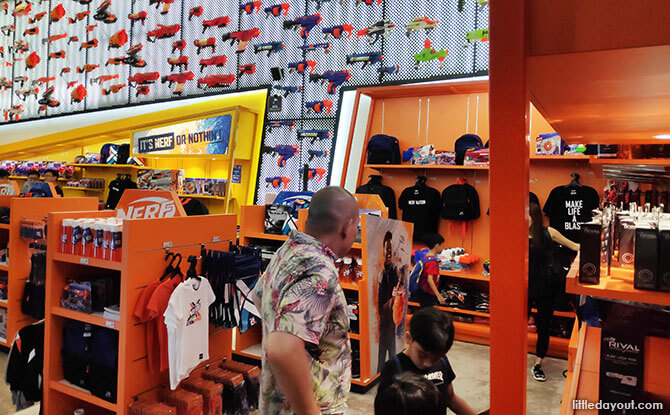 If you haven't had enough from the NAX arena, its retail store has plenty to offer to its fans. From limited edition Made-for-Singapore blasters, pellets and clothes, the store is likely to be a destination for regional NERF fans.
Organise a NERF party your kids will love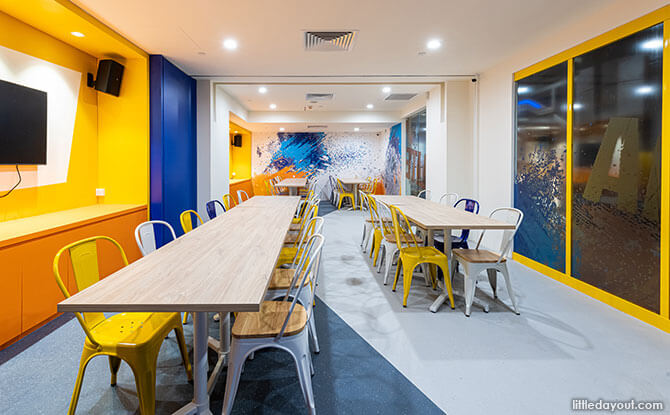 The event space at NAX is large and brightly coloured in NERF's theme colours. It is spacious and inviting for birthday parties or corporate groups where buffet setups can be easily done. There are four rooms for event bookings and space for 150 guests.
More NERF for the Nerves to Look Forward To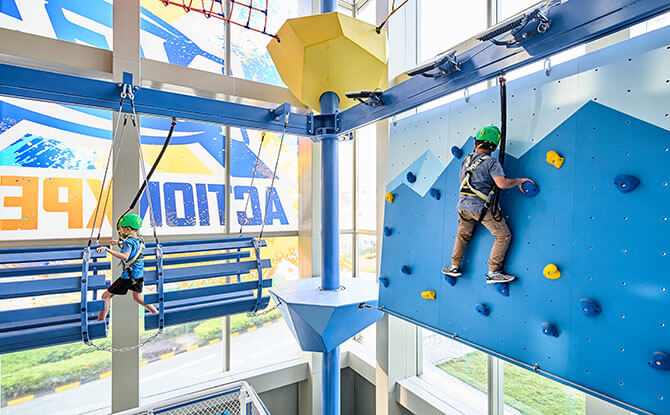 NERF Action Xperience arena at Marina Square took more than two years to conceptualise and all playzones were jointly developed with sport and performance psychologists. Programmes focusing on resilience and mental toughness for schools and corporations will soon be available to the public at the arena.
NERF Action Xperience Arena, Marina Square
Where: 6 Raffles Boulevard #01-208, Singapore 039594
Website
The NAX arena is open from 10 am to 10 pm daily, with the last entry at 7.30 pm.
Don't forget your gripped socks and water bottles! Lockers are available for rent from $2 for 2 hours depending on size, rest spots and vending machines selling snacks and drinks are also available. Do note that outside food and drinks are not permitted at NAX.