Looking for a quick getaway from the city? How about soaking up the sun, exploring the flora and fauna on paved tracks linking three of Singapore's Southern Islands, enjoying an idyllic picnic and lazing the day away on a pristine white beach? You'll get your feet onto powdery white sand and splash away in clear turquoise waters. We kid you not. It's possible to go on this relaxing retreat, feel the cool sea breeze and island hop all in a day trip within Singapore's sunny shores.
"Singapura, O Singapura, sunny (beaches) set in the sea…."
Just south of Sentosa lies the historically rich St. John's Island which is now connected by bridge to Lazarus Island which, in turn, has been merged through a sandbank with the lesser known Pulau Seringat. Across from Lazarus Island is none other than the religious Kusu Island.
Singapore's Southern Islands
These four islands are part of the Southern Islands, an area which also includes another four islands – Sisters' Islands (Subar Darat Island and Subar Laut Island), Tekukor Island and Sentosa. Sentosa Development Corporation manages these offshore islands south of Singapore.
Getting There on the Singapore Island Cruise Ferry
Getting to the linked islands is just a 30-minute ride from Marina South Pier which houses the Singapore Maritime Gallery and a 20-minute walk from St. John's Island's pier. Marina South Ferries and Singapore Island Cruise are two companies that operate a daily ferry service between Marina South Pier, St. John's Island and Kusu Island.
A two-way trip costs $18 for adults and $12 for children (aged one to 12). No booking is needed. You just need to look for the bright orange Singapore Island Cruise and Ferry Services counter at Marina South Pier and purchase your tickets on the spot.
To us, the boat ride is an adventure in itself. Parents will appreciate the fact that the ferry is air-conditioned and children will have fun doing a 'Titanic' at the tip of the bow. "WooOowo" went the kids as the waves broke over the waters. We overheard one father on the boat explaining: "The top of the wave is called a crest, and the bottom a trough. And the waves are caused by that boat moving past us."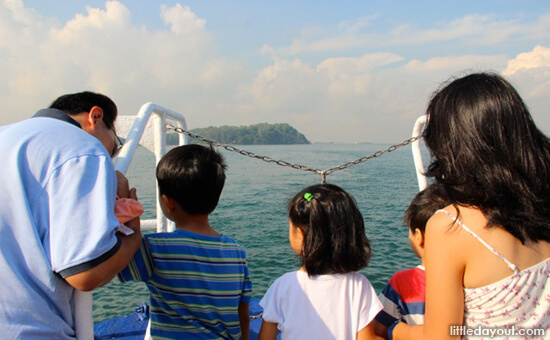 There is plenty to take in on the journey. The ferry took us past the ship-shaped Singapore Cruise Centre, the majestic skyline of Singapore, the container-laden Port at Tanjong Pagar and the yachts parked at Sentosa Cove. We reached St. John's Island all too soon.
St. John's Island
St. John's Island (previously known as Pulau Sekijiang Bendara) is a 39-hectare island, currently home to the Tropical Marine Science Institute and Agri-Food & Veterinary Authority of Singapore's Marine Aquaculture Centre. Holiday bungalows are available on the right side of St. John's Island and each can take up to 10 persons.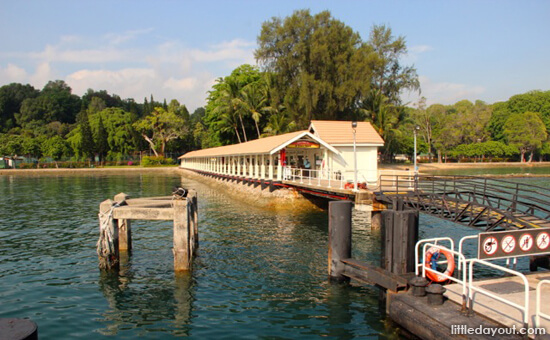 Before it became a campsite and research facility, this was the island that Sir Stamford Raffles anchored on 28 January 1819, the eve of his historic meeting with Temenggong Abdul Rahman. By 1874, St. John's Island became quarantine central for cholera-stricken Chinese immigrants and in the 1930s, it even rose to become the world's biggest quarantine centre. In the 1950s, St. John's Island was converted into a holding place for political detainees and secret society ringleaders. Later, the island was transformed again to house opium addict rehabilitants.
Today, this peaceful island houses only a handful of residents. Outnumbering them is a large stray cat population. On the left side of St. John's Island, which is en route to Lazarus Island, you may literally encounter this catwalk.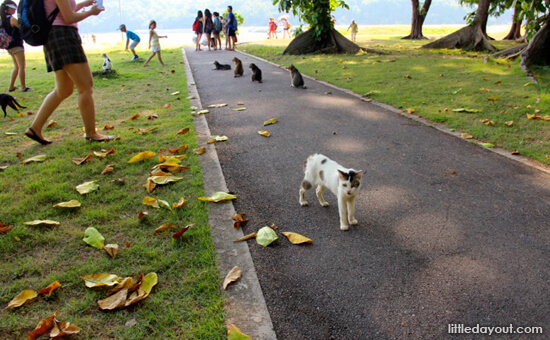 However, we would suggest heading first to the right side of St. John's Island where you can find the toilets. It is a less than a five-minute walk from the jetty and right next to it is a swimming lagoon, which is ideal if you are bringing along younger kids.
The real gem of a beach is the semi-circle stretch on the tranquil Lazarus Island, a 20-minute walk away, so hold your horses for that. Along the way, we took in the islands' flora and fauna.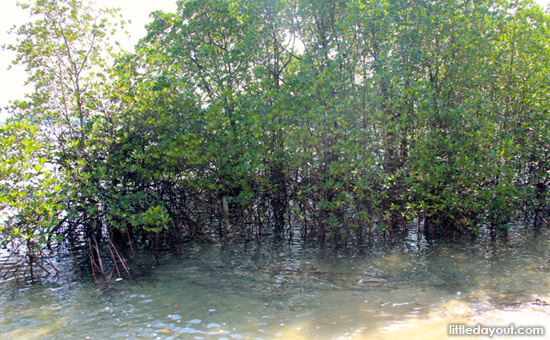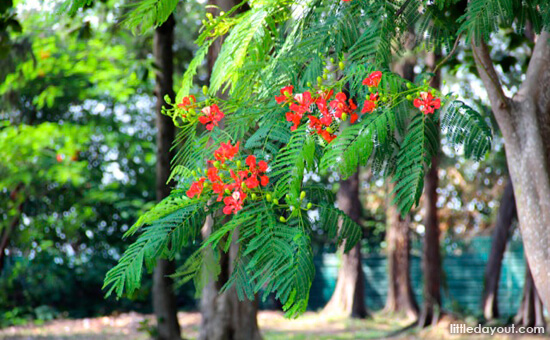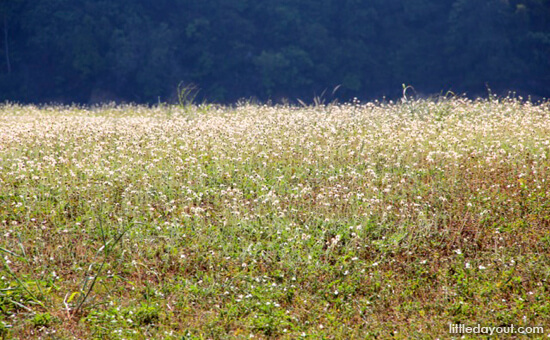 Lazarus Island
A paved bridge links St. John's Island to Lazarus Island.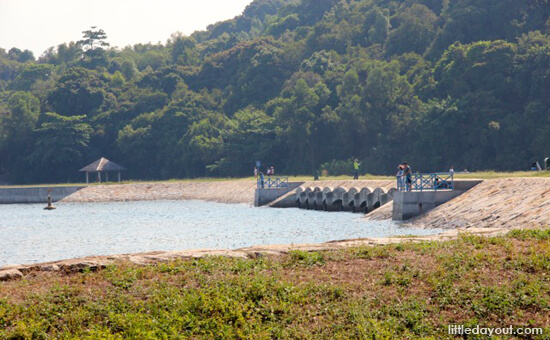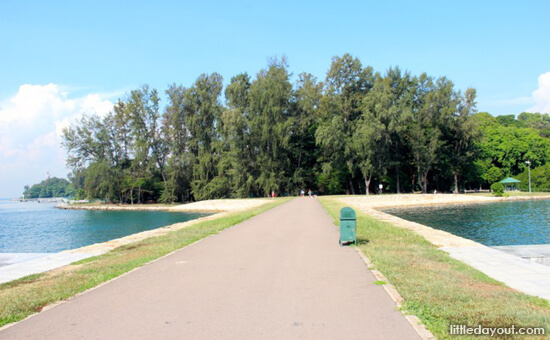 Southwards from the bridge is a small kelong and several anglers hook up for fresh catches on this bridge.
At the end of the bridge, there is a smaller stretch of beach with lovely white sand.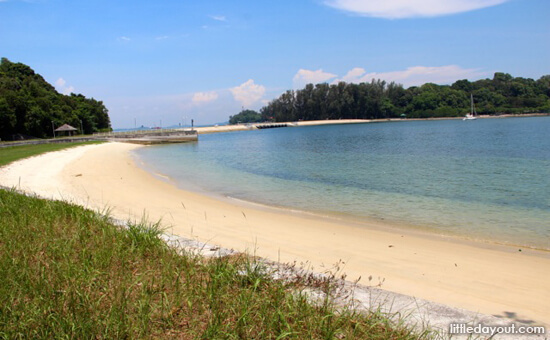 But press on. Walk further down the path, where you'll be greeted by several butterflies, and the true beach paradise with clear waters awaits.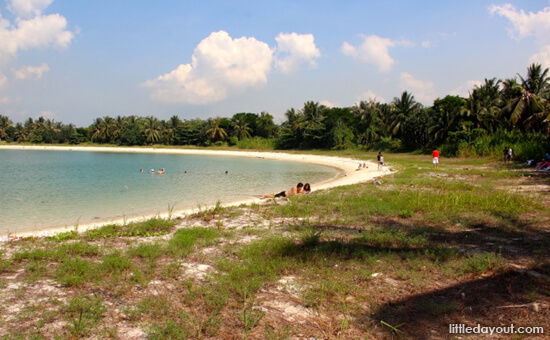 This pristine beach is the main attraction on Lazarus Island and you can while your time away in the waters or have a picnic.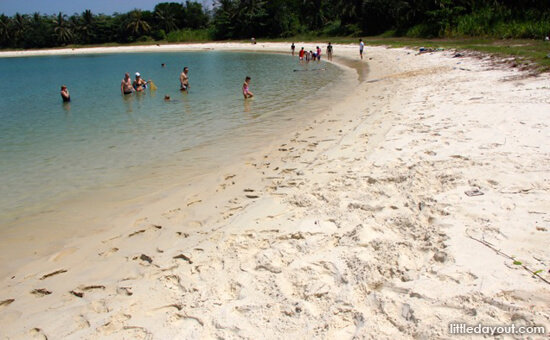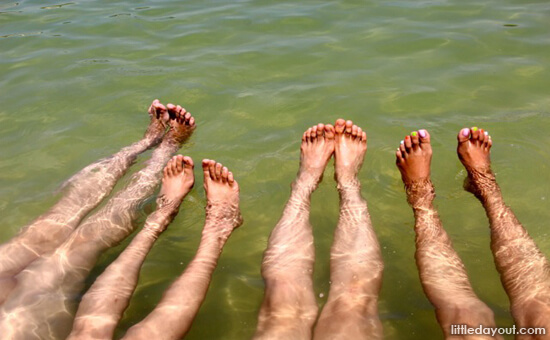 A group of friends even chartered a private boat to the jetty at Lazarus Island for a day out with their fur friends.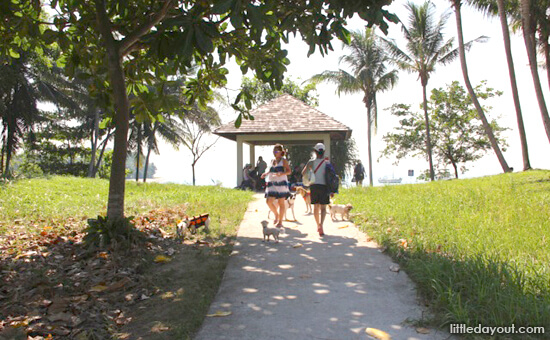 Seringat Island
On the other end of Lazarus Island is Seringat Island. There is no development on this stretch currently, but it may not be long before these parts turn into a resort.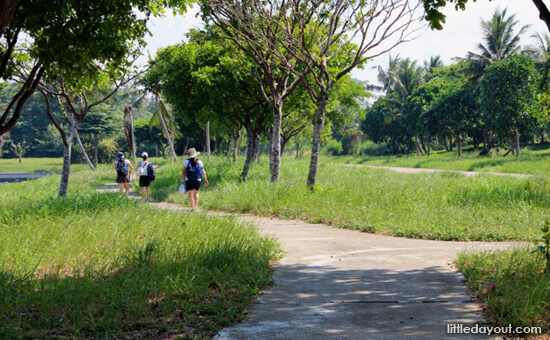 Kusu Island
Kusu Island, the easternmost of the southern islands, is a five-minute boat ride away from the St. John's Island jetty. Kusu which means "Tortoise Island" in Chinese has been known by several names – Governer's Island, Goa Island and Peak Island or Pulau Tembakul in Malay.
Devotees flock here for a pilgrimage during the ninth month of the lunar calendar. There is a Chinese temple and a Malay shrine on the island. As a better-developed holiday resort, there are also two lagoons, more beach shelters, toilets and a tortoise sanctuary on the island.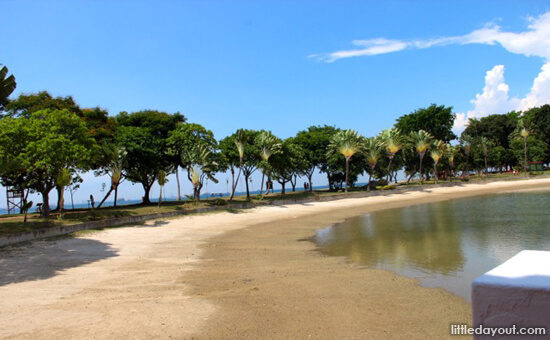 The Southern Islands have been slated for further recreational development, so we suggest paying these islands a visit before they turn into another tourist destination. Have a wonderful little day out in the sun!
Handy Tips for Your Visit to the Southern Islands
Check the ferry schedule online beforehand so you can plan your trip around it. The first ferry starts off earlier at 9 am and departs the latest at 6 pm on weekends and public holidays depending on the ferry company you go with. If you like to visit Kusu Island as well, check out Marina South Ferries' more flexible ferry schedule for the different inter-island timings.
Stock up on water, food, sun block and caps for this little day out! There are no shops on St. John's, Lazarus and Seringat Islands, so do bring along your own or buy something at the small shop at Marina South Pier. Drinks, sandwiches, cakes, fruits and snacks would fill up a good picnic basket.
There are three pavilions by the beach on Lazarus Island, on both ends and in the middle, and they are the only shaded areas and a good spot after the dip in the sea to cool down, dry off and pack your gear.
The toilets on St. John's island near the jetty come with shower facilities. The other toilet is next to the private jetty on Lazarus Island, a five-minute walk from the beach.
Give yourselves sufficient time to walk back from Lazarus Island to St. John's Island to catch the ferry in time. It takes about 20 to 30 minutes but it may take longer if you have children who are tired out by the end of the day.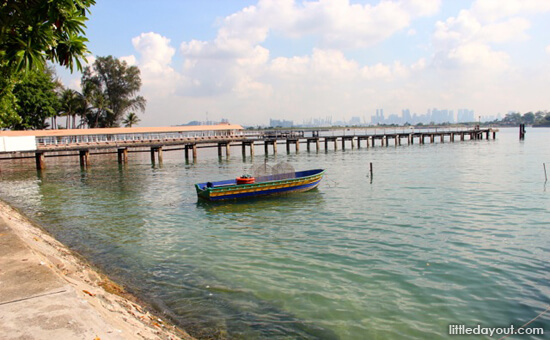 How to Get To There
Ferry Fare: Adult $18,
Child
 (aged from 1 to 12 years old) $12
Sale of Tickets: At Marina South Pier
Marina South Ferries (Tel: 9012 8000): Ferry Schedule 
Singapore Island Cruise & Ferry Services (6534 9339): Ferry Schedule