Tired of the usual shopping spots? Step into an emporium of wonders that will "transport" you to Hong Kong at Yue Hwa Chinese Products Emporium in Chinatown, Singapore.
Housed in a landmark building at the junction of Eu Tong Sen Street and Upper Cross Street – the former Nan Tin Hotel – Yue Hwa Chinese Products Emporium was established in Hong Kong over 50 years ago and remains today a treasure trove of all things from the North Asia.
Selling everything from Chinese silk, antiques and oriental handcrafts to seasonal live hairy crabs and mooncakes, this department store makes a great place for exploring with your children and finding things you normally wouldn't see in a regular shopping mall.
1. Unique Candies & Sweets
Give your children a taste (figuratively and literally) of how confectionary stores worked in the old days. Instead of selling pre-packaged bags of candy, at Yue Hwa the individually assorted sweets are displayed in acrylic boxes so you can scoop up as much or as little as you want, mix and match your favorite kinds and then weigh your bag of candy for the price. The selection itself is unique as Yue Hwa isn't a place where you'll find your Kit Kat or Snickers bar. Most of the candy here are inspired by Asian flavors and there's even an entire shelf dedicated to durian-flavored lollies and treats!
2. Chinese Tea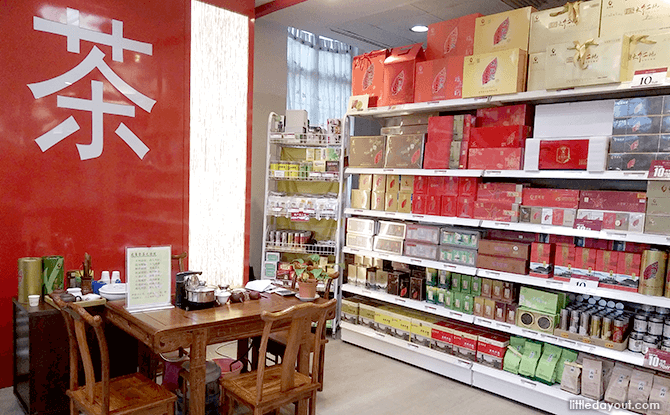 Moving oolong the food area, you'll land yourself in a one-of-a-kind tea haven. From your regular supermarket tea bags to loose tea leaves and dried flowers that you can weigh and buy, there probably isn't a flavor of tea that you can't find here. There is even a traditional tea-tasting area where you can try specialty flavors, some costing up to $800 for a "wheel" of dried tea leaves imported from different parts of China.
3. Miniature Merlion Park
The historic building Yue Hwa is situated in is beautiful in itself. At six stories high, it was once the tallest building in Chinatown and used to house a hotel. After Yue Hwa took over the building, the interior decorations are done up to be just as pretty as the outside. Many of the store's walls are furnished with beautiful artwork, the ceilings boast vintage ornate glass motifs and fun, Instagram-worthy Chinese ornaments are placed throughout. Can you try and spot this miniature Merlion Park at Yue Hwa?
4. Ceramic Plate Art Sets
The fourth floor of Yue Hwa is dedicated to beautiful Chinese artwork, ornaments and calligraphy equipment. Kids will love having a go at painting the illustrations on these ceramic plates using traditional dyes. When dried, the paint has a 3D, waxy embossed feeling that will give these plates an extra polished look. Porcelain painting classes are also available at Yue Hwa. For more information, call 6538 4222.
5. Hong Kong Snacks
As an organisation founded in Hong Kong, it's no surprise that many of the goods sold at Yue Hwa are imported from there and neighbouring Macau. Now you don't have to fly three and a half hours to get your souvenirs of egg rolls, almond biscuits, sachima and other Cantonese pastries.
6. Antiques & Traditional Furniture
Forget the DIY furniture pieces that all your friends seem to have. At Yue Hwa you'll be able to get your hands on one-of-a-kind traditional wooden tables, chairs, cabinets and wardrobes that look like they came straight out of a luxury hotel suite.
7. Traditional Chinese Clothing
Mark this down for the next Lunar New Year celebrations – pay a visit to Yua Hwa to get your traditional Chinese clothing. Available for both adults and children alike, Yue Hwa boasts an impressive selection of cheongsams and changshans in hundreds of different beautiful designs. The prices range depending on the quality and complexity of the outfits.
8. Traditional Chinese Medicine (TCM)
Originating in Ancient China, TCM has evolved over the past thousands of years but is still used popularly today to complement Western medicine. A quarter of the entire first floor of Yue Hwa is decked out with herbs, dried and preserved plants, ointments and pills that have a cure for anything you've got – whether it's for joint pains, teeth whitening, pregnancy and postnatal needs.
9. All Things Korean
Steering a little further to the North, the first floor of Yue Hwa has a large section featuring all things Korean. Moms will go wild over the incredible selection of face masks available while children will love looking at all the different Korean snacks on the shelves. This area is so well stocked that it was awarded the title of "Excellent Korean SME Products Sale Store" by the Korean government!
10. Wedding Essentials
If you helping to prep for a wedding or looking for gifts to give to your newlywed Chinese friends, Yue Hwa has it all. There are racks of Chinese congratulatory wedding cards and invitation cards, as well as matching his-and-hers towels and embroidered lucky emblems.
11. Oriental Ornaments
From Zodiac-themed Tibetan garlands and silk-embroidered cushion covers to oriental Christmas tree baubles, Yue Hwa is one place where you can find some truly exotic souvenirs and decorative trinkets for the house.
Yue Hwa Chinese Products Emporium, Chinatown
Address: 70 Eu Tong Sen Street, Singapore 059805
Opening Hours: Sundays to Fridays (11am – 9pm) & Saturdays (11am – 10pm)
Website
Yue Hwa Stocktake Sale
Yue Hwa is currently having a stocktake sale until 2 April 2017, with items marked down up to 70% of their original price (what a bargain!), so now's the perfect time to get your share of Chinese products.
This article is brought to you by Yue Hwa Chinese Products Emporium.
More Stories on Chinese New Year: