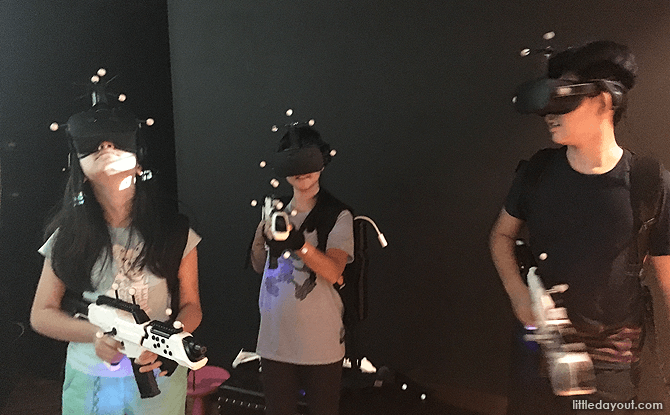 Lock and load at the Pirate Land VR Game Room.
Pirate Land at Centrepoint is an indoor playground that offers a wide variety of play options for kids. These range from activities such as sand play to a playscape and ball pit.
Multiplayer VR
One of the activities available at Pirate Land is a multiplayer virtual reality game.
This multiplayer virtual reality game allows up to four players to play either PvE or PvP games.
---
-- Story continues below --
PvE stands for Player versus Enemy where players collectively fight against a computer-generated enemy. PvP refers to Player versus Player games where the players go head-to-head against each other.
At the Pirate Land Multiplayer VR Game Room, each VR session lasts 15 minutes and you can choose to divide this time between PvE and PvP games. For example, you can spend 10 minutes on PvE and the remaining 5 minutes on PvP. This allows players to sample a variety of gameplay.
The game scenario at Pirate Land's VR Game Room is based on a SWAT-type combat mission. Players take on the role of SWAT operatives and have to either defend an area (in the PvE game mode) or engage in a firefight with each other at a train station (in the PvP game mode).
Suit Up
After making payment for the VR game at the counter, players will be lead to a holding room to suit up.
To play, players will need to put on the VR equipment. This includes a backpack, VR headset, gloves and weapon too. The equipment is fitted with sensors that allow it to be tracked wireless inside the play area.
The weight of the backpack is approximately the weight of a fully-loaded school bag.
It is also worth highlighting that the gameplay includes shooting enemy AI or other players. For players who have played games such as Halo or even Virtual Cop, this should be no issue. Nonetheless, parents have to decide if the game is suitable or age appropriate for their child.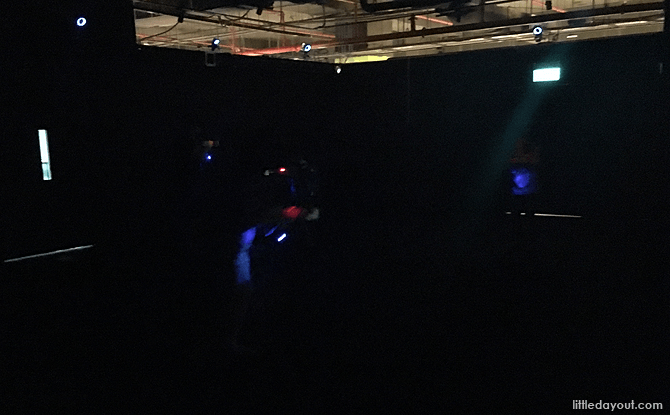 Gameplay takes place inside Pirate Land's VR Game room. Essentially, this is a darkened, empty room. Sensors at room's perimeter allow players' movements inside the room to be tracked and translated into the game.
It is important for players to learn how to operate the equipment, i.e. how to reload the weapon once it runs out of ammo. There is an in-visor tutorial but it is easy to miss. Players who are not sure should ASK THE PIRATE LAND STAFF who help them suit up how to load and reload the weapon.
Watch The Action Unfold
Once the game starts, onlookers can watch the VR action from the holding room outside.
Between the PvE and the PvP games, we preferred the PvE game. It is more cooperative and less competitive. Also, there is more to shoot at as the enemy AI keeps coming, making the gameplay more fluid and interesting. In the PvP game, players may have a tendency to "camp" and hide, making the gameplay slower.
Pirate Land's VR game costs $20 for 15 minutes per person or $72 for 15 minutes for a group of four. It provides a way to experience multiplayer VR games and, judging by the screams of joy heard from the darkened room, an entertaining and fun experience too.
Pirate Land VR Game Room
Address: 176 Orchard Road, The Centrepoint #03-09/101, Singapore 238843