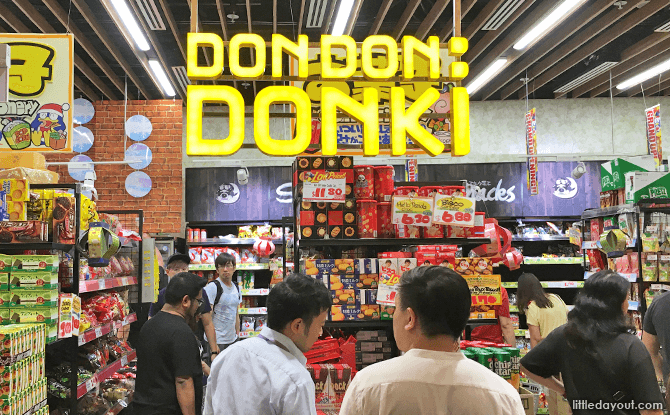 Judging by the crowds, it seems that Singaporeans have become enamoured by Don Don Donki Singapore. Or maybe, it is just the Singaporean obsession with all things new.
Don Don Donki first opened at Orchard Central. It is the first location in Southeast Asia for Japan's popular Don Quijote, a discount store which stocks items from Japan. You can think of Don Don Donki as a cross between Daiso and our very own Mustafa.
Here are seven things to know about Don Don Donki in Singapore if you are planning a visit sometime soon.
---
1. 7 Locations Around Singapore
From the basement levels of Orchard Central, Don Don Donki has quickly expanded all over Singapore. At last count, there are eight seven Don Don Donki outlets in Singapore. This include
Don Don Don Jem
Don Don Donki JCube
Don Don Donki Clarke Quay Central
Don Don Donki Square 2
Sweet Potato Factory by Don don Donki at Terminal 3, Changi Airport (Closing on 13 September 2020)
Don Don Donki City Square Mall
Don Don Donki 100 AM (Tanjong Pagar)
Don Don Donki Orchard Central
---
2. Retail, Food & Fresh Produce at Don Don Donki Singapore
At Don Don Donki stores in Singapore, you will find a wide mix of goods on sale. These range from:
Confectionary, Cosmetics, Pet Goods, Home Goods, Health Goods, Bags, Bedding, Hobbies and Toys, Clothing, Stationery, Perfume, Timepieces and Souvenirs.
At its supermarket sections, you can look out for items such as:
Fruits and Vegetables, Chilled Foods, Fresh Fish, Fresh Meat, Processed Foods, Snacks and Liquor. It has a takeaway delicatessen section that sells sushi and sashimi too.
---
3. Long Shopping Hours
Good news for night owls, Don Don Donki stores are open early and stay open till late. They typically open at around 8 am in the morning till midnight. The exception is Orchard Central which is open 24 hours a day! This means late night shopping in the heart of Orchard Road.
---
4. Food Courts
Those who love Japanese food can head over the Don Don Donki food courts. These features stores brought in specially from Japan. The Don Don Donki food courts in Singapore can be found at City Square Mall, Central Clarke Quay, JCube and Jem.
---
5. Narrow Aisles
The store is packed with goods and the aisles are pretty narrow at Don Don Donki. When crowded, you might find yourself having to squeeze past folks to move through the store.
---
6. Loyalty App
Don Don Donki Singapore has its own Loyalty App which can be found on the phone. Use it to collect points. There are also discounts and vouchers which are available to members through the Don Don Donki app.
---
7. Sweet Potatos
A signature item at Don Don Donki is its sweet potato. For those who love the snack, it comes out fresh-baked at intervals throughout the day.
---
Don Don Donki Singapore