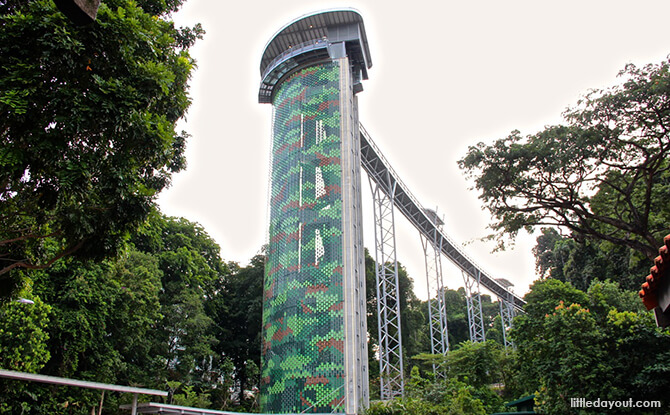 Walkways in the sky that give you aerial views of tree canopies and stunning scenery have been sprouting up around Singapore in recent years. Overcome any fear of heights and you'll soar like a bird with fantabulous views of flora and fauna before your very eyes at skywalks in Singapore.
For our young ones with shorter legs, skywalks certainly open up the horizon for them. And as tall buildings in urban Singapore surround us, taking a different type of walk on higher ground gives us a change in perspective literally and figuratively. James Deacon said, "What you see depends not only what you look at, but also, on where you look from."
Take to the Skywalks in Singapore
Little Day Out rounds up the skywalks in Singapore, including sky bridges and skyways (as they are varyingly known), and discovered that the air is cleaner and fresher up there. And with lifts and stairs at the side for some of them, elevated walkways are oh so easily accessible for the young at heart and young alike. So, take in all these sky highways and byways, and walk the talk way above the ground together with us!
1. Fort Siloso Skywalk, Sentosa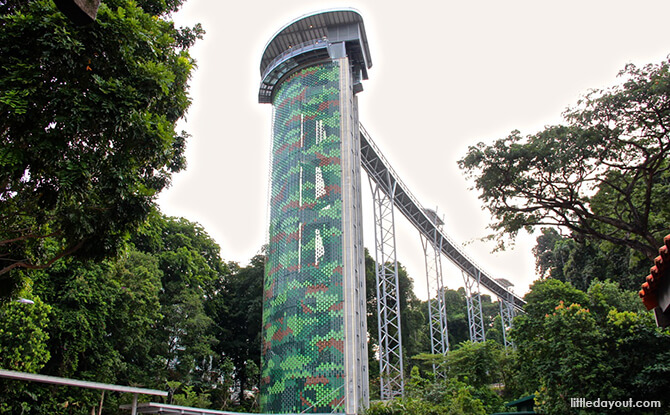 Fort Siloso Skywalk, the newest kid on the Singapore Skywalk scene (opened on 15 July 2015) is also the tallest one in Singapore, for now. The Fort Siloso Skywalk tower, which supports one end of the elevated bridge, stands at 11 storeys high and is accessible via lifts that operate from 9 am to 7 pm daily.
Designed as an S-shaped bridge to minimise the effects of heat and vibration over time, the curves absorb energy and minimises deformation. The concrete finish on the deck of the bridge counters any sway. It also helps you to forget you are actually suspended so high in the sky on a 181-metre-long bridge with very few columns.
Along the aerial walking trail, you can enjoy the canopy of treetops on one side and the rooftop of Shangri-La's Rasa Sentosa Resort & Spa and the sea beyond on the other. Covered rest stops where you can read up on Singapore's defence history from the 19th century have been thoughtfully incorporated. Now, reaching the historical Fort Siloso is literally just a five-minute walk in the sky park.
Where: Near Siloso Point Cable Car Station
Height: 43 metres
Length: 181 metres
Entrance Fee: Free
Opening Hours: All day, but lifts operate from 9 am to 7 pm daily
Related Article: Sentosa Gets New Cable Car Line and Attraction
Website: Link 
2. OCBC Skyway, Gardens by the Bay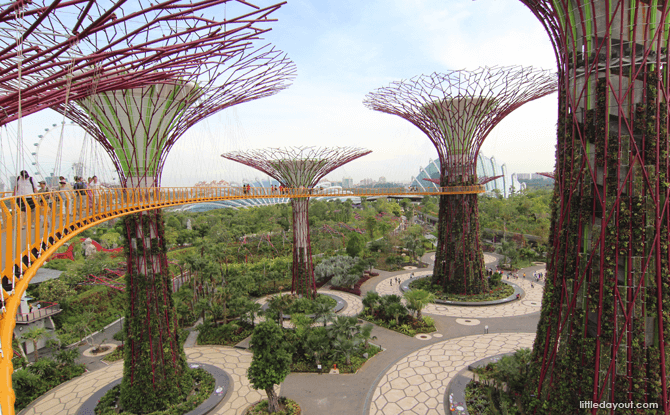 At the Supertree Grove within Gardens by the Bay, the OCBC Skyway has been an engineering marvel and brilliant showcase of Singapore's Marina Bay skyline.
The kids racing up the stairs to this heavenly walkway would probably reach the top of this curvilinear bridge before you do. As you step out, your heart gets a little flutter not just because you suddenly realise how dauntingly high up you are, on a bridge suspended by what looks like strings to the top of the supertrees, but also because you take a big gulp of the panoramic views all around you atop this aerial wonder.
We recommend coming by in the evenings, as it is not so hot and you can catch the twice-nightly Garden Rhapsody light and sound show. Admire the gardens vertically as the 25 to 50-metres tall large canopies come alive at night.
Where: Supertree Grove, Gardens by the Bay
Height: 22 metres
Length: 128 metres
Entrance Fee: $5 for adults, $3 for children (3 to 12 years old). Purchase your tickets at the Ticketing Hub or near the entrance of the OCBC Skyway (cash only).
Opening Hours: 9 am to 9 pm daily, last ticket sale at 8 pm, last admission at 8.30 pm.
Website: Link
3. TreeTop Walk, MacRitchie Nature Reserve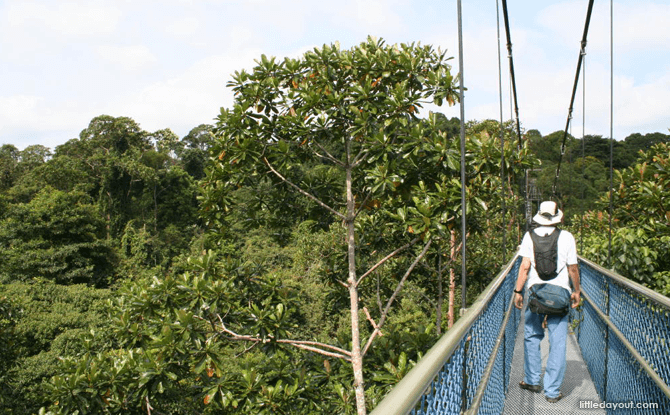 Over at MacRitchie, the TreeTop Walk has been the grand old dame dazzling Singaporeans with its spectacular view of the mature forest canopy. The thrill here lies in the fact that this is a one of its kind free-standing suspension bridge that joins Bukit Peirce with Bukit Kalang, 25 metres above the ground. Also, this is a wonderful natural sky high getaway as you need to trek through approximately 4.5 km (1.5- to 2-hour walk) from MacRitchie Reservoir Park or 2.5 km (45 minutes to 1-hour walk) from the car park at Venus Drive. Hence, this makes it more suited for kids who can go the distance. Do remember to bring along water for this walk!
Where: MacRitchie Nature Reserve
Height: Varying, highest point at 25 metres above the forest floor
Length: 250 metres
Entrance Fee: Free. One-direction traffic on the walkway. Entrance to the bridge is from the Ranger Station via Peirce track.
Opening Hours: Tuesdays to Fridays: 9 am to 5 pm, Weekends and Public Holidays: 8.30 am to 5 pm. Closed on Mondays except public holidays for maintenance and research.
Related Article: MacRitchie Reservoir Park: 15 Things You Did Not Know
Guide: A Guide to Walking Trail at the TreeTop Walk
4. Henderson Waves, Forest Walk and Canopy Walk, along Southern Ridges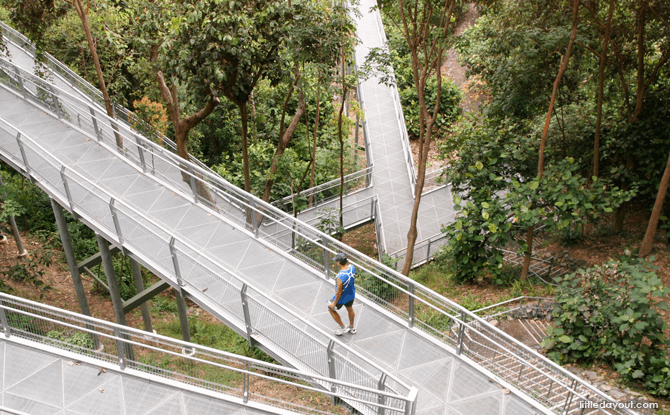 The Southern Ridges is an elevated walk through Singapore's mini 'mountain' ranges in the south, from Kent Ridge through Telok Blangah Hill to Mount Faber. There are three elevated walkways through this stretch that brings you into the wonderful woods for a bird's eye view of our chirping friends.
Henderson Waves, the most well known of the lot, is a 274 metre-long and Singapore's tallest pedestrian bridge that takes after its name. Seven undulating timber "ribs" double up as alcoves and you can take a break to admire the views of Keppel Harbour.
Forest Walk is a step-free elevated walkway in a series of zig-zags across Telok Blangah Hill and on to Alexandra Arch. The longest walk of the lot, young children can still take this 1.3 km or 35-minute stroll through to appreciate the many different birds in the Singing Forest and see the forest through the metallic see-through walkway.
Canopy Walk, the shortest of the three boardwalks, is only 280 metres long but connects you to the secondary forest at eye-level. Take your baby through this easy 10-minute stretch with the stroller and you'll reach Reflections at Bukit Chandu.
Where: Henderson Waves is nearer to Telok Blangah; Forest Walk is opposite HortPark at Alexandra and Canopy Walk is at HortPark
Height: Henderson Waves is 36 metres tall
Length: Henderson Waves is 274 metres, Forest Walks is 1.3 km, and Canopy Walk is 280 metres
Entrance Fee: Free
Related Article: Telok Blangah Hill Park: Henderson Waves and More
Guide: Your Guide to Hort Park & the Southern Ridges by NParks
5. 50th Storey Skybridge, The Pinnacle@Duxton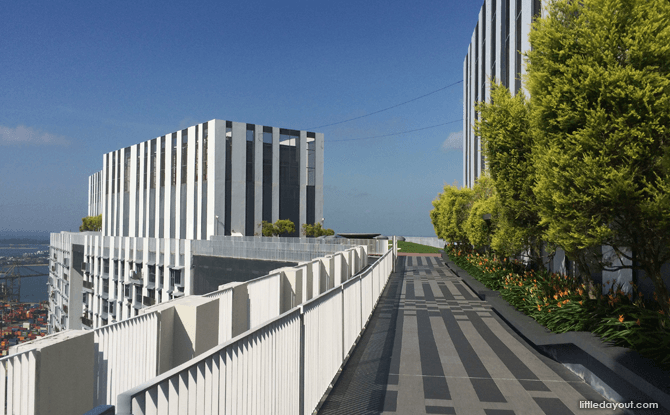 Two skybridges linking all seven blocks of this public housing project can be found at The Pinnacle@Duxton on the 26th and 50th storeys. The former is reserved for residents' use and comes with facilities such as a jogging track, fitness corners, outdoor gym, children's playground, a community plaza and two viewing decks. The 50th Storey Skybridge is open to the public. Enjoy panoramic views of Singapore city from here, the world's longest sky garden at 500 metres long.
Where: Corner of Cantonment Road and Neil Road
Height: 57 storeys
Entrance Fee: $5
Opening Hours for the Public: 9 am to 9 pm
Website: Link
6. Sands SkyPark Observation Deck, Marina Bay Sands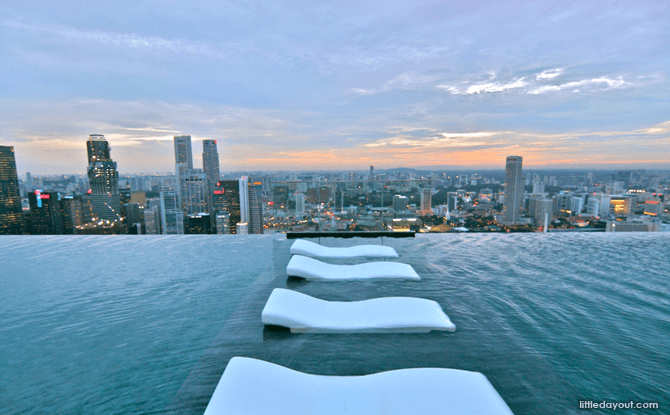 Sands SkyPark, on top of Marina Bay Sands, is famous for housing the world's largest rooftop infinity pool, the best city-skyline views from the cantilevered observation deck and a variety of bars and restaurants on Level 57.
Where: Marina Bay Sands
Height: 50 storeys
Entrance Fee: Access to the Observation Deck costs $23 for adults, $17 for children (aged between 2 – 12 years), $20 for senior citizens (aged 65 years and above). Free for children under 2 years.
Opening Hours: Mondays to Thursdays: 9.30 am to 10 pm, Fridays to Sundays: 9.30 am to 11 pm. Call +65 6688 8826 to ensure it is open during the time you wish to visit.
Website: Link
If walking on skywalks aren't enough for you, you may want to visit someone who has a unit at Sky Habitat, a new private condominium designed by Moshe Safdie. This new development at 7 Bishan Street 15 has a swimmable skybridge, towering 38 storeys above the ground between two towers, and little else below it. This is the sky swim that tops all the skywalks for sure!