MacRitchie Reservoir Park.
For some, just the name alone can evoke sweaty memories of school cross-country runs through dense forest trails.
However, the MacRitchie Reservoir and its 12 hectare park is also a lush patch of greenery that provides a wonderful space for families to enjoy.
The park, opened in 1967, provides a spot of nature in the heart of Singapore for nature lovers.
---
-- Story continues below --
MacRitchie Reservoir itself was completed in 1867 but originally had its origins a decade before when businessman Tan Kim Seng (after whom Kim Seng Road is named) donated a sum of money to improve Singapore town's water supply.
It was only after Singapore experienced a severe island-wide drought that the colonial government was compelled to approve the construction of the reservoir. Then known as the Impounding Reservoir, it was further enlarged under the supervision of James MacRitchie in 1891 and named in his honour in 1922.
Visitors to MacRitchie Reservoir Park today get to enjoy its beautiful waters, hilly terrain and iconic landmarks such as the zig-zag bridge. Leading into the Central Catchment Area are trails and boardwalks. These provide a wonderful way for families to experience the outdoors together.

Despite MacRitchie Reservoir Park being such a well-visited park, there are still little 'discoveries' to be made. Here are 15 facts about MacRitchie Reservoir Park that you may not have known about.
---
1. MacRitchie Has Two Sets of Boardwalks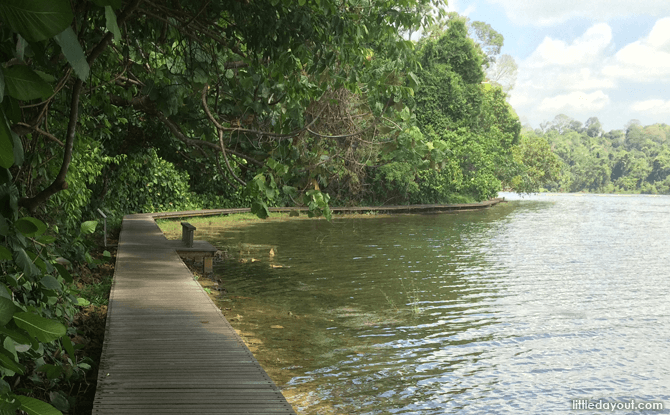 Skirting the water's edge of MacRitchie Reservoir are two boardwalks.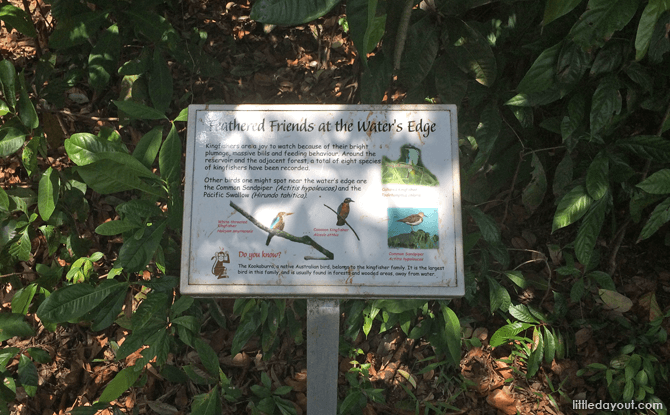 The Chemperai Trail covers a distance of 1.5km and is accessible from the forested Lornie Trail near the zig-zag bridge.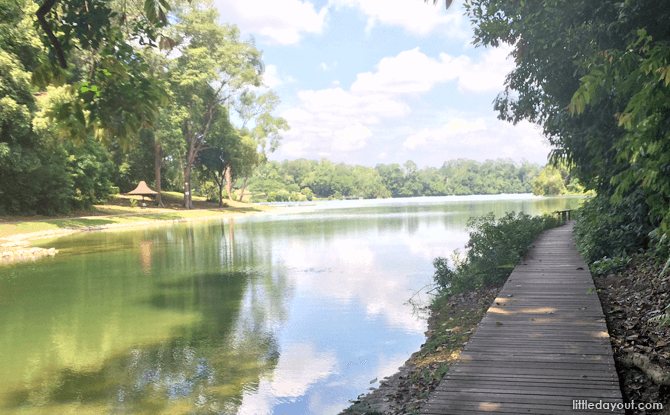 The second boardwalk is at the eastern end of MacRitchie Reservoir Park, closer toward Thomson Road. It consists of the two parts, the Prunus Trail and the adjoining Petai Trail.
Both Chemperai and Prunus-Petai boardwalks lead out along the water's edge, providing scenic vistas of the Central Catchment Area.
---
2. Take to the Water in a Kayak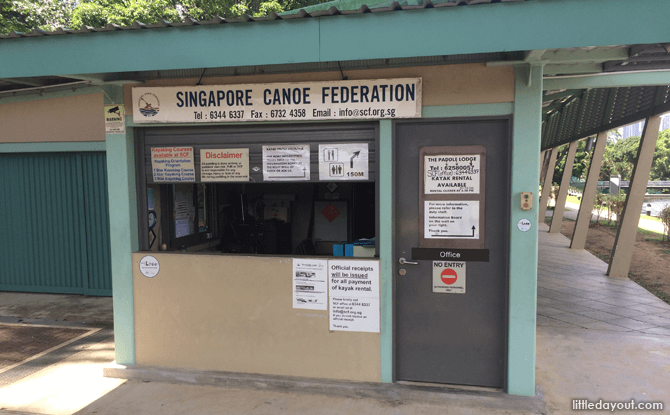 The Singapore Canoe Federation operates a kiosk at MacRitchie that rents out kayaks by the hour. Children as young as four can go paddling on sit-on-top kayaks accompanied by adults.
Operating hours are from Monday to Sunday, 9 am to 12 noon, and 2 pm to 6 pm, with the last rental at 4.30 pm. It is closed on selected public holidays.
---
3. Go Fishing at MacRitchie
MacRitchie Reservoir has a designated fishing ground. Found in the eastern part of the park, only artificial bait is permitted and anglers are encouraged to practise "catch-and-release" to maintain the reservoir's fish stocks.
---
4. One and Only Playground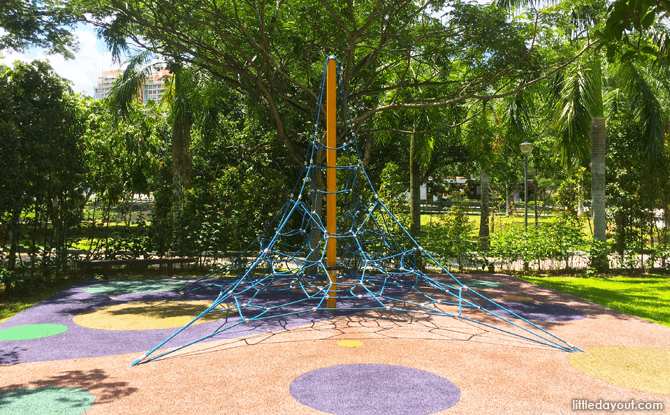 Even though MacRitchie Reservoir Park is a family-friendly park, it only has one children's playground. Located near the main vehicular entrance, it is not even much of a playground. There is only one play structure here, a small, blue rope pyramid. Presumably, kids visiting the park are being encouraged to enjoy nature rather than spend their time scouring around a man-made playground.
---
5. A Children's Book Has Been Written About MacRitchie
Students from Raffles Institution's Arts and Eco Literacy Programme wrote a children's book titled Little Backyard Tales of MacRitchie based on the plants and animals found at MacRitchie Reservoir.
Targeted at Primary Three and Four students, it includes a mini guide to the flora and fauna found at the Prunus Trail. The book is available at selected National Library branches under call number English 428.6 LIT.
---
6. Get Wet at the Submerged Walkway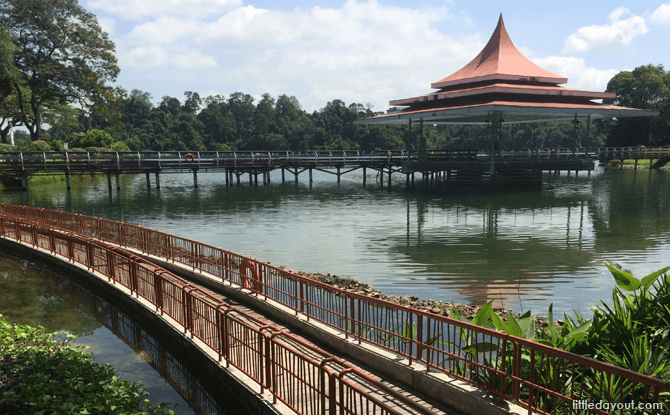 If walking along the water is not enough for you, beside the zig-zag bridge and grandstand is a submerged walkway. The 40-metre long boardwalk is made from a special material that resembles wood but able to resist being submerged underwater.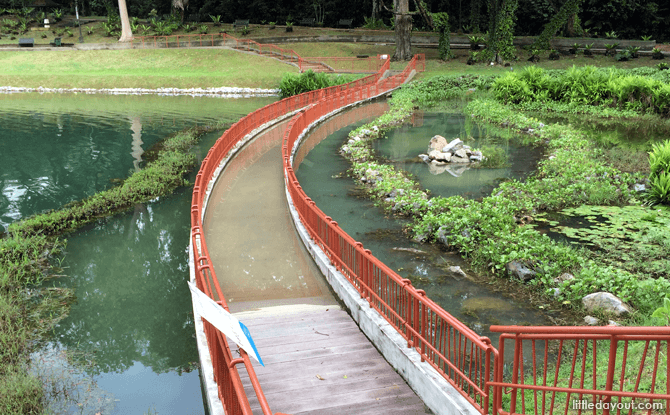 When the water level rises, visitors can expect to wade into water as deep as 50mm along the submerged walkway. The walkway is open from 8 am to 7 pm.
---
7. MacRitchie Reservoir Park contains a War Hero's Tomb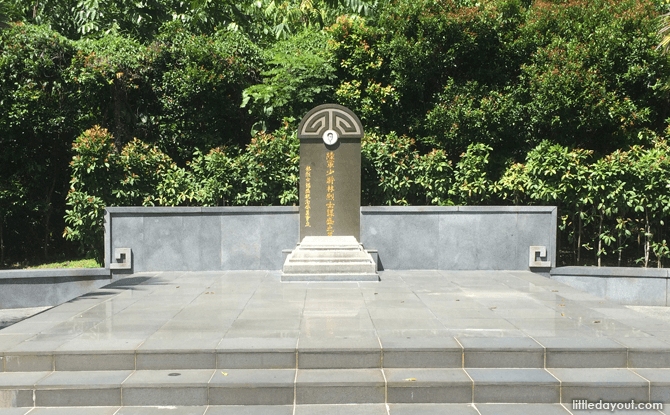 Lim Bo Seng arrived Singapore at age 16 and studied at Raffles Institution. When the war broke out, he became an activist, recruiting volunteers to put up resistance to the Japanese. Four days before the fall of Singapore, he escaped to Indonesia, making his way to India where he recruited operatives against the Japanese. In 1943, he arrived back in Malaya via submarine as part of the clandestine Force 136, a task force setup to gather intelligence and sabotage the Japanese. However, the spy network was compromised and Lim captured.
Even though tortured, he never divulged information about his fellow soldiers and died in June 1944 in Perak. After the war, his wife brought his remains back to Singapore. He was given a funeral service at City Hall and buried at MacRitchie Reservoir with full military honours.
Originally his grave was marked by a simple wooden cross, but this was replaced with the present concrete structure in 1952. Visitors to the Park can visit his tomb at the hilltop beside the start of the Lornie Trail.
---
8. Sir Stamford Raffles Named the Most Commonly Found Monkey in MacRitchie (and the Entire Singapore)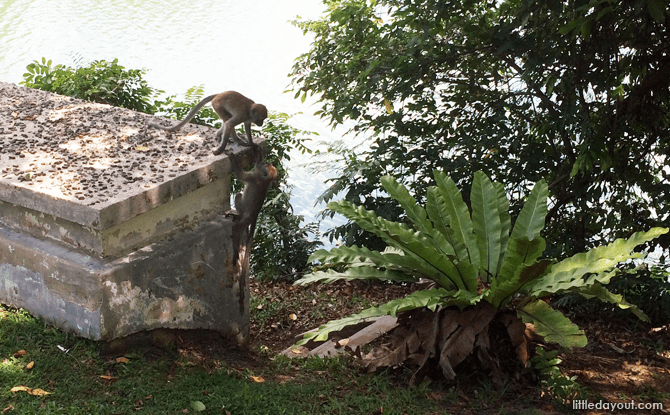 Living throughout MacRitchie Reservoir area and the Central Catchment Area, Long-tailed Macaques were given their scientific name, Macaca fascicularis, by Sir Stamford Raffles in 1821. If you do encounter them, remain calm and quiet, do not make sudden movements or challenge them to a staring contest by making direct eye contact. If you need to leave the area, look away and back off slowly; don't turn around and run.
---
9. View Waterworks Machinery Close Up
Walking along the embankment at the park, you get to view the engineering that went into waterworks.
It is located behind a clear panel just beside the walkway.
---
10. A Floral Clock Used Keep Time in the Park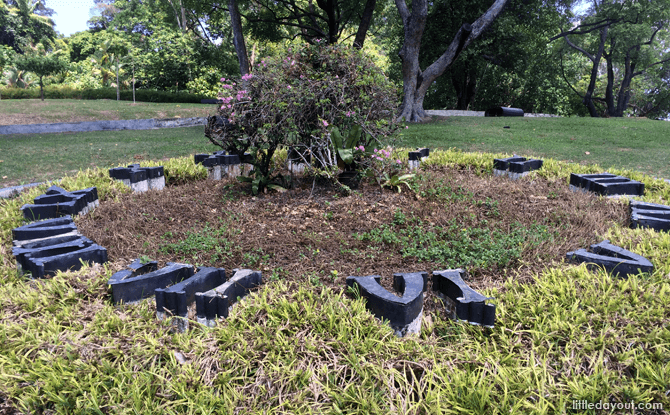 The park at MacRitchie Reservoir opened in 1967, 100 years after the reservoir was completed. Among the features found in the park was a floral clock set into the hillside near the Lim Bo Seng tomb. Today, the clock's hands no longer mark the hours and minutes but its numbers still remain as a memory to a time gone by.
---
11. The Bandstand and Zig-zag Bridge Can't Be Knocked Down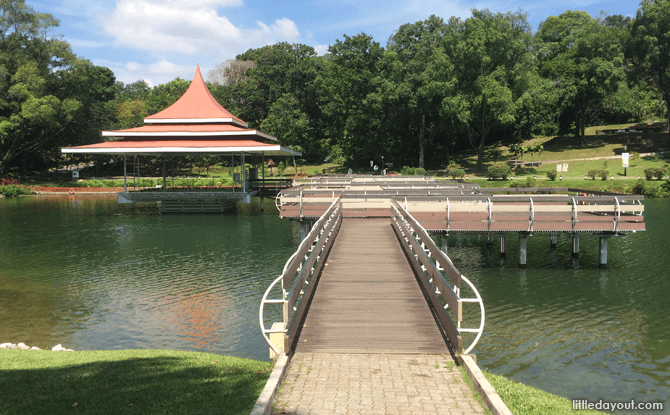 MacRitchie's iconic zig-zag bridge and bandstand were given conservation status by the Urban Redevelopment Authority in December 2009. They are being preserved because of the "social memories especially of many school children who attended various sporting events at the Reservoir Park."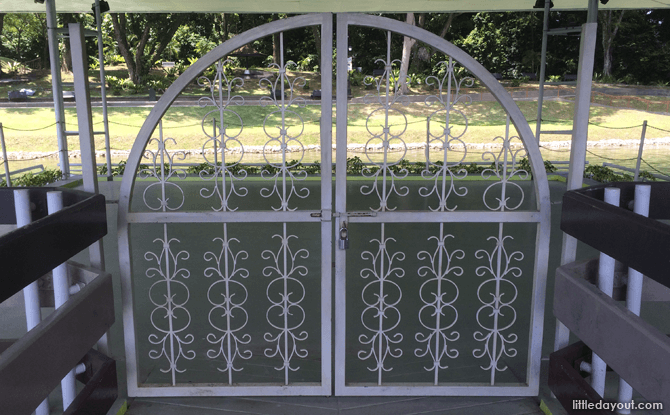 We are just happy future generations can have happy memories of them too.
---
12. MacRitchie has More than One Official Heritage Structure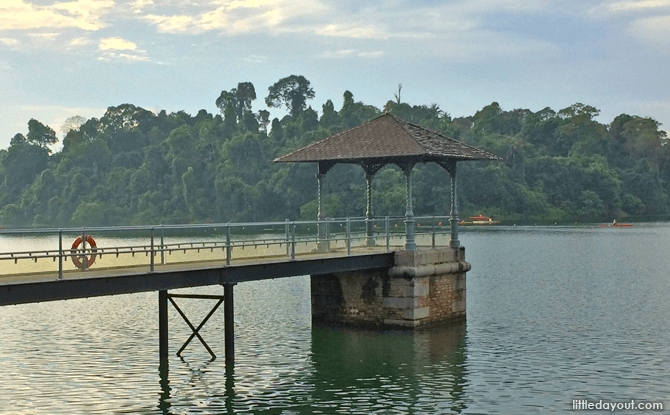 The zig-zag bridge and bandstand are not the only conserved landmarks at MacRitchie Reservoir Park. The water intake tower and its connecting bridge were also given conservation status in 2009 as they demonstrate the "technological process and construction methods of the late 19th century."
---
13. MacRitchie Reservoir Park Has Its Own "Lombard Street"
Zig-zag up and down the hill with a zig-zag ramp. The windy ramp leads to the hilltop which offers beautiful views of the reservoir's waters. Just like San Francisco's famous Lombard Street, it is full of switchbacks – a total of seven. For those less inclined to follow the ziggy-zag path, there are a flight of stairs too.
---
14. Choose from Two Dining Options in the Park
MacRitchie Reservoir Park's hilltop is home to a dining spot with panoramic views of the reservoir's calm waters. Vava Bistro @ MacRitchie is open for dinner from Tuesday to Sundays and for breakfast brunch on Saturdays and Sundays.
If you are looking for simpler fare, stop by Mushroom MacRitchie Café near the entrance for local comfort foods like mee siam, nasi lemak and hor fun. Mushroom MacRitchie Café opens daily from 7 am to 9 pm.­­
---
15. Join a Guided Walk
Get out and experience nature through guided walks that are regularly organised for nature lovers. Check the Nparks website for the latest events. In 2015, the Jane Goodall Institute Singapore is organising "A walk with your neighbours: The macaques of Macritchie", a free monthly walk that is suitable for adults and children above 8 years old. The schedule of the walks can be found here. Get more information at the Nparks' website.