Located in the far northwest of Singapore, Sungei Buloh Wetland Reserve is haven for wildlife. With tidal ponds and mangrove forests, it supports an ecosystem of birds, reptiles and mammals. At the same time, it provides visitors a chance to encounter and admire these animals in their natural habitat.
Some of the animals that visitors come to see at Sungei Buloh's Tidal Ponds include herons, kingfishers, monitor lizards, water snakes and crocodiles (!!!).
Sungei Buloh means "River of Bamboos" in Malay. The area used to be a fish and prawn farm explaining the rich biodiversity unique to this area.
The most popular time of the year to visit is from September to March. This is when migratory birds such as the Great Egret, Marsh Sandpiper and Himalayan Swiftlet fly into the wetlands at Sungei Buloh. Sungei Buloh Wetland Reserve has also been recognised as a site of significant importance for migratory birds and in the East Asian Australasian Shorebird Site Network.
For human visitors, the entry to the wetlands at Sungei Buloh is much less dramatic.
---
Entrance to Sungei Buloh Wetland Reserve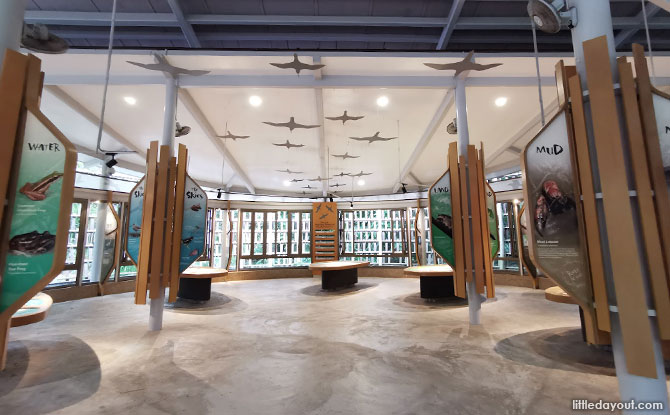 The first building visitors heading to the Tidal Ponds will come to is the Wetland Centre. This should not be confused with the Visitor Centre that is located at the Sungei Buloh Wetland Reserve Extension.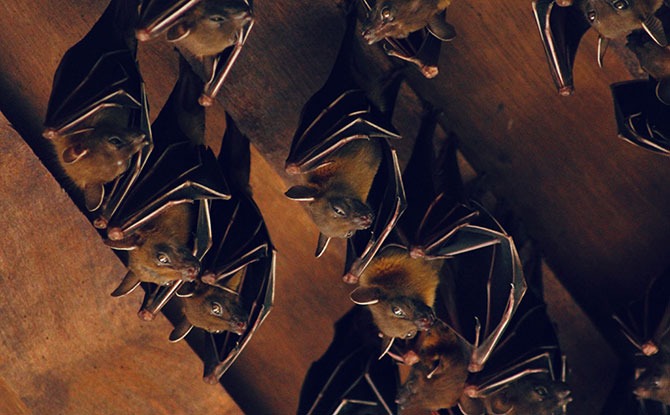 At the Wetland Centre's Nature Gallery, there are educational panels that provide a wealth of information about the flora and fauna of the wetland reserve. Also look above you and check out the fruit bats that have made their home at the roof of the Wetland Centre. Kids will definitely be drawn to the adorable sleeping creatures hanging upside down.
Sungei Buloh and its tidal ponds became a nature reserve in 2002. The Sungei Buloh Wetland Extension, with coastal walks and a mudflat experience, was later added to the east of the Reserve in December 2014.
In August 2020, it was announced that the eastern extension will be renamed Kranji Coastal Nature Park. It would also form part of of the Sungei Buloh Nature Park Network which will include a new Lim Chu Kang Nature Park to the west of the Wetland Reserve and connections with other nature spaces in the area.
(Do note that the Coastal trail that links the eastern extension is currently under renovation and completion is expected in March 2022.)
---
Resident & Visiting Wildlife at Sungei Buloh Wetland Reserve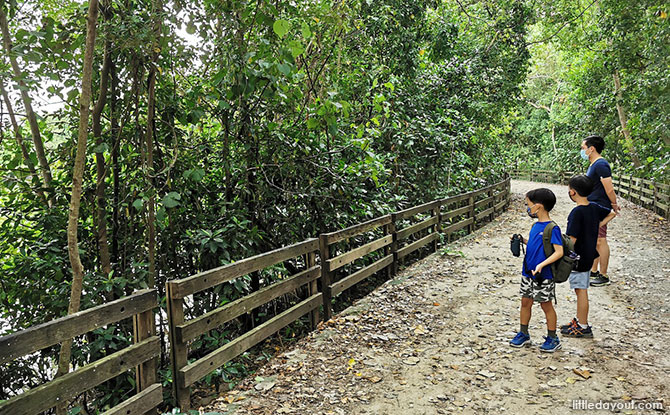 You are in for a treat if you visit Sungei Buloh to check out the wildlife. It is truly wild with a rich biodiversity. As you enter the wetland reserve while crossing the main bridge, look out for feeding herons, crocodiles and the schools of fish swimming about. It is little wonder that the area is teeming with wildlife just by the look of the numbers of fish like Halfbeak, Tilapia, Archer fish, Mullets swimming or jumping freely.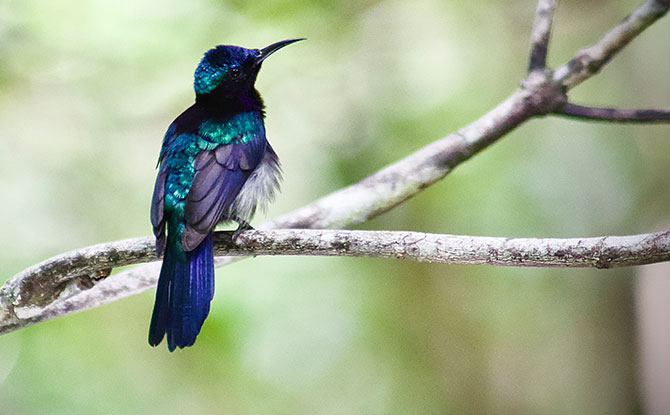 Depending on which route you take, whether it is the Mangrove Boardwalk, Tidal ponds or Coastal trail keep your eyes peeled on trees, branches, mud, water.
The residents at Sungei Buloh you can easily spot include Mudskippers, Monitor lizards, Collared Kingfishers, Glossy starlings, Herons, Storks, White Bellied Sea Eagles, Tree-climbing crabs and the infamous Estuarine Crocodiles.
Sungei Buloh Wetland Reserves is a favourite stopover for shorebirds because of its mudflats and ideal conditions for a rest-stop. However, one protip is to go when the rest of the areas in Singapore experiences higher tides as the ponds in Sungei Buloh keeps the mudflats drier. Head to the ponds at the right time and you might get to see the shorebirds – Common Redshank, Common Greenshank, Whimbrel, Mongolian Plover, Common Sandpiper, Pacific Golden  Plover. A favourite – the colourful Blue-winged Pitta has also been spotted here.
The best thing about this nature sanctuary is the number of hides and viewing huts where you can just sit quietly and watch the birds at the mudflats.
---
Sungei Buloh Wetland Reserve and its Tidal Ponds
From the Wetland Centre, a bridge that connects to the wetlands or tidal ponds. The bridge spans the Buloh Besar river and visitors will need to head past decorated corrugated metal hoardings to arrive at the Tidal Ponds.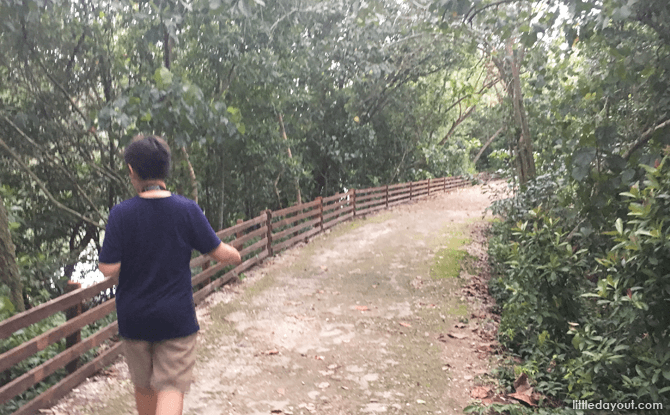 The Buloh Tidal Ponds have a raised, paved track that runs around its perimeter. This track, the Migratory Bird Trail is 1.95 km long. You can think of it as an oval, starting from the main bridge and with the ponds at the very middle.
Along the trail, there are five hides. Each hide provides a place where you can sit down and observe wildlife at the Wetland Reserve. You will immediately see the Main Hide once you cross the Main Bridge. The hides also list pictures and characteristics of birds that one can find.
In addition to the five hides, there are also two shelters along the Migratory Bird Trail.
The only other major structure at the Sungei Buloh wetland is an 18-metre tall bird watching tower, the Aerie Tower. The tall structure has 72 steps leading to the top and can be found opposite the Main Hide. However, you will have to walk around the perimeter of the ponds to get to it.
---
Mangrove Boardwalk
The less trodden path is probably the Mangrove Boardwalk which is adjacent to the main bridge. This is a tranquil place where few visit even though it is a pleasant place to rest, spot fish and mudskippers and hear the calls of the birds.
---
Essentials for a Visit to Sungei Buloh Wetland Reserve
Now, that you are oriented to Sungei Buloh Wetland Reserve, here are five essentials that you need to bring along for your visit.
1. A Sense of Adventure
'The world's big and I want to have a good look at it before it gets dark." – John Muir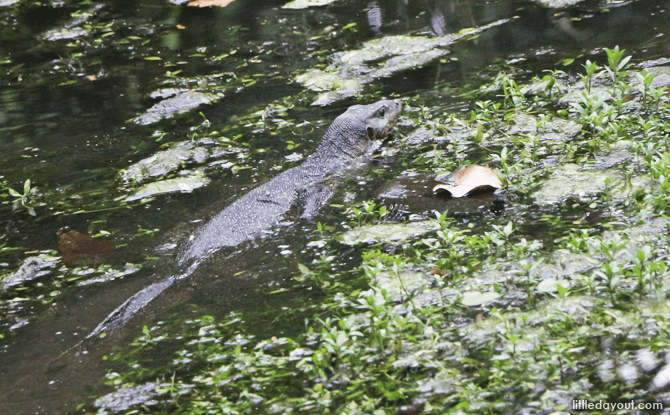 A healthy sense of adventure is essential. You never know exactly what you come across at Sungei Buloh and if you have an open mind, you will enjoy your visit even more. Every visit is different and you will be rewarded with a different experience each time.
---
2. Patience
"Adopt the pace of nature: her secret is patience." – Ralph Waldo Emerson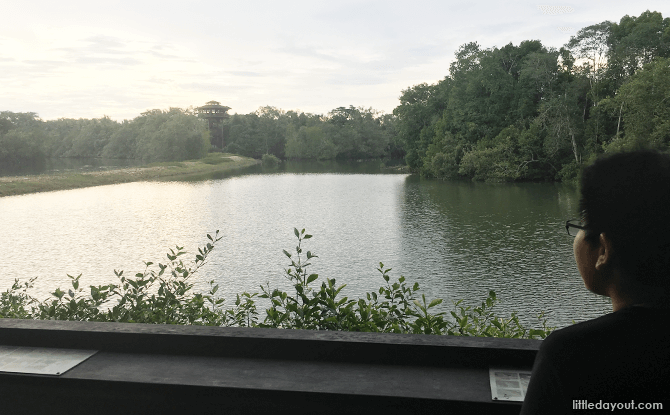 The animals at Sungei Buloh are wild and you can't expect to them to appear on demand. If you wish to see the wildlife, you have to be patient. Sometimes, you will be able to see them and sometimes you won't. If it is not the migratory season, you shouldn't hope to see migratory birds – but there's still plenty of wildlife to spot. Don't power your way around the trail. A visit to Sungei Buloh is a chance to slow down and appreciate nature. Patience (with a bit of luck thrown in) pays off.
---
3. A Keen Eye
"Many eyes go through the meadow, but few see the flower in it." – Ralph Waldo Emerson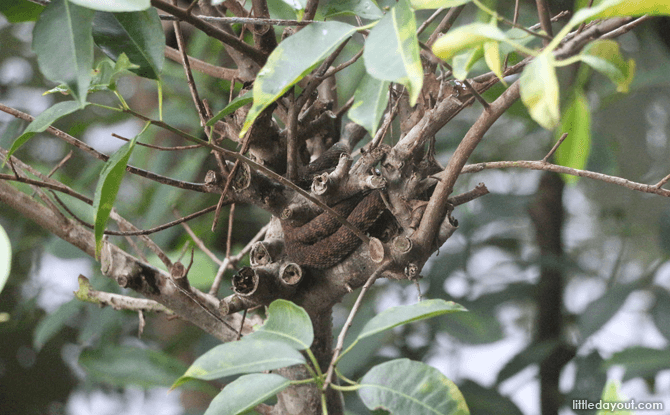 Flora and fauna come in all shapes and sizes. Sometimes, animals can be right under your nose and you may not notice them. Keep a lookout around you and above too. Pay attention to the rustling of leaves or the undergrowth. Try looking a bit closer and you may be surprised by what you come across.
---
4. Softer Tones
"When one tunes in into nature's frequency, life becomes change, change becomes hope!" Aniekee Tochukwu Ezekiel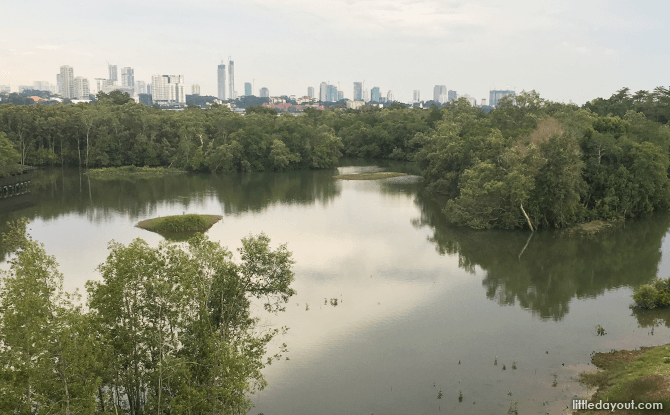 No, we are not talking about wearing the autumn collection to Sungei Buloh. We are talking about noise. Loud noise scares away animals. It alerts them that you are coming and they tend to run away. Trying walking and talking softer. Take a moment to remain quiet in the hides, wait for a while and see if anything comes out.
---
5. Respect for Nature
"Our task must be to free ourselves… by widening our circle of compassion to embrace all living creatures and the whole of nature and it's beauty." – Albert Einstein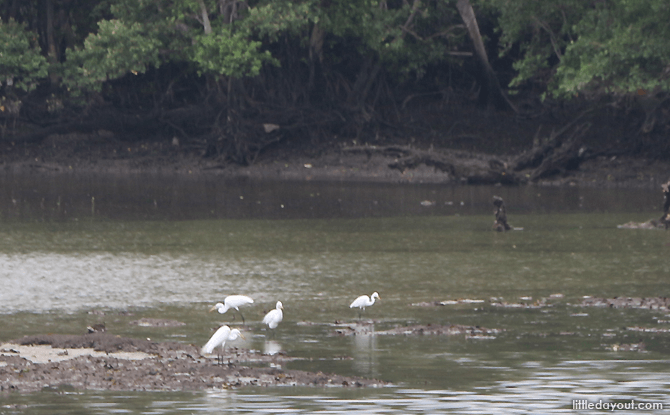 Remember to respect the wildlife you come across. Please don't poke or provoke them. Of course, you shouldn't destroy trees, break branches or bash carelessly through the undergrowth. It goes without saying that littering is a "no-no". Practise the saying, "Take nothing but pictures and leave behind nothing but footsteps".
There you have it, five essentials for your visit to Sungei Buloh Wetland Reserve. You can also find out more information about the Sungei Buloh Wetland Reserve Extension and Mudflats Experience.
---
Be Equipped!
We also recommend the following to bring alone for the walk:
A hat
A pair of binoculars
Raingear
Insect repellent
Sunblock
Water and snacks
---
Getting to Sungei Buloh Wetland Reserve
To get to Sungei Buloh Wetland Reserve by bus, board SMRT Bus 925 from Kranji MRT Station. Alight at Kranji Reservoir Carpark B (to Sungei Buloh Wetland Reserve Extension's Visitor Centre).
On Sundays and Public Holidays, board SMRT Bus 925 from Kranji MRT Station and alight at the Wetland Centre entrance. SMRT Bus 925 operates only from Woodlands Interchange on Sundays and Public Holidays.
Alternatively, take the Kranji Express bus from the Kranji MRT Station, starting from 8.30 am and ending at 5.45 pm daily.
Sungei Buloh Wetland Reserve is served by three parking lots. Neo Tiew carpark is closest to the Wetland Centre and the Buloh Tidal Ponds. Kranji Carpark C and Kranji Carpark B are closest to the Visitor Centre which is about 1.5 km away from the Buloh Tidal Ponds.
View a map of Sungei Buloh Wetland Reserve here.
Sungei Buloh Wetland Reserve
Visitor Centre Address: 60 Kranji Way, #01-00, Singapore 739453
Wetland Centre: 301 Neo Tiew Crescent, Singapore 718925
Opening Hours: 7 am to 7 pm
Website