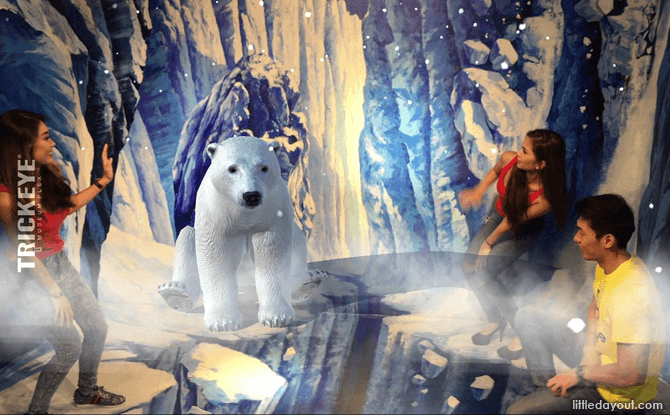 Trick Eye Museum takes the trompe-l' oeil experience to the next level with a new augmented reality mobile app. Using the Trick Eye Museum AR app, visitors can take pictures and videos with animated 3D versions of the Museum's installations and paintings.
Trick Eye Museum AR App
The Trick Eye Museum AR app is available for free download from both Apple iTunes Store and Google Play Store.
To experience the augmented reality versions of the installations, simply launch the app, point it at the trick art installations and you will see them magically come to life on the camera screen.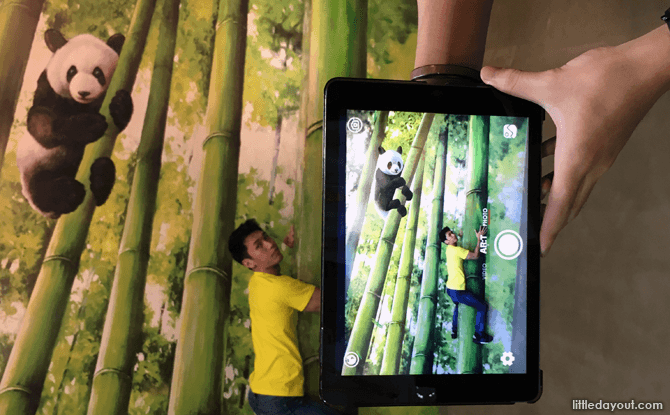 Pandas move around on swaying stalks of bamboo. Ballerinas step out of a picture and dance around gracefully. A polar bear appears in an ice cave.
You can tell which artworks have augmented reality features by a sticker pasted beside them.
The Trick Eye Museum AR app has two modes – photo and video.
In photo mode, press a button on the screen to take a snap that goes straight to your phone's photo gallery.
When you switch to video mode, you can record a video of your friends and family posing with the animated installations.
To add to the experience, background music in the app helps set the mood.
Augmented Reality Experiences at Trick Eye Museum
80 percent of the art installations and paintings can be brought to life with the Trick Eye Museum AR app.
Some of the experiences that visitors can look forward to through the Trickeye Museum AR app include watching an elegant pair of dancers twirl around the floor and being able to pet a virtual tiger.
"By integrating augmented reality technology into our exhibits, we hope to align ourselves with Singapore's vision of using technology and innovation to elevate our visitor experiences. Moreover, the different AR effects in our mobile application will be a fun way for visitors to experience this new technology, and bring them closer to art through optical illusions and AR technology" said Ms Sinae Lee, Director of Trick Eye Museum.
To mark the launch of the new augmented reality experience at Trick Eye Museum Singapore, visitors will be able to enjoy 50% off admission prices for tickets purchased at the Trick Eye Museum and Sentosa ticketing counters between 27 May to 26 June 2017.
Trick Eye Museum's new augmented reality application officially launches on 27 May 2017.
Trick Eye Museum
Address: Resorts World Sentosa, 26 Sentosa Gateway #01-43/44 Singapore 098138