Trick Eye Museum Singapore at Resort World Sentosa is filled with optical illusions. Armed with a camera, visitors can take unbelievable snaps that will have their friends and family wondering "How did you do that"? You can fight a monster snake in a death-defying battle, pose as a fairy in a flower garden or ride Singapore's icon, the Merlion, all at Trick Eye Museum Singapore.
---
Augmented Reality Experience at Trick Eye Museum Singapore
Now, with Trick Eye Museum Singapore's new augmented reality app, the optical illusions are no longer confined to still photos.
Using the free app, visitors to the 3D art museum can now takeaway 4D, interactive video memories from a visit to Trick Eye Museum Singapore. And if the still photos have people doing a double-take, the augmented reality versions of the art installations and paintings at Trick Eye Museum Singapore will get them rubbing their eyes in disbelief.
Here are 5 augmented reality installations you can see at Trick Eye Museum Singapore.
---
-- Story continues below --
---
Prison of Dinosaur
You may be behind bars but that's probably the least of your problems. The animated augmented reality dinosaur looks hungry and on the prowl. Perhaps, prison is the safest place to be, away from the menacing jaws of Mr T (Rex).
---
Skeleton Garden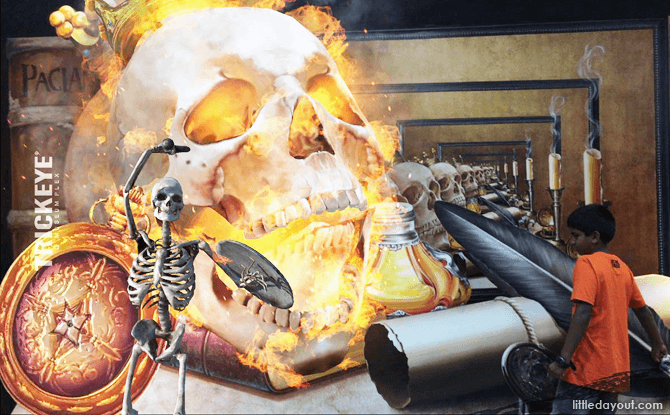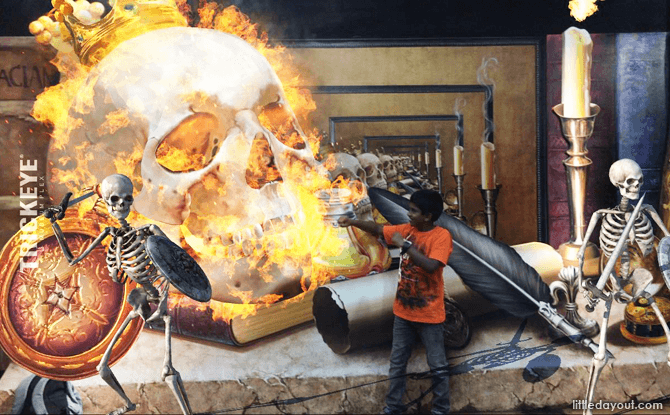 Bringing interactivity to the max, at the Skeleton Garden, you can pull out your best punches and kicks as you battle the evil Skeleton boss and his skeleton henchmen. Put on your hero pose and get battling away.
---
Dangling
This is one of the most popular art installations for big groups that visit Trick Eye Museum Singapore. It can accommodate up to 8 people. Squeeze on to the tight ledges by the side to avoid falling into the river of molten lava in the middle. With augmented reality, now you have to watch out for flying lava bombs too.
---
Princess Mermaid
Pretend to be a mermaid princess at this art installation. With augmented reality, you will have to share the limelight with a playful dolphin that swims around you.
---
Merlion
This last augmented reality art installation is hidden in plain sight. It is not even at Trick Eye Museum Singapore but close to the fountains at Chilli's restaurant.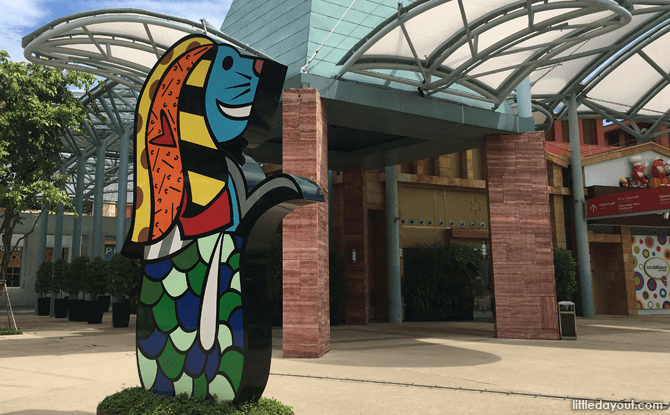 With Trick Eye Museum's AR app, you can turn the colourful Merlion sculpture into the classical white Merlion complete with spouting water fountain. Perfect for those who can't make it down to Merlion Park!
---
Trick Eye Museum Singapore – Illusions Augmented
With the augmented reality app, a visit to Trick Eye Museum turns from a still optical illusion excursion into an interactive, 4D experience. 80 percent of the art installations and painting at Trick Eye Museum Singapore have been enhanced with AR features.
The AR app is available for free download from the Apple App Store and Google Play Store. Search for the term "Trickeye". It is a large download so you will need to download it over Wi-Fi.