Pokémon are not the first imaginary creature to spawn around Singapore. The Merlion, a half-lion, half-fish creature, has been popping up around Singapore for years. Today, the most iconic merlion can be found at Merlion Park in town, drawing tons of people to its powerful spray.
First imagined in 1964 as a logo for the then-Singapore Tourism Promotion Board, the Merlion's head references Sang Nila Utama's encounter with a lion while its body is a nod toward Singapore's close ties with the sea.
Merlion statues can be found in places such as such Sentosa, Mount Faber and Singapore Tourism Board's headquarters, Tourism Court, and at Marina Bay's Merlion Park.
Merlion Park
The current Merlion Park was created in 2002 when the Merlion statue was relocated there from its original location just around the corner.
---
-- Story continues below --
In fact, there are two Merlions at the park. Close by to the 8.6m tall Merlion is a 2m tall cub. Tourists flock to Merlion Park to take a photo that has become as obligatory as propping up the Leaning Tower when visiting Pisa – "drinking" from the Merlion fountain.
Other than this trickeye photo op, Merlion Park also makes a good starting point for exploring the surrounding district.
Things to Do at Merlion Park
Looking for things to do at Merlion Park? In the spirit of exploration, here are seven "stops" you can search for around Merlion Park on a self-guided walk. These locations are all within easy walking reach of Merlion Park. Besides these, there are plenty of other interesting landmarks to explore in the vicinity too.
As an activity, you can refer to this list of stops below and try to locate them (be aware of your surroundings when looking at the Little Day Out website on a mobile device). We have also provided little clues to help you along the way.
As an incentive, you can also institute a reward system where kids get little tokens for successfully locating each of these stops. Or simply take a family 'we-fie' to mark your find.
You can purchase a downloadable map for this Merlion Park walking quest. It is available at only $1.50 from the Little Day Out Shop.
Happy explorations as a family.
Ulysses By The Merlion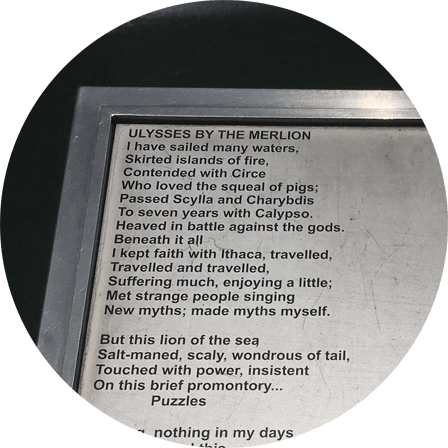 Written by Edwin Thumboo in 1977, this poem describes the Greek hero Ulysses' encounter with the Merlion and reflects on the people of Singapore.
Here's a clue to help you find it: "Beware the spray"
---
Jubilee Bridge Sign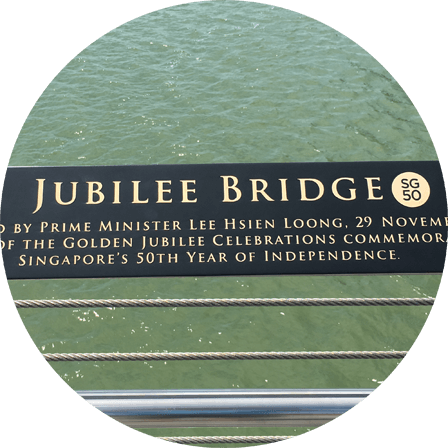 This plaque commemorates the opening of the Jubilee Bridge as part of the celebrations of Singapore's 50th birthday.
Here's a clue to help you find it: "Mid-way to the Durian"
---
Merlion Park Sign
This sign was installed in 1972 at the original Merlion Park.
Here's a clue to help you find it: "And the Son, Bridge"
---
Lim Bo Seng Memorial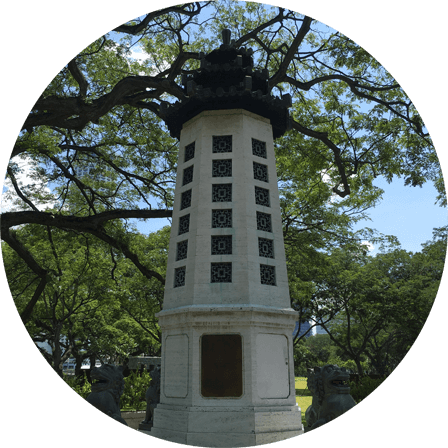 World War II war hero, Lim Bo Seng, is remembered with this memorial. Read more about Lim Bo Seng.
Here's a clue to help you find it: "On the Way to the Big Field"
---
Bridge Maker's Sign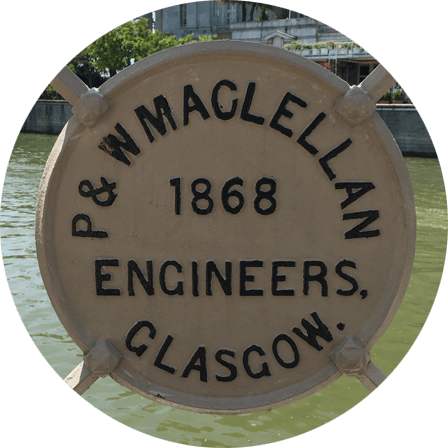 A maker's sign on a span across the Singapore River.
Here's a clue to help you find it: "There is no Cave; Nah, but there is a Bridge"
---
Early Founders Foundation Stone
Laid by Singapore's first President, Yusof Bin Ishak, this foundation stone was intended to be used for a memorial in tribute to the Early Founders of Singapore.
Here's a clue to help you find it: "The Edge of the Post Office"
---
Unicelephant Statue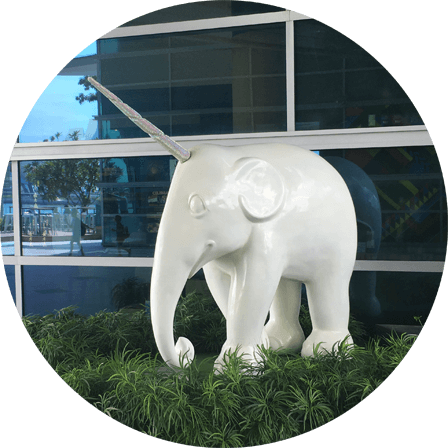 The Merlion is not the only imaginary animal around Merlion Park.
Here's a clue to help you find it: "Bottom of Bay View Stairs"