What's an easy way of learning more about Singapore's history and soaking in the city sights? The Singapore River Cruise of course. See Singapore's historic bridges (8 of them) and check out the iconic buildings at Clarke Quay, Boat Quay and Marina Bay from the river. 
The relaxing ride is perfect for families, even the elderly who may prefer to cruise on a bumboat rather than walk around the district. You can also use your SingapoRediscover Vouchers on Singapore River Cruise. 
---
Imagine Life of Our Ancestors First Entering Singapore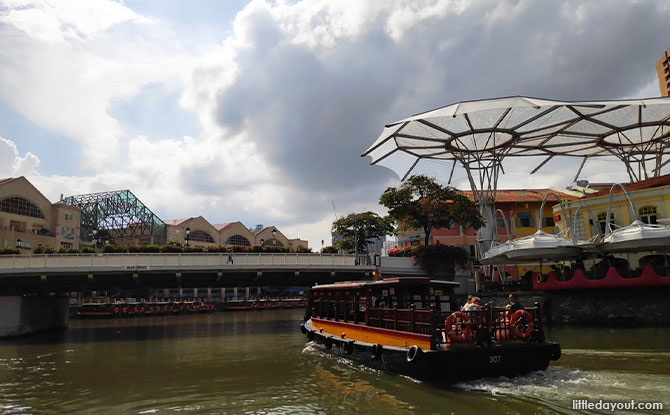 A century ago, many of our ancestors would have streamed into Singapore River on a boat ready to find a better living in a foreign land. Getting on one of the bumboats on a historic tour could give you an insight into what it felt like. Go on a voyage through time, where godowns were once a common sight at the river bank, and coolies hard at work transporting goods and merchants trading at the busy docks. 
---
-- Story continues below --
The Singapore River Cruise is a 40-minute journey that commences at Clarke Quay jetty. The cruise will pass Boat Quay, Clifford Pier, Marina Bay Sands, Esplanade, Asian Civilisations Museum, Raffles landing point, Parliament House and back to Clarke Quay.
Many years ago, Singapore River was not such a pleasant sight as there was tons of litter and pollution. Thanks to then-Prime Minister Lee Kuan Yew, there was a massive clean-up as well as the relocation of squatters and hawkers. The older folks can probably share how the river is so pleasant now compared to the past.
---
History & Heritage of Bridges and Buildings
As you head on the tour, the accompanying audio commentary will regale you with historical facts about both bridges and buildings. There will be a total of 8 bridges sighted – from the first steel bridge to the only suspension bridge – these were all significant not just in helping pedestrians and cars to get to either side and animals too decades ago.
Note the intricate details on each of the bridges, some with colonial architectural designs, intricate plater works or futuristic elements. The old bridges have seen Singapore through its growth and development from its founding years and withstood the vestiges of time.
Apart from bridges, cruise-goers will be able to see the many iconic building and landmarks at the Central Business District. The Fullerton, Merlion, Raffles statue, Esplanade, shophouses form part of the landscape during the leisurely cruise. See if the kids can spot any buildings they are familiar with. 
If you get lucky, you might be able to spot some otters frolicking along the river. Singapore River is one of their main haunts. We managed to see one family fishing and it was a real treat!
---
Bumboats of Singapore River Cruise
Singapore River Cruise's fleet is now electric, the bumboats boast of quieter engines and zero C02 emissions. This is a vast contrast to the old bumboats with sputtering engines and the tendency to pollute the rivers. This change also signifies the changing tides of time. However, the striking elements of the wooden benches of the boats, lantern décor and other aesthetics still remain. 
As first-time bumboat passengers, the children were excited to be able to choose their spots and linger at the open deck to soak in the sights. We would recommend bringing a hat if it's a sunny day and secures all loose belongings as it could get windy. It is also best to take the cruise in the mornings, late afternoons and evenings for a cooler temperature.
---
Rediscover Singapore: Cruise down Singapore River
Singapore River Cruise is currently operating from 1 pm to 10 pm on weekdays and 10 am to 10 pm Fridays, Weekends and Public Holidays. Book your tickets online to redeem SingapoRediscovers vouchers and discounts for the family! Get more details here.
This story contains affiliate links. This means we earn a small fee if you purchase something through a link from our website. There is no additional cost to you and goes towards supporting Little Day Out's efforts to deliver the best news and reporting for families.