Spectra is the light and sound show that takes place every evening at Singapore's Marina Bay. For those who wish to view this nightly spectacle, here is the Marina Bay Sands Light Show timings and other interesting to know about the show.
[Editor's note, Feb 2020: The Marina Bay Sands Light Show has been temporarily suspended due to the novel coronavirus situation. Read more.]
Marina Bay Sands Light Show Timings
Spectra, the Marina Bay Sands Light Show, comes alive every evening from Monday to Sunday, twice from Sunday to Thursday and with an extra show on Fridays and Saturdays. Those who wish to the show may wish to take note of the following show times:
Sunday to Thursday: 8 pm and 9 pm
Friday and Saturday: 8 pm, 9 pm and 10 pm
Where to Watch the Marina Bay Sands Light Show, Spectra
The Marina Bay Sands Light Show is best viewed from the Event Plaza, by the waterfront in front of The Shoppes. There are a set of bleachers where the public can sit to enjoy the show. From this location, the audience can view the show with the Singapore Central Business District skyline in the background.
As it is an outdoor show, it can also be viewed from the al fresco dining areas of some of the restaurants at the Bay Level, particularly units L1-83 to L1-85.
Those who are on the other side of the bay at Merlion Park, in front of Fullerton, can still watch the lights from the show from across the water. However, this spot does not offer the same experience as from in front of Marina Bay Sands.
Storyline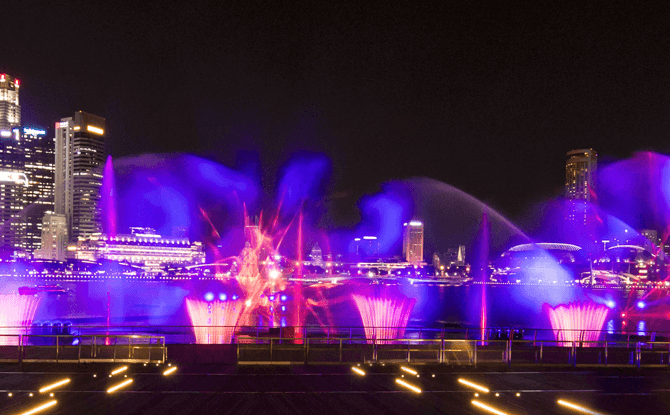 The show tells the story of Singapore's journey from its early days to the city it is today. This is presented in four acts and makes use of light, water, special effects and sound to tell the story.
Show Length
The show lasts for around 15 minutes.