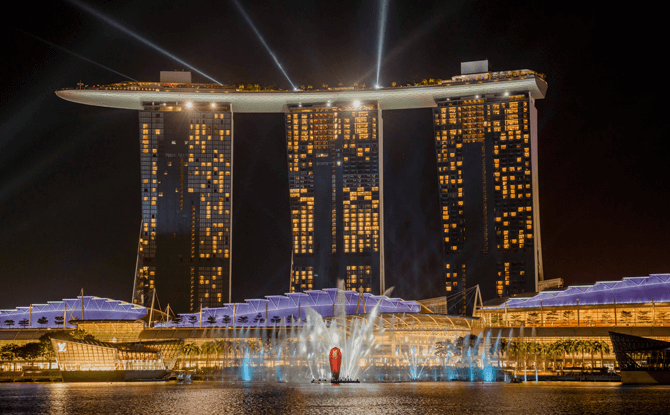 Spectra, the new Marina Bay Sands' light and water show, is set to bring a kaleidoscope of colour to the waters of Singapore's Marina Bay from 2 June 2017 onwards. Using a combination of state-of-the-art lasers, lights, water effects and projections, the new, free Marina Bay Sands light show will present a multimedia spectacular based on Singapore's journey to becoming the cosmopolitan society it is today.
At the centre of the Spectra light and water show is a 12-metre tall glass-and-stainless-steel prism. The glass prism sits submerged on top of a stainless steel skeleton. This will burst into life during the show with the water adding an additional reflecting effect.
The water fountains and lights will be choreographed to a symphonic soundtrack composed by local music producer Kenn C.
Spectra's Storyline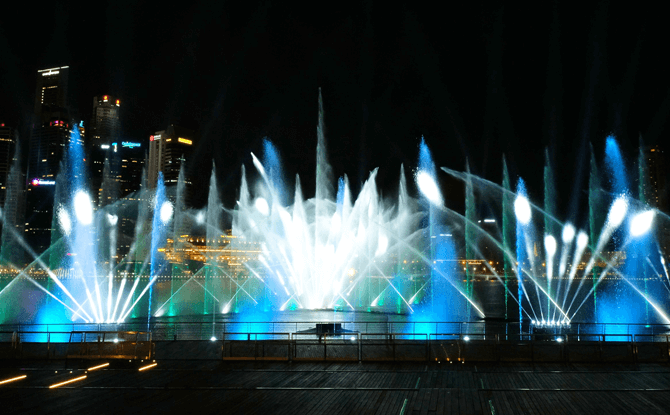 The 15-minute show is based on the Singapore story and divided into four parts.
Act I: Singular Vision – The Origin and Act II: Prism of Diversity –The Blossoming of Ideas reflect on Singapore's society, its cultural roots and history.
Act III: Kaleidoscope – The Fusion of Cultures, Technology and Passion and Act IV: Future Focused – Realising the Dream look toward the future and the possibilities that await.

It makes use of innovative water fountain technologies such as pyramids, gyroscopic arcs, straight jets, lava and mist effects and more to create a canvas for the visual projections that form the narrative of Spectra.
The light and water show also utilises special underwater 500w LED lights that provide richer hues. Technology allows the soundtrack to trigger the light and laser effects while a high-powered sound system provides an immersive experience for audiences.
Water, Lights and Music on the Bay
Spectra was developed by Australian-based experience agency, Imagination Australia whose past projects have included the Sydney New Year's Eve countdown. It took two years to create.
Audiences can view the Spectra light show from Marina Bay Sands Event Plaza, facing out at the Marina Bay. It will be held daily, twice a night and with an extra show on Friday and Saturday.
Spectra replaces Marina Bay Sands' previous light show, Wonder Full, which ran for six years until April 2017.
Spectra, New Marina Bay Sands Light Show
Where: Event Plaza, Marina Bay Sands
Time: 8 pm and 9 pm daily, extra show at 10 pm on Fridays and Saturdays
Cost: Free