Make the most of a visit to the award-winning Gardens by the Bay Singapore, where there is plenty to see, eat, play and learn for the family, even the little tykes.
Besides the technicolour giant Supertrees and climate-controlled Cooled Conservatories, there are actually many other hidden gems you could enjoy at the sprawling 101-hectare Gardens – most of them for free.
The free Outdoor Gardens offers lots of fun exploration – themed gardens, desert landscapes, lakes, unusual plants, gargantuan art sculptures, ancient rock forms, and plenty of learning opportunities.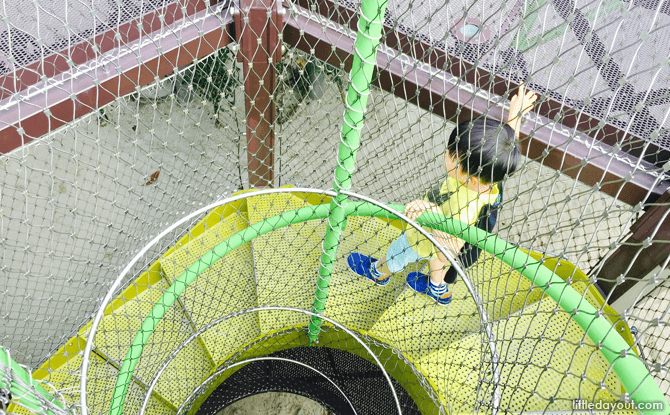 Far East Organization's Children Garden is a marvelous adventureland for children below 12 years old, including water play, an adventure trail with obstacle courses, a towering treehouse playground, and lots more to explore.
---
-- Story continues below --
Find out the best places to eat, secret spots, rides and more in our guide to visiting Gardens by the Bay.
OUTDOOR GARDENS
The sprawling gardens are teeming with life. Make it a casual walk and admire the beauty of nature, or treat it as a learning trail with science lessons.
Dragonfly Lake
One of the popular photographic spots here, the Dragonfly Lake is a serene expanse of water fringed by greenery, and dotted with fountain sprays and metal dragonfly sculptures.
Edged by a 440-metre long boardwalk, the lake is filled with aquatic life, from fish to plants. In this eco-system, the plants have an important role in maintaining the right amount of nutrients in the water by absorbing excess nitrogen and phosphorus.
Open daily: 5 am to 2 am
Admission: Free
Heritage Gardens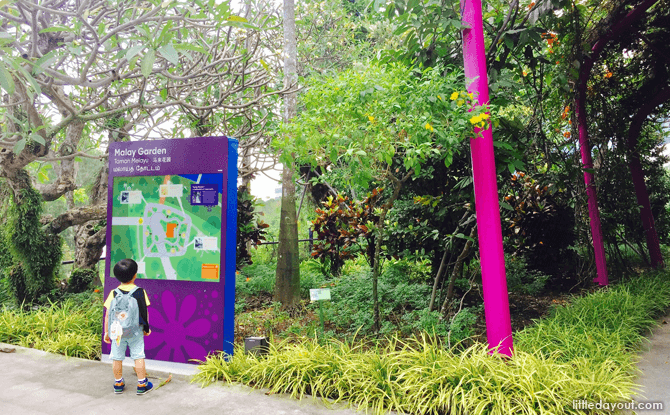 Four themed gardens – Chinese, Malay, Indian and Colonial – take you through the diverse history and culture, told through the story of plants. Singapore's three main ethnic groups and colonial past take centrestage at Heritage Gardens, Gardens by the Bay.
For instance, the Malay Garden features plants in Malay poetry, traditional kampung settlements, plants in place names, and more.
The Chinese Garden reflect the way gardens in China were designed to reproduce natural scenes as closely as possible.
Explore a carefully maintained landscape where rocks resemble mountains, water features resemble rivers and waterfalls, and pruned trees appear windswept.
Open daily: 5 am to 2 am
Admission: Free
World of Plants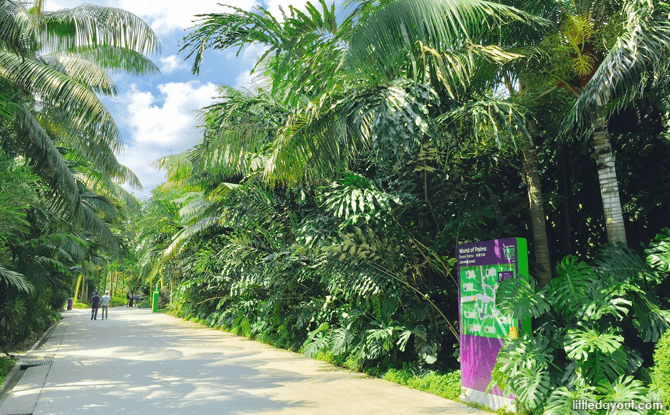 Step into the lush greenery of the World of Plants zone and admire tropical plants and web of floral relationships in the rainforest in this collection of six gardens.
At the Secret Life of Trees, learn about these towering giants that grow in Singapore and the challenges they face to survive in tropical countries.
Meet an array of tropical lowland palms at the World of Palms. Find out more about the many uses of this versatile plant – as shelter, fibre, fruit, starch and even oil.
Understorey takes you on a journey with over-hanging foliage, to learn about how decomposers which thrive in dark, damp conditions and how they break down fallen parts of plants to produce nutrients for the ecosystem.
Colourful flowers and fruits pepper the landscape at Fruits and Flowers, where you can see blossoms in season and find out more about the fruits which grow locally.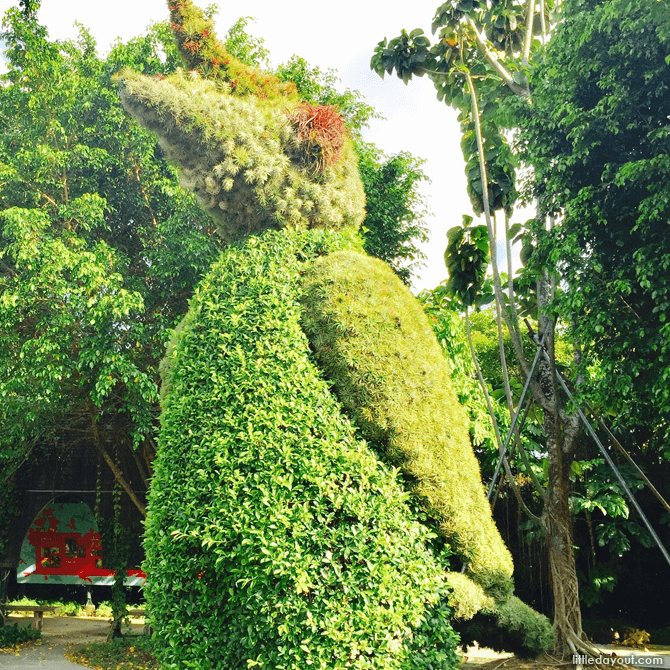 Life-sized topiary animals rise among the greenery at Web of Life. See giant green bushes pruned into the likes the pangolin, orang-utan and hornbill. The garden also features fig species like the Banyan Tree.
When you pass by these felled logs at Discovery, you are reminded that these came from ancient trees. Plants have their own stories tell, some spanning over 500 million years of history. As you explore this area, look out for some of the oldest evolved plants in the world.
Open daily: 5 am to 2 am
Admission: Free
The Canyon
The newest attraction at Gardens by the Bay, The Canyon features a collection of sculptural rocks along a 400-metre-long dragon-shaped trail.
These are made up of more than 60 one-of-a-kind ancient rock forms sourced from Shandong, China, where their natural curves (and holes) stand out against the backdrop of the Cooled Conservatories. About 200 plant species unique to the arid regions (read: desert climate) can be found here.
Look out for sculptures in this area, including this metal dragonfly.
Open daily: 5 am to 2 am
Admission: Free
Sun Pavilion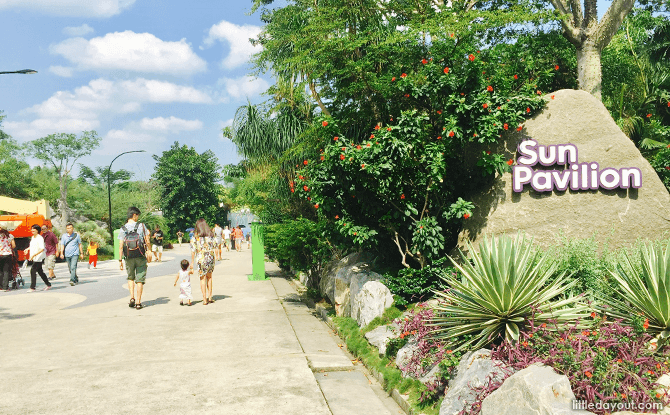 Be transported to a dry desert landscape at the Sun Pavilion. Over 1,000 desert plants made up of about 100 different species and varieties can be found here.
Open daily: 9 am to 9 pm
Admission: Free
WHERE TO EAT
From fine dining and cocktails, to casual eateries and cafes, there are many options here.
Supertree Dining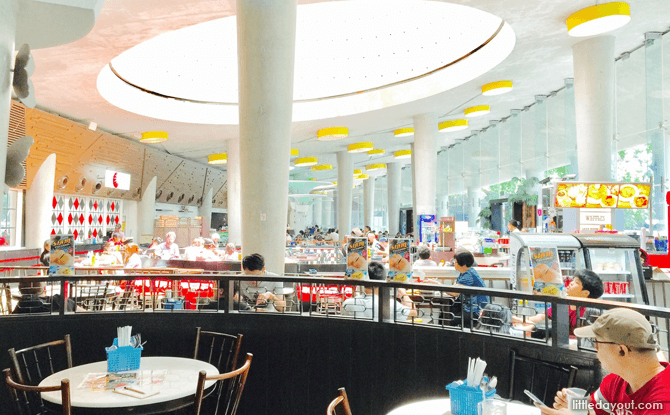 Supertree Dining is kind of an upmarket foodcourt made up of a few eateries – there is Peach Garden Noodle House here, serving up Chinese cuisine like roast meats, noodles and such.
Pick from local fare (bak chor mee, kaya toast, half-boiled eggs and coffee) at Hill Street Coffee Shop. For fast food, Texas Fried Chicken (halal) hits the deep fried chicken spot.
Bay Leaf Indian Curry House offers South and North Indian dishes, as well as vegetarian options. Or opt for western food like chicken chop, pasta and butter rice at Oriental Western and Bistro.
Cafes and eateries
Dig into casual gourmet offerings at Bakerzin, chow down artisanal coffee and sandwiches at Cafe Crema, or feast on local delights at Satay by the Bay.
For light bites, there is Conservatory Cafe or Children's Garden Cafe, which has ice-creams, drinks and snacks.
And there is always Mcdonald's if you need a quick fix soft-serve cone to chase the heat away. We saw snaking queues for their cones when we were there!
WHERE TO PLAY AT GARDENS BY THE BAY WITH KIDS
To say that Far East Organization Children's Garden offers wet and dry play is an understatement. Being here is an adventure!
This Gardens by the Bay play area is made up of four zones – Water Play, Adventure Trail, Rainforest Treehouses, and Toddler Play. Designed for kids up to the age of 12, the play zones surrounded by lush greenery encourage children to interact with nature.
Water Play
The massive water playground is an inspiring sight which would make little ones yelp and kick off their shoes immediately (yes, please do, as no footwear is allowed). Yank on the swimsuits and you are good to go!
Dancing water sprays, buckets of surprise, spouts, tunnels with chirpy music overhead will bring on giggles of joy. Oh, and the water sprays are linked to sensors which detect the movement of children to create water effects.
Although it is designed for kids aged six to 12, the playground was just as fun our excited three-year-old.
Adventure Trail
Just looking at this entrance feels like an invitation to a secret garden, where an unknown world awaits along the 130-metre long Adventure Trail.
Recommended for kids six to 12 years old, some parts of the obstacle play were challenging for our tot, but he got plenty of play out of this trail.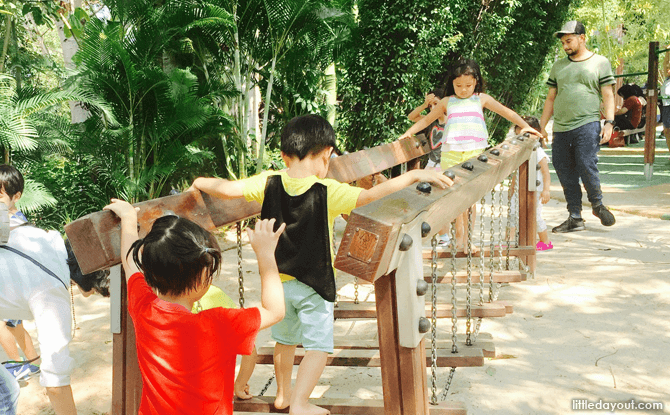 A wobbly wooden bridge, climbing chains up and down a slope, chin-up bars, balancing beams, sand play, long tunnel slides, boing-boing trampoline "lily pads", towering climbing webs and more, surrounded by a lush garden – our little one really loved it here.
Rainforest Treehouses
Well, this is designed for six to 12-year-olds – and it feels like it. Keep young ones under a watchful eye as they scale the towering structure that makes up the play area of Rainforest Treehouses.
There's still plenty of fun to be had for preschoolers, with elevated wooden link bridges, long slides, spiral staircases, climbing webs and more.
But you do need longer legs, so this is meant for older kids.
Toddler Play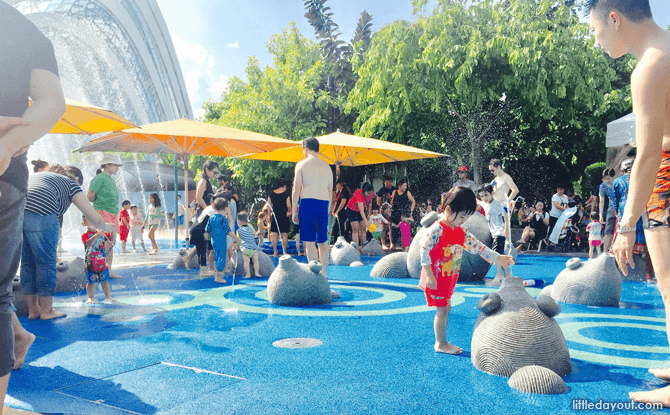 Made for one to five-year-olds, the small area with tame water spouts and sprays will be welcome respite for younger tots. None of the big kids zooming around at Fish Fountain!
The zone also comprises a dry play area with smaller sized balance beams, stepping pads, sway bridge and slides.
HERE FISHY FISHY!
A secret spot right here in Gardens by the Bay: At the outskirts of the Supertree Grove along a sheltered walkway, are two fish aquariums with Arowana.
Nearby, a pond filled with koi draws admirers. Kids love watching the orange and gold koi swimming around.
ART SCULPTURES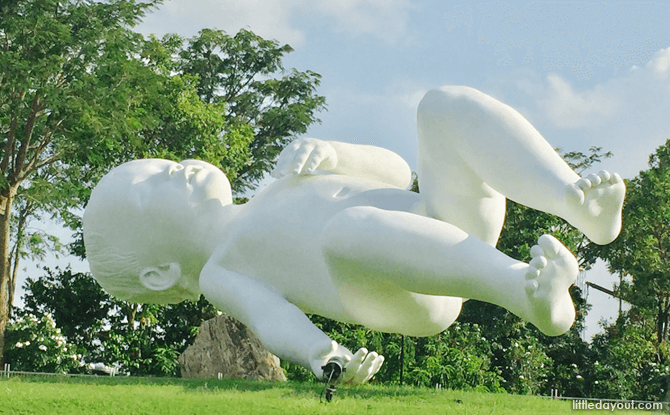 See if you can spot more than 40 art sculptures placed throughout Gardens by the Bay. From around the world, these sculptures created out of materials like metal and stone add to the garden lanscape.
This awe-inspiring sculpture of a giant baby is located at The Meadow. Planet weighs a hefty seven tons and measures 9m long and 3m tall. The illusion that the baby is floating is created by the masterful balance of the entire weight on the infant's right hand.
AUDIO TOUR TRAM RIDE
There is no doubt that it is a really long walk to get from Bayfront Plaza to the Cooled Conservatories, or even strolling around the Outdoor Gardens.
Opt for the 22-seater audio tour tram, and enjoy a breezy 25-minute ride around Bay South Garden. You will be taken through views of the Cooled Conservatories, Themed Gardens, the Meadow and Supertree Grove.
Mondays – Fridays: 9 am to 5.30 pm (last ride) *Tours begin at 12.30pm every first Monday of the month
Weekends, Eves of Public Holidays & Public Holidays: 9 am to 5 pm (last ride)
Tickets: Adults $8; Children (3 – 12 years old) $3; Senior Citizens (≥ 60 years old): $5
FLOWER DOME & CLOUD FOREST
Of course, the centrepiece of the entire Gardens by the Bay are the Cooled Conservatories – the largest glass greenhouse in the world (Guiness Book of Records 2015).
Enjoy a cool stroll in Flower Dome where the world is in perpetual spring, with a controlled temperature of 23°C – 25°C. The glass dome replicates the cool-dry climate of Mediterranean regions like South Africa, California, Spain and Italy. This offers a unique opportunity to glance into the plants and flowers from other parts of the world.
Open daily: 9 am to 9 pm
Last ticket sale: 8 pm
Last admission: 8 pm
The Cloud Forest is entirely different from the Flower Dome. A mysterious world shrouded in mist, it showcases plant life from tropical highlands up to 2,000 metres above sea level.
A 35-metre-tall mountain covered in plants and the world's tallest indoor waterfall take centrestage. Enjoy a tree-top walk along the elevated walkway inside the dome.
Open daily: 9 am to 9 pm
Last ticket sale: 8 pm
Last admission: 8 pm
Mist Timings: 10 am, 12 pm, 2 pm, 4 pm, 6 pm, 8 pm daily
See website for updated ticket prices.
SUPERTREE GROVE
These iconic concrete-and-steel trees are a technological marvel made up of vertical gardens. Over 162,900 plants comprising more than 200 species are planted on the Supertrees.
Of the 18 Supertrees in Gardens by the Bay, 12 of them can be found here at Supertree Grove, with the tallest one measuring up to 16 storeys in height.
Some of them have canopies embedded with environmentally sustainable functions, including cells to harvest solar energy to light up the Supertrees.
Open daily: 5 am to 2 am
Admission: Free
OCBC SKYWAY
Enjoy breathtaking aerial views along the OCBC Skyway at Supertree Grove, Gardens by the Bay. At a height of 22 metres, the 128-metre-long aerial walkway offers panoramic vistas of Gardens by the Bay and Marina Bay skyline. It also provides a closer look at the futuristic Supertrees.
Time it right, and you will have an up-in-the-air experience of the twice-daily Garden Rhapsody light and sound show.
Open daily: 9am – 9pm
Last sale of OCBC Skyway tickets at 8pm
Last admission at 8.30pm
Tickets: Adults: $8; Senior (≥60 years old) $8; Children (3-12 years old) $5
*Tickets can be purchased at the Ticketing Hub from 9am – 8pm or near the entrance of the OCBC Skyway (cash payment only).
Gardens by the Bay
Address: 18 Marina Gardens Drive, Singapore 018953