Cycling is an activity that many visitors to Pasir Ris Park enjoy. Besides being a great mode of transport, cycling also allows you to take in the sights. Visitors who do not own a bike can make use of bike share apps or rent it from a kiosk. Here is our Pasir Ris bike rental guide for those who need the wider variety of bikes the kiosks provide and maintain.
Beside renting bikes, cyclists can also rent equipment such as helmets or lights for night cycling adventures from these kiosks.
Here are three Pasir Ris bicycle rental kiosks where you can rent bikes and more.
Pasir Ris Bike Rental Guide
Coastline Leisure [Editor's Note: This outlet has closed. See our Pasir Ris Bike Rental Guide 2018]
Located just a few minutes' walk from Pasir Ris Park Carpark C, Coastline Leisure offers a variety of bikes suitable for different age groups and cycling skill levels. Bikes available for rent include children bikes, family bikes, mountain bikes and tandem bikes.
The bikes were well maintained and the staff were very welcoming and friendly.
Coastline Leisure offers discounted rates such as $10 for three hours and also free blinker lights for night cyclists. Weekday rental rates are lower than weekend rental rates.
If you are planning a cycling event starting from another location, ask them about transporting the bikes to your preferred location. Coastline Leisure also offers bike-riding lessons for children who are learning how to ride a bike as well as school tours.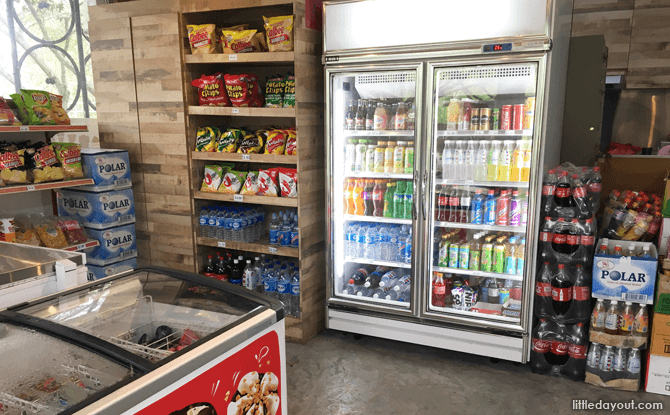 You can also pick up some snacks at the shop before you head off!
Address: 51 Pasir Ris Green Singapore 518226
Contact: 65839030
Operating Hours: Weekdays: 9 am to 7 pm; Weekends: 8 am to 8 pm
Email: enquiry@coastlineleisure.com.sg
Cycling Connection (aka Bikes @ Pasir Ris Beach) [Editor's Note: This outlet has closed. See our Pasir Ris Bike Rental Guide 2018 ]
Conveniently located a stone's throw away from Pasir Ris Park Carpark D, Cycling Connection offers bikes for a variety of ages and cycling skills. The rates start at about $8 for single bikes and $4 for children bikes. Their overnight bike rental charges start from $12. Other than the well-maintained bikes, the kiosk also sells bike accessories and has a section for food and drinks.
They also rent out skates starting at $12 an hour. These are also available for overnight rental. Skaters are required to bring their own socks or purchase it at the kiosk.
The location is also a few minutes walk away from dining places like The Five Rabbits Bistro and Bar, Pasir Ris Park Playground and Pasir Ris beach.
Address: 201 Pasir Ris Road (Car Park D), #01-01/02, Singapore 519147
Contact: 65825312
Operating Hours: Monday to Thursday: 9 am to 8 pm; Friday, Weekends & PHs: 9 am to 9 pm
Email: cyclingconnect@singnet.com.sg
Bike Rental Kiosk at Rainforest @ D'Resort
There is also a Pasir Ris bicycle rental kiosk worth mentioning at Rainforest @ D'Resort to rent your bicycle!
The bike rental service here is open to the public and also rents out e-scooters. Customers renting from here can return their bikes at Cycling Connection over at Car Park D.
Address: Rainforest Terrace @ D'Resort, 1 Pasir Ris Close, 519599
Operating Hours: 9 am to 6 pm. Overnight rentals start from 5.30 pm
More info here
Information correct as at date of publication.