Chin Mee Chin or CMC Confectionary is a bit of an institution. Tracing its beginnings back to 1925, the confectionary in Katong has been and continues to be frequented by crowds of people looking for a beverage and sweet treat.
As Time Goes By
On the wall at Chin Mee Chin hangs an old-fashioned clock, powered by electricity and faithfully marking the passage of time.
On another wall is a certificate from the then Ministry of the Environment, awarding the confectionary third prize in cleanliness among coffee shops in the year 1975.
These wall ornaments are a reminder of bygone days. As the marble top tables and swinging fans hanging from the ceiling. These fit in well with the old school vibe that Chin Mee Chin exudes till today.
Service is straightforward, place your order and the food gets served. It isn't fancy service, but it doesn't have to be.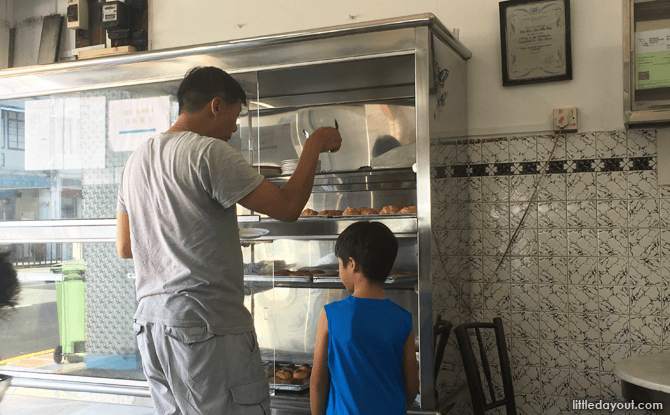 Orders are still taken on loose sheets of blank paper. Customers can help themselves to cakes from the cabinet and pay up later – a system of trust that was the norm in the past. Kaya is made in a central kitchen – at the rear of the shophouse.
There is no air-conditioned seating or free wi-fi but Chin Mee Chin is still perpetually packed. And the reasons for this are its confectionary and kaya.
Taste Tradition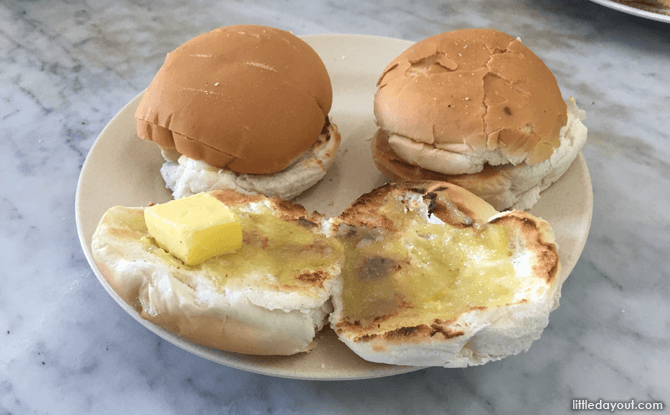 At Chin Mee Chin, the kaya bun reigns supreme. Look around and you will see everyone tucking into buns slathered with kaya and a slab of butter. The buns are toasted warm and deliciously soft.
Other favourites at Chin Mee Chin include the custard tarts and chocolate cupcakes. Sugar rolls, cream horns and its sugee cake are also delish delights when available.
You can also buy a tub of kaya to bring home.
Chin Mee Chin gets really busy, especially on the weekends and post-lunch on weekends when people flock to it for a tea or coffee before heading back to the office. Nonetheless, it is still a great spot to visit for a taste of tradition and to soak in the old-world atmosphere when the opportunity arises.
Chin Mee Chin Confectionary
Address: 204 East Coast Road, Singapore 428903