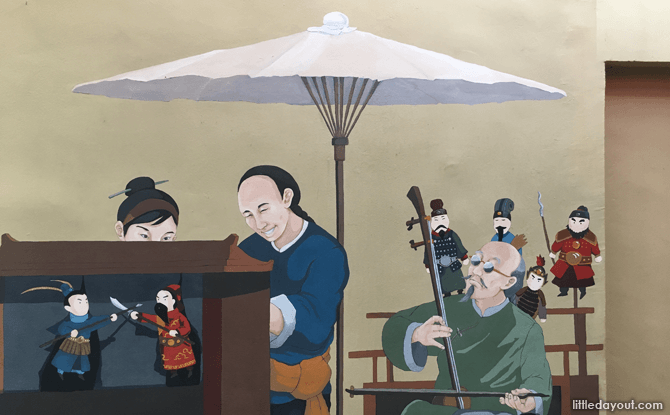 Mention Chinatown and images of old shophouses, five-foot ways and touristy kitsch come to mind. One of the oldest districts in Singapore, its rich heritage and diverse sights make it a popular tourist destination.
But, beyond the usual attractions, Chinatown holds plenty of hidden nooks and crannies among its streets. We go beyond the usual sights around Singapore's Chinatown to uncover the less expected sights and things to do around this historic district.
---
1. Revisit Your Childhood at The Tintin Shop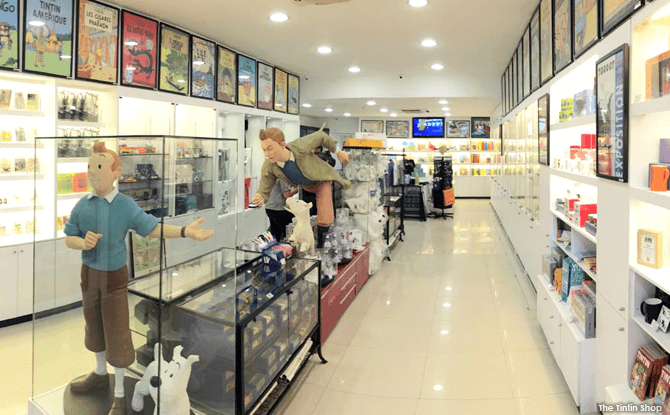 Singapore's Chinatown is probably the last place you'd expect to find a shop dedicated to a Belgian comic book character but, lo and behold, along Pagoda Street is The Tintin Shop.
Inside this lovingly curated shop, you can come face-to-face with this iconic character created by Belgian artist Georges Remes – literally. The shop has life-sized Tintin figures.
Merchandise inspired by scenes from the young reporter's adventures fill the store. There are also Tintin books and limited edition collectibles of Tintin, his dog Snowy and his companions like Captain Haddock.
The Tintin Shop
28 Pagoda Street, Singapore 059188
---
2. Savour a History Lesson at a Bak Kwa Heritage Corner
Bak kwa is a favourite treat for many, especially during the Lunar New Year period and Bee Cheng Hiang has been doing it for a long time. With a history dating back to 1933, you can find out more about bak kwa past and present at the Bee Cheng Hiang's store at the corner of Mosque Street and New Bridge Road. Its heritage wall are early forms of "mobile advertising" (nothing to do with mobile phones) and its first "advertising model".
After taking in the history, sample the present with a taste of the freshly grilled bak kwa off the grill.
---
3. Visit the Last Sausage Kiosk Before the Equator
Austrian Erich Poliski has been selling sausages at Chinatown since 2004. Starting from a kiosk at the Chinatown Night Market, Erich's Wuerstelstand stood out by selling bratwursts and sauerkraut amidst the traditional Chinese market stalls. Three years ago, he moved from the Night Market into a coffee shop at Banda Street.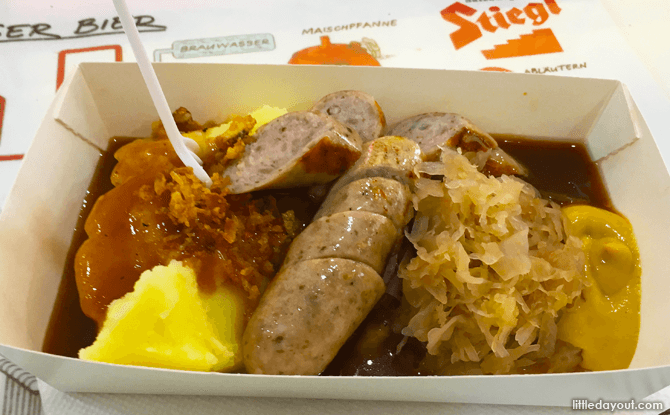 For an authentic sausage experience, try the currywurst, a grilled pork bratwurst with curry-flavoured ketchup, or bite into a Meatloaf Sandwich. To keep things simple, there are sets available – imaginatively named "Three Dollar Fifty Set", "Six Dollar Set", "Six Dollar Fifty Set". Complementing the savory meats are Austrian style breads like onion loafs. The Bavarian salted pretzels look like they'd go perfectly with an ice-cold beer.
Erich's Wuerstelstand
K88 Coffee House, Blk 5 Banda Street, #01-52, Singapore 050005
---
4. Shop for an Organic Solution
You don't expect to come across a shop passionate about changing the world at Hong Lim Complex but that is exactly what GTL World is aiming to do. The company was started in 2013 by an NGO and they market an organic cleaning concentrate formulated from coconut oil, lemon and aloe vera extract, vitamin C and other natural ingredients. Known as ETL No. 9, it has an alkali formula and is intended to be used to wash fruit and vegetables as part of food preparation.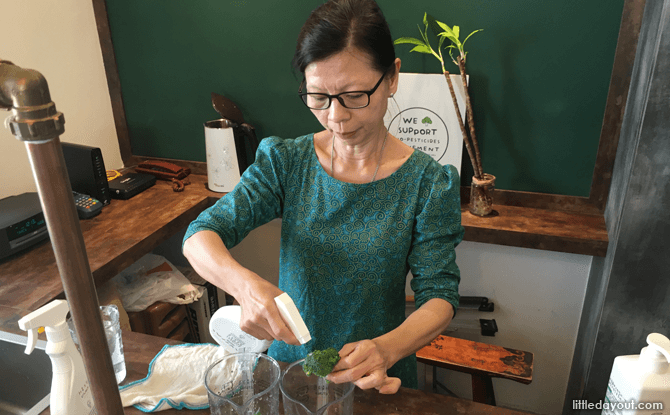 It can even be used as a general all-purpose cleaner for other household chores. Visit their store at Hong Lim Complex to request a demonstration on how it works.
GTL World
Blk 531 Upper Cross Street, #02-55, Hong Lim Complex, Singapore 050531
---
5. Relive Chinatown's Past Through Its Murals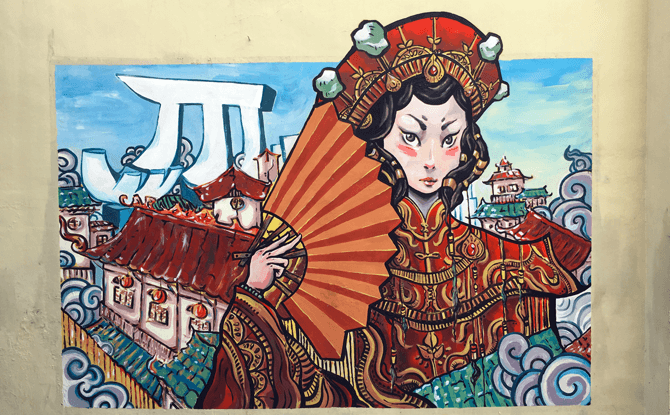 Brightly-coloured artworks decorate the walls around Chinatown. Many of the reflect scenes from Chinatown's past and bringing a splash of colour to its streets. From Samsui women to early hawkers, they are a reminder of the area's vibrant past.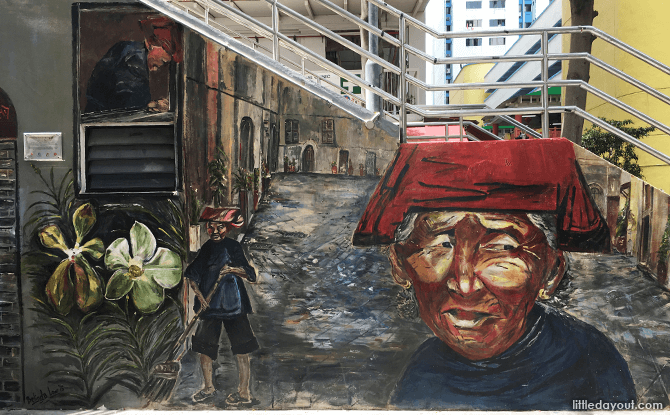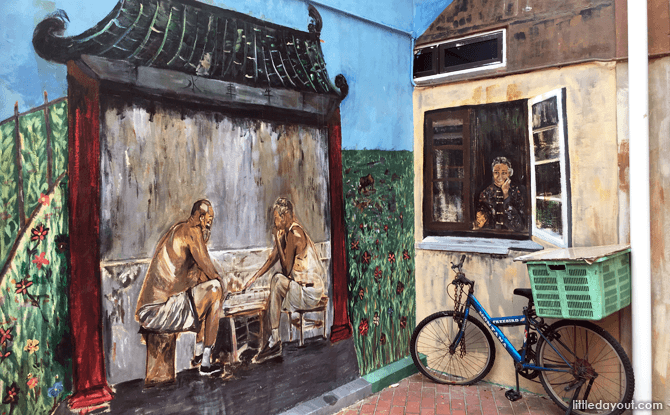 Take some time to stop to admire these amazing works of art. Some of our favourites can be found around Banda Street and the Kreta Ayer Community Centre.
---
6. Take Flight at RC Central
Drones are all the rage nowadays. If you thinking of getting into the hobby, head to the basement of Fook Hai Building. Tucked away here are a cluster of shops specialising in radio controlled "toys". You can live out your fantasies of flight with RC planes, helicopters and drones from shops such as Singapore Hobby Supplies, NTC Engineering Hobbies and Radio Control Sports. Expect to spend upwards of $200 to get started on your new aero-modeling hobby.
Basement of Fook Hai Building
150 South Bridge Road, #03-12, Singapore 058727
---
7. Track Down Where Chinatown's Name Springs From
Why is Chinatown known in Chinese as "Cow Car Water"? Before piped water was widely available in Chinatown, water had to be drawn from wells at Spring Street and Ann Siang Hill and distributed by bullock cart to residents. This method of distributing water led it to be called Niu Che Shui, which literally means Cow Car Water.
Today, the watering holes around Chinatown are of a different sort. Nonetheless, a singular old well remains at the foot of Ann Siang Hill Park to remind us of a time when the most hygienic form of distributing portable water was having a bovine drag it through the streets on an open cart.
---
8. Indulge Your Secret MasterChef Dreams
In 1959, Sia Huat off started as a household goods retailer in a single shop along Temple Street. Today, the store has expanded to three units along Temple Street, a corporate showroom in Tuas and a culinary destination brand, ToTT, with two locations.
Nonetheless, it is still a treat to pop into Sia Huat's Temple Street location to feel the buzz of restaurateurs selecting kitchen equipment for the next hot dining spot, or to simply browse through the shelves of food gadgetry, and tableware on display.
Sia Huat
7, 9 & 11 Temple Street, Singapore 058559
---
9. Lepak on a Rooftop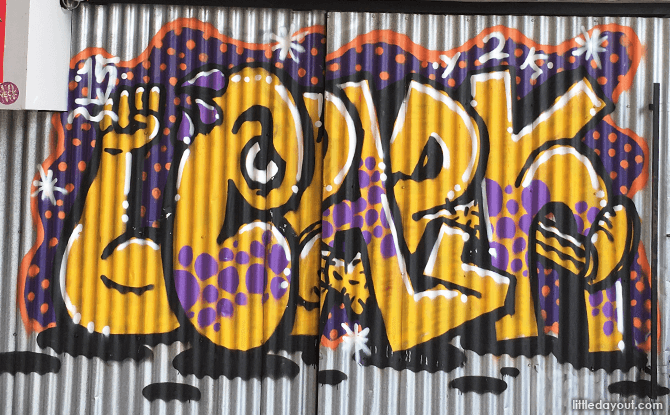 Hidden away at the rooftop of People's Park Complex is Lepark. Make your way past the travel agents and massage parlours to the Level 4 of the complex (or just take the lift), climb the stairs to find at this rooftop joint. Serving "street tapas" grub, Lepark may just be the perfect spot to escape far from the maddening crowd in Chinatown and lepak.
Lepark
1 Park Road, #06-00, People's Park Complex, Singapore 059108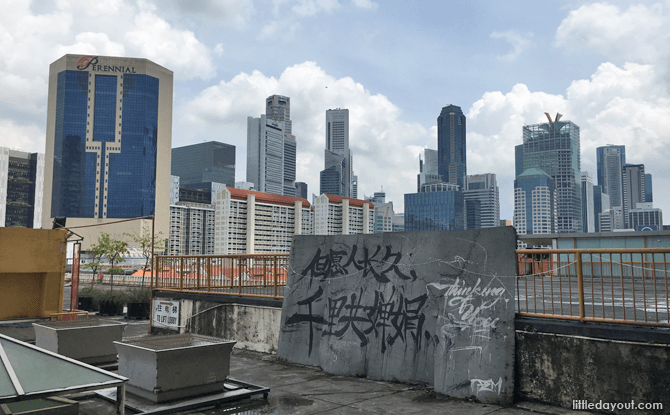 More Stories on Chinese New Year: