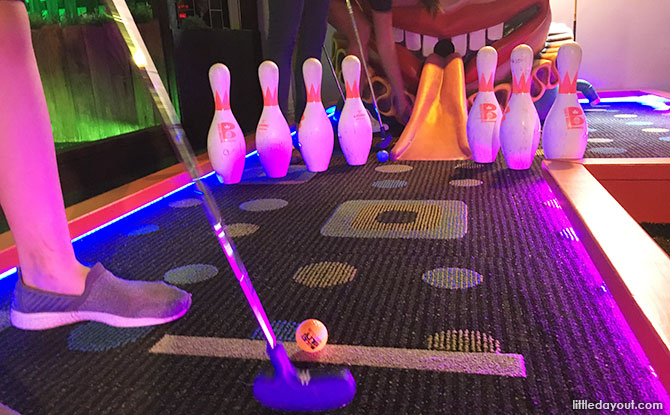 Truth be told, we were quite sad when Lilliputt at Big Splash closed down in 2016. Therefore, it was with much excitement that received the news of a new mini golf spot was opening at Clarke Quay – Holey Moley Singapore. We finally made our way down to this new "golf club", which combines a restaurant, bar and mini golf course in Singapore, to tee-off and were not disappointed by what we found.
---
Restaurant, Bar & Mini Golf at Clarke Quay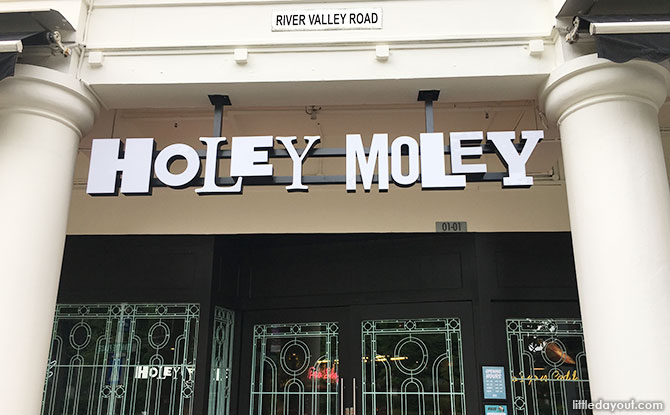 Holey Moley at Clarke Quay is located at the corner River Valley Road and Tan Tye Place, right beside Liang Court. This made it extremely easy to find.
As mentioned earlier, it is a restaurant / bar / mini golf course. Open from noon, persons younger than 18, supervised by a parent or guardian, are allowed in to play on the mini golf links up till 5 pm. Presumably, the adults get to take over from 5 pm and get the whole place to themselves and get boozing.
There are three mini golf courses at Holey Moley in Singapore. Each course has nine holes. Do the maths and that works out to be a total of 27 mini golf holes available.
The price when we visited was $20 per person for 9 holes, $38 per person for 18 holes and $50 per person for 27 holes.
We registered at the reception counter by the entrance. We chose to play two of the mini golf courses or 18 holes. Each course is denoted by colour. You can expect to spend around 20 minutes making your way around each course.
---
Gearing Up at the Pro Shop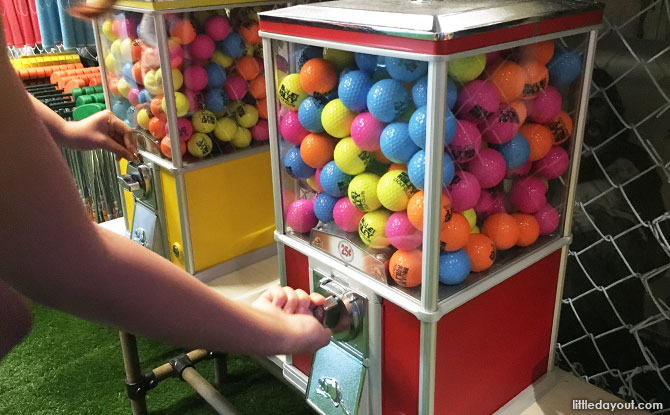 After making payment, we received a token for each golfer. Insert the token into a "gumball machine" and out pops the golf ball. We each picked up a putter, grabbed our score card and were off to the links.
---
Hitting the Links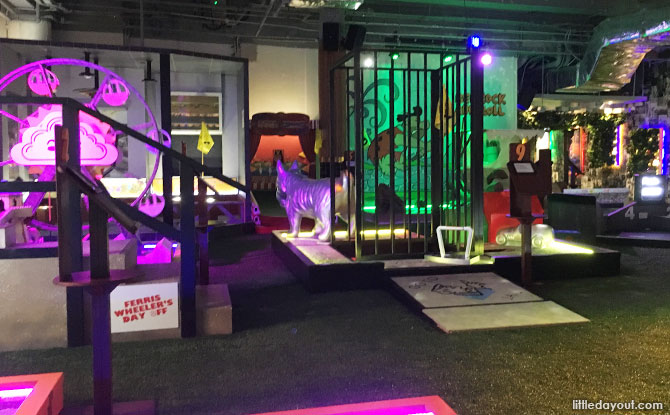 The first course was located on the ground floor.
You'd expect a mini golf course to be silly fun. Holey Moley Singapore delivers on this.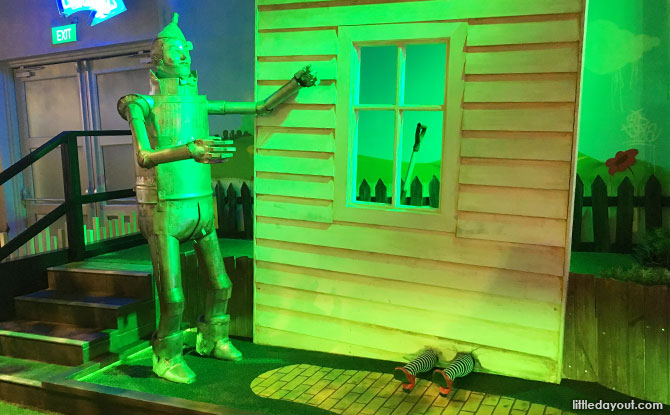 The first hole was the split-level Yellow Brick Green where we had to putt our way down a "tornado", past a pair of red ruby slippers and the Tin Man to sink the putt.
As we came to discover, every hole was "pun-fully" named.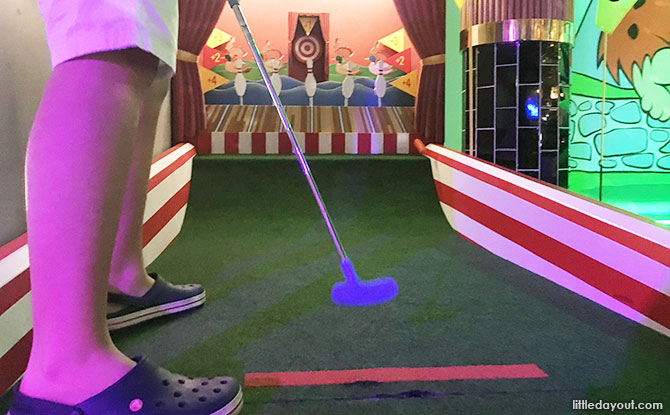 The mini golf holes featured fun variations. These included holes where the golf ball had to "dodge" a Ferris wheel, be "jumped" to hit various targets and one where all the players in the flight had to race against each other simultaneously.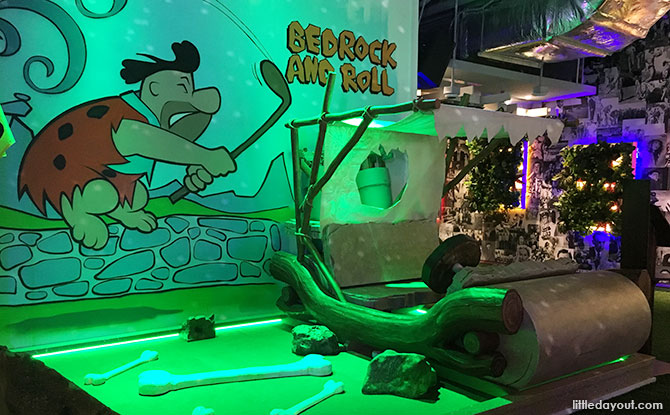 In today's Instagram age, the holes were especially picture-worthy with setups for posable shots and iconic figures such as the Flintstones and Godzilla (or, more accurately, Golfzilla. Arrggh).
The course ends at the ninth hole where the ball gets swallowed up.
We headed back to the counter to pick up our next token and a new ball before climbing up the stairs to the next course which was on the second floor.
This collection of nine holes had many innovative interpretations of "mini golf". These included a movable maze, Tetris and playing on a couch.
This is also where you can find E.Tee and the iconic "Iron Throne".
The third course (which we didn't play) includes a hole with CRAZY mega loop and a "dark light" area where you can putt your way around fluorescent scene from Pacman.
---
Mini Golf in Singapore at Holey Moley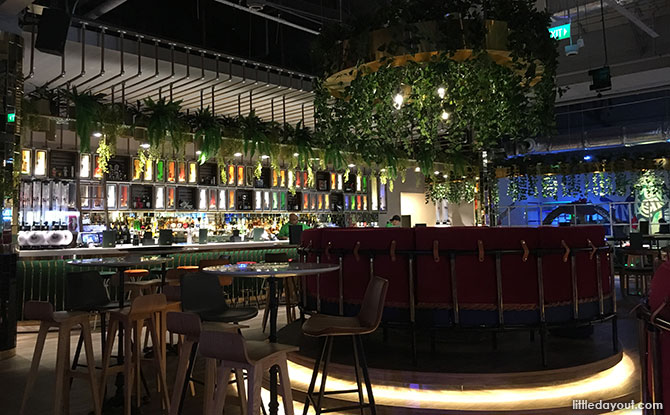 Holey Moley's restaurant menu features pizzas (around $19 to $24), burgers (around $23 to $25) and hot dogs (around $18 to $22).
Overall, we had a great time and plenty of laughs at Holey Moley Clarke Quay.
---
Holey Moley Golf Club, Singapore
Where: 3B River Valley Rd, Singapore 179024
Website
This story contains affiliate links. This means we earn a small fee if you purchase something through a link from our website. There is no additional cost to you and goes towards supporting Little Day Out's efforts to deliver the best news and reporting for families.