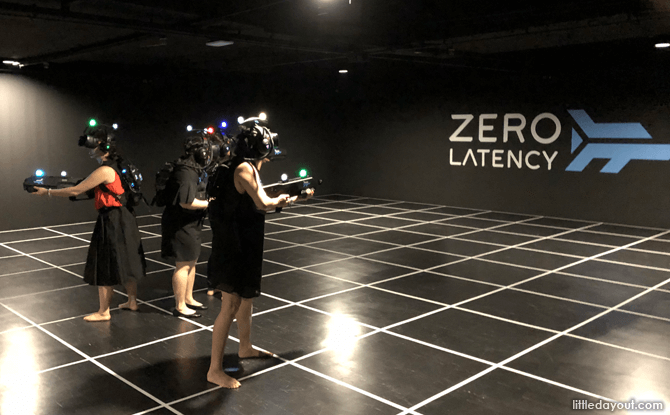 Will you be able to survive a zombie attack? Find out at Zero Latency Singapore, a virtual reality game room challenge at Suntec City.
This multi-player, immersive VR game places the player into the thick of the action. Put on a VR headset, pick up a weapon and get ready to rumble with your friends. At Zero Latency, with wireless technology, you are free to roam about a play area, adding to the realism.
Choose Your Game
You can choose from three VR games. In Zombie Survival, you and your team need to hold off the swarms of undead zombies advancing toward you. In Singularity, you and your squad find yourselves on a secret military space base and have to investigate further. In Engineerium, you are transported to an ancient world where gravity does not function as expected.
The player experience at Zero Latency starts with a briefing on how to navigate the VR world. You will have to put on a vest that is fitted with motion sensors.
Enter the Virtual World
The key to the whole experience is the virtual reality headset. Fit them to be transported into the fantastical game that you choose. Complementing the visuals you will see through the VR headset are a pair of headphones and a hands-free microphone for a completely immersive experience.
Once you put on the headset, you can see your comrades' avatars in the virtual world. The headset and microphone allow your gang to communicate with one another. It is also how the game master provides instructions to you.
You will also get equipped with a gun. In the virtual world, this can be cycled through various gun variations by pressing a button above the trigger.
You will be let loose in a 200-square metre room with gridlines marked out.
---
Fight To Survive
In the case of the Zombie Survival game, it is just that – you have to survive a zombie attack. For those who have played first-person shooter games such as Halo, it is similar, except it is in the physical realm.
This can be a bit frightening and get the pulse racing. If "killed" in the virtual world, the virtual reality screen goes translucent red before the player gets respawned.
Up to eight players can take on the task of holding back the zombie horde together. The gameplay lasts for 30 minutes.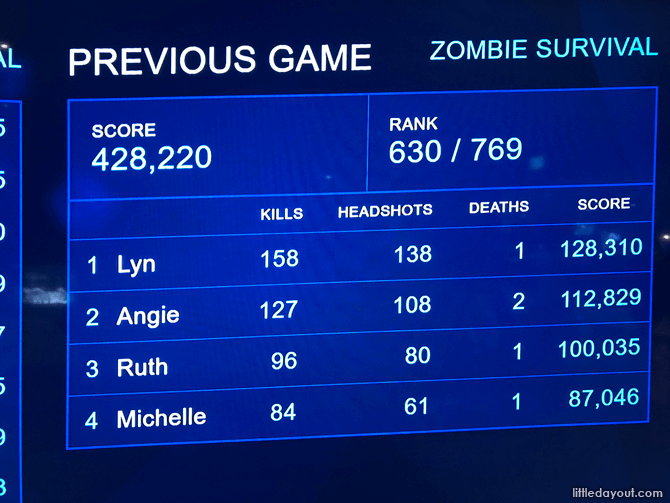 At the end of the game, each player gets a score. Scores are based on the number of kills made, type of kills and weapon used.
The game is recommended for ages 12 years old and above because of the weight of the vest and gun, and the subject matter. However, there have been kids who are younger than that who have played as well.
Zero Latency is an immersive and exhilarating experience if you are looking for something different and memorable to do.
---
Zero Latency
Address: 3 Temasek Boulevard #03-346/347, Suntec City Mall Singapore 038983
Cost: $69 per person (opening special of $59)
Website