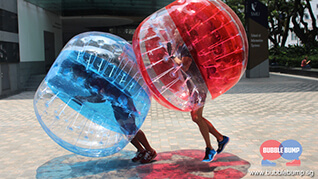 It is impossible not to chuckle at the sight of these ridiculous, ball-like suits for the first time. Bubble Bump Soccer provides an inflated twist to the beautiful game of football. Players put on round, bouncy suits, and chase after the ball in a game of mayhem with some semblance of soccer.
When players bump into each other, they fall down like gooseberries, legs waving in the air, while still staying safe inside the equivalent of a gigantic cushion of air.
Bubble Bump – Bump and We All Fall Down
If it all sounds like a bit of a joke, it is probably because a pair of comedians started it.
The "sport" originated in Norway in 2011 when Henrik Elvestad and Johan Golden decided it would be funny to put athletes into a bubble suit. From there, the craze caught on and has since spread worldwide.
In Singapore, you can play Bubble Bump Soccer with Bubble Bump. Operating from three locations around Singapore – Kovan Sports Centre, The Cage @ Kallang and Zion Sports @ Tiong Bahru, Bubble Bump also provides a mobile service and can arrange a game at a location of your choosing.
Central to the Bubble Bump Soccer game is the round, inflatable suit that instantly transforms anyone into a Ribena berry.
At Bubble Bump, there are different sized inflatable suits for children and adults. The kid-sized suit measures 1.2 metres in diameter while adult sizes are 1.5 metres in diameter.
The suit slips over the player like a tunic, and a pair of straps go over the shoulders to keep the big air ball up, leaving only the legs to stick out.
Bubble Bump Soccer is played in teams of five per side. Once the whistle blows, players run around like human-size hamster balls trying to score a goal with each game lasting five minutes.
Other game variations offered by at Bubble Bump include Bubble Bump Invasion, Bubble Bump Hoops and Bubble Human Bowling.
A caveat is that to play Bubble Bump, kids have to be at least 1.2 metres tall.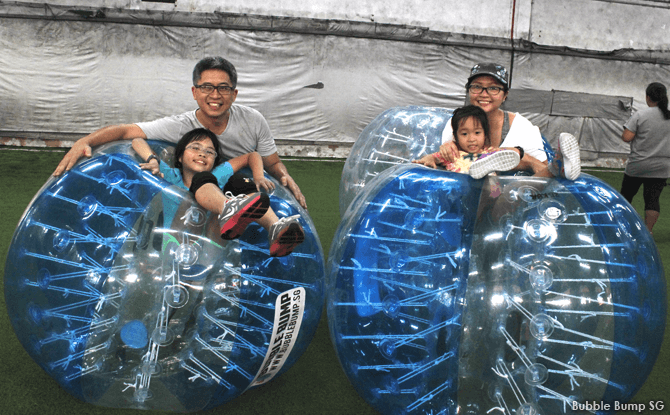 Poolball, Anyone?
If running around in bubble gets your adrenaline going, you may also wish to try out Poolball.
A cross between football and pool, players kick balls around a seven-metre-long giant pool table (or super small soccer field, depending on how you look at it). As with normal pool, balls need to be potted into the side pockets – but in this case, using the feet, not a cue stick.
This supersized craziness was dreamt up in the United States and is offered by the same folks at Bubble Bump.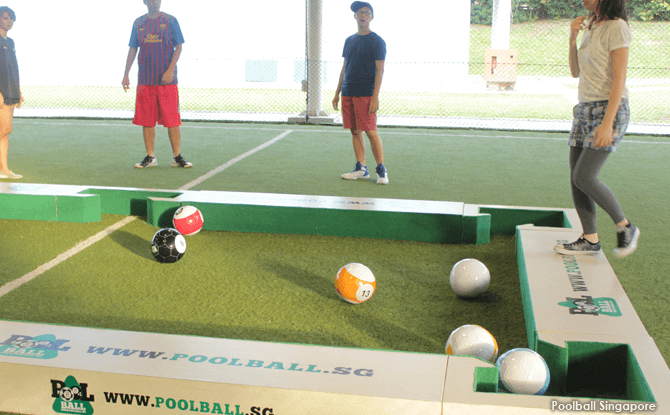 Bubble Bump Birthday Parties
If you are looking for a unique birthday party idea for the kids, Bubble Bump also offers birthday party packages that include the venue, Bubble Bump games, party favours and drinks, party hosts and photography.
For more information on Bubble Bump, click here.
For more information on Poolball, click here.
Bubble Bump Little Day Out
From 10 July 2015 to 2 September 2015, Little Day Out is giving away eight sets of five passes to a Bubble Bump Little Day Out on 6 September, 2 pm to 4 pm.
(Editor's Update: We had a great time at Bubble Bump Little Day Out! Read all about our bouncy good time here.)