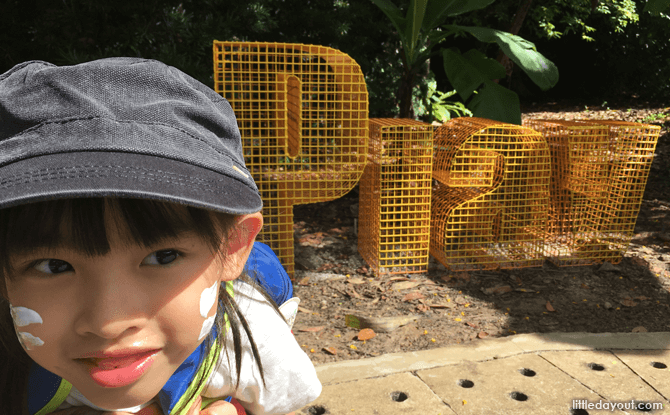 The Jacob Ballas Children's Garden at Singapore Botanic Gardens is a magical place designed especially for young children. It provides opportunities for kids to experience nature and learn more about different eco-systems. On top of that, there are plenty of adventurous play spots that make it ideal for kids to have fun.
Play Spots At Jacob Ballas Children's Garden
First opened in 2007, Jacob Ballas Children's Garden has now been extended with a brand new two-hectare extension. This not only doubles the size of the unique magical garden but provides a whole new slew of experiences for kids and youngsters up to 14 years old.
There is much to explore around Jacob Ballas Children's Garden. Here are eight of our favourite spots at Jacob Ballas Children's Garden, including the new extension, for a wonderful day out in the sun with your kids.
1. Sandy Sand Pit
Close to the entrance of Jacob Ballas Children's Garden is the sand play area. Here, in addition to various panels with gears and a musical xylophone, there is a super-fun mechanical digger.
---
-- Story continues below --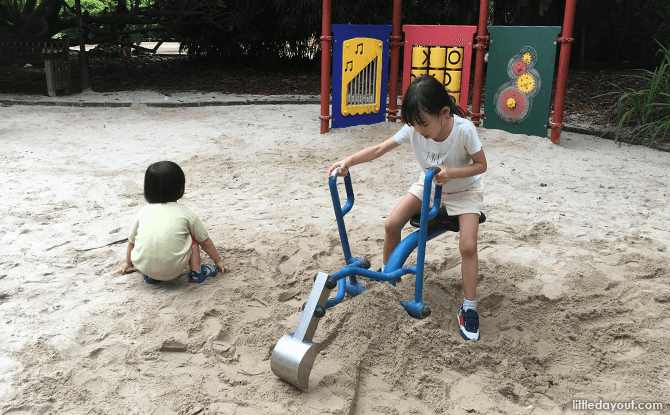 Kids get to sit on the operator's seat and tug on two levers to dig into the sand pit. Awesome fun.
Once kids are done with the digger, there is also a big disc "swing" that they can enjoy too.
2. Splishy-Splashy Water Play
Kids can change into their swimmers and get ready for some splashing fun at Jacob Ballas Children's Garden's water play area. Dart amongst the jets of water spraying out from the ground and have a splish-splashy good time. The Water Play Area is especially fun for younger kids and a great way to cool down on a hot, sunny day.
3. Garden Maze
Another favourite spot at Jacob Ballas Children's Garden is the Maze. Made up of hedges and a series of metal gates with animals on them, the Maze is a fun activity that parents can do together with their kids.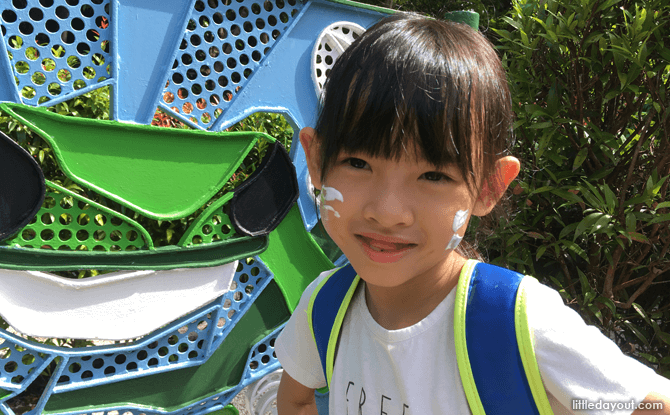 Venture in and navigate your way around the passageways of the hedge maze. For an additional challenge, see if you can find all the animal gates within the maze. If it gets too bright and sunny, be sure to put on some sunscreen for UV protection.
4. Vegetable Farm
How many kids know where their food comes from – besides the supermarket?
The new extension at Jacob Ballas Children's Garden includes a vegetable farm where kids discover for themselves how common fruit and vegetables are grown. Laid out in neat little patches, the farm encourages kids to lean in and learn more about our sources of food.
5. Bouncy Forest Trampoline
Venture deeper into the Jacob Ballas Children's Garden extension and you will enter a lush forest with kingfisher bird statues and pretty flowers.
The trees at the extension area do appear to be less mature than those found in the original Children's Garden area. This means slightly less shade. So, remember to slap on some sunscreen for UV protection if it is a sunny day.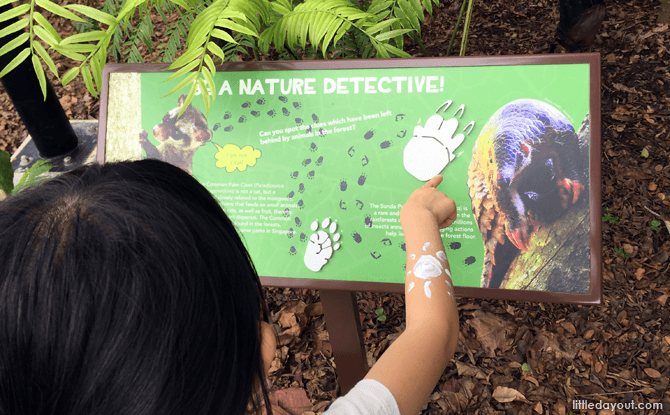 At Jacob Ballas Children's Garden's new extension, keep an eye out for information panels that provide learning opportunities for children through engaging activities.
This part of the Children's Garden is also filled with fun little play spots for kids.
The Forest Trampoline is one piece of play equipment that is sure to get kids jumping for joy – literally.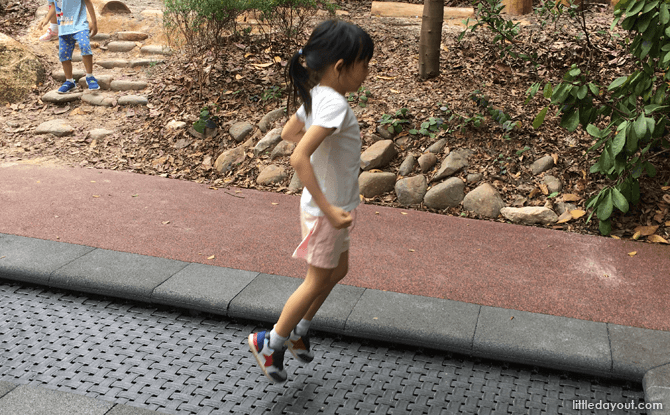 It is a woven trampoline that is set into the ground. Up to two kids can bounce along this elongated trampoline surface, hopping from one end to the other and back again.
6. Cajon "Beat Box" Station
Next to the Forest Trampoline are some metal cajons that they can drum out rhythms on. A cajon, which means box or crate in Spanish, is a percussion instrument that the player sits on and plays with his or her hands.
With several cajons lined up next to each other, kids can create a spontaneous poly-rhythmic percussion group on the spot. Parents can also try beating out a rhythm and having the children listen and play the rhythm back to them.
7. Lux Tree "Condo"
You definitely cannot miss the treehouse at Jacob Ballas Children's Garden extension. Actually, this feels more like a "tree condo" instead of treehouse.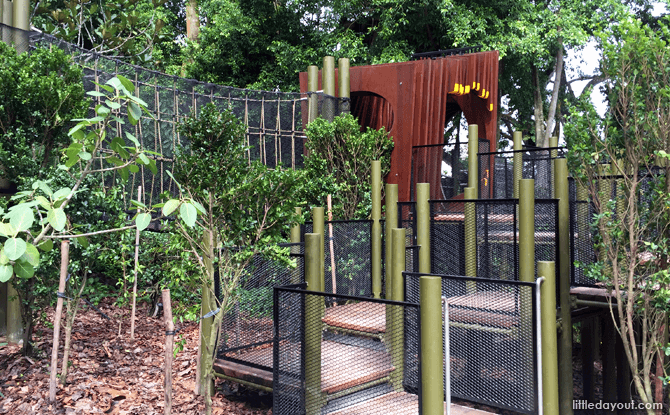 Broad platforms with black "designer" fences lead up to a walnut brown wooden structure.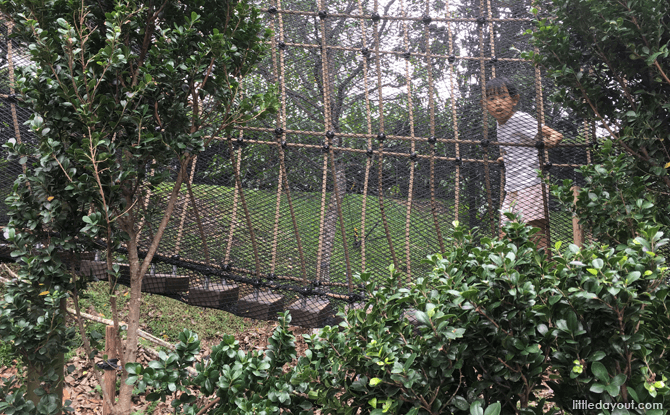 Kids get to explore a wooden suspension bridge at one end and a passageway that leads to a netted tunnel at the other.
It's great to be a kid, isn't it?
8. Zippity Zip Line
A highlight that you can't miss at the new Jacob Ballas Children's Garden extension is the zip line.
Kids get to hop aboard a seat and zip across from one end of a sand pit to the other side. Need we say more? Whee!
Stay Safe in the Sun – AVEENO Baby Sensitive Skin Sunscreen
Heading outdoors is great fun! It provides kids with the opportunity to experience the world around them and to get in touch with nature.
When heading outdoors – whether to the park, to the beach or the pool – keep your children safe from harmful UV rays with the new AVEENO Baby Sensitive Skin Sunscreen lotion.
Suitable for kids from 6 months to 12 years old, this sunscreen lotion provides protection from UV rays with 100% naturally sourced zinc oxide. Yet, it has been clinically shown to be as gentle as water on baby skin.
AVEENO Baby Sensitive Skin Sunscreen is suitable even for use on skin with eczema. It has a fragrance-free and non-greasy formula and is sweat- and water-resistant for 80 minutes.
With its SPF 50 protection and suitability for sensitive skin, AVEENO Baby Sensitive Skin Sunscreen is a perfect companion for outdoor activities with kids.
The new AVEENO Baby Sensitive Skin Sunscreen is now exclusively available from Redmart at S$28.90. Click here to get it now.
This post is brought to you by AVEENO Baby.
---
Aveeno Baby Giveaway
Stand a chance to win a set of Aveeno Baby products, including Aveeno Baby Sensitive Skin Sunscreen, Aveeno Baby Daily Moisture Lotion and Aveeno Baby Wash & Shampoo! We are giving 5 sets to our lucky readers. To take part, complete and submit the form below.
Like and share this Facebook post to double your chances of winning.
Closing date is Sunday, 17 December 2017, 23:59 hrs.
---
Congratulations to our 5 winners!
Shane Tan, Shermaine Tan, Paula Oh, Joelle Ong Choon Peng, and Grace Lee, you have each won a set of Aveeno Baby products! The details are in our email to you.