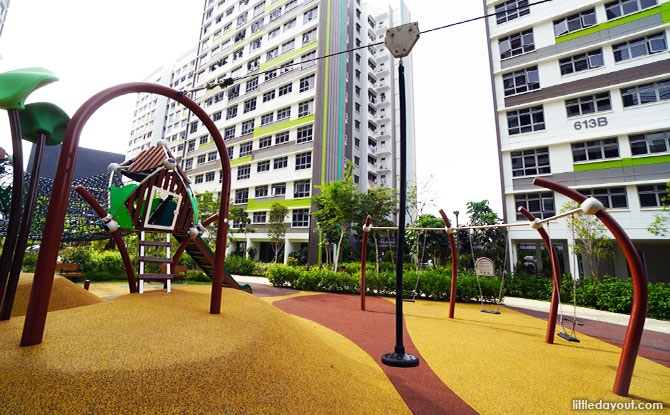 If you think that adventure theme parks are the only place to have exciting play equipment such as nets and flying foxes, think again. Tampines Greenview Playground is a neighbourhood playground that is sure to fuel little adrenaline seekers without breaking the bank.
The playground is split into three main sections, each following a jungle and plant theme. There is also a fitness corner that is split into two sections. As you enter the playground, you will see the first play structure with a tree house-inspired design. This area has an ample number of climbing poles for all to play with.
---
Climbing Poles and Treehouse at Tampines Greenview Playground
The climbing poles link to a literal treehouse with a green log and purple flowers on top. This play structure is perfect for imaginative play and is easy for children to navigate and climb with the assistance of the grips and handles at the side.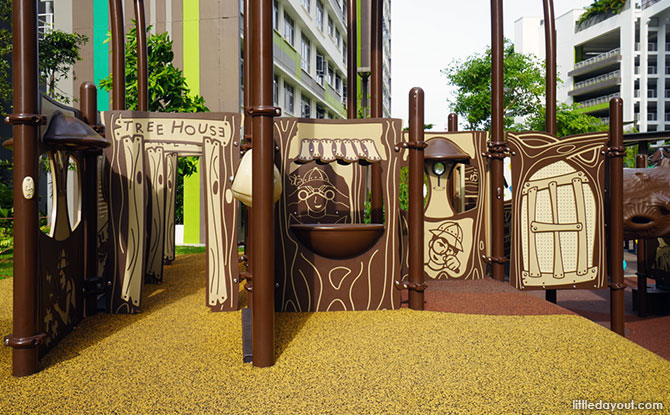 There is also a structure that invites players to go on a "sunken treasure hunt" and a "nature hunt" giving explorers items and shapes to find as they explore the treehouse. They can then slide down a gentle slide with rollers, which is also great for toddlers.
---
Fitness Corner at Tampines Greenview Playground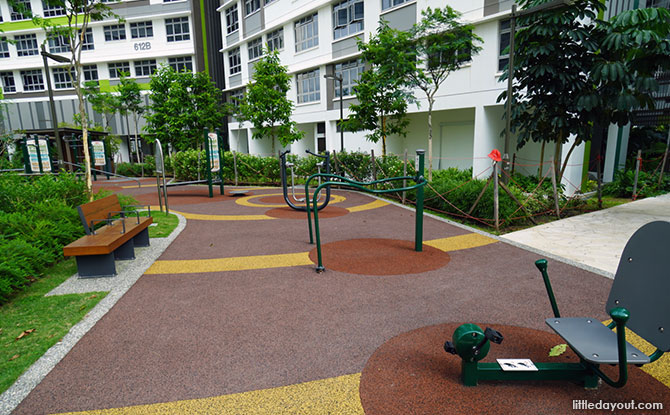 There is a fitness corner that has most of the basic equipment that you would find such as a sit-up platform, pullup bars and also the equipment for exercises such as leg presses and tricep dips.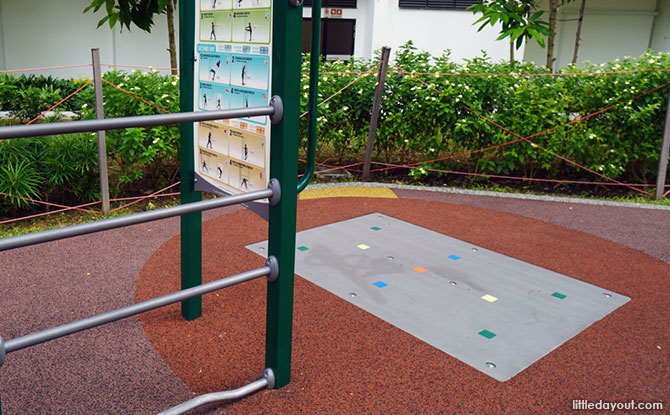 There is also an interesting target map with different colours that allow those who are exercising o do a "jump to target exercise" to get their heart rate up.
---
Zipline and towers at Tampines Greenview Playground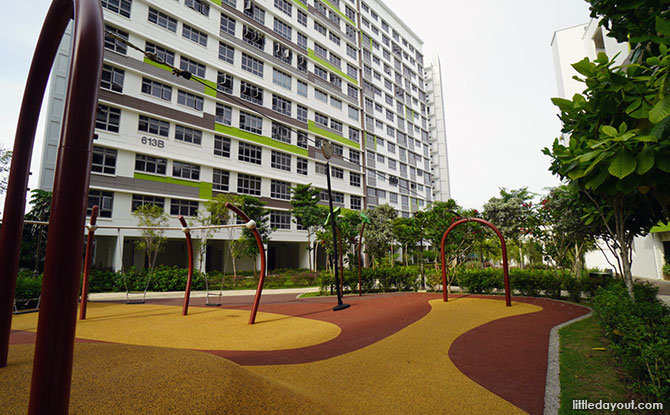 The second section is the second treehouse that has a zipline. The zipline starts from an elevated platform which is relatively accessible, even for children who might not be as tall. Beside the linked platform are two towers with a net in between that players can walk or crawl across.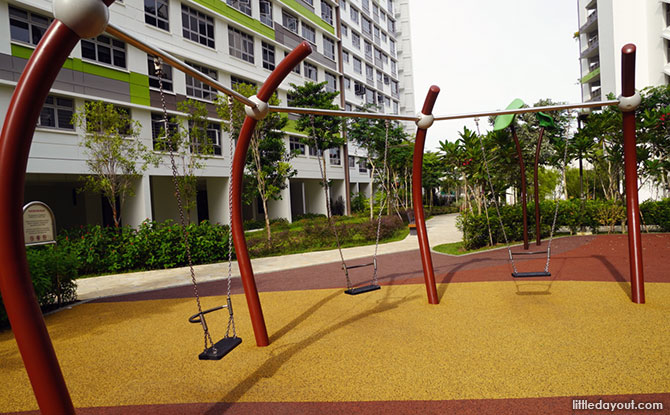 This Tampines playground ha a section with three swings. Interestingly these swings have back support, which is designed to cater to allow more children of various ages to enjoy the swing. We also noticed two hopscotch outlines near both playground areas.
---
Toddler Play area at Tampines Greenview Playground
For the final section of the playground, walk towards the multistorey car park at Blk 613. Here you will find the third section of the playground which has a good number of play equipment suitable for toddlers.
Each treehouse in this playground area might look similar, but each treehouse has different play elements. Kids can choose to enter from either entrance of the treehouse and jump across the brown tree stumps on the ground.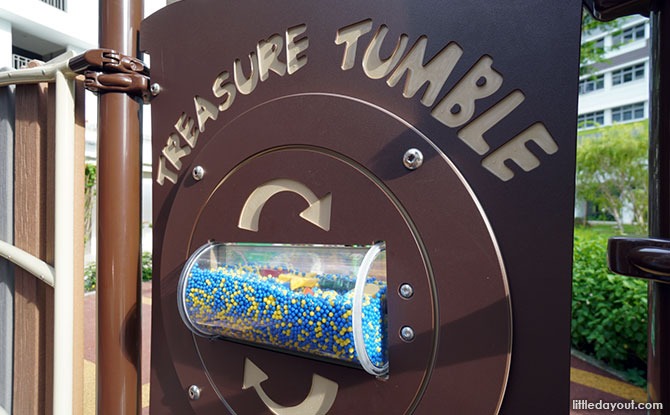 The treehouse here also has a multi-sensory "treasure tumble" element which is sure to delight younger kids as they interact with it. There are also multiple wooden bridges that they can cross over.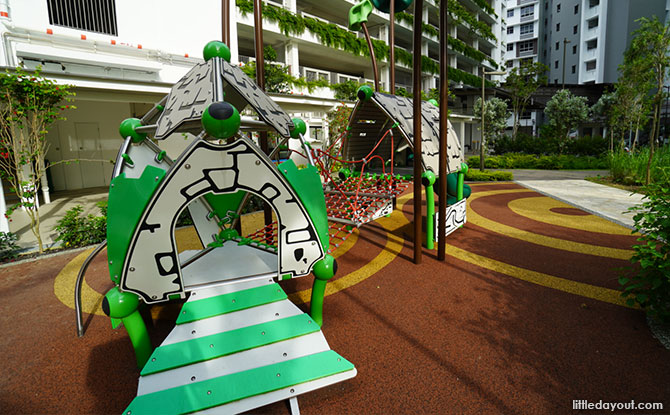 There is a small play structure that is designed for toddlers with a small net linking two green houses together. There are climbing pole leaves that sprout out from the ground and there are also small maps that add to the eye-catching play structure.
Finally, there is also an extension of the exercise corner which is also filled with similar equipment the earlier section but this time the equipment is catered more to those who want to engage in arm exercises such as arm rotations and also for stretching exercises.
We enjoyed visiting the Tampines Greenview Playground and see ourselves coming back to this playground again in the near future.
---
Tampines Greenview Playground
Blk 612A Tampines North Dr 1