Folks have been flocking to Changi Jurassic Mile in the day to see the dinosaur statues. Now, there is a reason to visit in the evening too during the year-end period as the park connector has turned on the Dino Dazzle for Christmas.
---
Dino Dazzle: Dinosaur Light-up at Jurassic Mile
Strings of fairy lights illuminate the way in to Dino Dazzle.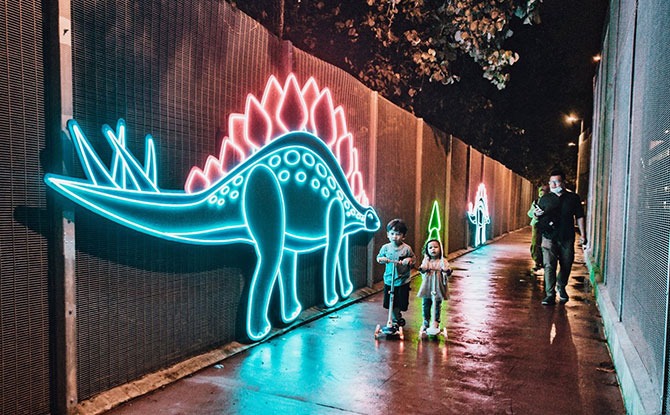 Neon light up dinosaur outlines along Changi Jurassic Mile.
For the year-end festive period, the dinosaurs along Jurassic Mile have been dressed up in festive lights. This allows them to match the twinkling lights of the trees beside them too.
---
-- Story continues below --
The photo spot with the baby T-Rex hatching out of the egg has also been dressed up for the holidays.
---
Evening Walk
A plus point about visiting Jurassic Mile in the evening during the festive period is that you can expect fewer crowds compared to the daytime.
So, if you are thinking of an evening walk, or perhaps after visiting the Changi Festive Village activities at Terminal 4.