Hay Dairies Goat Farm may be tucked away in a corner of the Kranji Countryside but it still attracts plenty of kids and families, all eager to meet the animals and have a farm experience in Singapore.
Hay Dairies Goat farm first opened back in 22 December 1988. Prior to farming goats, the Hay family (yes, their family name is very suited to what they do) reared ducks, chickens and pigs. It was only the late 1980s that they decided to convert to goat farming and proceeded to import their first batch of Alpine, Nubian, Toggenburg and Saanen goats. The farm started off with 48 goats and now houses a herd of about 700.
---
Goat Is Good For You
Arriving at Hay Dairies Goat Farm, don't be surprised to find it buzzing with people.
---
-- Story continues below --
The first spot to visit is the milking barn. Milking takes place once a day, in the very early morning till about 10.30 am. Arrive then to watch the goats being milked, and to learn basic facts about these curious animals.
You can learn quite a bit of interesting facts about goats and their milk. For example, goat's milk is alkaline which is why human bodies take to it better, and can break it down far more easily. A cup of goat's milk is digested within an hour, while cow's milk takes up to 4 hours to digest.
More facts can be found on displays around this first barn. If you are wondering why they are in the form of stamps, that's because they were from the stamp museum's previous Year of the Goat – Counting Sheep, Dreaming Goats exhibition. It's nice that the displays have found a place amongst their kindred at the farm.
The farm is not allowed to slaughter their goats on-site. However, goats do get sold to local mosques just before Hari Raya Haji to be sacrificed. 
---
No Kid-ding
Following the milking, it is time to head the back of the farm where the goats' barns are found. Things get real here when the children start feeding the goats!
If you're doing a free-and-easy visit, please buy a packet of Alfalfa Hay at $5 from Hay Dairies. The hay smells lovely and is the main thing the goats are fed.
When visiting the barn, do try to head to the back of the barn. Everyone gets super excited when they first lay eyes on the goats and the the ones at the start get fed the most.
There are goats way back waiting to be fed too!
The goats are so cute, for lack of a better word. You'll find eager and hungry ones sticking their heads out of the pens to get to visitors' alfalfa.
End your visit to Hay Dairies Goat Farm back at the milking barn.
There is pasteurised Hay Dairies goat's milk available for purchase. It comes in small bottles which you can drink on the spot, or in larger bottles to bring home. If you wish to get the large bottles to bring home, you will need to get two in order to get it packed into an ice-filled styrofoam box.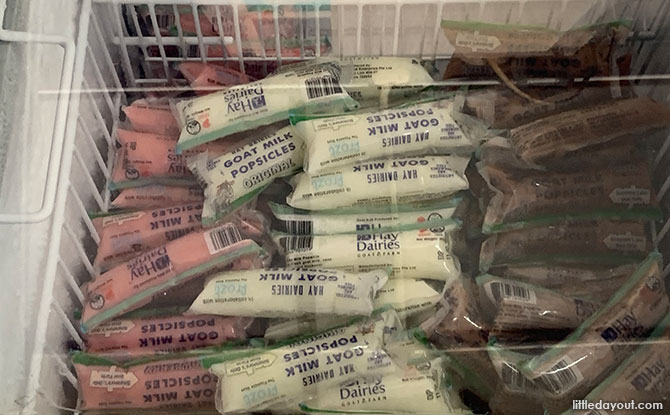 Other goat-related produce available at Hay Dairies Goat Farm include goat's milk popsicles and soap.
---
Goat-ing to Hay Dairies & Around the Area
Admission into Hay Dairies Goat Farm for a free-and-easy visit is free-or-charge.
While you're there, make a day of visiting the Kranji Countryside, and pop by the other farms in the vicinity too.
---
Hay Dairies Goat Farm
Hay Dairies Goat Farm is located at 3 Lim Chu Kang Lane 4, and is closed every Tuesday (except public holidays). Find out more about the farm here.