Where can you go for the quickest getaway without a passport? Hop on over to Lazarus Island a mere 20-minute ferry ride away from Marina South pier. It boasts of clear, turquoise waters, almost pristine beaches and plenty of instagrammable spots without the crowds of course. Bring the kick scooters or bicycles, snorkelling masks, picnic mats, plenty of sunblock and insect repellent for a highly underrated getaway.
History of Lazarus Island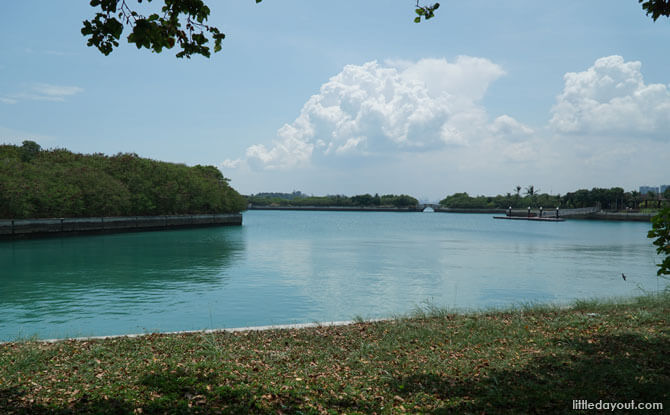 Lazarus Island was known as Pulau Sakijang Pelepah which means barking deer, and fronds of a palm in Malay. The "Island of one barking deer and palms" was so named because of the wildlife on the island, possibly a barking deer or an unidentified canine. Because of the difficulty in pronouncing its Malay name, colonial governors renamed the island Lazarus.
For a long time, it was home to the Orang Laut community and a domain of the pirates roaming the islands. While we hear of gruesome accounts of skulls lining the mouth of Singapore River, you'd be glad that "Captain Blackbeard" no longer has reign over the seas these days.
In the late 19th century, Lazarus Island was used to house prisoner sheds. Records showed that in 1902, a huge fire destroyed the sheds and another major fire in 2914 destroyed all of its vegetation. It was also used as a burial ground, like Kusu Island, to those who had succumbed to infectious diseases on the nearby St John's island.
In the Sixties, Lazarus Island was used as a radar base to direct planes safely to the main island of Singapore and deemed "the heartbeat of Singapore's civil aviation navigational system". A jetty was built to moor and pump oil into fuel storage tanks, hills levelled and army landing craft used to carry equipment onto the island.
The population on Lazarus Island then had gained a reputation for their soccer and swimming skills, where they reigned supreme over the mainlanders in competitions. Fondly remembered as "the Children of the Sea", the islanders trained in the rough waters around Lazarus Island for two months before the competition. By the mid 90s, all indigenous inhabitants had to be relocated and rehoused in public housing on the mainland.
An Idyllic Island Reminiscent of Pre-Colonial Days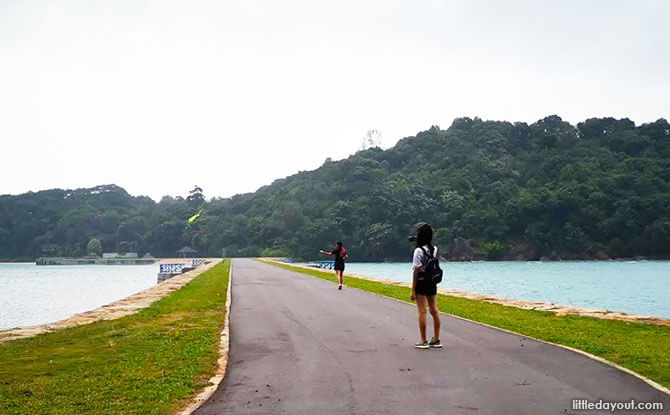 One of 64 islets in Singapore, Lazarus island is linked by a paved bridge to St John's Island and also Seringat Island. Its untouched beauty is reminiscent of a time before intensive development and land reclamation.
Lazarus Island together with Seringat Island was primed for development in 2000 which saw a sand bank formed between the two islands. However, the grand plans for developing the islands into a themed destination with high-end housing never took off.
We are glad for this piece of sanctuary lying in Singapore's backyard ideal for bird-watching, leisure walks and forest-bathing. There are two things on the island which do not exist – toilets and rubbish bins. If your family is exploring Lazarus Island, bring some trash bags and be prepared to head to the nearest toilets at the Seringat island's private jetty.
Nature Walks and Spots on Lazarus Island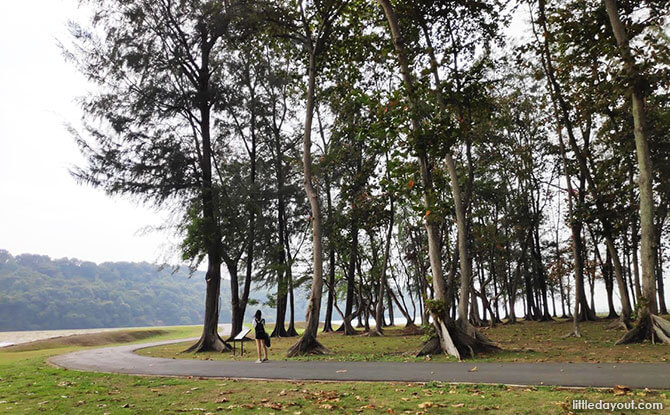 A small forest of Rhu trees mark the gateway to Lazarus Island from St John's Island. This patch of mystical looking trees perhaps form a lovely scene of a Midsummer Night's dream.
Not just a photo spot, you can actually play a game with your children using the leaves of the rhu tree! Pick one needle twig,  gently pluck off part of the needle twig, connect it back and get the children to guess where the breaking point of the twig is. This is a great way to engage the children about nature and point out how interesting that broken parts can be "mended" so easily.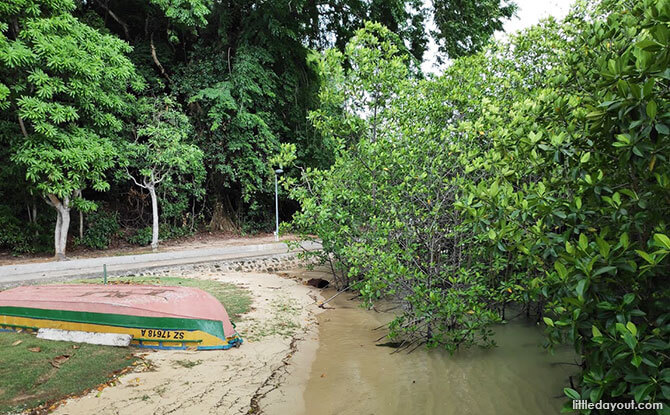 Across the little forest of Rhu trees is a small patch of mangrove, sometimes you can spot the fiddler crabs crawling about. Male fiddler crabs are the ones with one huge brightly coloured pincers for attracting the females. If you see a family of long-tailed macaques, do be mindful of your personal belongings as they may grab plastic bags looking for food.
As your family strolls/scoots across the bridge towards the beach at Lazarus Island, look out for the raptors soaring in the skies above you. They may be Brahminy Kites circling the islands in search of prey. And watch those hats – which might get blown off when it is extremely windy.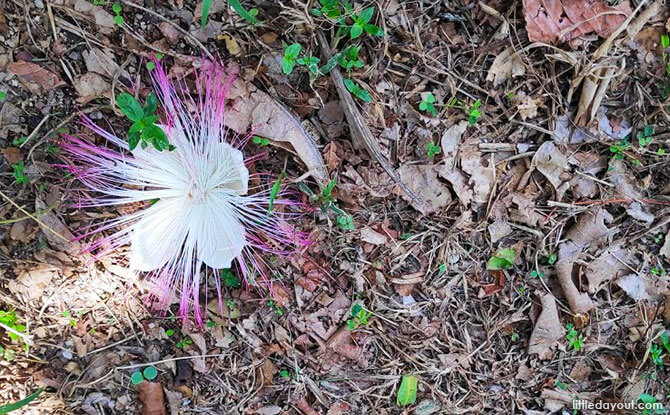 Along the path, look out for the sea poison trees with its gorgeous pom-pom flowers with white and pink petals and fruits looking like a neatly wrapped gift. The fruit pulp was commonly used by fishermen to stun fish! These trees lined the path to the beach. So look out for the beach on the right, which requires a 10-minute walk inland.
The Best Beach in Singapore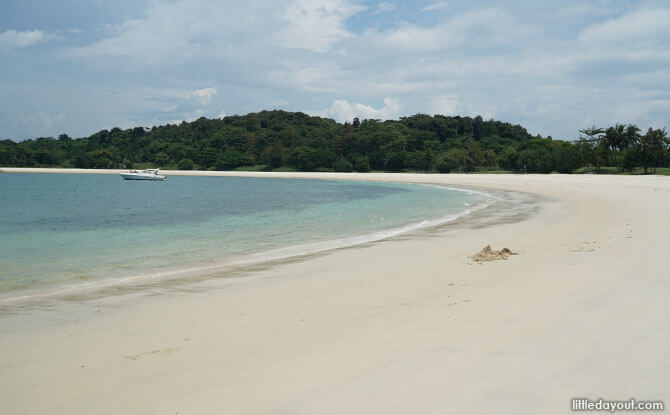 Behold the sight of the best beach in Singapore at Lazarus Island! Clear, turquoise-coloured lagoon and relatively clean sandy beach will greet you. If you're lucky, you might even have the beach to yourself.
Slap on the sunblock and repellent since there is hardly any shade but many insects prowling. The waters off Lazarus Island is popular for scuba diving and snorkelling. We also see private yachts stopping by and fishing enthusiasts eager for a good catch.
Given the clarity of the waters, we could also see schools of fish believed to be Tropical Silversides at the shoreline swimming along the tide. Snorkelling masks would be very useful here for the children to see the fish up close. We even spotted a Crescent Perch.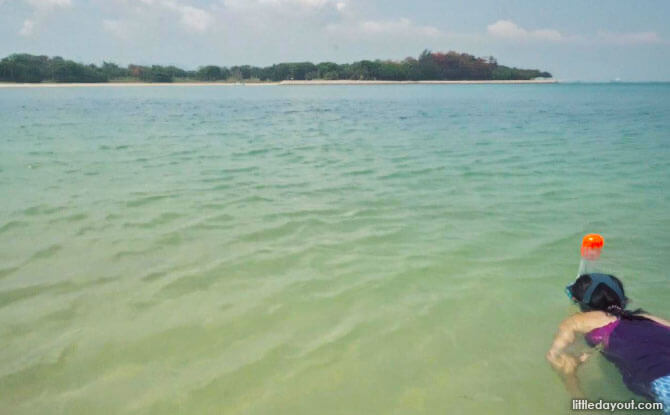 The waters are also perfect for cooling off in the heat, just remember there are no nearby water sources or changing rooms if you decide to swim. However, the sea water felt quite clean with no visible oil stains or sediment.
Lazarus Island – Highly Underrated Island Getaway
If you are all ready for a picturesque beach getaway that is far away from crowds, head on to Lazarus Island twenty minutes away from Singapore. Bring a trolley of water, picnic food, mat, sunhat, ball and scooters for the children and you are ready to recharge with lots of sun, sea and nature!
For ferry timings, check with individual operators for timings of return trips to and fro St John's Island – the nearest jetty for Lazarus Island. Be sure to watch the time while chilling; the last thing you want is to be marooned on a relatively uninhabited island.