Lazarus Island is getting a "light-touch" make-over, with more activities and facilities for those who are seeking at rustic day out at the Southern Island.
Amongst the latest enhancements to Lazarus Island that were unveiled by Sentosa Development Corporation on 5 October 2023 were a convenience store, Sol by BDC, the Lazarus Sea Sports Centre and a glamping experience, due to open in December 2023, by local start up Into the Woods.
---
New Enhancements to Lazarus Island
Sol by BDC
Lazarus Island and St John's Island have long been notorious for not having any food or drink. People would usually have to bring across their own provisions for a day out at the island.
---
-- Story continues below --
However, this has changed with the opening of the Sol by BDC convenience store at Lazarus Island.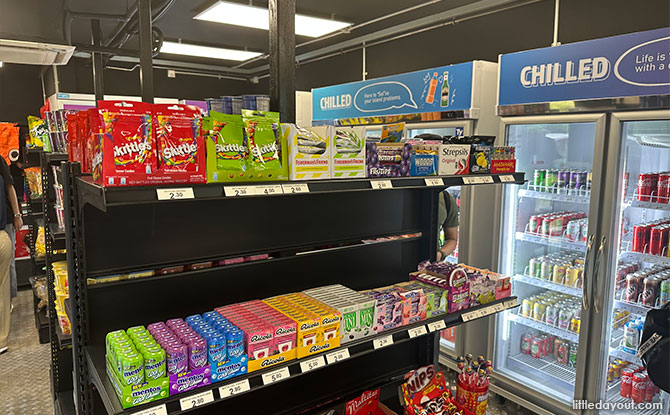 Located on the fringe of the island's famous crescent-shaped beach, Sol by BDC offers a curated selection of day-to-day necessities and groceries.
These include microwavable ready-to-eat meals and ready-to-grill food items curated by Chef-owner Samuel Quan, along with barbecue pits that utilise eco-friendly materials.
It is housed in a blue, repurposed shipping container. Its operating hours are Friday to Sunday, 10 am to 6 pm.
---
Lazarus Sea Sports Centre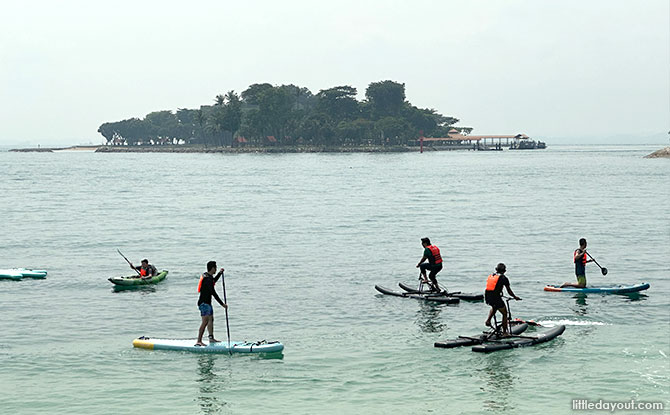 Lazarus Sea Sports Centre or LSSC is operated by watersports company Camelot.
LSSC offers a range of non-motorised water activities, such as stand-up paddling, kayaking and floating yoga boards – a first in Singapore – for visitors to participate in amid the scenic waters of the Southern Islands.
In addition, they will also be offering group kayaking tours for community building events.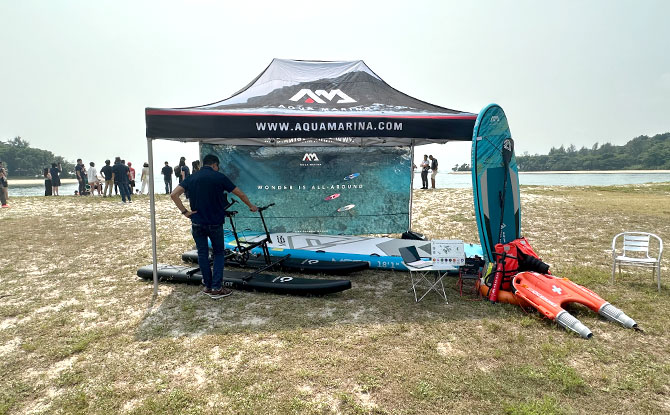 In keeping with the light touch approach, the Lazarus Sea Sports Centre makes use of a single designated launching zone for all watercrafts to minimise impact to the area's seabed.
The centre is located at Lazarus Beach.
Its operating hours are Friday, 10 am to 4 pm, Saturday, Sunday and Public Holidays from 10 am to 5 pm. It will only be open from Monday to Thursday for private bookings.
---
Into the Woods
A series of nine glamping units is set to open in the fourth quarter of 2023. These will provide with overnight beachfront glamping on the Lazarus Island at Lazarus Beach.
Each unit provides comfortable glamping options, encouraging visitors to take a break from the city and reconnect with nature. There will be six regular sized units and three larger ones that can accommodate larger groups and families.
Specially curated welcome kits will be provided for guests. The kit contains items such as "plantable" stationery and a natural watercolour painting set, inviting guests to rejuvenate and enjoy a slower pace of life through low-intensity activities such as painting and drawing during their stay.
---
Other Facilities at Lazarus Island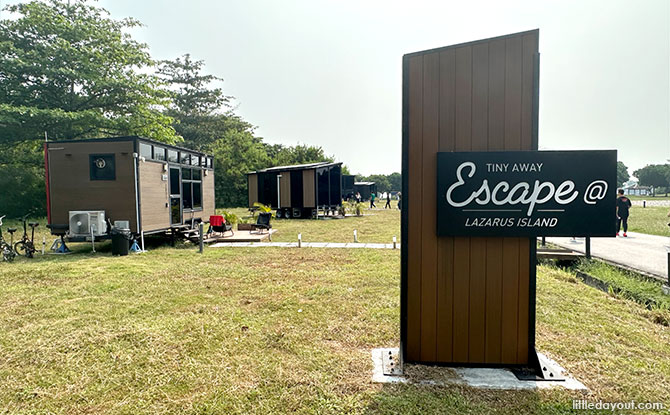 The new enhancements add on to Tiny Away Escape @ Lazarus Island, a series of compact accommodation units that opened in April 2023.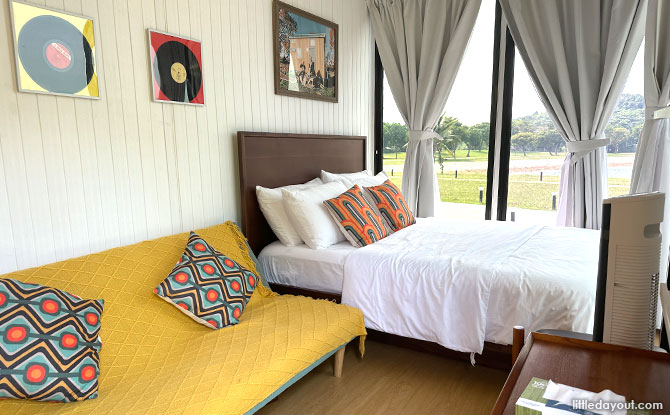 The tiny houses measure between 150 sqft and 170 sqft and are equipped to function in line with sustainable practices to reduce holidaymakers' carbon footprint while on Lazarus Island.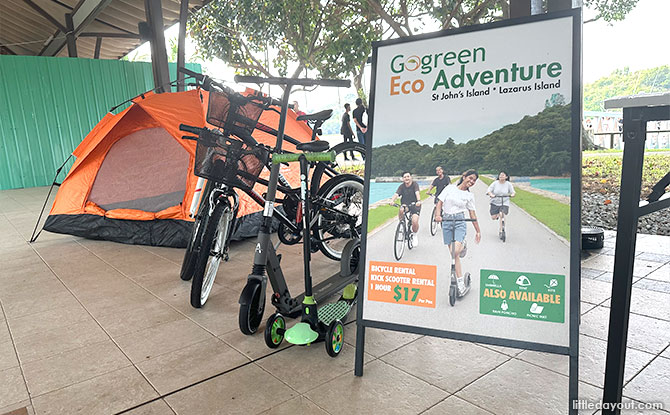 And across the causeway, there is a bicycle rental kiosk by Gogreen Eco Adventure on St John's Island.
Other facilities available at Lazarus Island include a function room as well as shelter with restrooms and vending machines.
---
"Discover the Southern Islands" Guide
In addition, a "Discover the Southern Islands" guide has also been developed to provide visitors with guidelines to enjoy their time at the islands responsibly.
The guidelines include "Do's and Don'ts" when encountering wildlife and waste management instructions, among other useful tips.
The guide will be available online and visitors to the Southern Islands can also scan a QR code on their ferries to download the guide.
Lazarus Island is a 15-minute boat ride away from Sentosa Cove Village.
---
History of Lazarus Island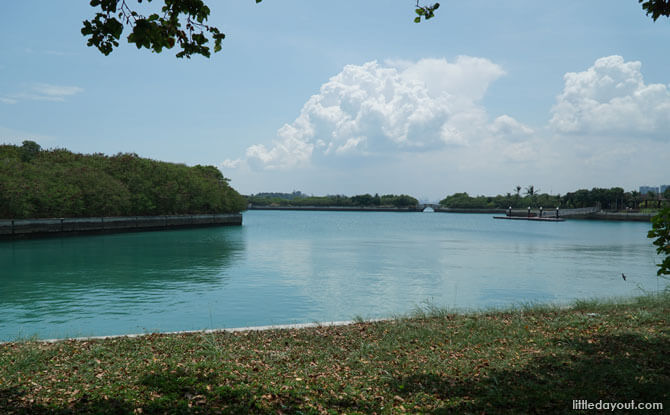 Here's a closer look at the history of Lazarus Island.
Lazarus Island was known as Pulau Sakijang Pelepah which means barking deer, and fronds of a palm in Malay. The "Island of one barking deer and palms" was so named because of the wildlife on the island, possibly a barking deer or an unidentified canine. Because of the difficulty in pronouncing its Malay name, colonial governors renamed the island Lazarus.
For a long time, it was home to the Orang Laut community and a domain of the pirates roaming the islands. While we hear of gruesome accounts of skulls lining the mouth of Singapore River, you'd be glad that "Captain Blackbeard" no longer has reign over the seas these days.
In the late 19th century, Lazarus Island was used to house prisoner sheds.
Records showed that in 1902, a huge fire destroyed the sheds and another major fire in 1914 destroyed all of its vegetation.
It was also used as a burial ground, like Kusu Island, to those who had succumbed to infectious diseases on the nearby St John's island.
In the sixties, Lazarus Island was used as a radar base to direct planes safely to the main island of Singapore and deemed "the heartbeat of Singapore's civil aviation navigational system".
A jetty was built to moor and pump oil into fuel storage tanks, hills levelled and army landing craft used to carry equipment onto the island.
The population on Lazarus Island then had gained a reputation for their soccer and swimming skills, where they reigned supreme over the mainlanders in competitions.
Fondly remembered as "the Children of the Sea", the islanders trained in the rough waters around Lazarus Island for two months before the competition. By the mid 90s, all indigenous inhabitants had to be relocated and rehoused in public housing on the mainland.
---
An Idyllic Island Reminiscent of Pre-Colonial Days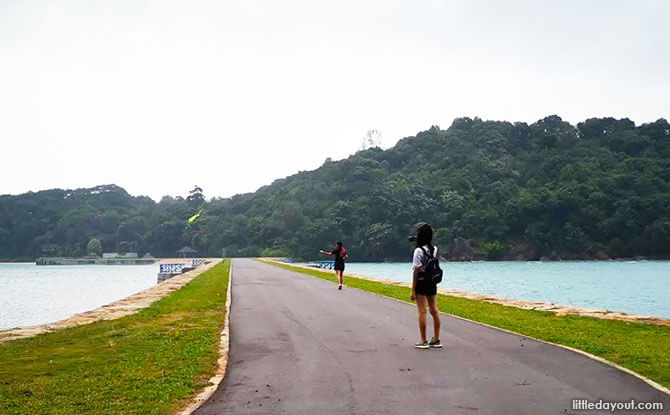 One of 64 islets in Singapore, Lazarus island is linked by a paved bridge to St John's Island and also Seringat Island.
Lazarus Island together with Seringat Island was primed for development in 2000 which saw a sand bank formed between the two islands. However, the grand plans for developing the islands into a themed destination with high-end housing never took off.
---
Nature Walks and Spots on Lazarus Island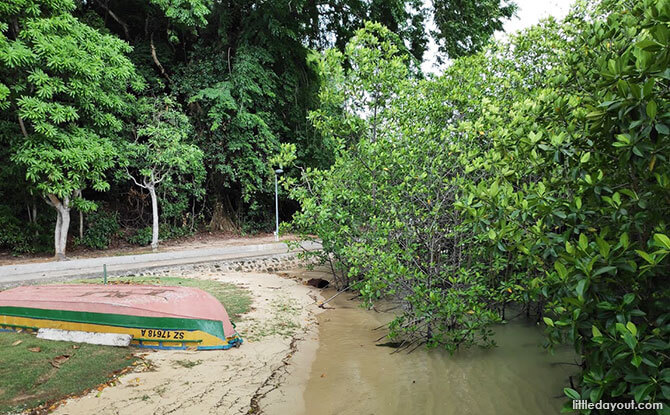 Lazarus Island and the adjacent St John's Island does have long-tailed macaques. Do be mindful of your personal belongings as they may grab plastic bags looking for food.
When visiting Lazarus Island, keep look out for the raptors soaring in the skies. They may be Brahminy Kites circling the islands in search of prey. And watch those hats – which might get blown off when it is extremely windy.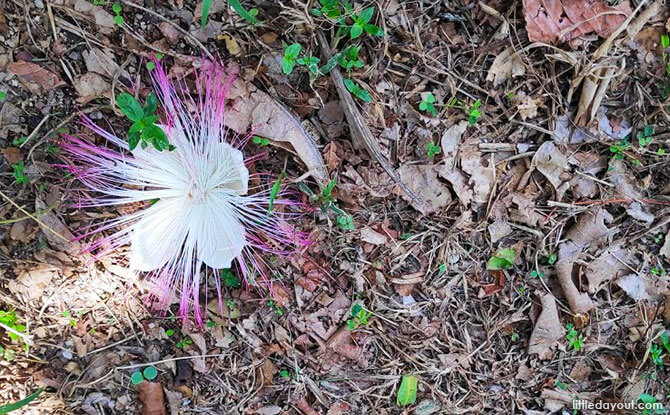 Along the path, look out for the sea poison trees with its gorgeous pom-pom flowers with white and pink petals and fruits looking like a neatly wrapped gift. The fruit pulp was commonly used by fishermen to stun fish!
---
The Best Beach in Singapore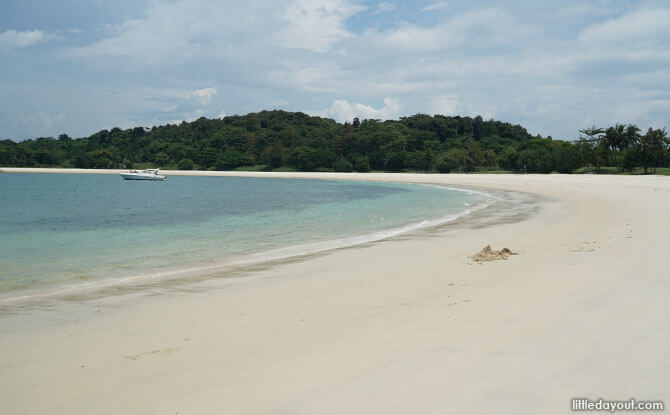 One of the best beaches in Singapore can be found at Lazarus Island. It has a clear, turquoise-coloured lagoon and relatively clean sandy beach.
Of course, the latest set of enhancements will change the character of the beach. Hopefully, it will still remain a place where people enjoy the beauty of nature.
The waters off Lazarus Island are popular for scuba diving and snorkelling. We also see private yachts stopping by and fishing enthusiasts eager for a good catch.
Given the clarity of the waters, you may even be able to see schools of fish such as Tropical Silversides at the shoreline. Snorkelling masks would be very useful here for the children to see the fish up close. We even spotted a Crescent Perch at Lazarus Island in the past.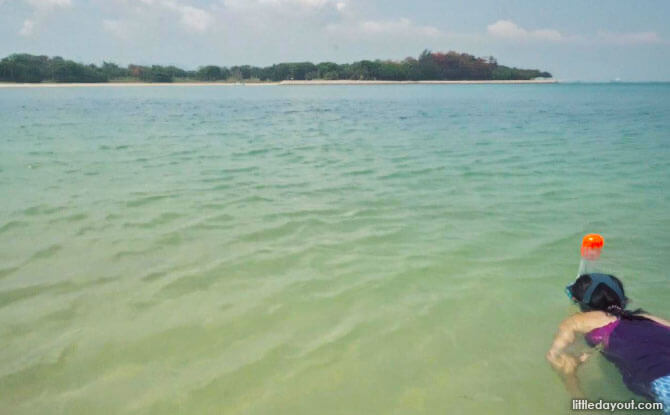 The waters are also perfect for cooling off in the heat.
---
Lazarus Island – An Island Getaway
If you are all ready for a picturesque beach getaway, Lazarus Island may be calling you. Bring a trolley of water, picnic food, mat, sunhat, ball and scooters for the children and you are ready to recharge with lots of sun, sea and nature!
To get to Lazarus Island, you can take a boat from Sentosa Cove Village. This docks at the Lazarus Island jetty. The toilets are located at the jetty.
From the Lazarus Island jetty, you can walk past the Tiny Houses to reach the island's famous crescent-shaped beach.