Gallop Stable @ Downtown East has opened offering a horse and pony rides, stable tours and workshops for equestrian fans a chance to get up close to the four-legged animals.
Located at D'Resort at Downtown East, Gallop Stable @ Downtown East is home to seven horses.
---
Horses at Gallop Stable @ Downtown East
Each of these steeds have their own unique personalities.
---
-- Story continues below --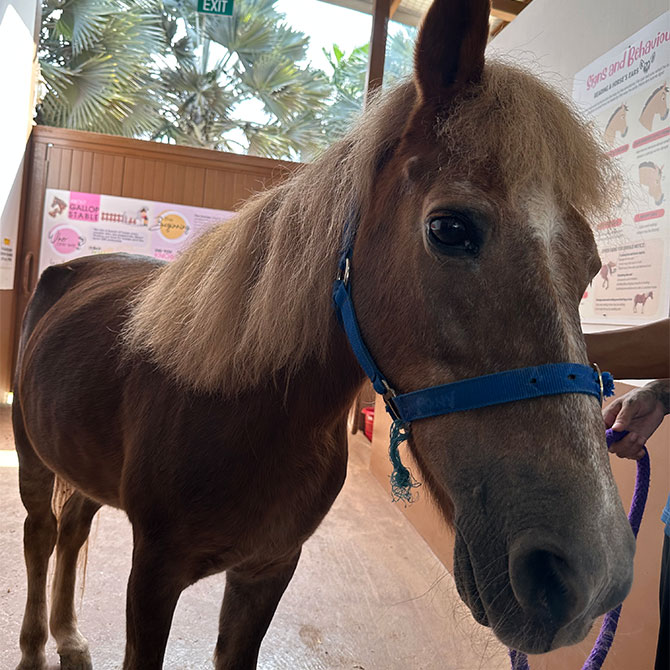 Peanut, born is 1992, is the oldest of the horses and has a calm and gentle soul.
Amoy is the youngest at Gallop Stable @ Downtown East. Born in 2011, she has a shy personality.
The other horses at Gallop Stable @ Downtown East are Princess, Sonia, Rose, Jewel and, the only boy amongst the girls, Kofi.
---
Horse & Pony Rides
One of the activities that visitors to Gallop Stable @ Downtown East can look forward to is pony and horse rides.
Kids as young as three (maximum weight of 40 kg and below 1.2 metre in height) can ride. Pony rides are $10 per session.
Taller kids who are 1.2 metres and above and adults up to 55 years old can take horse ride for $15 per session. However, take note that there is a weight limit of 70 kg.
---
Workshops and Stable Tours
Even if you don't want to ride the horses, you can still pay a visit to Gallop Stable @ Downtown East and join one of its workshops or stable tours.
Workshops cover topics in Stable Management including the care, management and maintenance of horses. Other topics that will be covered include Horse Health and Nutrition as well as Grooming.
The hour-long workshops for 10 to 15 persons per group are available at $30 per person. The minimum age to participate is 3 years old.
Groups of at least five can also go on a stable tour to learn more about the horses and their home. The stable tours cost $5 per person.
Booking are required for workshops and stable tours. Bookings can be made at gallopdowntown@gallopstable.com.
Horse Feeding, Horseshoe Painting and Arts & Crafts
Visitors can also pick up a packet for feed for $2 to feed the horses.
There are also activities like Horseshoe Painting ($12) or horse-themed Arts & Crafts such as window art, sand art, foam art and mask-painting, starting from $6.
Gallop Stable @ Downtown East is also available for birthday and other events.
---
Gallop Stable @ Downtown East
Where: 1 Pasir Ris Cl, D'Resort Level 1, Singapore 519599
If you enjoyed reading this story, you may also be interested in what it is like to stay at D'resort at Downtown East.