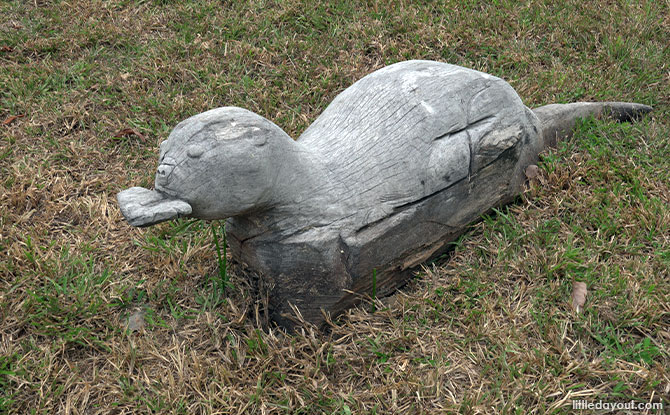 When exploring Pasir Ris Park, we chanced upon some interesting looking wooden carvings that upon inspection we realised were wooden sculptures. These were probably sculptures that were up on display during World Wetlands Day a couple of years back when it was held at Pasir Ris Park.
These nature-inspired artworks were probably created by the experienced wood sculpting artists from Sculpture Society (Singapore) during the Wood Symposium from 16 to 20 January 2019 – or so we suspect. During the event, featured artists drew inspiration from Pasir Ris Park's physical surroundings and the term Blue Carbon itself to interpret their creation within five days.
---
Interesting Sculptures of Varied Shapes at Pasir Ris Park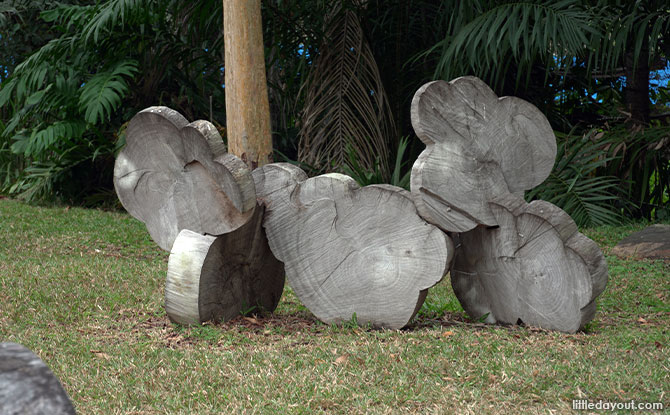 We are unsure if the pieces that are currently there are complete or in their original form, but we saw interesting looking shapes such as clouds, logs with interesting textures, and more.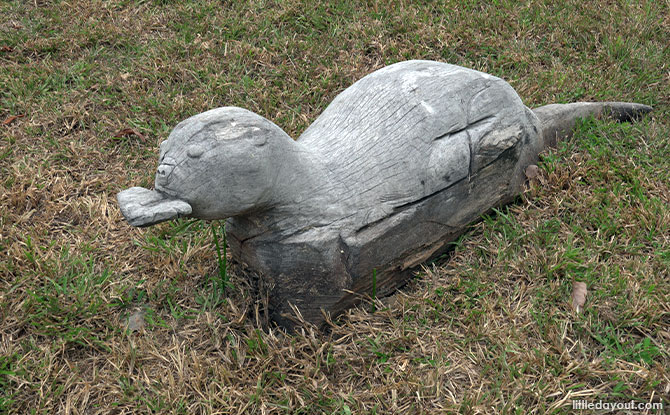 One sculpture that caught our eye was a carving of an otter holding a fish in its mouth. Other animals are also made into sculptures and we saw animals such as a tree frog and a ladybird.
---
Black-and-White sculptures and a Giant Tooth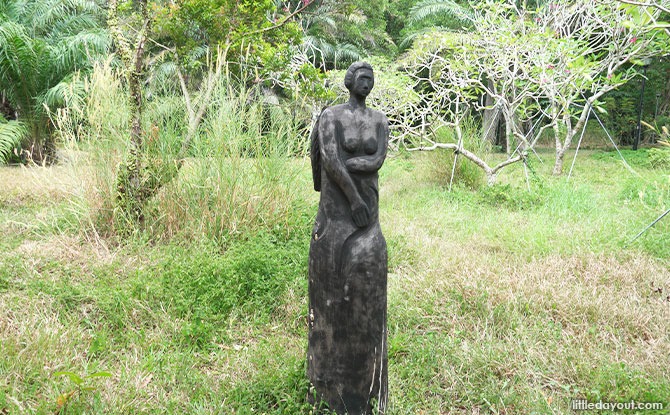 Just a short walk away from the little cluster of artworks that are on the ground, one can find even more sculptures in the area next to it. We saw one carving of a woman and this led down a small path with other sculptures.
Some of the sculptures were taller and looked a little like a stacked totem structure. Interestingly many of these were black and white.
We also saw an interesting one that looked like a giant tooth. We dread to think of the size of the extractors that was used to pull those out. Ouch!
If you wish to see these sculptures in person, you can find them around Piai Plaza (next to Carpark B). There are two general areas where the sculptures are located: one near the pond, and another along a small path.
Happy exploring!