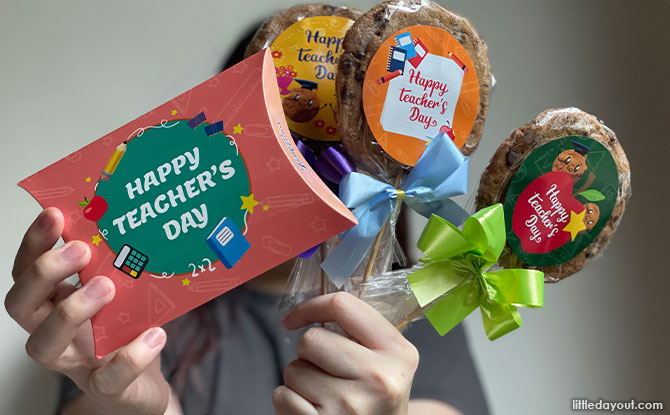 This Teacher's Day, show some appreciation and care to teachers with Famous Amos's Teacher's Day collection. Created especially for this event, customers can now get a variety of sweet treats, from personalised message lollies to beautiful gift boxes filled with delicious and crunchy cookies, to say thank you. Here are some of the products you can get from Famous Amos this Teacher's Day.
---
Famous Amos Message Lolly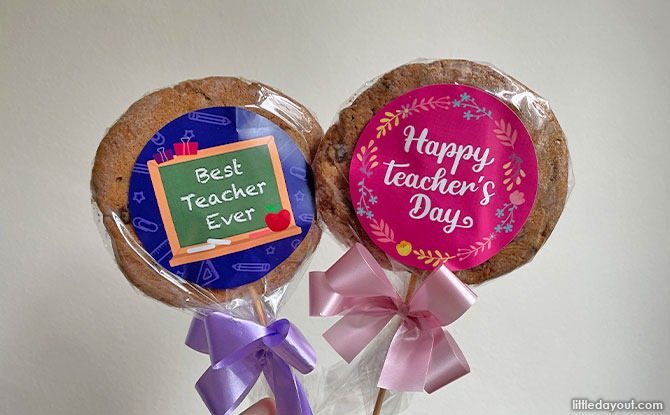 Shaped like a lollipop, the Famous Amos Message Lolly is a fun way to present this delicious gift. These message lollies come in the Original Chocolate Chip flavour as a bundle of 6. Each lolly has a sticker with a teachers day greeting on them.
Customers can select from their standard designs or upload their own designs for an additional $3 more for 6 lollies. The same design will be used for all the cookies.
Those who wish to purchase these as packaged cookies instead can opt for the Message cookies which also come in a bundle of 6 or $30.
---
Famous Amos Teacher's Day Pillow Box
Appreciate the teacher for the smart cookie that they are! These Famous Amos Teacher's Day Pillow Boxes are filled with 50g of Original Chocolate Chip cookies. They come in four festive designs such as a book design, a stationery design, a flower design and a smart cookie design.
These pillow boxes come with a space at the back to write a heartfelt message of thanks to the teacher.
---
Where to get Famous Amos Teacher's Day Collection
For online purchases, be sure to order the cookies by 26 Aug to receive the gifts items by 1 September, in time for Teacher's Day. The cookies will remain fresh and crunchy in an airtight container for up to 2 weeks.
Get these cookies at the Famous Amos website here.