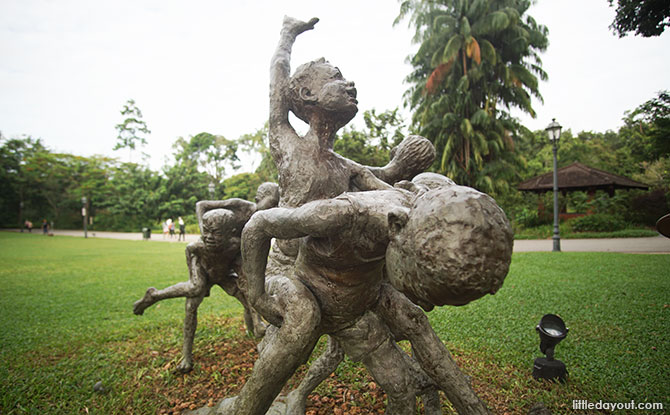 A walk around Singapore Botanic Gardens is not only a chance to take in the beauty of nature but an opportunity to appreciate some art pieces which adorn the gardens. The Singapore Botanic Gardens sculptures help to accentuate various locations and also serve as points to take a pause and reflect.
Many may quickly walk or jog past the Singapore Botanic Gardens sculptures but, even for the Gardens' frequent visitor, it is worth stopping once in a while to admire them. Here are some of our favourite Singapore Botanic Gardens sculptures.
---
10 Favourite Singapore Botanic Gardens Sculptures
1. Flight of Swans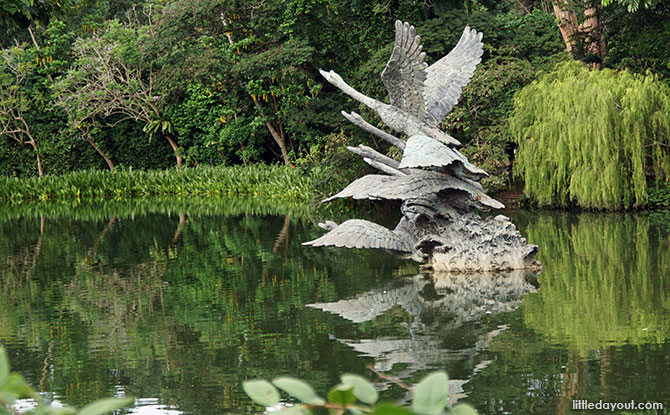 An icon of Swan Lake, the Flight of Swans depicts a group of swans taking to the air. While the real swans at Swan Lake seem content to laze about lake, this Singapore Botanic Gardens sculpture by Eng Siak Loy reminds us what majestic creatures they are. Fun fact, Eng Siak Loy is also the artist behind the design of Singapore's currency notes which bear the image of the country's first president, Yusof Ishak.
---
-- Story continues below --
2. Joy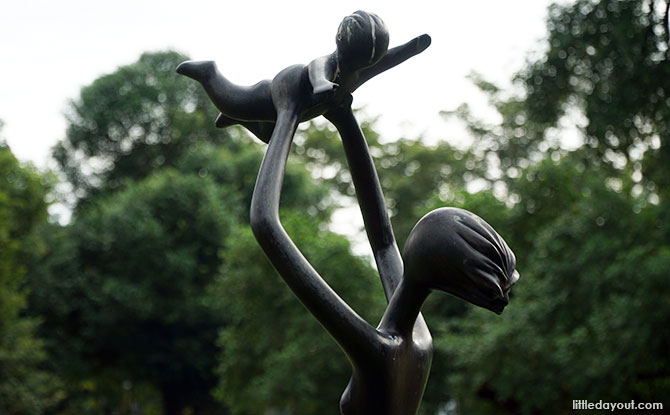 Joy by Ruth Bloch is a bronze sculpture at Lawn E. It succinctly and perfectly captures the emotions of childhood and family. It was installed in July 2005 and was donated by an anonymous benefactor.
---
3. Chang Kuda
Found at the lawn in front of Swan Lake, Chang Kuda is a reference to a popular children's game from the 1950s and 1960s where they would piggy-back one another for a race. The sculpture by Chong Fah Cheong evokes the carefree nature of childhood days.
---
4. Nurturing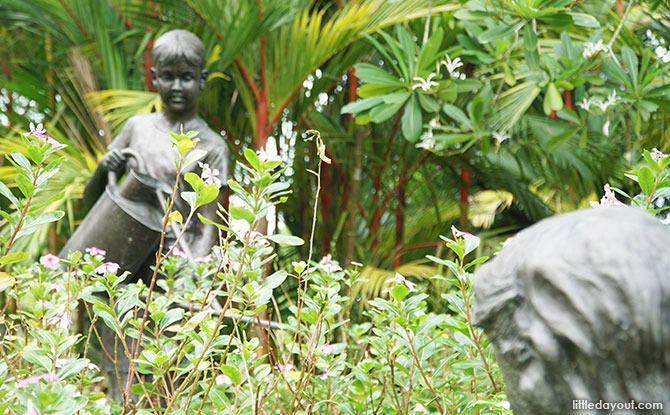 This sculpture at Singapore Botanic Gardens was installed in 2011. It depicts a child sitting and watching her mother watering the garden. Over the year, plants have grown around the Vanessa Maston sculpture at the Frangipani Lawn (they could probably do with a trim) but it still feels like a meaningful piece of art.
---
5. Girl on a Bicycle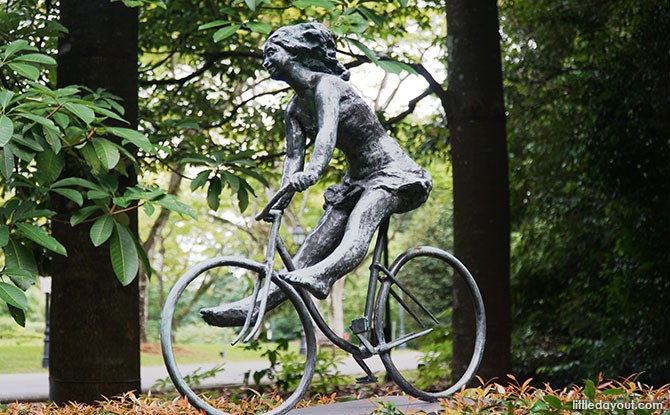 Installed in 1987, Girl on a Bicycle is one of three donated by David Marshall, Singapore's first Chief Minister (1955 to 1956). The Singapore Botanic Gardens sculpture by Sydney Harpley captures the carefree spirit of the girl.
---
6. Girl on a Swing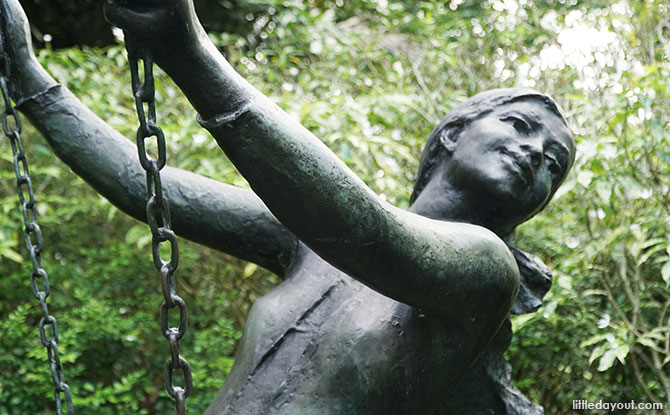 This Sydney Harpley sculpture was installed three years before Girl on a Bicycle. It captures a moment in time when the girl has no cares in the world.
---
7. Passing of Knowledge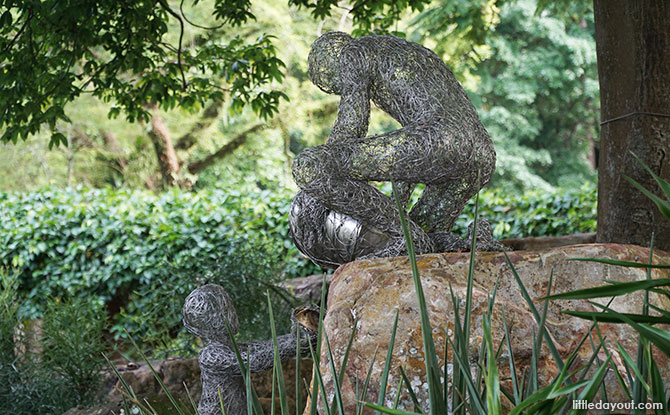 Sculpted by Victor Tan Wee Tar, Passing of Knowledge at the Sun Garden depicts how values and knowledge is channeled from one generation to the next. We felt that the sculpture's location, close to the Bandstand, a heritage icon of the Gardens, was also well chosen.
---
8. Sundial at Sundial Garden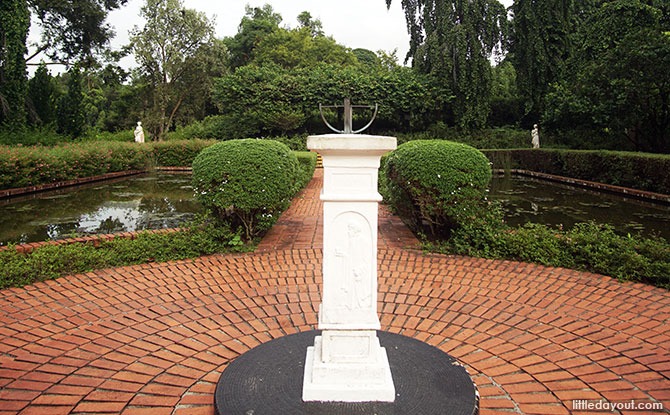 One of two sundials at Singapore Botanic Gardnes, this was the creation of Ursula Holttum, the wife of Eric Holttum, director of the Gardens from 1925 to 1949. It was installed in 1929 and features an inscription and carved features around its base.
---
9. Swiss Granite Fountain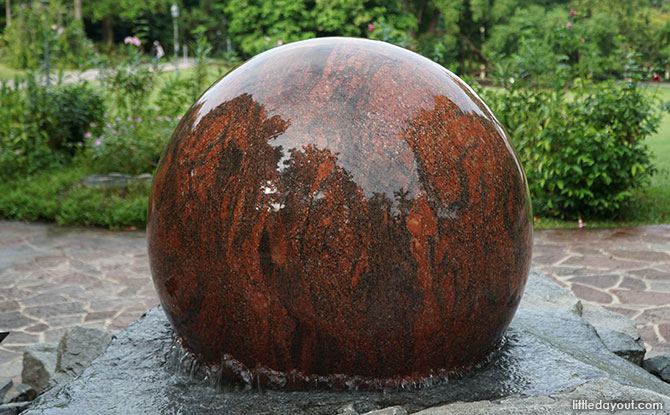 A gift from the Swiss community in Singapore, the 700 kg granite ball was hand sculpted by Ueli Fausch from Swiss granite. It is an interactive fountain and the ball can be spun on its bed of water.
---
10. Fifty Wings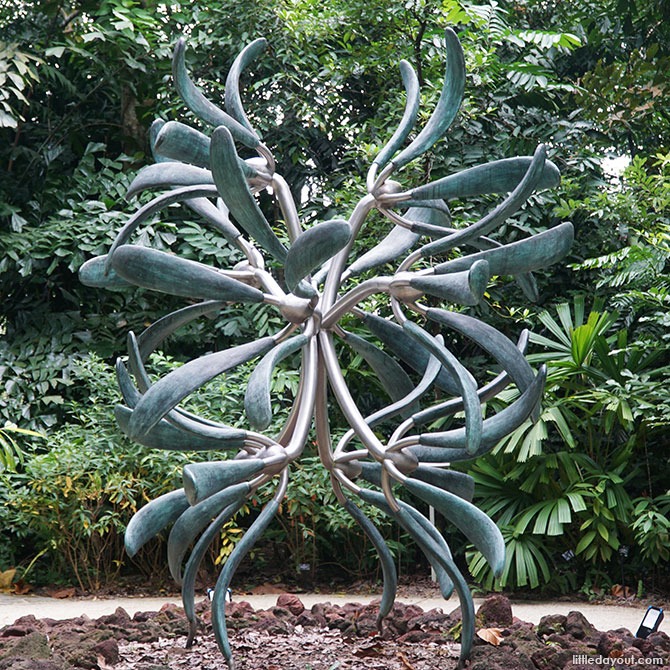 Fifty Wings by James Surls is based on the wings of the seeds of the Dipterocarp tree. It was installed in 2015 and has 50 wings to represent 50 years of Singapore's independence.