Singapore Botanic Gardens is a wonderful green space that families can enjoy together.
Just minutes away from Orchard Road, Singapore Botanic Gardens provides city-dwelling Singaporeans an escape to nature; one that extends from Tanglin Road to Bukit Timah Road.
Broadly divided into four sectors – the Tanglin Core, the Central Core, the Bukit Timah Core and the Tyersall-Gallop Core – there are many beautiful spots of nature that both children and adults can enjoy within the Gardens.
Pack a picnic basket, bring a ball or Frisbee, or just take a leisurely stroll through the Garden's grounds. It is a perfect place to slow down and escape the demands of busy city life while soaking in nature, fresh air and time with the family.
---
-- Story continues below --
In 2015, Singapore Botanic Gardens was inscribed as Singapore's first UNESCO World Heritage Site.
With more than 80 hectares to explore, there are plenty of green grounds for families and children to soak up. Here are 15 of our favourite places and activities within the Singapore Botanic Gardens for families.
---
1. Swan Lake and Lawn E
A short distance from Tanglin Gate is Swan Lake, a large, shallow pond named for the graceful white swans that inhabit the body of water. If you head toward the wooden bridge at the far end of the lake, you may be able to get a closer view at them as that is where their feeding tray is located.
The pond is also home to fish and amphibians. If you are lucky, you may even be able to spot otters frolicking in the waters of the lake.
Beside Swan Lake is Lawn E. This open grassy area is a wonderful spot for a picnic and to enjoy the outdoors.
---
2. Fish Ponds at the Green Pavilion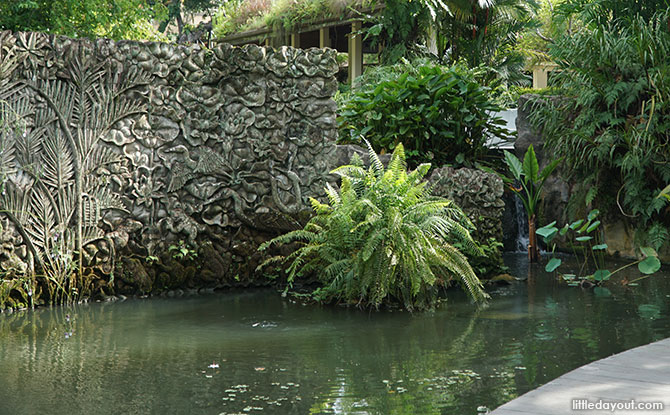 For a quick activity with kids, head down to the Green Pavilion near the Tanglin Gate.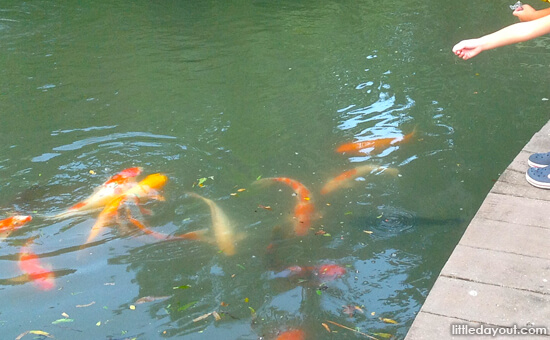 At the Pavilion, you can buy fish food from a dispensing machine before proceeding to feed the hungry fish at the nearby ponds. (Take note that when we visited on 3 July 2020, the feed dispensing machines were not available)
---
3. The Bandstand and Vanda 'Miss Joaquim' Grove
An icon of Singapore Botanic Gardens, this octagonal structure was built in the 1930s and used to host performances by military bands. Now, the only music you will hear are the birds chirping away around it. The Bandstand is a serene rest stop and photo spot at top of the knoll where it is situated.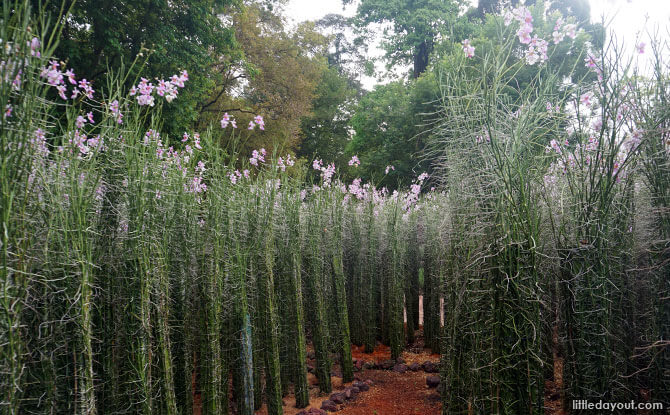 Close to the bandstand is a grove with Singapore's national flower the Vanda 'Miss Joaquim', which is now known as the Papilionanthe Miss Joaquim.
---
4. Sundial Garden
A visit to the intimate Sundial Garden feels almost nostalgic. Four classical-looking white marble statues stand at the corner of the garden which also features four ponds.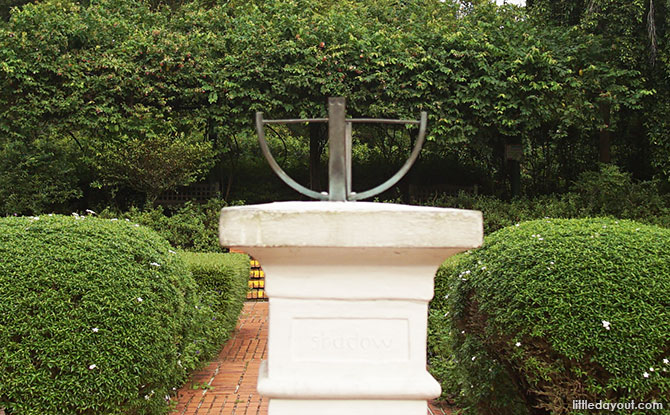 A bronze sundial on a white pedestal is the centerpiece of the garden. It is only one of two publicly-accessible sundials in Singapore that we know of and you can take the opportunity to reacquaint yourself to how the ancients used to keep time.
---
5. Learning Forest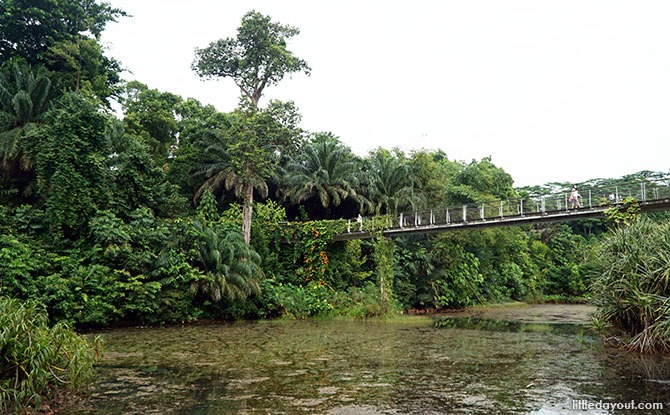 Take a walk around a freshwater forest wetland and lowland forest at the Learning Forest. Consisting of a series of boardwalks and elevated walkways, the Learning Forest has two parts – the Keppel Discovery Wetlands and SPH Walk of Giants. It also has displays that showcase the many uses of plants and trees.
---
6. National Orchid Garden
Those who love viewing flowers will want to make a pilgrimage to the National Orchid Garden. On display are a wide variety of orchid species including a section devoted to those which have been named after famous celebrities.
---
7. Palm Valley and the Shaw Symphony Stage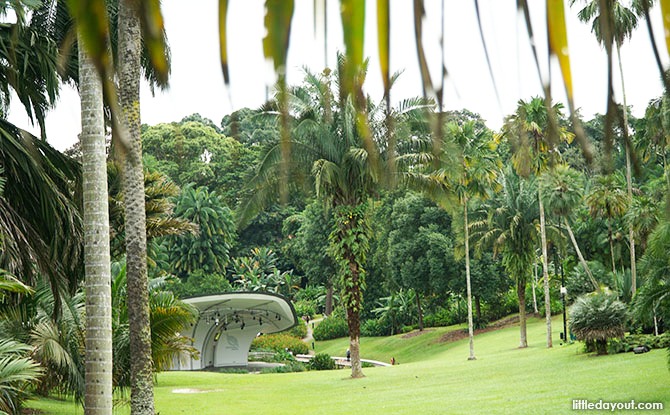 Lined with palms, the gentle slope of the Palm Valley seems made for laying out a picnic mat and taking a break to enjoy the beauty of nature. And when there there are concerts in the park at the Shaw Symphony Stage, this is exactly what happens.
---
8. Frangipani Collection
The distinctive branches of frangipani trees make this spot at Singapore Botanic Gardens unmistakable.
The numerous garden swings at the Frangipani Collection also make it an inviting place to stop and watch the world go by.
---
9. Healing Garden
A showcase of the restorative power of plants, the Healing Garden is a tranquil spot at Singapore Botanic Gardens. The plants are thematically organised by parts of the body.
---
10. Ethnobotany Garden
Devoted to the relationship between man and nature, the Ethnobotany Garden at Singapore Botanic Gardens is both picturesque and educational. Discover how people have harnessed botanics for the purposes such as medicine and housing for generations.
---
11. Ginger Falls
Man-made and kitsch it may be but this waterfall and its cave at the Ginger Gardens is still an amusing place for young children to walk through while trying to avoid getting a soaking.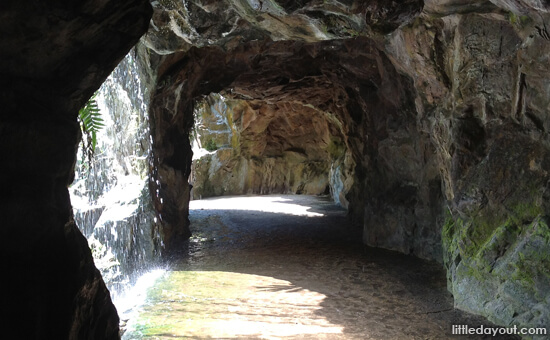 ---
12. Evolution Garden
Part prehistoric movie set, part history lesson, the Singapore Botanic Garden's Evolution Garden traces the development of plants from ferns to flowers. Take a walk through the Evolution Garden for a step back in time and take in nature from a different perspective.
---
13. Eco-Lake
Found at the Bukit Timah Core, Eco-Lake and the surrounding greenery is a popular outdoor spot for a lazy Sunday afternoon. You will be delighted to find black swans and other water fowl. Head down to the water's edge and have fun trying to figure out what they are up to.
---
14. Rain Forest
Amazingly, there is a patch of primary rainforest that still remains at Singapore Botanic Gardens. Some of the trees here date back even before 1819. Be sure to look up to view the layered eco-system that the forest provides.
---
15. Jacob Ballas Children's Garden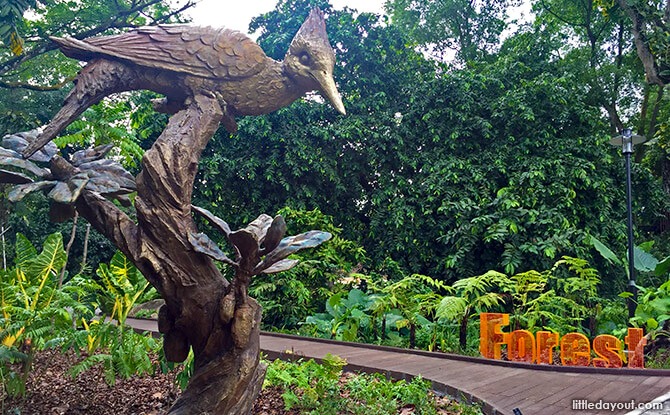 A must-visit for kids, this garden is dedicated to children and features a waterplay area, a maze, treehouse and swinging suspension bridge. The theme of the garden is "Lie on Earth Depends on Plants" and kids can discover this as they explore the many different sections of the children's garden.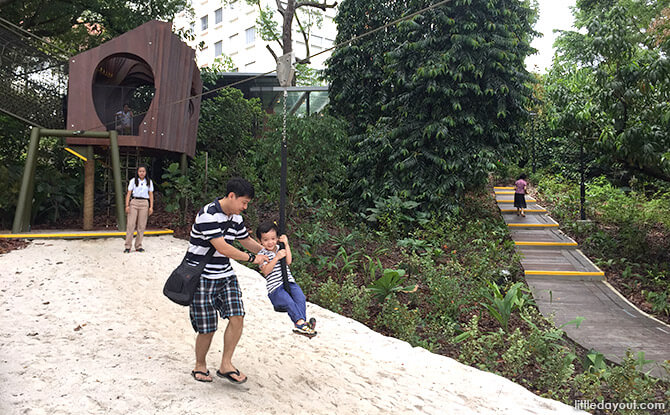 Jacob Ballas Children's Garden first opened in 2007 and was expanded in 2017. To enter, adults must be accompanied by children and good luck getting them to leave this fun garden!
---
Why this Place is Great for a Little Day Out
It is free, accessible and a great place to escape to nature!
Little Day Out Tips & Suggestions
Visit the Singapore Botanic Gardens in the evenings or early morning when the weather is cooler. Also, keep an eye out for performances and events held at the Shaw Symphony Stage.
You can also visit the Singapore Botanic Gardens website for more information.