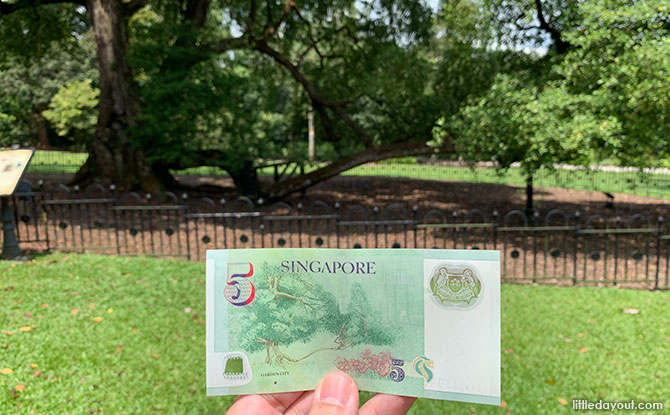 When was the last time you looked at the back of the Singapore $5 note? With the use of paper money getting rarer nowadays, it may have been sometime since you did so. However, when you do get your hands on the $5 bill, flip it around and you will find a picture of a sprawling Tembusu tree.
The pictured Tembusu tree can be found at Singapore Botanic Gardens' Lawn E. It overlooks Swan Lake and has a distinctive branch which grows perpendicularly away from its trunk.
---
Singapore Botanic Gardens' Heritage Tembusu Tree
This Tembusu tree at Singapore Botanic Gardens is reportedly more than 150 years old. This would make it of comparable age with the Gardens, a UNESCO World Heritage Site. No wonder it is deserving of its status as a heritage tree.
The Tembusu is an evergreen tree. It was prized for its durable wood which was even used to make chopping boards in the past.
The species of tree blooms twice a year and it has creamy white flowers with a strong fragrance. It is said that the fragrance gets stronger in the evening.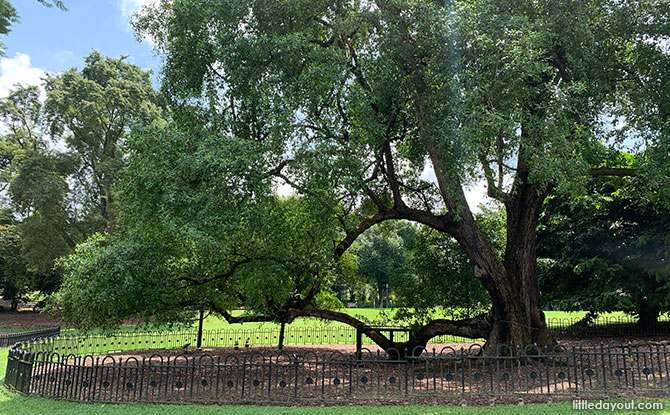 The Singapore Botanic Gardens tree stands at around 30 metres tall. It is instantly recognisable by its long branch.
In the past, the branch proved too enticing to adults and children who would climb up its branch and sit straddled across it for a picture.
Nowadays, the heritage tree is fenced off to help protect its roots and prevent soil compaction.
---
Support System for the Tembusu Tree's Distinctive Branch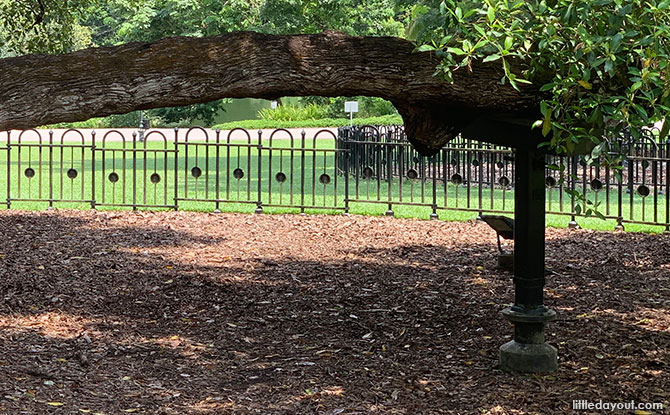 The tree's signature branch has also gained a dynamic mechanical support system. Created by Singapore Technologies Kinetics, the new dynamic supports were installed in 2014 and was chosen as they can adapt to the tree's organic changes.
Hopefully this system will help the tree to keep its iconic branch for years to come.
Previously, it had a pair of static "crutches" which were installed in 1992, and replaced in 2003.
---
The $5 Note Tree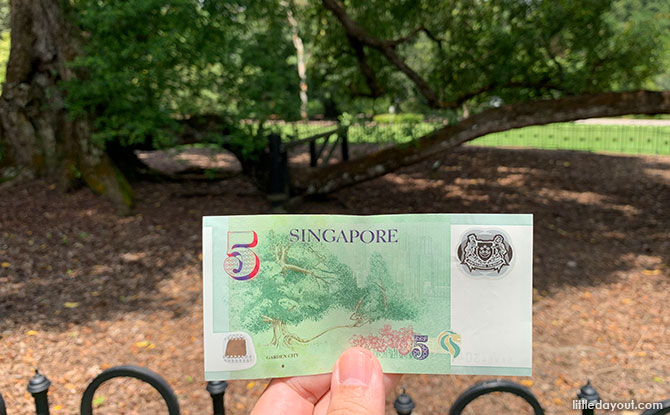 It was Singaporean artist Eng Siak Low who designed the $5 bill and decided to put the Tembusu tree on it. He recalled it from his youth and decided to put in on the note.
"The theme for the five-dollar note was 'Garden City', so I wanted to select a tree native to Singapore. I settled on this particular tembusu because it is a distinct landmark that locals and tourists recognize at the Botanic Gardens," Eng is quoted as saying.
Fun fact: Eng used to work for the National Parks Board as a graphic designer.
---
Visiting the Singapore Botanic Gardens' Tembusu Tree
So, the next time you are at Singapore Botanic Gardens, stop by to admire this grand old Tembusu tree. Or just take out a five dollar note and appreciate that the 150-year-old has been around for much of Singapore's history.