Families who are dining out might prefer kid-friendly restaurants with playgrounds and play spaces. Not only do the children get to play safely at a distance, parents and caregivers can dine in peace or have an uninterrupted conversation with fellow adults. We love it when F&B places and cafes include a play area just for children where they can happily play and socialise while parents dine nearby.
Besides kid-friendly cafes and restaurants with playgrounds, we have also deliberately chosen to include some that are located next to public playgrounds or have open spaces where kids can scoot, cycle or even play tag!
After all, kid-friendly play spaces come in all shapes and forms, and kids, especially the young ones, can have just as much fun if they have space to roam around.
Just a quick note that while we have tried to make the information as accurate as possible, things do change even quicker in Singapore. If you do find that there have been any changes, please let us know by emailing hello@littledayout.com so that we can update the information to benefit all parents and readers!
---
-- Story continues below --
Ready to get out and about? There are more than 50 options of cafes and restaurants with playgrounds and play space to consider when you plan the next family meal or friends meetup!
---
Kid-friendly Cafes & Restaurants with Playgrounds and Play Spaces
We have categorised this list of restaurants with playgrounds and play spaces according to geographical locations in Singapore. There are also restaurant and café chains in multiple spots, do be sure to scroll through our entire list of recommendations.
---
Central Singapore
There are so many kid-friendly restaurants with playgrounds and play areas in the Central area of Singapore. These provide different options for those who are meeting up with friends and can be great for simple play dates as well.
Fusion Spoon
Fusion Spoon is located at Singapore Botanic Gardens' Tanglin Gate. After a visit to the UNESCO World Heritage site, families can enjoy a wide selection of food and beverage including Western, Asian and Japanese food.
Prices are relatively accessible. There are both indoor and outdoor play areas – that means parents can enjoy their meals while keeping a close watch on the little ones playing.
This casual dining spot at Singapore Botanic Gardens is also halal-certified.
Where: Singapore Botanic Gardens, 1 Cluny Road, Tanglin Gate, #B1-00, Singapore 259569
Opening Hours:
Mon to Friday: 9  am  to 9 pm
Sat and Sunday: 7 am to 9.30 pm
Website
---
Prive Botanic Gardens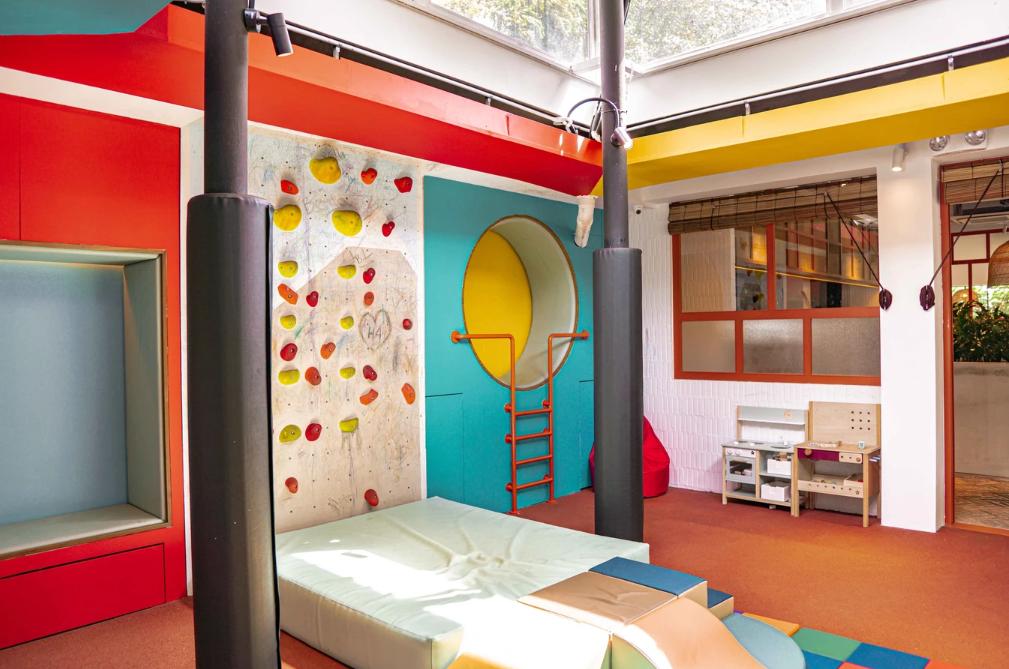 Also located at Singapore Botanic Gardens, Prive is an all-day dining and drinks venue near the Nassim Gate Visitor's Centre.
The restaurant is surrounded by lush greenery and is one of the best spots in the gardens for breakfast, brunch and drinks. It has an indoor playground, kids' corner with a rock climbing wall, story books and kids colouring activities.
This is also a pet-friendly spot!
Where: 1 Cluny Road, Singapore Botanic Gardens, Singapore 259569
Opening Hours: 8 am to 9 pm daily
Website
---
Bee's Knees, The Garage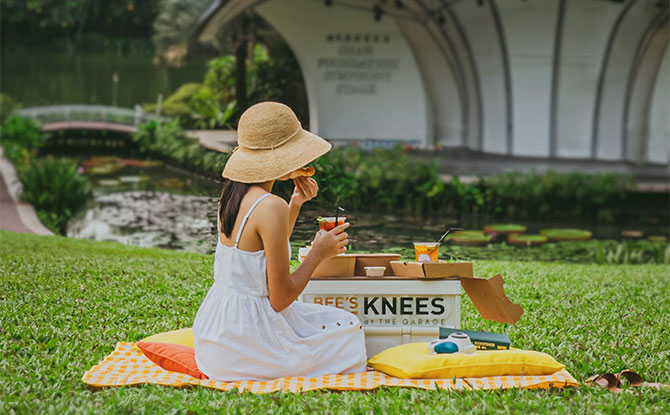 Bee's Knees is both a kid and furkid-friendly spot at the Cluny side of Botanic Gardens. Housed in a heritage building, Bee's Knees also has al fresco seating just next to the Foliage Garden.
Children will enjoy spotting the wildlife such as jungle fowl, birds, squirrels frolicking near the café. It also opens early for a quick espresso and the children eager to catch the morning rays.
Also, did you know that you can order a picnic basket from Bee's Knees and head out into the Singapore Botanic Gardens to enjoy both the park and the food?
Where: 50 Cluny Park Road, Singapore Botanic Gardens, Singapore 257488
Opening Hours: 8 am to 10 pm daily.
Website
---
Food Republic at 313 @ Somerset Food Court
This food court is located on the fifth floor of 313 @ Somerset. Besides offering a wide variety of foods with more than 25 food stalls, if you head out on to the verandah, you will find that there is a small children's playground that can help keep young kids entertained.
Where: 313 Somerset Rd, Singapore 238895
Opening Hours: 10 am to 9 pm
Website
---
Senor Taco, CHIJMES
If you love Mexican street food and a chill evening, Senor Taco will be the place to be. It serves authentic street food and offers views facing the beautiful cathedral surrounded by trees lit at night. The best thing about it being al fresco style right next to a confined open area is that the kids get plenty of play space to roam around.
Senor Taco also has the kids eat free promotion on the weekends!
Where: 30 Victoria St, #01-19, Singapore 187996
Opening Hours:
Monday to Thursday: 12 pm to 3 pm & 5 pm to 10.30 pm
Friday to Sunday: 12 pm to 10.30 pm
Website
---
Mylos
Relax with a cup of coffee and enjoy some fresh bakes at this café at Gardens by the Bay's Active Garden. This kid-friendly eatery in Singapore is also pet friendly. In fact, the name of the café comes from a beloved golden retriever.
What makes Mylos even more kid-friend is that is right beside the Active Garden children's playground where you don't need to worry about them making noise on the various outdoor musical instruments found there.
Where: 18 Marina Gardens Drive, #01-01, Singapore 018953
Opening Hours:
Wednesday, Thursday, & Sunday: 8 am to 8pm
Friday and Saturday: 8 am to 10 pm
Website
---
Satay by the Bay
It is local hawker fare being dished up at this outdoor food court at Gardens by the Bay. Tuck into sticks of satay or other local favourites. While Satay by the Bay does not have a playground per se, it is located just beside the Kingfisher Wetlands, a nice space where kids can take a walk around the Lotus Pond or admire the larger than life statues of kingfishers.
Adult supervision is advised as kids might fall into the pond quite easily.
Where: 18 Marina Gardens Dr, #01-19, Singapore 018953
Opening Hours:
Food stalls: 11.30 am to 10 pm (except for steamboat)
Steamboat Buffet: 3 pm to 10 pm
Drink stall: 9 am to 10.30 pm
Website
---
Estate, Hilton Singapore
Families on the look out for indoor venues with dedicated kids' corners and even activities for children can check out Estate at Hilton Singapore. The Grand Sunday Champagne Brunch is a treat with a lavish spread plus complimentary activities for children including canvas painting, board games and magic shows!
Where: 333 Orchard Rd, Level 5, Singapore 238867
Website
---
Novotel Singapore on Stevens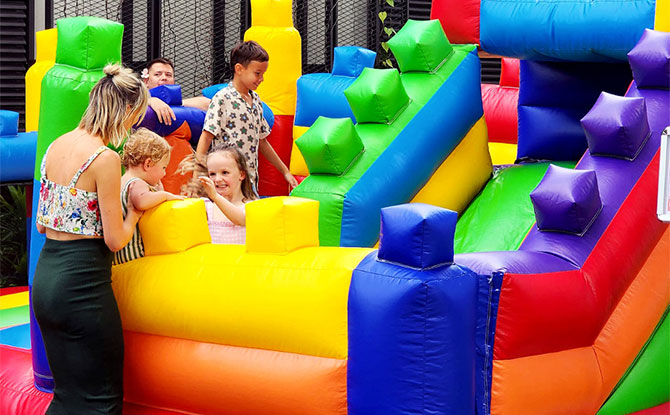 Fans of Sunday Brunches, you will not want to miss Sunday at Stevens. Go to Novotel Singapore on Stevens on Sunday afternoons for a carnival experience with BBQ bites, beverages and kids activities such as bouncy castle and lawn games. You can find more details about the hotel's Sunday activities here.
Where: 28 Stevens Rd, Singapore 257878
Website
---
Kith Café, Great World
Kith Café at Great World is located right next to Great World's transport themed playground. After their meal at Kith, kids can play right next to their parents under their watch.
Where: Great World, 1 Kim Seng Promenade, Unit 02-152/153, Singapore 237994
Opening Hours:
Monday to Thursdays: 10 am to 9 pm
Friday: 10 am to 10 pm
Saturday: 9 am to 10 pm
Sunday and Public Holidays: 9 am to 9 pm
Website
---
Opus Bar & Grill, VOCO Orchard
Diners at Opus Bar & Grill at VOCO Orchard will appreciate the play area for children. It has a dedicated children's area with a TV screen, toys and play kitchen. It was perfect sipping our tea while the kids played within sight.
Where: 581 Orchard Rd, Singapore 238883
Website
---
Tiong Bahru Bakery, Foothills at Fort Canning Park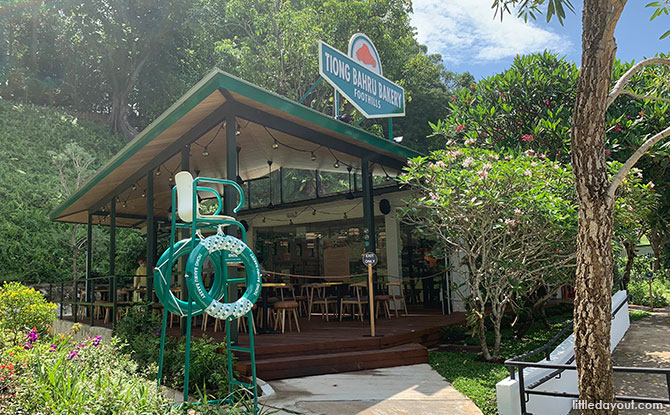 Tiong Bahru Bakery is a favourite spot of many as it is located at the foot of Fort Canning. Have a choice of pastries and coffee while the kids or fur-friends run free at the lawn nearby. Children will love the slides and play equipment at Jubilee Park next to the outlet.
Where: 70 River Valley Rd, #01-05, Singapore 179037
Opening Hours: 7.30 am to 7 pm, daily
Website
---
Three Buns, Quayside
Three Buns is the place for burgers, beer and brunch! Since it is located at Robertson Quay, this means plenty of space to scoot or people-watch. It has a mini playground.
Where: 60 Robertson Quay, #01 – 01, Singapore 238252
Opening Hours:
Mon to Thu: 5 pm to 12 am
Fri: 12 pm to 12 am
Sat: 10 am to 12 am
Sun: 10 am to 10 pm
Website
---
Les Bouchons, Robertson Quay
Another Robertson Quay hangout is Les Bouchons. The French steakhouse offers a view of Singapore River and located right next to a free public playground. On weekends, the restaurant also sets up a mini playground, we hear the Sunday Brunch is lovely with its signature Sunday Roast, French fries and crepe.
Do note that the Robertson Quay outlet is not pet-friendly.
Where: 60 Robertson Quay, #01-02, Singapore 238252
Opening Hours:
Monday Closed
Tuesday to Thursday: Lunch: 12 pm to 2 pm; Dinner: 6 pm to 10 pm
Friday: Lunch: 12 pm to 2 pm; Dinner: 6 pm to 10.30 pm
Saturday: Dinner: 6 pm to 10.30 pm
Sunday: Lunch: 12 pm to 2.30 pm; Dinner: 6 pm to 10 pm
Website
---
Boomarang, Robertson Quay
Early risers would love Boomarang for its hours since it opens at 6 am. Also located a stone's throw away from the Robertson Quay playground, it provides a family friendly atmosphere with a menu just for kids to create their own meal combinations. Around it, there is space for scootering along the river plus Dads get to watch the screening of major sporting events!
Where: 60 Robertson Quay #01-15 The Quayside, Singapore 238252
Opening Hours: 6 am to 3 am daily
Website
---
Huggs Coffee, Maxwell
Need a cuppa? Head to Huggs Coffee at AIBI Maxwell. It serves coffee, cakes, wraps and gelato! Parents could use this time to recharge and caffeinate while their kids play in the outdoor area. Huggs Coffee at Maxwell also welcomes pets.
Where: 30 Maxwell Road #01-03, Singapore 069114
Opening Hours: 8 am to 5 pm, daily
Website
---
Open Farm Community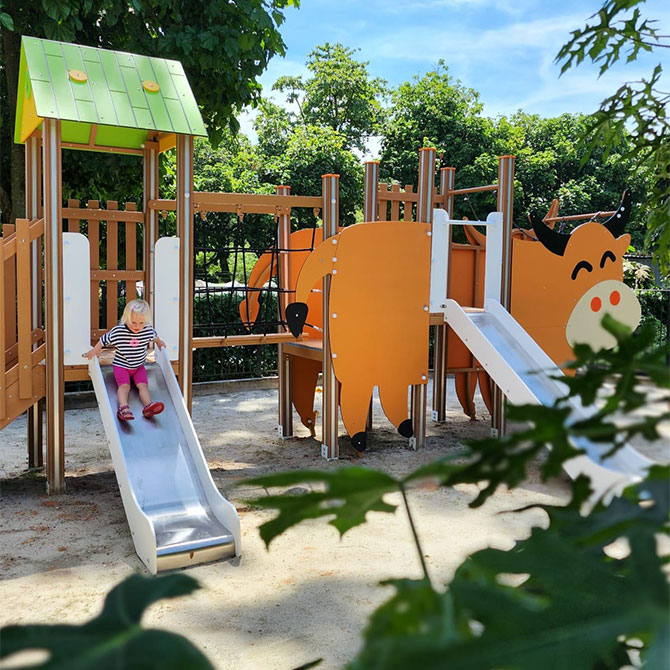 Open Farm Community is Singapore's pioneering urban farm and restaurant concept at Dempsey Hill. Kids can play at the cow themed playground on the grounds of this family-friendly restaurant.
Where: 130E Minden Road, Singapore 248819
Opening Hours:
Lunch: Mon to Fri: 12 pm to 3 pm
Brunch: Sat to Sun: 11 am to 4 pm
Dinner: Mon to Sun: 6 pm to 11 pm
Website
---
Baker & Cook at the Collective Dempsey
Our favourite part of this café & bakery concept is the lush greenery at Loewen. Apart from healthy dining options, there is a sizeable outdoor playground with slides, swings and play structures just for the little ones.
Where: 30C Loewen Rd, Singapore 248839
Opening Hours: 8 am to 10 pm
Website
---
Huber's Bistro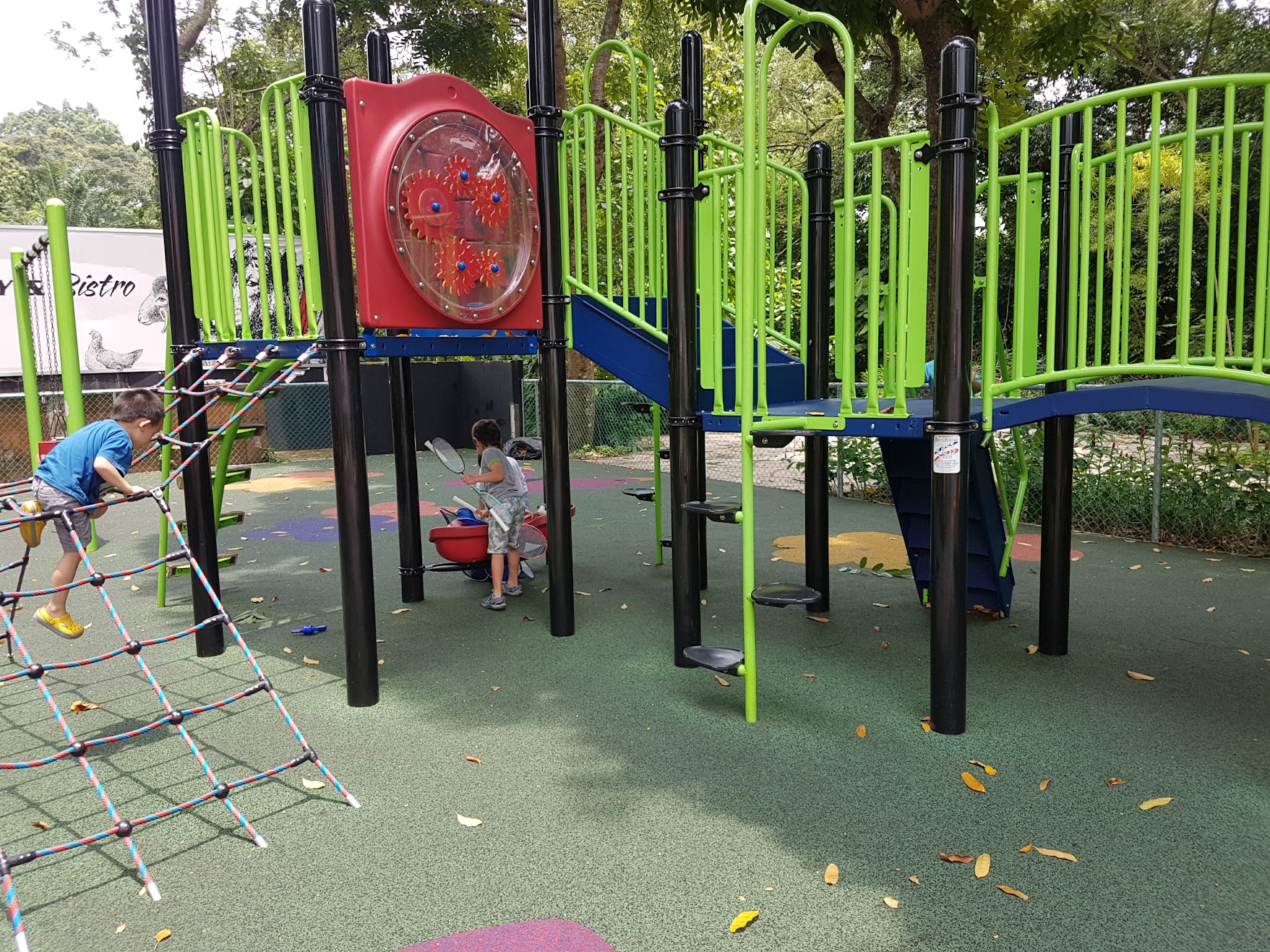 Another popular spot in Dempsey is Huber's Bistro. It serves Swiss German food and beer with breakfast offerings on the weekends. The must-try dishes are the sausage ones, Pretzel, Charcuterie platter and dry-aged burger. Children will flock to its playground which has swings, climbing structures and shaded by trees.
Where: 22 Dempsey Rd, Singapore 249679
Opening Hours:
Tues to Fri: 11 am to 10 pm
Sat, Sun & Public Holidays: 9.30 am to 10 pm
Closed on Mondays
Website
---
AT feast
Another kid-friendly restaurant at Dempsey is AT feast. Aside from all-day dining, it has cooking classes for all ages, a retail space with children's play zones, an outdoor playground and a treehouse! There is both indoor and outdoor seating, with a menu focusing on nutritious, fresh, organic and sustainable cooking. The ultimate draw is the outdoor jungle gym!
Where: 16A Dempsey Road, Singapore 247695
Website
---
Restaurant Espoir, Amoy
Discerning diners looking for a family-friendly restaurant in the CBD can consider Restaurant Espoir. This Muslim-owned restaurant serves refined modern European cuisine with a touch of Malayan influence. To cater to the needs of families, there is a newly launched kids menu plus kids play area including a crafting corner on weekends!
Kids eat free every weekend brunch as well.
Expect even more on the weekends with storytelling sessions, movie screenings and clay art! Check the latest information on the restaurant's socials.
One interesting nugget, this restaurant is situated in the former Anglo-Chinese School and it pays homage to its roots by embodying the school's vision of "hope". It is also the sister brand to The White Label Restaurant at North Bridge Road.
Where: 70 Amoy Street Singapore 069889
Opening Hours:
Tuesday to Friday: 11.30 am to 10 pm
Saturday: 10 am to 10 pm
Sunday: 10 am to 5pm
Website
---
King and the Pawn
This board game café at Purvis Street has over 350 board games and also sells snacks and other food items. It is a good for getting together with family and friends. Take note that there is a board game fee. While kids won't be able to run around here, parents can engage them with the table top games.
Where: 24 Purvis Street, Level 2, Singapore 188601
Opening Hours:
Tues to Thur: 5.30 pm to 11.30 pm
Fri: 5.30 pm to 1.30 am
Sat: 11 am to 1.30 am
Sun: 11 am to 10 pm
Website
---
West
Stellar Kitchen Bar
Did you know that there is a café and restaurant at the main entrance of Science Centre Singapore? Stellar Kitchen Bar serves food throughout the day and even opens till late in the evening. It is a café by day and a pizza bar by night. Right beside Stellar Kitchen Bar is the Kinetic Garden where kids can play and discover amongst the various interesting science-based play elements.
Where: 15 Science Centre Rd, Singapore 609081
Opening Hours: 9.30 am to 10 pm, daily
Website
Read our complete guide to Science Centre Singapore so that you don't miss out on any of the attractions and exhibits.
---
Pepperoni Pizza, Biopolis, One North
Pepperoni Pizza at one-North is not just great because of the wonderfully delicious pizzas, which kids love, but also because it is at a quiet location (on the weekends at least) and right beside the one-North outdoor playground. It is definitely worthy of being counted among the kid-friendly restaurants in Singapore.
Where: 10 Biopolis Road, #01-01, Chromos Block, Singapore 138670
Opening Hours: 11 am to 3 pm, 5 pm to 9.30 pm, daily. Closed on certain Public Holidays
Website
---
Café Melba, Mediapolis
Who can forget Café Melba and its Aussie vibes, bouncy castle and access to expansive grounds.
It is located at the sprawling Mediacorp campus, a short distance away from one-North business park. You will find café staples like Eggs Benedict and a full breakfast here. Other breakfast items on the menu include Eggs Florentine, Mozzarella Stuffed Potato Rosti and Homemade Brioche French Toast. Kids can choose from their own menu with selections such as French Toast Sticks, Mini Blueberry Pancakes and Congee available.
On weekends and public holidays, out comes the bouncy castle for little ones to enjoy
Where: 1 Stars Avenue, #03-01, Singapore 138507
Opening Hours: 8 am to 10 pm, daily
Website
---
Famous JB101 Firewokz, Science Park II
Everyone loves some wok hei in their favourite tze char dishes! Famous JB101 Firewokz serves the classic noodle and rice dishes, seafood such as Curry Fishhead and Salted Egg Sotong. While the adults dine, children can go to the kids area filled with toys or watch cartoons.
Where: Sparkle Science Park II, 45 Science Park Road 01-03/04, Singapore 117407
Opening Hours: Mon to Sun 11 am to 11 pm
Website
---
Pizza Republic, Science Park
This pizza spot serves freshly made Italian style pizzas with an assortment of flavours. Crusty pizzas with classic Italian flavours or fusion style – take your pick. You can also pair the pizza with a good assortment of beer from a local brewery and imported brands. This spot might seem underrated but we love it for the laidback ambience and the space to run and scoot while we sit at the benches indulging in beer and pizza.
Where: 2 Science Park Dr, #01-23 Ascent, Singapore 118222
Opening Hours: 12.30 pm to 9 pm
Website
---
IKEA Alexandra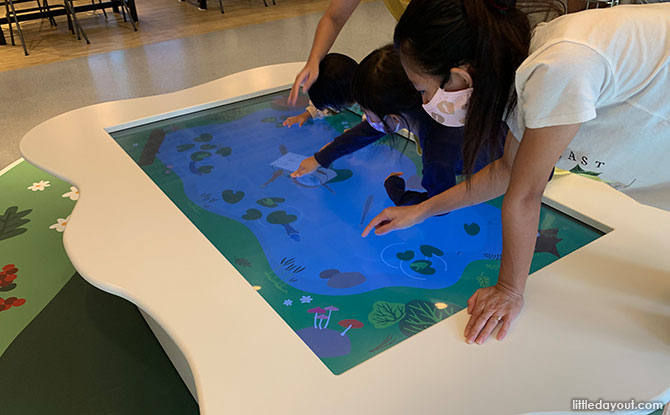 We don't just like IKEA Alexandra restaurants for their meatballs; we also appreciate that there is a play table in the middle of the restaurant. We particularly enjoy stopping by in the afternoon for a short break as it offers a chance to have a coffee while the kids are occupied at the play space.
Where: 317 Alexandra Rd, Level 1, Singapore 159965
Opening Hours: Restaurant is open from 9 am
Website
---
Guzman Y Gomez, Serene Centre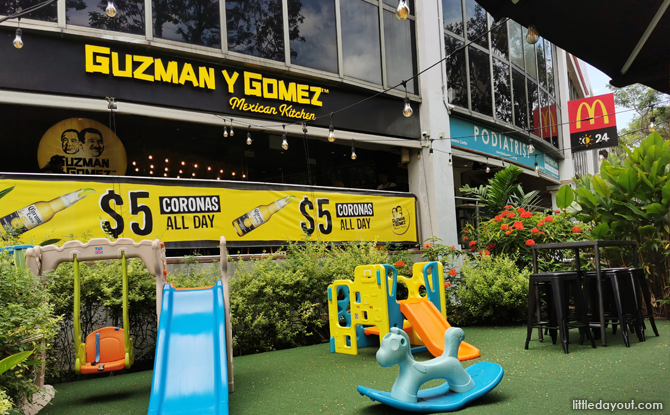 Anyone else loves tacos and burritos? Get your Mexican fix at Guzman Y Gomez, Serene Centre and pair it with beer. This outlet has a small play area outdoors. Also little ones get their mini burritos, also called Mini Gs which comes with fries, Milo plus a kid's tattoo. On certain Sundays, they even have complimentary face-painting for the little ones!
Where: 10 Jln Serene, #01-02 Serene Centre, Singapore 258748
Opening Hours: Sunday to Thursday 8am to 10pm, Fridays & Saturdays 8am to 10.30pm
Website
---
Sentosa & Southwest Singapore
Coastes
Another beachside hangout is Coastes. It has recently launched an all-day menu and an exclusive weekends-only wine promotion. For their all-day menu, indulge in new dishes such as the Beef Cheek Ragu Risotto, BBQ Pulled Pork Burger, Crispy Fried Cod Burger and Creamy Prawn Fettuccine. All the kids need – sand and sand toys.
Sit back and relax with good company, conversation and food on their day beds, deck chairs and tables facing the beautiful Siloso Beach.
Where: 50 Siloso Beach Walk, #01-06, Sentosa, Singapore 099000
Opening Hours: Open daily from 9 am
Website
---
Ola Beach Club
Watersports, a pool and Hawaiian-themed beach club vibes? Ola Beach Club is the place to head to for paddleboarding, kayaking, swimming and water play with its family-friendly facilities. It also serves small bites and mains plus Tiki-style cocktails.
Where: 46 Siloso Beach Walk, Sentosa, Singapore 099905
Opening Hours:
Restaurant
Mon to Thu: 10 am to 9 pm
Fri: 10 am to 10 pm
Sat: 9 am to 10 pm
Sun: 9 am to 9 pm
Watersports Centre
Mon to Sun: 9 am to 7 pm
Website
---
Tanjong Beach Club
On the other side of Sentosa's stretch of beaches is Tanjong Beach where Tanjong Beach Club sits. It is a lively family-friendly and pet-friendly beach club. Diners can choose the daybeds by the pool or indoor dining spaces. Kids can be right next to their caregivers as they frolick at the beach while enjoying coastal cuisine and artisanal cocktails.
Where: 120 Tanjong Beach Walk, Sentosa, Singapore 098942
Opening Hours:
Weekdays: 10 am to 8 pm
Weekends: 10 am to 9 pm
Website
---
FOC Sentosa
FOC Sentosa is a Mediterranean restaurant and beach club inspired by Barcelona's world-famous beach culture. Located on the tranquil end of Palawan Beach, the airy beachfront space serves Mediterranean and Spanish food, hot and cold tapas like sizzling padron peppers, zucchini and tomato carpaccio.
Families can choose beach cabana seating (with a minimum spending) or lounge seats by the pool. The options for sand play, pool time or just daydreaming at the beach mean a chill time for everyone.
Where: 110 Tanjong Beach Walk, Sentosa, Singapore 098943
Opening Hours:
Wednesday, Thursday & Sunday: 11.30 am to 10.30 pm
Friday, Saturday, Public Holiday & Public Holiday Eve: 11.30 am to 11 pm
Closed on Mondays & Tuesdays
Website
---
Splash Tribe at The Palawan @ Sentosa
Soak up some sun and splash up an adventure with loved ones at Splash Tribe, Singapore's premier family-oriented beach club.​​ The beach club blends relaxation, entertainment, and culinary delights to create a fun-filled time for families.
The menu offers crowd-pleasing fare made for easy sharing, including burgers, flatbreads, salads, grilled or fried seafood, and kids-friendly dishes. Beverage selections include mocktails, milkshakes, signature Tiki cocktails and more.
The water playground experience features a sandcastle-themed wet-play zone equipped with water slides, water spray features and dumping buckets, providing the young and young-at-heart a splashing good time.
Guests can choose from daybeds, in-water sun loungers, sun loungers on the poolside deck or private two-storey gazebos for a delightful beachside respite. Adjacent to the water play zone, an infinity-edge pool provides unobstructed views of the beach.
The beach club also provides essential amenities such as toilet and shower facilities, as well as nursing rooms.
Where: 54 Palawan Beach Walk, Sentosa, Singapore 098233
Website
---
Trapizza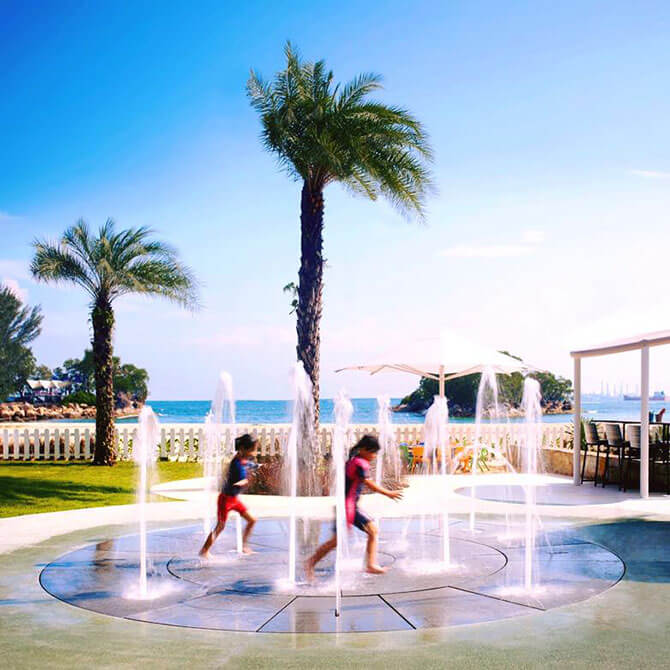 Renowned for its wood-fired, thin crust pizzas, Trapizza is a family-friendly Italian restaurant along Siloso Beach. Perfect for casual dining with the kids after a day out on Sentosa's beaches, it is also able to accommodate big group outings and atmospheric enough for date night with the spouse. Kid-friendly features at Trapizza include a water fountain play area for kids to splash about in. This play area is even lit up at night.
Where: 10 Siloso Beach Walk, Sentosa, Singapore 098995
Opening Hours:
Mon to Thu: 12 pm to 9 pm
Fri to Sun, Public Holidays: 11 am to 10 pm
Website
---
Quayside Isle, Sentosa Cove
An enchanting vista with beautiful yachts, vast walkways and a gastronomic adventure coupled with a relaxing chill-out vibe.
With family-friendly restaurants at Quayside Isle, an integrated F&B and retail waterfront destination within the exclusive corner of Sentosa Cove that is open to everyone. You can get away from the hustle and bustle without even leaving Singapore at this lifestyle destination.
The smorgasbord of restaurants in the one- and two-storey, 40,000 square feet development offers you a beautiful view of the marina, lets you imagine that you are in the Capri of Southeast Asia and "savour flavours from the seven seas".
With so much space, families can easily cycle, jog, walk and take their kids and furpets to Quayside Isle.
Food options include Common Man Coffee Roasters, Greenwood Fish Market, Gin Khao Bistro, Sabio By The Sea and more. Sabio By The Sea also offer a kids eat free promotion.
At one end of the marina, you will find a ship playground where kids can enjoy some outdoor fun imagining that they are sailing away on an adventure.
Where: 31 Ocean Way, Sentosa, Singapore 098375
Website
---
Prive @ Keppel Bay
Prive Keppel Bay is a casual and kid-friendly café on Keppel Bay Island with wholesome fare for everyone. It has a ship inspired playground the children will gravitate towards. Try the award-winning Eggs Benedict, fluffy pancakes, wraps, wagyu burgers. Enjoy the meal as you take in the views of the surrounding Marina.
Also, kids eat free at lunchtime for the whole of September!
Where: 2 Keppel Bay Vista, Singapore 098382
Opening Hours:
Monday to Friday: 9 am to 10.30 pm
Saturday, Sunday & Public Holidays: 8 am to 10.30 pm
Website
---
Wildseed Café, Alkaff Mansion
Head to The Alkaff Mansion surrounded by lush flora and fauna atop Telok Blangah Hill Park. Wildseed café is a child-friendly and pet-friendly café and patisserie offering brunch items, freshly baked cakes, pastries and more.
Children and pets will enjoy the grounds with its gazebo, fountain, lawn where a game of hide and seek will certainly be welcome.
Where: 10 Telok Blangah Green, Singapore 109178
Website
---
East
Café Melba Goodman
Head east to Goodman Arts Centre where Café Melba serves gourmet coffee, wood-fired pizzas and brunch essentials. On weekends, the bouncy castle is out for kids to play. So instead of bouncing off the walls at home, how about a giant dose of bouncing at Café Melba?
Where: 90 Goodman Road, Goodman Arts Centre
Opening Hours: 8 am to 10 pm, daily
Website
---
Jimmy Monkey Café, PLQ
Jimmy Monkey at Paya Lebar Quarter is located on the ground level of Park Place Residences and right next to the PLQ Parkside children's playground. Its instagrammable interiors, lush surroundings are a big draw for anyone looking for a child-friendly spot. Of course we all appreciate a good cup of cuppa and hearty Aussie style brunches plus the closeness of a fantastic play spot.
Where: 2 Paya Lebar Rd #01-10 Park Place Residences at PLQ Singapore 409053
Opening Hours: 8 am to 4 pm, daily
Website
---
Zaffron Kitchen, East Coast
Zaffron Kitchen serves authentic Indian fare and has a play area with a cottage playground and kid-friendly toys. Perfect for parents who need a bit of a breather and the opportunity to savour some genuine Indian cuisine.
This family-friendly spot also has a kids eat free promotion.
Where: 137 East Coast Road, Singapore 428822
Opening Hours:
Tue to Thu: 11.30 am to 9.30 pm (closed from 3 pm to 5 pm)
Friday to Sunday, Eve of Public Holiday and Public Holiday: 11.30 am to to 10.30 pm (closed from 3 pm to 5 pm)
Website
---
The Coastal Settlement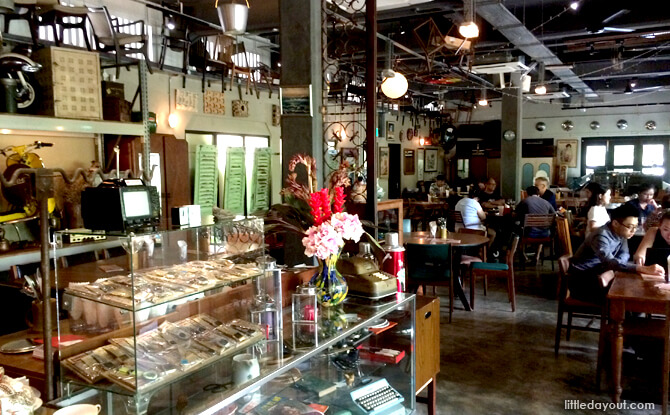 At The Coastal Settlement, you can dine indoors where it's cool and ornamented heavily with antique furniture and memorabilia or you could dine al fresco and enjoy the greenery, and if you're lucky, some cool air.
Children will love exploring the various vintage items and trinkets that are on display as well as the outdoor spaces perfect for a summer romp.
Where: 200 Netheravon Rd, Singapore 508529
Opening Hours:
Monday to Friay: 10.30 am to 11 pm
Saturday, Sunday and Public Holiday: 8.30 am to 11 pm
Website
---
Brewerkz, Singapore Indoor Stadium
Brewerkz at Singapore Indoor Stadium has both an indoor play area and lots of open space for the children to play. So order that beer and indulge in meaty mains while the kids play freely. Popular dishes include the pork knuckle, fish and chips, truffle fries. The kids menu is bound to please the palates of the little ones.
Where: 2 Stadium Walk, #01-06/07 Singapore Indoor Stadium, Singapore 397691
Website
---
Quentin's the Eurasian Restaurant
Located in the midst of a quiet neighbourhood in Ceylon Road, Quentin's The Eurasian Restaurant serves up authentic Eurasian food based on family recipes at the Eurasian Community House. There is a kids menu with sure-hit dishes Fish & Chips and Fried Chicken. Both of these are served with tapioca and yam twist – instead of potato chips, it is served with tapioca and yam chips.
One feature of Quentin's The Eurasian Restaurant that will definitely appeal to young children is the children's playroom. This indoor, air-conditioned, closed-off playroom is located next to the indoor dining room. It is stocked full of wonders for kids to amusement themselves with. There is a mini ball pond, ride-on toys and a masak-masak corner for young ones to play-pretend.
Where: Eurasian Community House, 139 Ceylon Road, Singapore 429744
Website
---
NOM Bistro & Bakery, Macpherson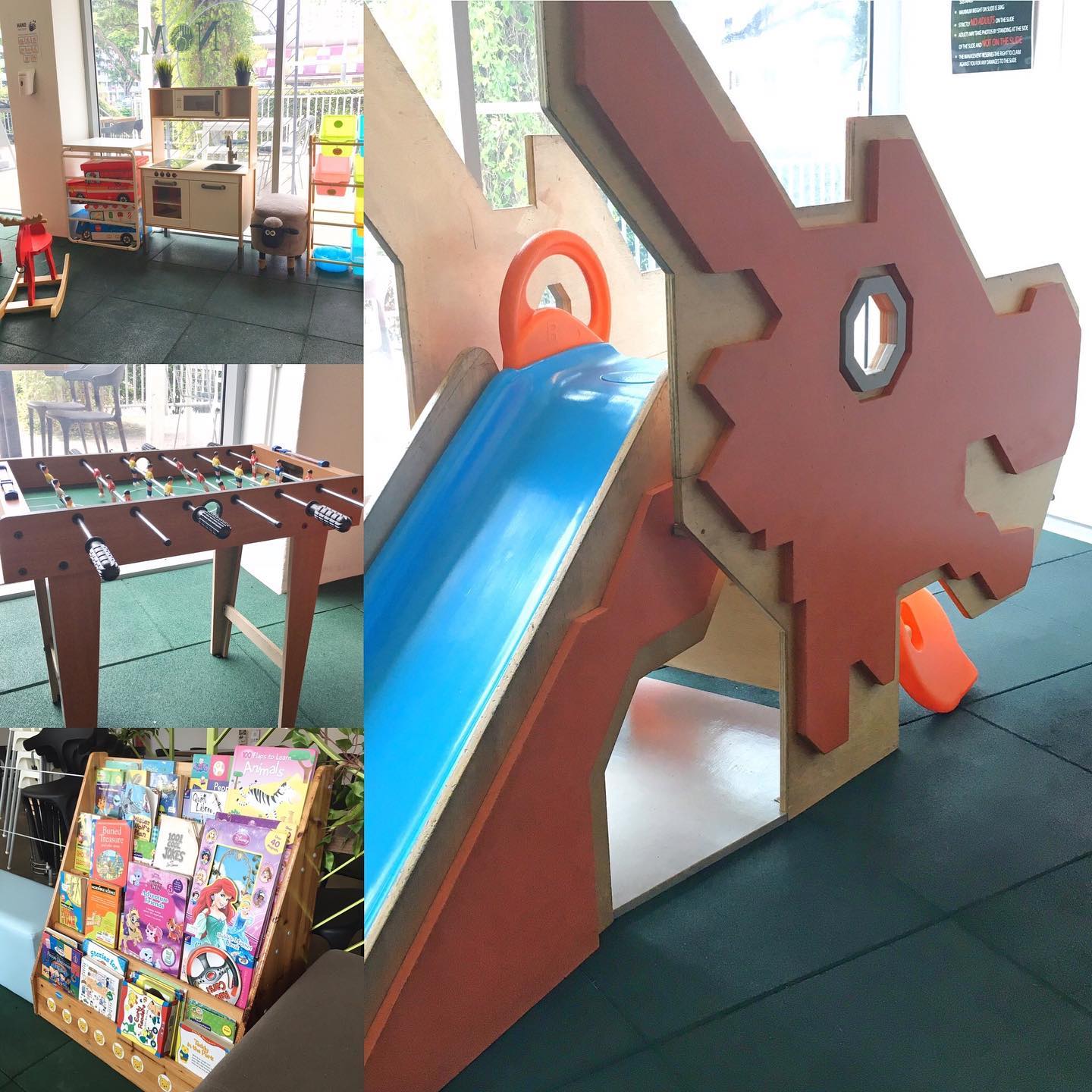 One big reason to support NOM Bistro & Bakery is it is a social enterprise project by the people from Yesterday Café. Located in Macpherson Community Club, this eatery serves simple homemade fare such as burgers, pasta, pizza, rice bowls. It has a very cool kids area with a dragon-playground inspired slide, books and toys area.
Where: Macpherson Community Club Level 1 – 400 Paya Lebar Way, Singapore, Singapore, 379131
Website
---
Timbre+ Eastside @ EXPO
This food court at Singapore EXPO has got a children's playground right in the middle of it. Kids can climb up this vertical structure while parents keep an eye on them from the tables surrounding the play space.
There are also many different food options available for families and kids to choose from at Timbre+ Eastside @ EXPO. This will allow you to cater to the appetites of everyone in the family.
Where: 1 Expo Drive (Outside Hall 5) Singapore 486150
Website
---
My Kampung Food Court at Changi City Point
Located on the second floor of Changi City Point, the food court is right beside the mall's outdoor playground. This makes it a convenient spot for kids to duck out to play at the playground's many different play elements once they are finished with their meal.
Where: 5 Changi Business Park Central 1, Changi City Point #02-01, Singapore 486038
Website
---
North
Restaurants and Cafes at Mandai Wildlife West
If you are heading to Singapore Zoo or Bird Paradise, don't forget to dedicate some time at Mandai Wildlife West! There are three playgrounds and many food options here.
You can find A&W, Starbucks, Han's Union, Bird of Paradise Gelato, Pavilion Banana Leaf and Collins.
The majority of the restaurants and dining outlets at Mandai Wildlife West can be found along the pathway to the Bird Paradise entrance. Just a point to note: these restaurants are located at a major local attraction, so you should be prepared for the menus to be priced accordingly too.
Where: 20 Mandai Lake Road, Singapore 729825
Website
---
Mr Holmes' Bakehouse, Luke's Lobsters and Leckerbaer at Mandai Wildlife West
We're going to call out the a multi-concept restaurant consisting of My Holmes' Bakehouse, Luke's Lobsters and Leckerbaer at Mandai Wildlife West because it has a special indoor play area for kids. This cute and cosy children's play area, complete with a beanbag, poufs and a canopy, is great fun for kids to imagine that they are off on a special camping experience.
Where: 20 Mandai Lake Rd, #02-08, Singapore 729825
Opening Hours: 8 am to 8 pm
Find out more about this multi-brand outlet.
---
Wheelers Estate, Seletar Aerospace Park
Take a trip to the tranquil Northeast where planes abound. At Seletar Aerospace park, families can find Wheelers Estate in a restored colonial bungalows. Enjoy the grub, live music and of course the aeroplane-themed playground nearby.
It could take longer than usual to reach this far flung corner of Singapore, but it's worth the trip thanks to the opportunity to see planes up close, relish the space and nature in the area and just forget about the hustle and bustle of life for a while.
Where: 2 Park Lane, The Oval @ Seletar Aerospace Park, Singapore 798386
Website
---
Wildseed Café & Summerhouse, Seletar Aerospace Park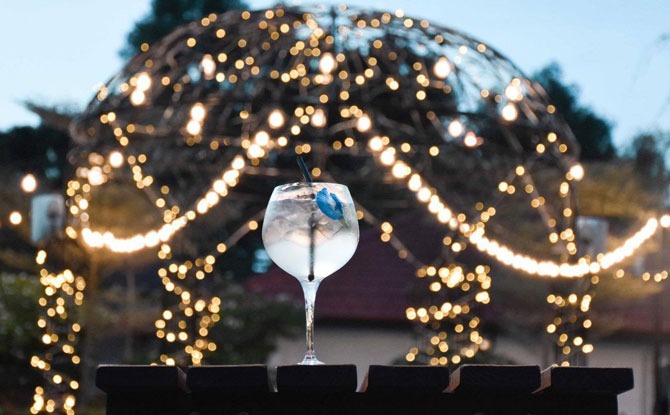 The Summerhouse garden-themed restaurant provides a perfect backdrop for weddings and parties with their pretty garden and pergola. Opened by the 1-Group, its sister restaurants are Una in Rochester Park and Botanico at Singapore Botanic Gardens. It has a farm-to-table concept, with Wildseed Café and Bar on the ground floor. The multi-concept duplex houses a coffee roaster, a floral shop and an edible garden.
Wildseed Café & Bar is surrounded by lush greenery and brings you to a quaint side of Singapore. Children will enjoy the spaces here, as well as the colouring sheets. This café is also furkid friendly.
Where: Level 1, 3 Park Lane, Seletar Aerospace Dr, Park, 798387
Website
---
Brewerkz, Seletar Aerospace Park (Opening end September 2023)
Brewerkz will be opening a branch at The Oval at Seletar Aerospace at the end of September 2023. Keep a look out for it.
---
Lazy Lizard, Upper Thomson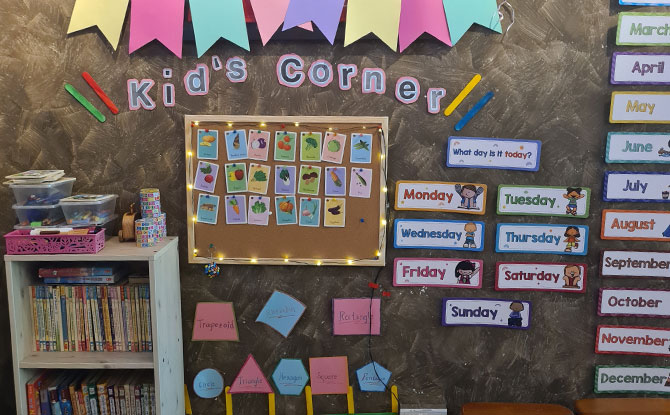 Lazy Lizard is a popular restaurant serving Western cuisine. It is family friendly with kids meals and kids play & read corners in all outlets. Lazy lizard has won the Singapore Food master's competition for three consecutive years from 2020- 2022
Promotions include kids eat free on weekends and public holidays, student set meals on offer and one for one promotions on weekdays.
Where: 906M Upper Thomson Rd, Singapore 7871110
Opening Hours:
Monday to Friday: 12 pm to 10 pm
Saturday and Sunday, 11 am to 10 pm
Website
---
Cafes & Restaurants with Playgrounds with Multiple Outlets around Singapore
Beauty in the Pot Playgrounds
We know Beauty in the Pot for its collagen-rich soup bases, playgrounds, attentive service and more. Each hotpot restaurant also has a super fun playground for the kids to play to their heart's delight while their parents slurp away.
Children can also redeem tokens at the toy capsule machine at the entrance of each outlet. Kidults would want to have a go at the Gachapon machine as well.
P.s The outlet with the biggest playground is at KINEX!
The full list of Beauty in the Pot outlets is as follows:
Beauty in The Pot at Jewel Changi Airport
Where: 78 Airport Boulevard, Jewel Changi Airport #B2-224, Singapore 819666
Beauty in The Pot at KINEX
Where: 11 Tanjong Katong Road, KINEX #03-38, Singapore 437157
Beauty in The Pot at Serangoon NEX
Where: 23 Serangoon Central, NEX #02-01, Singapore 556083
Beauty in The Pot at The Centrepoint
Where: 176 Orchard Road, The Centrepoint #05-16, Singapore 238843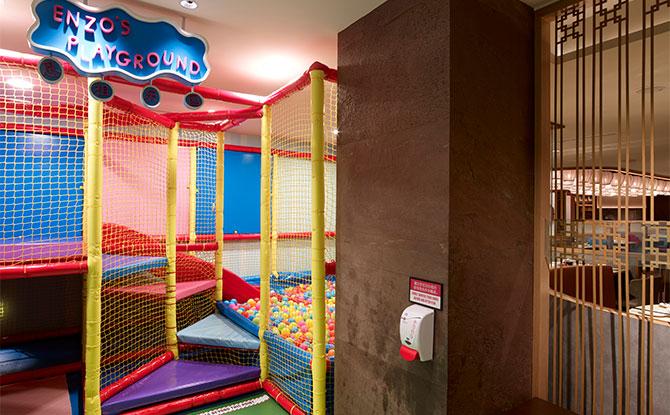 Beauty in The Pot at The Star Vista
Where: 1 Vista Exchange Green, The Star Vista #02-24, Singapore 138617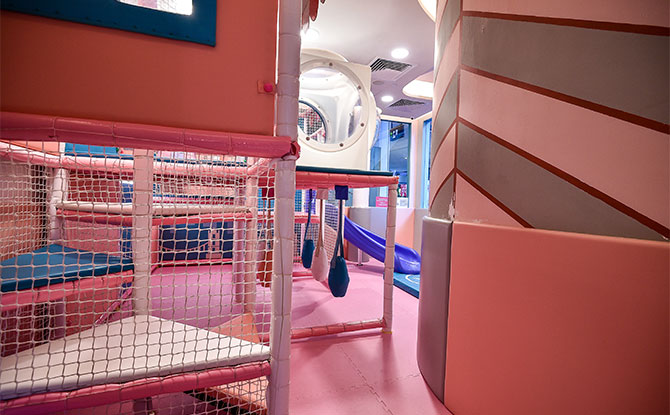 Beauty in The Pot at VivoCity
Where: 1 Harbourfront Walk, VivoCity #03-08A, Singapore 098585
Beauty in The Pot at Westgate
Where: 3 Gateway Drive, Westgate #03-10, Singapore 608532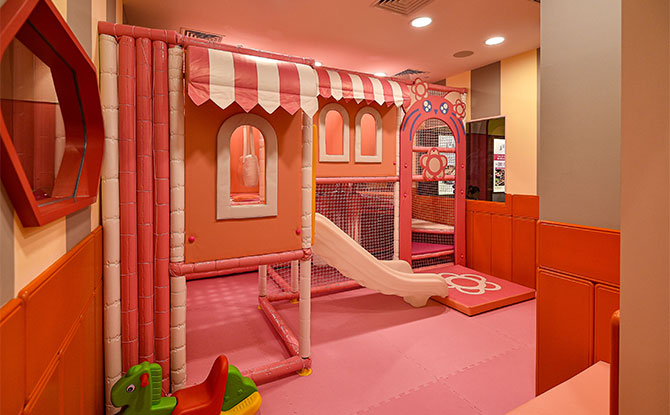 ---
Marche Movenpick
Marche restaurants feature a variety of food stations where customers can order their food. They can be counted among the most kid-friendly restaurants in Singapore with special Picky Kids meals, play areas and the ability for parents to even host children's birthday parties there.
Marche Movenpick restaurants have an indoor playground for children. The Suntec outlet has the most impressive playground. Tucked into a little cosy corner is a nifty kids' double-storey windmill themed play area. There's a mini-bridge, a stairway to a cub scout hideout on the second floor
The list of Marche Movenpick restaurants is as follows:
Marché Mövenpick Suntec City
Where: 3 Temasek Boulevard #01-612 to 614, Suntec City (Tower 3), Singapore 038983
Marche Movenpick VivoCity
Where: 1 HarbourFront Walk #03-14, VivoCity Singapore098585
Marche Movenpick 313 Somerset
Where: 313 Orchard Rd, 313 @ Somerset, Level 1 Discovery Walk S 238895
---
Shang Pin Hot Pot
One other hot pot brand – Shang Pin Hot Pot has two outlets both with playspaces for little ones. It serves authentic Chinese cuisine and hotpot with an emphasis on fiery Sichuan dishes. One of the biggest draws to this hotpot brand is its desserts. The bingsu apparently are must-tries particularly the Oreo version.
They also serve milk teas including Brown Sugar Pearl Milk Tea with a Milk Tea Pot with soft and chewy yam balls, grass jelly, red beans and more.
Shang Pin Hot Pot Parkway Parade
Where: 80 Marine parade,#01-10, Parkway Parade, 449269
Shang Pin Hot Pot Marina Square
Where: 6 Raffles Blvd, #02-102/102A Marina Square, Singapore 039594
---
Smile Dessert Café
Smile Dessert Café is possibly the only café on the list serving exclusively desserts. All the cafes have ball pits – where children have a ball of time. On the menu is bubble tea, souffle pancakes, crepe cakes, traditional desserts and Bingsu.
Here are the Smile Dessert Café outlets:
Smile Dessert Bugis
Where: 534 North Bridge Road 01-01 Singapore 188749
Smile Dessert GRID
Where: 1 Selegie Rd, #01-05, Singapore 188306
Smile Dessert Funan
Where: 107 North Bridge Rd, #02-03 Funan, Singapore 179105
Smile Dessert Clementi
Where: 3155 Commonwealth Ave W, #04-25/26 The Clementi Mall, Singapore 129588
Read more about Smile Dessert at Clementi Mall.
---
Hai Di Lao
Everyone knows Hai Di Lao for its family-oriented service where servers willingly babysit, shower the kids with toys and entertain them. There are also playrooms at some Hai Di Lao's outlets. The playrooms include toys, games and slides.
However, due to COVID-19, the playrooms could still be closed and may not be accessible. Do check with the restaurant before heading there if your intent is to find a Hai Di Lao outlet with a play area.
A full list of outlets can be found here.
---
Play Nation
How about playing games and eating at the same time? Play Nation is a spot that you can hang out with friends and family for a good time playing games. The food at Play Nation is decent and served in sizable portions.
To play games, you will need to purchase either a console game or board game package. These are time-based packages and include free flow of drinks. The console game package covers the use of both console and board games. The board game package allows for the use of Play Nation's board games only.
Where:
Prinsep Street: 58 Prinsep Street, Singapore 188686
Scape: 2 Orchard Link, #03-02, Singapore 237978
Tampines Hub: 51 Tampines Avenue 4, #B1-17/18/19, Singapore 529684
Website
Read more about our experience at Play Nation.
---
McDonald's Singapore PlayPlaces
McDonald's restaurants in Singapore are often welcomed spots where parents and kids can enjoy a quick meal. And did you know that a number of McDonald's Singapore outlets have kids' playgrounds known as PlayPlaces?
Some of these McDonald's PlayPlaces are indoors while other are outdoors. Here are the five McDonald's Singapore restaurants with PlayPlaces:
McDonald's Canberra
Where: 133 Canberra View, #01-01/02/03/28 Canberra Plaza, Singapore 750133
McDonald's Queensway
Where: 580 Queensway, Ridout Tea Garden, Singapore 149066
McDonald's Jurong Central Park
Where: 291 Boon Lay Wy, Singapore 649849
McDonald's Kallang
Where: 200 Stadium Blvd, #01-3669, Singapore 397801
McDonald's Ang Mo Kio Park
Where: 10 Ang Mo Kio Street 12, Singapore 567740
You can learn more about these McDonald's family flagship outlets here.
---
Why We Enjoy these Restaurants with Playgrounds
These various restaurants with playgrounds offer kid-friendly dining for families. They can make eating out with kids a more enjoyable experience for both them and the parents alike. What we do appreciate about these restaurants for children is that they have gone the extra mile to create play areas in restaurants in order to make families feel welcomes. Many of the kid-friendly restaurants also do offer kids menus.
So, you can consider visiting one of the kid-friendly dining places with playgrounds the next time you plan to head out.
Did we miss out on any restaurants with playgrounds in Singapore? If we did, drop us an email at hello@littledayout.com to let us know.
Or is any of the information above out of date? While we do try our best to make sure that the information is as accurate as possible, things are ever changing in Singapore and information does go out of date. If you know of any updates, do drop us an email at hello@littledayout.com to let us know as well so that we can also share the information with other parents.
We hope that you have a wonderful time dining out and enjoying the various play areas in restaurants in the list above.
If you enjoyed this story, we think that you will also enjoy this one about a large park in the west of Singapore, or this about an off-shore island where you can escape to nature and even have some seafood. We also think that you will enjoy our list of places where kids eat free in Singapore.