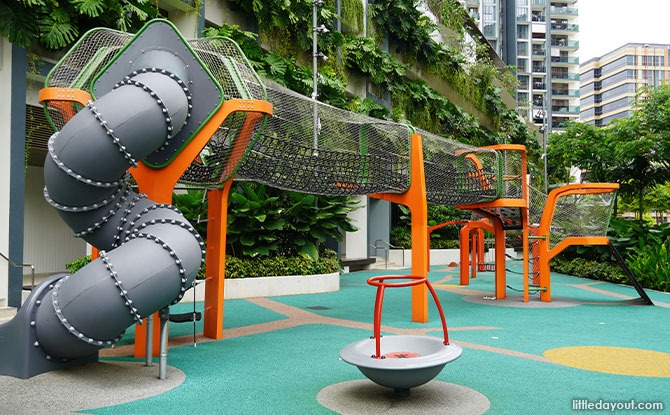 Paya Lebar Quarter is a great mall to visit for its huge range of food stores, facilities and services. Over at the Paya Lebar Quarter Parkside, there is a outdoor Banyan Tree playground which is worthy of a visit the next time you are around the area.
The Paya Lebar Quarter Parkside Banyan Tree Playground is located next to the PLQ3 building. It is easily accessible from the main Paya Lebar Quarter shopping complex by crossing a road. The playground has a variety of exciting play equipment for kids to enjoy, including climbing nets, twisting slides as well as mini bouldering rocks.
---
The Parkside Banyan Tree Playground At Paya Lebar Quarter
Brightly coloured in orange and green, with a large green plant wall as a backdrop, the most eye-catching feature of the banyan tree inspired playground is the large nets that span from one end of the play structure to the other.
---
-- Story continues below --
Kids have multiple options to choose from when getting to the top of the structure towards the nets. There is a ramp with holes for the kids to grab on to, as well as a small rope ladder which is designed to be moveable to increase the difficulty of climbing up.
---
More to Play with at PLQ Parkside Playground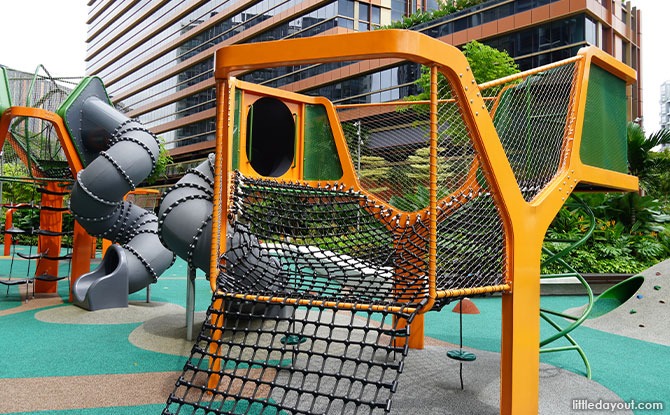 Another outdoor play structure just beside the first one also has a net. This is designed for kids to come in or exit from the various openings of the play structure. This play structure also has a lily pad for kids to cross, as well as a double helix fireman's pole.
---
Toddler Play Area at the Paya Lebar Quarter Playground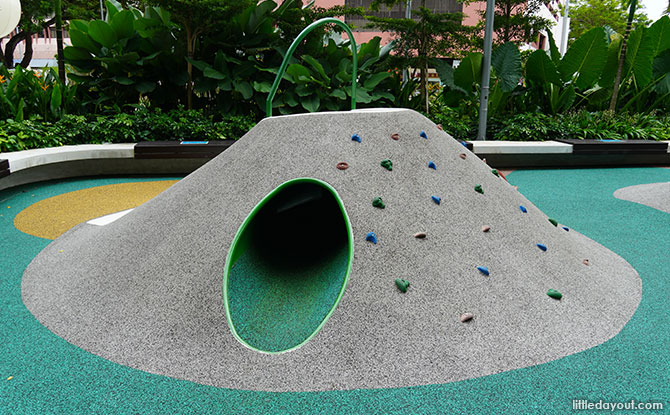 Although the equipment seems more suited to older kids, there is a gently sloped rock climbing wall as well as a tunnel for younger kids to crawl through. There are also two mini trampolines for kids to bounce and enjoy.
Lastly, the Paya Lebar Quarter playground has four swings, catering to both older kids as well as younger kids who might need additional support. Both swings are located towards the far end of the playground and can be seen hanging from a bright orange frame.
---
Visiting the Parkside Playground At Paya Lebar Quarter
We liked how the PLQ playground is located near multiple F&B outlets, making it easy to grab a snack for any hungry tummies that protest while playing. Some shops we saw nearby include A Poke Theory as well as a 7-11.
The Parkside Playground at Paya Lebar Quarter is open from 9 am to 9 pm daily, and the recommended ages for use are between 2 to 12 years old. It provides a free and outdoor alternative to the indoor playground at PLQ.
Enjoying this story? You'll enjoy this other great story for Chinese New Year here.