For those who are in the mood for some dessert to cool down on a hot day and somewhere to keep the kids entertained at the same time, Smile Dessert is a place that you can check out.
Smile Dessert first opened at Bugis with an aesthetic pink vibe. It also has outlets at Gr.ID mall and Funan and has since opened a new Smile Dessert outlet at Clementi Mall.
---
Smile Dessert at Clementi Mall
Smile Dessert, located at level four of Clementi Mall is a casual eatery that serves iced desserts as well as cakes.
---
-- Story continues below --
The decor has a green theme and seems tuned to the Instagram crowd. But what really catches the eye is the ball pit which occupies around half of the unit.
There is a seating area for dine-in customers as well as seats located within the ball pit.
On the menu at desserts such as Mango Sago with Pomelo ($6.90) and Mango Ice with Rice Ball ($6.90) and more. There is also a bingsu series as well as waffles series dessert.
Under the cake series, you can try cakes such as their multi layer durian cake ($12.90) and Original Tiramisu ($8.90).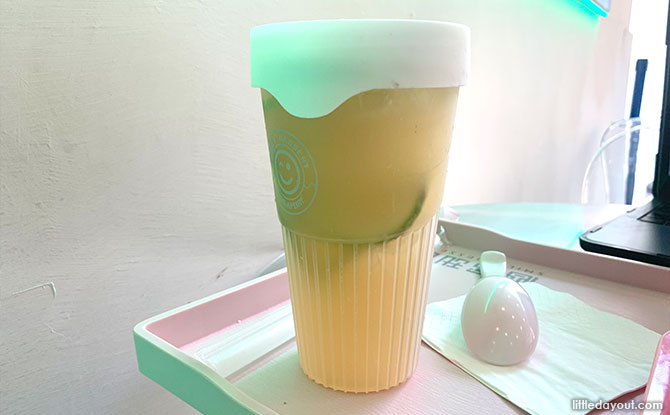 Other specialties include perfume lemon series drinks. These include the Perfume Lemon Ice Tea ($4.90) and Trendy Bubble Milk Tea ($4.90)
We tried the Mango Ice with Rice Ball and found it to be a cool and refreshing dessert. It comes with tiny rice balls on top of the ice. Some of them were a bit hard though.
---
Dessert Shop with a Ball Pit
What may draw parents to Smile Dessert is the ball pond. It looks like a fun place for kids to have some fun while the adults enjoy a sweet treat.
However, parents should supervise their kids who are playing in the ball pit. There is a sign that states that Smile Dessert is not a "professional playground".
Also, parents should make sure that the kids stay away from the tables located in the ball pit as they could be hazardous if kids bump into them.
---
Smile Dessert Review
Overall, Smile Dessert at Clementi Mall is a nice place to have a cool dessert or refreshment in a unique setting.
Parents who do visit and let their kids go into the ball pit should keep an eye on them and supervise them at all times.
You can pay a visit to Smile Dessert at Clementi Mall at Level 4, unit number #04-25/26.
If you enjoyed this story, you may also be interested in hidden cafe at Clarke Quay Central or this other about the Toast Box at Bras Basah Complex that took over the former Music Book Room.