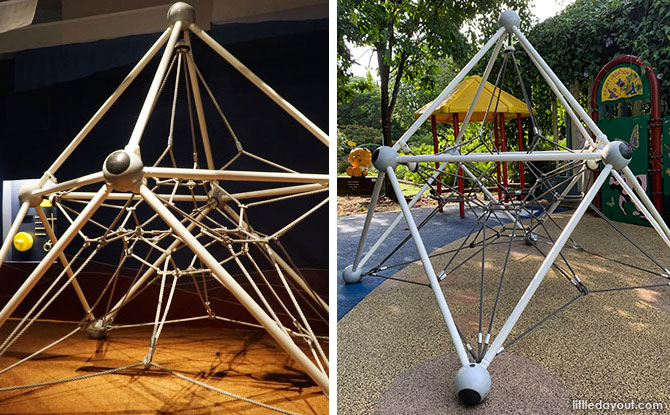 Standing in the midst of the greenery at HortPark is a low pyramid-shaped playground. It is one of several playgrounds within the park but it is also unique because the "Mini Mars" Space Net structure is a "recycled" playground.
---
Mini Mars Space Net Playground at HortPark
The Mini Mars playground structure is made up a steel frame fitted with ropes for climbing inside. The climbing playground isn't very tall, just 2.5 metres in height.
If it looks slightly familiar to you, it may be because the play structure first made its appearance at the 2018 exhibition The More We Get Together at the National Museum of Singapore.
A "Museum Piece"
The More We Get Together exhibition was National Museum of Singapore's first extensive look at Singapore's playgrounds; it was a retrospective stretching back to the 1930s and a look forward that projected what playgrounds would be like in the future.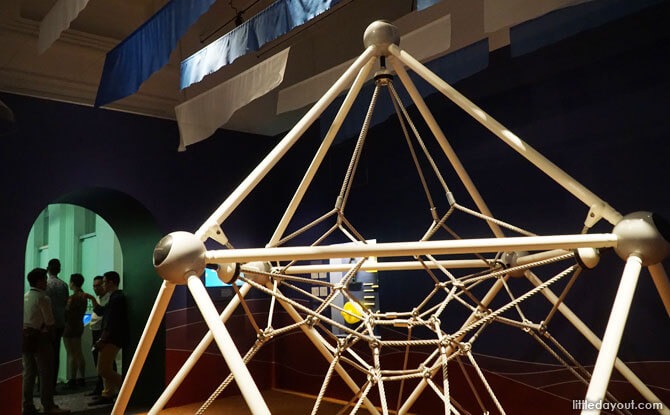 The miniature climbing playground was located in a section of the museum's Stamford Gallery as part of the exhibition's Make Fun and Safe Playgrounds a Business section. It was donated by CT-Art Creation Pte Ltd.
The exhibition closed in towards the end of 2018. However, instead of committing the climbing pyramid to the scrapyard, the playground structure was "recycled" and installed at HortPark.
---
Playing at the Recycled Mini Mars Playground at HortPark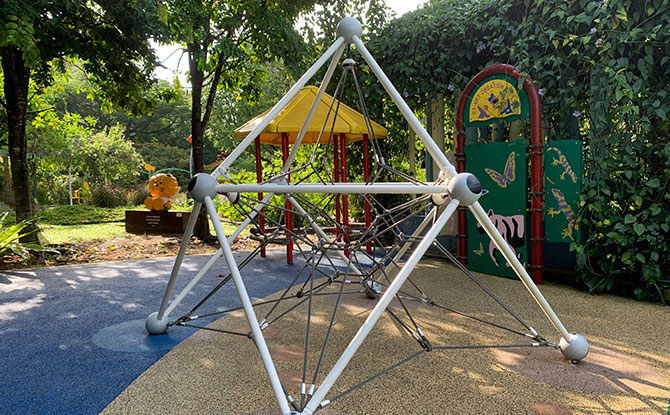 Out of the museum and into the park, the Mini Mars playground still entertains kids who can climb up and down its metal-and-rope structure. It is one of several playgrounds at HortPark, including a wonderful nature playgarden.
Fun fact: if you think the pyramidal structure also reminds you of the iconic West Coast Park pyramid playground, that's because CT-Art Creation Pte Ltd is the company behind that structure too.
Happy playing at the Mini Mars playground at HortPark!