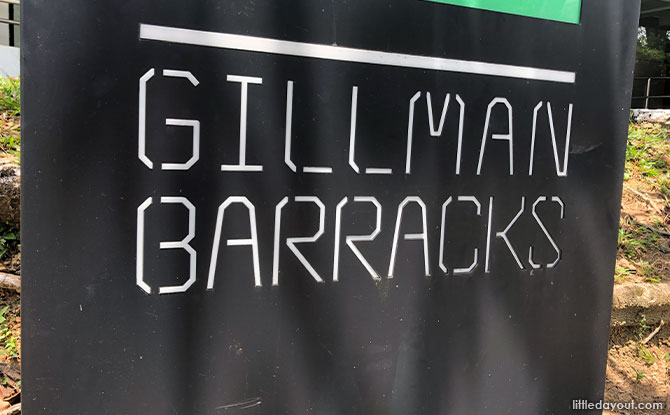 A place for art lovers, art collectors, and those curious about art, Gillman Barracks is one of the focal points of Singapore's arts landscape. If you're looking to visit the various number of art galleries in Singapore, this is a spot that has to be added to the list.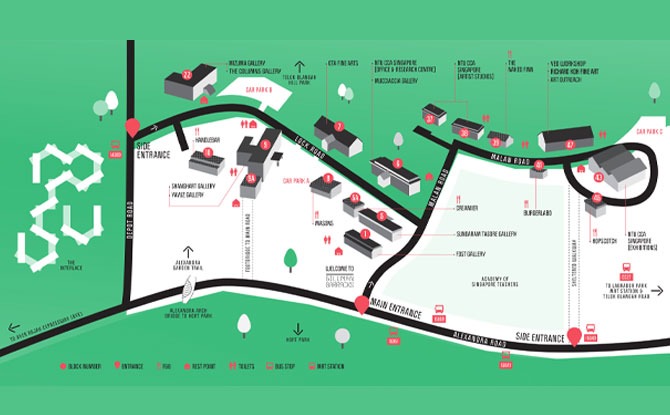 With more than 10 different art galleries as well as several restaurants in the area, here is a guide to the Art Galleries & Restaurants in Gillman Barracks. Do note that the exhibitions swap out every two months or so to ensure that the content stays fresh each time. You may view the gallery etiquette guide for the art galleries at Gillman Barracks here. 
---
Art Galleries in Gillman Barracks
FOST
Founded in 2006, FOST Gallery generally showcases contemporary art and has built a reputation as one of Singapore's leading art galleries. Its artists have been included in international biennales and institutional exhibitions.
---
Mizuma Gallery
Named after Executive Director Sueo Mizuma this gallery has been in Singapore since 2012. The gallery aims for the promotion of East Asian artists in the region as well as the introduction of Southeast Asian artists to the international art scene. Mizuma Gallery participates annually in international art fairs including Art Basel Hong Kong and The Armory Show New York, promoting Asian artists on an international art scale.
---
Mucciaccia Gallery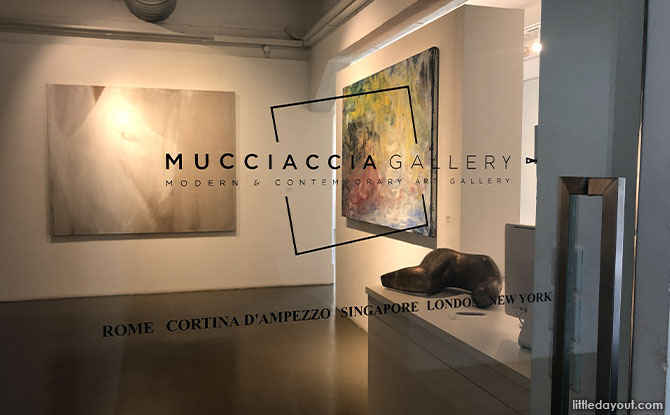 Founded in Rome, Mucciaccia Gallery is one of the top galleries in Europe and a leading art gallery specialising in modern masters and established contemporary artists. It connects prominent artists with international collectors. It's gallery also has branches in Cortina d' Ampezzo, London and New York.
---
Ota Fine Arts
Ota Fine Arts was established in 1994 in Tokyo and opened a gallery space in Gillman Barracks in 2012. For over 20 years, the gallery has defined itself as being a pioneer of Japanese contemporary and has promoted various Japanese artists, including internationally-acclaimed artist Yayoi Kusama.
---
Richard Koh Fine Art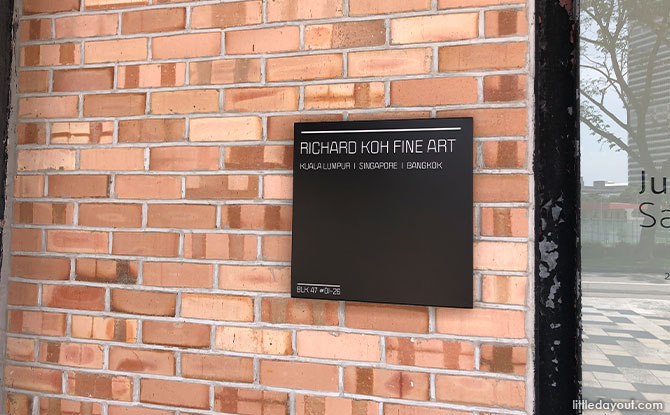 Richard Koh Fine Art has been in operation since 2005 and is regarded as a pioneer for introducing contemporary art to Malaysia and the region. The gallery promotes an adventurous roster of emerging and established artists. Past exhibits include Exhibition Merdeka, The Lonesome Club, Clouds By Wah Nu and more.
---
ShanghART Gallery
ShanghART Gallery was established in Shanghai in 1996 and has represented over 60 pioneering and emerging artists. ShanghART Singapore was established in 2012 and is the gallery's first overseas space serves as a platform to introduce Chinese contemporary art to the region while developing collaborations with Southeast Asian artists and bringing them to the international art scene. The ShanghART Gallery is one of China's most influential art institutions and a vital player in the development of contemporary art in China.
---
Sundaram Tagore Gallery
Sundaram Tagore Gallery has been representing established and emerging artists from around the world, particularly women and those from underrepresented cultures, whose work exemplifies our interconnectedness. The gallery specializes in work that is aesthetically and intellectually rigorous, infused with humanism and art historically significant. The artists featured produce museum-quality paintings, drawings, sculptures and installations. The gallery offers a robust photography program that includes some of the world's most noted photographers as well as art consulting, collection development, corporate collecting, curatorial and public art expertise and services. 
---
The Columns Gallery
One of the most powerful galleries in Korea., here you can find numerous international exhibitions and occasional talks, The Columns aims to introduce both emerging and established artists to the Korean art scene. They have participated in art fairs and biennials worldwide.
---
Yavuz Gallery
Yavuz Gallery was inaugurated in 2010 in Singapore. It has since been established as a key destination for showcasing a diverse group of both established and emerging artists with a strong curatorial programme. They are dedicated to promoting contemporary art predominantly from the Asia-Pacific region.
---
Yeo Workshop
Yeo Workshop is a contemporary art gallery based in Gillman Barracks since 2013. They showcase various exhibitions, represented artists projects, and gallery-based programmes such as talks, symposiums and guiding research. It aims to promote the work of contemporary local and international artists. Other art projects and experiences produced by the gallery include 2 Cavan Road, a project that transformed a ships repair warehouse into a pop-up art destination initiated by their brand Singapore Arts Club.
---
Restaurants in Gillman Barracks
Burger Labo
With no surprise to what is on its menu, Burger Labo serves "Basic Burgers" which sound simple but has taken multiple tries to perfect. Its burger bun is brushed a with a house-made bone marrow 'butter' and served with a medium-well beef patty made from a blend of 4 different types of beef. They also serve a chicken burger and their signature House-made Naked Chendol.
---
Masons
Inspired by the colonial heritage of Gillman Barracks, Masons provides a stylish and elegant dining experience. They serve high quality yet affordable European cuisine with a strong French influence and a Singaporean touch. Choose to dine in the luxurious main dining room or enjoy the greenery in the alfresco verandah.
---
Creamier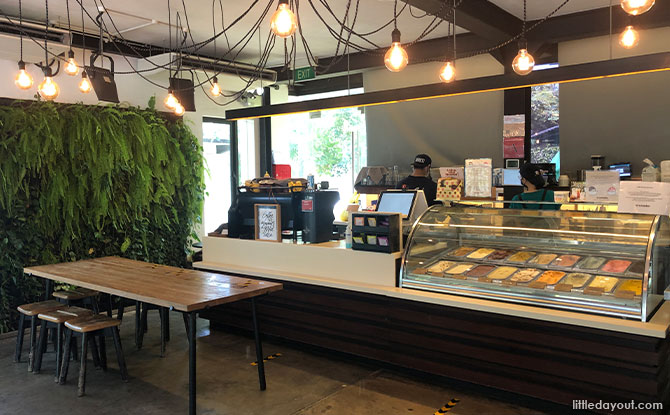 Best known for their crispy waffles and smooth ice cream, Creamier started in Toa Payoh. In 2016, they opened up their doors to those in Gillman Barracks. They have a rotating selection of 18 tantalising ice cream flavours that are produced in small batches on site using premium ingredients from around the world. Coffee lovers can also enjoy its custom espresso blend developed with Papa Palheta.
---
Hopscotch
Hopscotch is the second iteration of Hopscotch Bar which was famously known for its local flavoured cocktails. At Gillman Barracks, the focus on local flavoured cocktails is now paired with a food menu focusing on grilled cuisine such as poultry and seafood. Here you can enjoy skewered meats and vegetables as bar snacks while getting a drink or two.
---
The Naked Finn
The Naked Finn is a seafood specialist and a great place for seafood lovers to dine. Its signature dishes include lobster rolls, prawn noodles and grilled seafood dishes. It stays true to its philosophy of sourcing and importing top quality seafood internationally.
---
Handlebar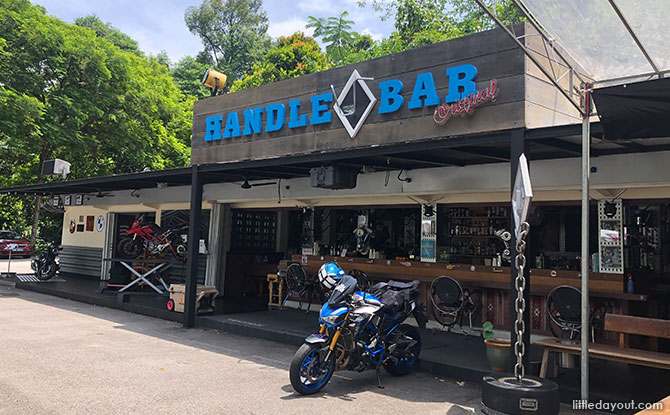 A wonderland for bikers, Handlebar serves up a hearty Western meal with dishes such as spicy buffalo wings, steaks, burgers, ribs and more. This edgy diner and bar have quirky décor and tables as well as a random rare guitar collection.