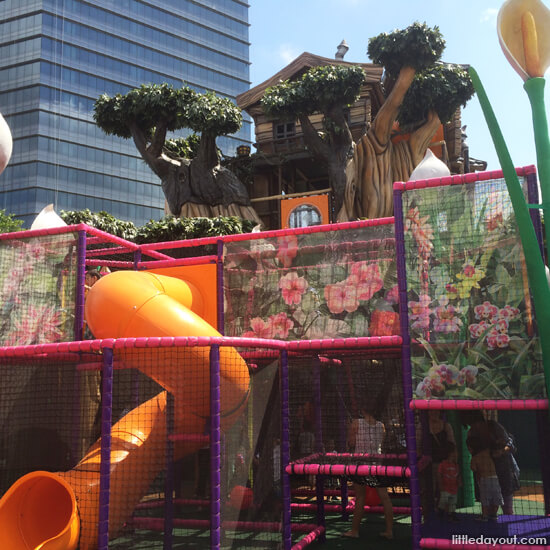 Westgate Wonderland, the fantasy garden-themed outdoor playground at Westgate opened to the public on 26 February 2014. Located on the shopping mall's fourth floor, the outdoor playground provides a space for children filled with oversized flowers and gigantic insects. The 11,000 square foot playground was designed by Adirondack Studios, an US theme park designer, in collaboration with Singapore-based playground specialist, CT-Art.
Little Day Out took a trip down the rabbit hole to find out what you can expect there.
Westgate Wonderland comprises several play areas that cater to varying ages. Entering the outdoor, rooftop playground, first impressions are that a lot has been packed into the play area. Even though touted to be the largest outdoor playground in a mall, it felt as if the garden could do with some trimming.
Lost in the Garden
The main play area is designed for children between five and 12 years old. The tallest structure is a ten-metre tall tree house. Kids can ascend to the treehouse through a series of climbing nets criss-crossing the insides of the tree trunk. At the top, a winding slide provides a quick way for kids to get back to terra firma from the leafy canopy above. The tree is also connected to a pink, purple and orange play area via a little suspension bridge.
Carrying on with the theme of a super-sized garden is an over-sized flower pot play structure adjacent to the tree house. Inside, a tangle weave of nets, tunnels and slides have been set up for little ones to worm their way through.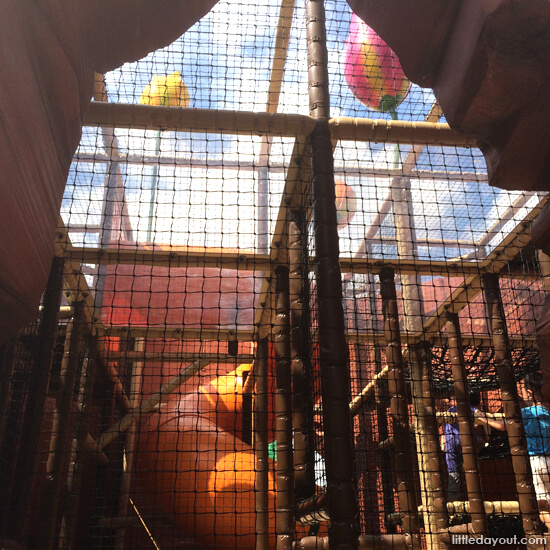 There are also flower-shaped drums for kids to play with. 
Water Play Area
Westgate Wonderland water play area is surprisingly small. Little water jets play peek-a-boo from the ground while an enormous watering stands in the corner spraying out water.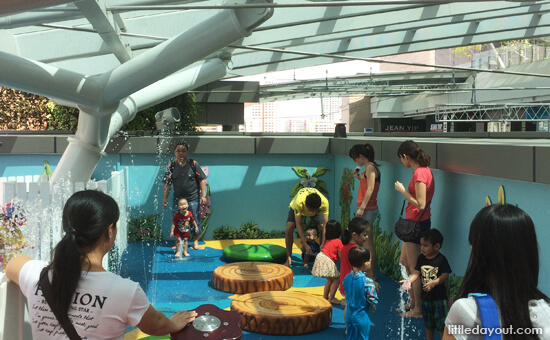 Toddler Area
Younger kids between two and five years old can enjoy the more age-appropriate toddler playground at the other end of Westgate Wonderland. Here, parents will find more space to play together with their kids amid droopy bluebells and spinning flowers. You may even bump into a few garden-variety animals there too!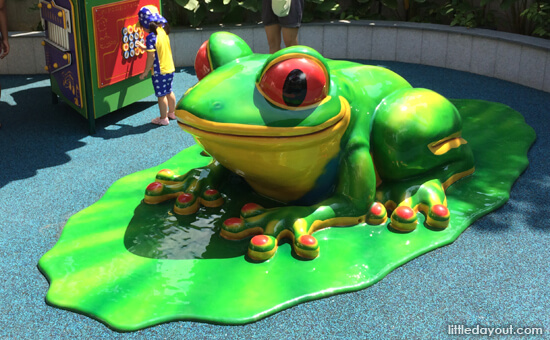 Westgate Wonderland is located at the level four of Westgate. It is open from 10 am to 10 pm and admission is free.
Westgate
3 Gateway Drive
Singapore 608532
(Next to Jurong East MRT station)