Time Park is located at Pasir Ris Drive 6 and is a nice nature spot that has both spaces to exercise and also a great spot with a playground, a fitness corner with multiple workout machines and nice green spaces.
---
Treehouse at Time Park
There is a playground area at Time Park is in the middle that has different elements for play. It follows the theme of the treehouse and follows the colour theme of brown, beige and different shades of green. There is are tree-like structures on top of the playground for décor and the ladders also have textures to resemble wood.
The treehouse playground has three levels that are accessible through a series of ladders, steps, tunnels and ramps. There is a ladder with mini rock climbing holds that kids who reach the top level can go down the long green curved slide or the fireman pole.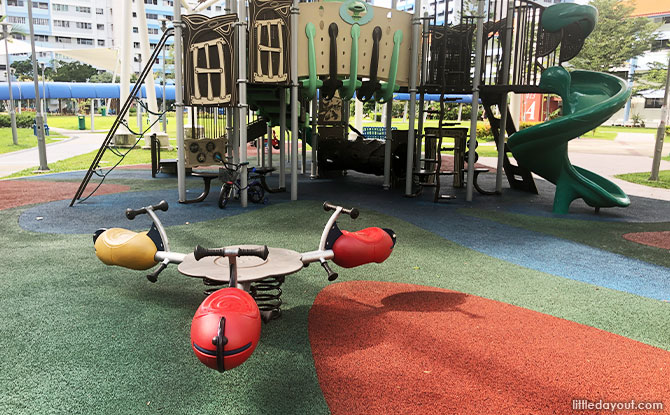 The lower part of the playground also has a series of interactive elements such as a small tunnel to crawl through. At the bottom of the playground, there are also see-saws that kids and play on by themselves or in groups.
---
Fitness Area at Time Park
There is a fitness area at Time Park that has various structures to get a workout in. Some structures assist in exercises such as sit-ups, body curls, chin-ups, leg stretches and more. This fitness set-up is similar to the one at Tampines Street 45 and is designed by Playpoint. The signs in the area tell you the number of repetitions that you can aim for to get the workout difficulty level of your choice.
---
Time Park Pasir Ris
Around Time Park, you can also have several benches and a semi-sheltered resting area. This is probably a great hangout spot for residents around the area who can use it as a place to get some fresh air or even just to surround themselves with some greens.
Time Park is at Block 412 Pasir Ris Drive 6.