Little India is alive with sights and sounds. Taking a walk around the historic district, there is plenty to take in and appreciate. Further enlivening the streets are bright and striking works of Little India Art painted on the sides of buildings. You may chance upon these Little India murals at surprising locations, little islands of discovery around Little India's lanes and roads.
Here are some of our favourite works of Little India art that can be found around Serangoon Road and its many side lanes.
---
Little India Art, West of Serangoon Road
Cattleland 2
This whimsical Little India mural by Eunice Lim represents community, made up of unique individuals, each bringing their own perspectives and experiences. It can be found between Buffalo Road and Chander Road, facing Race Course Road, outside the Little India MRT station Exit E.
---
Traditional Trades of Little India
Created by Psyfool, Traditional Trades of Little India is a mural which highlights trades of the past. Look for the dhobi, the parrot astrologer, the milk seller and more. It is found along Belilios Lane.
---
"Scenes of India"
At the coffee shop found opposite from the Traditional Trades of Little India mural, there are scenes of India, including the Taj Mahal, painted along the walkway. You can admire the street art while having a drink there.
---
Mayura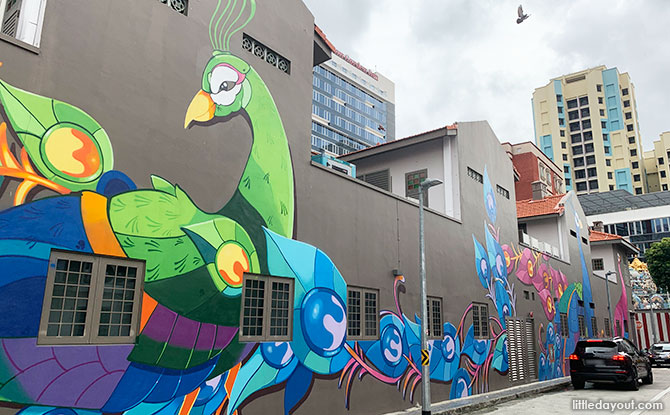 Mayura literally means "peacock" in Sanskrit. The 70-metre-long mural features three brightly-coloured peacocks. It was painted in 2020 and can be found along Belilios Lane.
---
Madan Mogra: Jasmine of the City
This piece of Little India art is dedicated to migrant workers in Singapore. The jasmine flowers painted by artist Nadia are symbolic of their growth and determination to provide for their families. It can be found at an alleyway at 27 Chander Road.
---
A Ride Through Race Course Road
At the other end of the alley where Madan Mogra: Jasmine of the City is located is a piece of street art by Jaxton Su. The mural portrays activities that used to be popular in Little India such as horse racing and garland-making.
---
Little India Murals, East of Serangoon Road
Alive @ Clive
Around the corner from the Indian Heritage Centre is this colourful mural which captures the culture of the historic district.
---
"Trishaw Man & Samsui Woman"
Across the street from Alive @ Clive is a red building painted with the faces of trishaw rider and a Samsui woman. The two faces, looking out to the street, are full of character.
---
I Am Still Here
The female character in this street mural at Clive Street is wearing a traditional scarf known as a dupatta. However, the clothing has been given a camouflage print to express how she spans both traditional and new sides of identity.
---
Kathaka
This Little India mural, painted along a five-foot-way, depicts various classical Indian dances which are sometimes performed to narrate traditional stories. It is located along Upper Dickson Road.
---
Book-A-Meeting
Opposite from Kathaka is Book-A-Meeting, a 2018 mural inspired by the 30-year-old Siyamala Bookstore along the same stretch. It drops hints of how histories, stories and traditions are discovered.
---
Loops of the Precious
This towering mural by Priyageetha D/O Diayalan is a tribute to the goldsmith trade and jewellery making. Its circles represent how heirlooms are passed from one generation to the next.
---
Weaving Through Time
There is a lot to take in at Weaving Through Time. This 2020 Little India art work explores the vibrancy, texture and architecture of the district and how they are all intertwined.
---
Daily Delivery
Drawing inspiration from tiffin meal businesses, this mural at the alley off 212 Serangoon Road balances both tradition and the future. It is based on a fictional narrative of Little India of the future.
---
Layers
Painted on the side of a shophouse at Desker Road, Layers by Shah Rizzal is a colourful commentary on the need to preserve an area's architecture.