With the Mid-Autumn Festival coming up, a quintessential part of the experience is the chance to savour some delicious mooncakes. There are many different places where you can get mooncakes in Singapore, both traditional as well as more contemporary and unusual varieties.
Traditionally, even though the Mid-Autumn Festival is not a public holiday in Singapore, family and friends will gather under the full moon that appears the 15th day of the eighth month in the Chinese calendar to enjoy mooncakes and share delightful pots of Chinese tea together.
Many who enjoy having mooncakes in Singapore will appreciate the traditional baked versions. These come with either double or single yolks, along with sweet lotus fillings. Others many prefer snow skin mooncakes, with fragrant flavours that can include all sorts of innovative fillings.
What ever you preference, you will some of the best mooncakes in Singapore all around the island, with many different varieties for you to choose from.
---
-- Story continues below --
---
Types of Mooncakes in Singapore
Before we get into the list of places where you can buy mooncakes in Singapore, here's a quick overview at some of the different types of mooncakes made by the various dialect groups.
Armed with this knowledge, you will be able to decide which mooncakes you wish to get.
Type of Mooncake
Description of the Mooncake
Teochew Mooncake
It has a crispy, spiral-layered crust that crumbles easily. The filling typically consists of yam paste and a salted duck egg yolk.
Hokkien Mooncake
It is usually decorated with a red stamp of Chinese characters on the top of the crust. It is usually made with a sweet filling that is made of candied winter melon, tangerine peel, melon seeds and sugar.
Hainanese Mooncake
This variety of mooncake is traditionally filled with ingredients such as fried shallots, lard, salt, white pepper, rose-flavoured white sugar, sesame seeds, melon seeds and dried wild tangerine skin peel, encased in a thin crust.
Hakka Mooncake
This mooncake is a flat, snow-white disc made with cooked glutinous rice flour and sugar, giving it a crumbly and powdery texture. It doesn't usually contain any fillings.
Cantonese Mooncake
The Cantonese mooncake is what most people think about when "mooncake" is mentioned in Singapore. The filling consists of lotus seed or red bean paste and usually include one or two salted duck egg yolks.

The snow skin variation on the Cantonese mooncakes was created in 1960s Hong Kong and was meant to be a healthier alternative to the baked version.
---
Mooncakes in Singapore 2023: Where and What to Buy
Let's dive into the list of mooncakes in Singapore for 2023, including where to buy them and what is on offer.
The Capitol Kempinski Hotel Singapore x Gardens by the Bay Mooncakes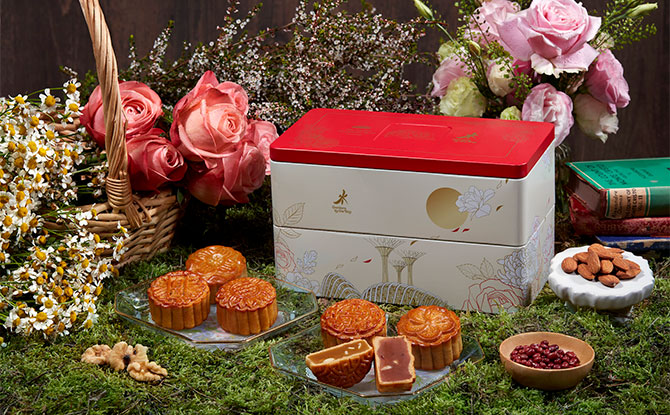 For the first time, Garden by the Bay's is offering its first=ever mooncakes. These creations draw inspiration from the mesmerising garden landscapes and botanical displays that grace this iconic haven. The mooncakes come encased in gift boxes adorned with illustrations of Gardens by the Bay.
The mooncakes are crafted in collaboration with The Capitol Kempinski Hotel Singapore and celebrate tradition with a floral twist by infusing the delicate flavours of rose and chrysanthemum – two flowers that are features in Gardens by the Bay's floral displays.
The mooncakes are sold in three different sets. The Enchantment ($88) , Dusty Rose Collection ($112) and Pastel Pink Collection ($112). Presents eight pieces of baked mooncakes in total – with two pieces of Rose Macadamia mooncakes, two pieces of Chrysanthemum Melon Seed mooncakes, two pieces of White Lotus with Egg Yolk mooncakes, one piece of Red Bean Almond mooncake, and one piece of Walnut Lotus mooncake.
The Gardens by the Bay x The Capitol Kempinski Hotel Singapore mooncakes can be purchased from Gardens by the Bay gift shops, The Capitol Kempinski Hotel Singapore Mid-Autumn Boutique, and the e-shops of both Gardens by the Bay and Capitol Kempinski Hotel Singapore.
Exclusive promotions are in store for Gardens by the Bay visitors. Present any Gardens by the Bay ticket at the Gardens' gift shops to enjoy 25% off mooncake gift sets from 21 August to 31 August and 15% off mooncake gift sets from 1 September to 29 September.
At Gardens by the Bay E-Shop, there is an early bird discount of 25% from 21 August to 31 August, and 15% discount from 1 September to 28 September 2023.
If you like the outdoors at places like Gardens by the Bay, you may also enjoy this story about an outdoor activity in Singapore.
---
Si Chuan Dou Hua Restaurant Mooncakes
For this year's Mid-Autumn Festival, Si Chuan Dou Hua Restaurant has partnered with charity Extra.Ordinary People to launch a special, limited-edition gift box designed with the charity's signature motif for its low sugar, halal mooncakes.
Available from 17 July till 29 September 2023, Si Chuan Dou Hua Restaurant's mooncakes come in Lychee Rose, Bi Lou Chun (Chinese Green Tea) and traditional Lotus Seed Paste flavours. The Bi Luo Chun Lotus mooncake features the flavours of the world-famous green tea from Suzhou, China.
Si Chuan Dou Hua Restaurant mooncakes are available in boxes of either two or four, starting from $36 and $70 respectively. A box of four comes with a reusable fabric bag.
Get more details about the Si Chuan Dou Hua Restaurant mooncakes.
---
Peach Blossoms Mooncakes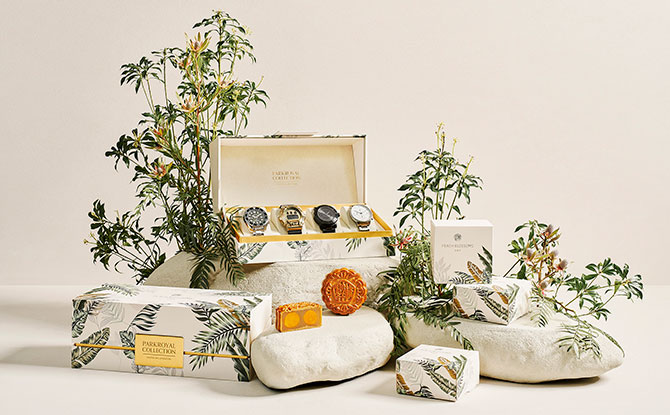 Peach Blossoms' traditional mooncakes, exquisitely crafted by Executive Chinese Chef Edward Chong, are available in sets of four in a Celestial Chest, and for those looking for a luxurious and extravagant gift set, Peach Blossoms' new limited-edition Moonlit Pavilion hits the mark with its exquisite details.
Savour a range of traditional mooncake flavours, from Double Yolk with Lotus Paste, to Single Yolk with White Lotus, Assorted Nuts with Chicken Ham, Lychee with Wolfberries, and the crowd-favourite Charcoal Black Sesame Paste with Melon Seed and Gold Dust, which is suitable for vegetarians.
Pre-orders are now open, and both Celestial Chest and Moonlit Pavilion are available on the PARKROYAL COLLECTION Marina Bay hotel's eShop. Self-collection and mooncake purchases are available at Peach Blossoms' Celestial Delights Counter, located at the PARKROYAL COLLECTION Marina Bay's hotel's lobby on level one from now until 29 September 2023, between 10 am and 8 pm.
Exclusive offers on the Peach Blossom mooncakes include:
From 29 July until 28 August 2023, enjoy the Early Bird discount of 25%
From 29 August until 29 September 2023, enjoy the Regular discount of 20%
---
Old Seng Choong Mooncakes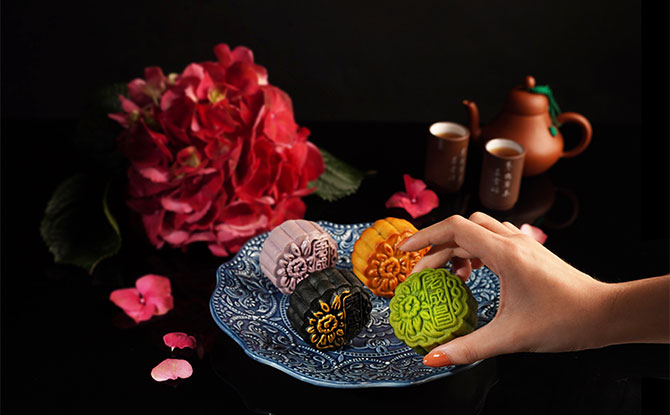 Old Seng Choong, founded in 2016 as homage to the well-known Seng Choong Confectionery of the 60s, is sought for its traditional bakes and cakes. It is celebrating the Mid-Autumn Festival in Singapore with a unique selection of new exquisite flavours like Yam with Olive Kernel and Pandan Pulut Hitam alongside some of the classic favourites brought back by popular demand.
Each Old Seng Choong mooncake is stamped with the elegant hydrangea flower symbolising unity and harmony reinforcing the wish for consumers to embrace the spirit of togetherness and rediscover the joy of shared moments during the Mid-Autumn Festival.
Mooncake flavours at Old Seng Choong for 2023 include:
Yam with Olive Kernel: Smooth yam paste with a subtle burst of nuttiness from the olive kernels. This is a brand-new flavour for yam and nuts fanatics. $68.80 per box of eight pieces.
Pandan Pulut Hitam: This mooncake flavour bring together the refreshing aroma of pandan leaves with a rich and velvety pulut hitam filling, providing a treat for those who craves a local sweet treat. $66.80 per box of eight pieces.
Black Truffle Bak Kwa: This unusual creation blends together smoky bak kwa with the luscious red lotus paste, and infused with premium black truffle oil. $86.80 per box of eight pieces.
White Lotus with Yolk Blend: A combination of sweet and savoury, the creamy Old Seng Choong signature yolk blend perfectly balances out the sweetness of the lotus paste, making this one of its most popular flavours. $68.80 per box of eight pieces.
Enjoy a 20% early bird special for orders placed between 1 August 2023 to 7 September 2023. Old Seng Choong's Retail Outlets are located at The Shoppes at Marina Bay Sands and Paragon Shopping Centre.
---
Lady M Confections Moonglow Gift Set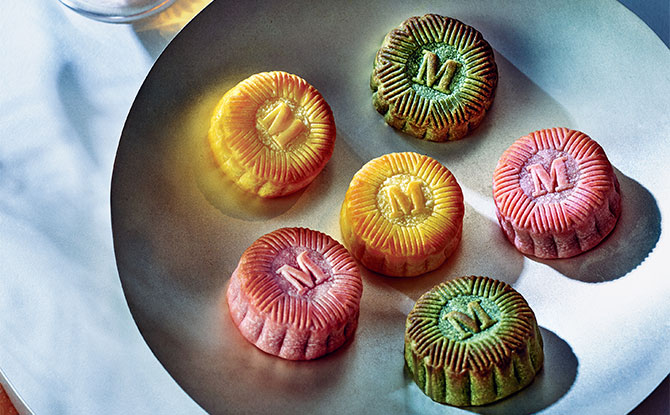 The Lady M limited edition 2023 Moonglow Gift Set ($99nett) is an exclusive gift set that pays homage to the beauty of the Mid-Autumn Festival. Inside the gift set are six miniature mooncakes in featured flavours Yuzu Milk Custard with notes of citrus and cream with candied yuzu peel, Matcha Pandan Custard, an earthy creation with hints of pine, vanilla, and coconut, and Lychee Rose Custard, sweet and floral with dried lychee and rose petal.
The mooncakes are developed in collaboration with Kee Wah Bakery and gently nestled within the jewelry box drawers. The Moonglow Gift Set will be available at all boutiques from 29 August 2023. Customers can pre-order the gift set by visiting ladym.com.sg.
---
Singapore Marriott Tang Plaza Hotel Mooncakes
Singapore Marriott Tang Plaza Hotel is debuting five new rich and pleasantly fruity flavours this year. These are:
Golden Black Truffle Baked Mooncakes with Dry-Aged Parma Ham, Pistachio & Single Yolk
Imperial "Long Jing" Tea with Walnuts Baked Mooncakes
Yuzu Honey with Peach Passionfruit Praline Snowskin Mooncakes
Blueberry with Maple Cream Cheese Praline Snowskin Mooncakes
Irish Cream Latte with Baileys Praline Snowskin Mooncakes
The exclusive Golden Black Truffle Baked Mooncakes is made with Dry-Aged Parma Ham, Pistachio & Single Yolk is the epitome of sweet-meets-savoury. It stars the Zuarina Parma Ham from Italy, which has been aged for 24 months and is well-known for its intense fragrance, persistent sweetness and delicate taste.
The Imperial "Long Jing" Tea with Walnuts Baked Mooncakes brings together fine Long Jing Tea with a dense, full body, and charming aroma with walnuts.
Yuzu Honey with Peach Passionfruit Praline Snowskin Mooncakes is made with fresh Yuzu pulp with the citrusy fragrance and pure honey sweetness pairing with the passionfruit and peach praline centre.
Blueberry with Maple Cream Cheese Praline Snowskin Mooncakes aims to capture the textures of a cheesecake in a mooncake with visually stunning with eye-catching hues of blue. Bite into a burst of blueberry goodness coupled with a luscious maple cream cheese praline.
Irish Cream Latte with Baileys Praline Snowskin Mooncakes creates a bittersweet and velvety smooth coffee bite with a milky sweet Baileys praline.
There are also an assortment of traditional baked mooncakes featuring Imperial "Long Jing" Tea with Walnuts, White Lotus Seed Paste with Double Yolk, White Lotus Seed Paste with Single Yolk and White Lotus Seed Paste with Macadamia Nuts available at Singapore Marriott Tang Plaza Hotel.
---
Resorts World Sentosa's Feng Shui Inn Mooncakes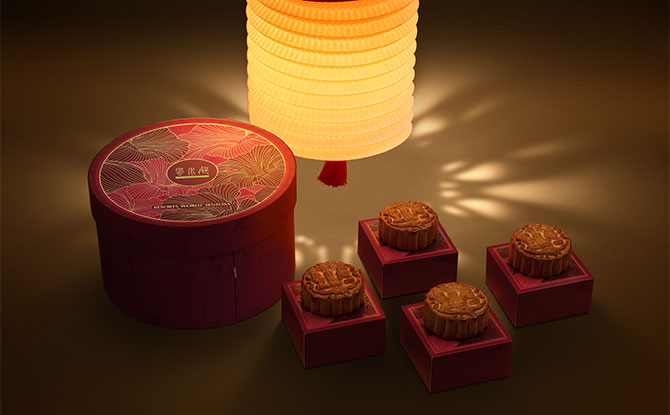 Feng Shui Inn at Resorts World Sentosa has array of traditional baked mooncakes and mini snow skin in new contemporary creations crafted by Hong Kong-born Executive Chef Li Kwok Kwong.
Oolong Tea Mooncake with Dates and Wolfberries is inspired by teas often paired with mooncakes. This treat is a distinctive blend of Oolong Tea with smooth lotus paste for a rich, earthy note.
For a combination of creamy notes of egg custard and fruity sweetness, the Custard and Wild Honey Mooncake with Tangerine Peel presents a healthier treat. Infused with wild honey instead of sugar, the creamy egg custard perfumed with a zesty tangerine peel is wrapped in the mochi-esque snow skin.
The Osmanthus Wine Citrus Mooncake features rich citrus yuzu lotus paste generously filled with persimmons and cashews, all wrapped in homemade kumquat confit with a subtle Osmanthus wine floral scent. Indulge in the Mulberry and Purple Potato Mooncake which showcases royal purple snow skin made with mulberries juice. It has a blend of delicate almond praline made with organic quinoa crunch and sustainable Peruvian chocolate, hidden within premium Japanese purple potatoes and homemade luscious lotus paste.
There are also four flavours of Feng Shui Inn's baked mooncakes with a retail price of $98 for four pieces of assorted flavours in a flavour per piece. These mooncake creations tease one's tastebuds with an addictive mix of sweet, savoury and spicy elements.
The fragrant Black Sesame Mooncake with Macadamia and Tangerine Peel has a delightful black sesame natural nutty flavour that is pleasantly brightened with a zesty hint of aged tangerine peel studded with macadamia filling. The innovative Smoked Dates and Green Tea Mooncake strikes an aromatic balance of delicate green tea, lotus paste and luscious jujubes smoked with Pu-er tea leaves.
A new flavour introduced this year is the Mala Mixed Nuts Mooncake with Bak Kwa which brings a perfect fusion of sweet, spicy and smoky flavour in every bite with tender bak kwa, crunchy mala mixed nuts and velvety lotus paste. Lastly, there is the traditional Low-sugar White Lotus Paste Mooncake with Double Yolk, a classic using the choicest salted egg yolks and melon seeds encased in silky smooth low sugar white lotus seed paste.
For more traditional flavours, try Resorts World Sentosa's traditional baked mooncake flavours with low-sugar options. Classic mooncakes available include Low Sugar White Lotus Seed Paste with Melon Seeds, Low Sugar White Lotus Seed Paste with Single Yolk, Low Sugar White Lotus Seed Paste with Double Yolk, Low Sugar White Lotus Seed Paste with Traditional Mixed Nuts, and Green Tea with Red Beans and Cashew Nuts.
A box of four traditional baked mooncakes is available from $85.
You may also be interested to read our guide to Sentosa, including the latest family beach club to open at Palawan Beach.
---
Shangri-La Mooncakes
Shangri-La's Mid-Autumn Collection features an extensive selection of traditional and innovative mooncakes meticulously prepared to perfection, which includes beloved baked classics and exquisite handcrafted snowskin variations.
Choose from options such as its Mooncake Selection Gift Box which has flavours such as 50-year Aged Mandarin Peel, Rose and Red Bean Paste Mooncakes, 50-year Aged Mandarin Peel, Yuzu and Red Bean Paste Mooncakes, and 50-year Aged Mandarin Peel, Osmanthus and Red Bean Paste Mooncakes.
Other interesting mooncake creations include the Shang Palace Spirulina Mung Bean with Bird's Nest Charcoal Mooncake and the Origin Bar Cocktail Snowskin Mooncakes.
Enjoy early bird offers till 31 August 2023. Get more details about Shangri-la's mooncake collection.
---
Baker's Brew Mooncakes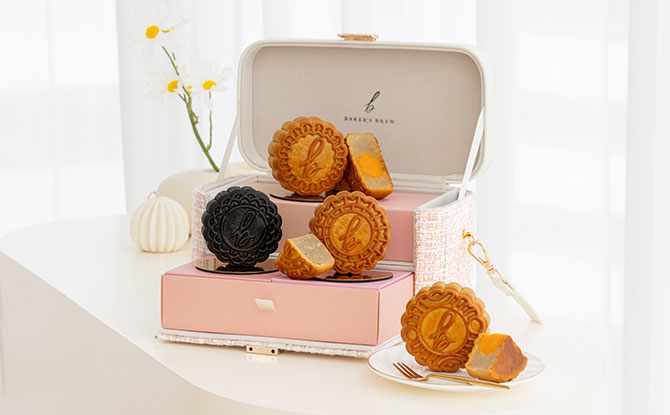 Baker's Brew bakes up traditions new and old this Mid-Autumn Festival 2023 with an array of mooncakes to entice both traditionalists and modernists of the celebration.
Its collection of traditional baked mooncakes is made with no added preservatives and low sugar content for guilt-free enjoyment. The Rosé Chloe Collection mooncakes also comes within a stylish tweed bag with a velvet interior for a touch of modernity. Just as its distinctive colour makes it a treat for the eyes, its flavours that stay rooted to tradition make it an indulgence on the lips.
The Baker's Brew's traditional mooncake collection features a range of four delectable flavours.
Yam Single Yolk: has smooth and fragrant to the bite, bursting with earthiness of yam, intensified in flavours with a salted egg yolk.
Gula Melaka with Desiccated Coconut: A classic combination celebrating caramelised sweetness made with palm sugar riddled with desiccated coconut for extra bite.
Charcoal Black Sesame: Entices in a seductive shade of black, encased within it a savoury premium black sesame paste.
Traditional Single Yolk: An all-time classic perfect union of smooth mellow lotus paste crowned with a savoury salted egg yolk centre.
Baker's Brew's mooncakes are sold in their Assorted Set ($98) or Traditional Set ($92), with Super Early Bird, Early Bird and Last call mooncake promotions available. Get more details about Baker's Brew mooncakes.
---
Crowne Plaza Changi Airport Mooncakes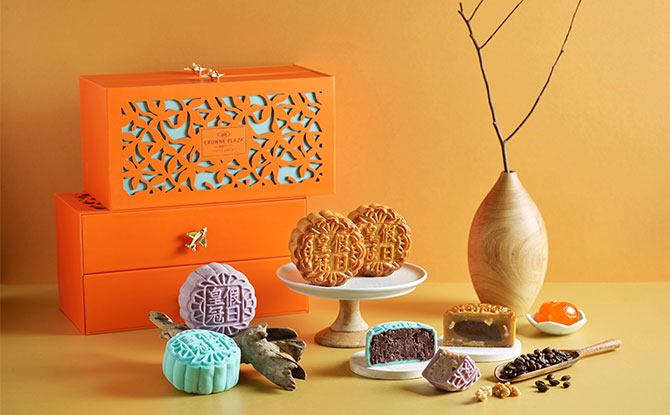 Crowne Plaza Changi Airport's handcrafted mooncake collection is available for order till 26 September 2023. There are a total of nine flavours are presented for the Mid-Autumn Festival, including five baked selections and four snowskin creations inspired by traditional desserts.
The mooncakes draw inspiration from the hotel's filigree floral façade. The mooncakes are encased in a limited-edition trinket box with statement laser-cut orchid motifs and gold-hued airplane drawer pulls. The gift boxes are available in shades of vibrant orange or alluring midnight blue are designed for upcycling as a trinket holder for jewellery and accessories.
This year's all-new snowskin selection gives prominence to Asian desserts that are familiar and delightful. Savour a quartet of delicate confections infused with traditional dessert flavours, namely "Pulut Hitam", "Teochew Orh Nee", "Black Sesame Paste" and "Ondeh Ondeh".
Pulut Hitam entices with its creamy and toasty taste profiles of roasted dark glutinous rice, laced with luscious coconut cream and hints of pandan and palm sugar.
Tradition meets modernity in this snowskin favourite inspired by the time-tested Teochew dessert. Perfected with a delicate pairing of silky smooth yam-lotus purée and gummy bits of ginkgo nuts, this pretty-in-purple Teochew Orh Nee mooncake will impress 'orh nee' enthusiasts.
Take a bite through the charcoal snowskin of the Black Sesame Paste and be rewarded with rich black sesame filling and pops of crunchy peanut, topped off with a sprinkle of gold dust for a luxe finishing touch.
An adaptation of the well-loved "Ondeh Ondeh" kueh, this contemporary mooncake features a velvety blend of fragrant pandan and gula melaka paste, while freshly grated shreds of coconut are added for textural delight.
A new addition to Crowne Plaza Changi Airport is the Gula Melaka Walnut Latte (box of 4; $78 nett), which tantalises with its smooth paste infused with creamy latte, distinctive aroma of palm sugar and crunchy walnut.
Other mooncakes available at Crowne Plaza Changi Airport include timeless classics such as the White Lotus Paste with Single Yolk (box of 4; $78 nett) and White Lotus Paste with Double Yolk (box of 4; $80 nett).
Crowne Plaza Changi Airport's mooncakes are available for order till 26 September 2023 on the hotel's e-store. Collection and delivery period will be from 1 August till 29 September 2023.
You may also be interested in reading our Jewel food guide.
---
Paradise Group Mooncakes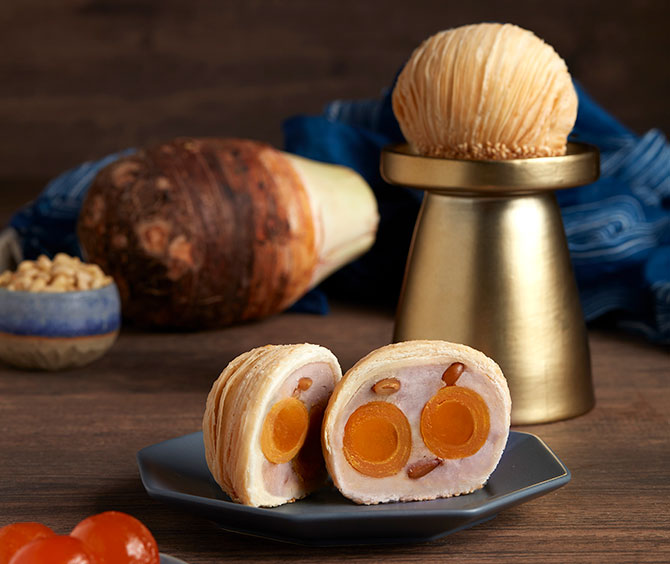 Paradise Group's hot favourite mooncakes include Mini Baked Custard with Molten Salted Egg Yolk, Teochew Yam Pastry with Double Yolk and Traditional Baked Mooncakes.
For its 2023 collection, there is a new surprise in the form of the Mini Pumpkin Snow Skin Chestnut Paste with Mashed Salted Egg Yolk. Soft and decadent, the pastry of this petite offering gets its gorgeous colour and sweet, nutty taste from golden pumpkin. The aromatic chestnut paste is also riddled with flecks of salted egg yolk, offering a crumbly mouthfeel and layered interplay of sweet and savoury.
The Liqueur Snow Skin Mooncakes are back by popular demand and will appeal to those with an adventurous palate. Each mooncake has either a chestnut paste, jasmine paste or lotus paste, and a chocolate truffle core married with a light and fragrant liqueur. Wrapping the soft centre is an airy layer of crunchy chocolate shell made with premium, natural chocolate from Valrhona's Inspiration, the world-leading chocolate company's first-ever range of fruit and nut couvertures.
The Paradise Group mooncakes will be available for collection from 1 September 2023 at all Paradise Group of restaurants except Le Shrimp Ramen, LeNu and Canton Paradise Noodle and Congee House restaurants.
Available mooncake promotions include:
Order before 31 August 2023: 15% OFF mooncakes for Citi and Maybank Credit or Debit Cardmembers and PGR members, public enjoys 10% off.

From 1 to 29 September 2023: 10% OFF mooncakes for Citi and Maybank Credit or Debit Cardmembers and PGR members.
---
Golden Peony, Conrad Centennial Singapore Mooncakes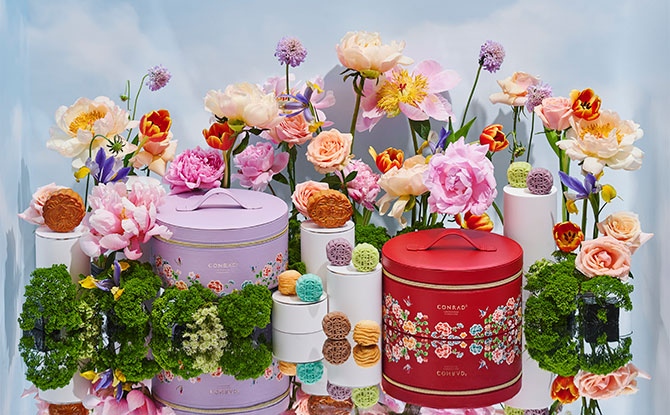 Golden Peony has a collection of mooncakes where tradition meets innovation. This includes a range of five Cantonese and Teochew-style baked mooncakes, including favourites such as White Lotus with Melon Seeds and Baked Double Yolk in White Lotus Paste.
Adding a touch of innovation, a new flavour infused with jasmine green tea pays tribute to the restaurant's deep appreciation for Chinese tea culture.
As an homage to the region's culinary heritage, the collection also features a handcrafted Teochew-style mooncake, delicately layering sweet potato within crispy filo pastry.
In addition to the baked mooncakes, Conrad Centennial Singapore's mooncake collection also includes four indulgent snowskin creations. Among them, the Signature Royal Hazelnut Crunch offers a luxurious blend of flavours, while the Hojicha introduces a unique twist inspired by roasted tea. The Avocado with Vanilla Truffle combines creamy avocado with the richness of truffle, creating a delightful combination. Finally, the Ondeh Ondeh pays homage to the vibrant Southeast Asian dessert, evoking a sense of nostalgia and joy.
Each offering a delightful assortment of flavours and textures, Conrad Centennial Singapore's three meticulously curated mooncake sets – the Golden Peony Traditional Baked Treasures set, the Golden Peony Traditional Baked Delights set, or the Golden Peony Snowskin Treasures set – elevate the celebrations.
The full selection of mooncakes from Conrad Centennial Singapore is available for island wide delivery and takeaway till 29 September 2023.
For more information or order from Conrad Centennial Singapore, visit this website.
---
Summer Palace, Conrad Singapore Orchard Mooncakes
Conrad Singapore Orchard's mooncake collection is crafted by the culinary team of Summer Palace, the esteemed one Michelin starred restaurant within the hotel. Each mooncake is handcrafted in-house by the master chefs of Summer Palace, employing the finest ingredients and upholding the revered Cantonese techniques passed down through generations.
The Summer Palace mooncake collection features a selection of four traditional baked mooncakes, including the innovative signature Parma Ham and Pork Floss with Assorted Nuts, showcasing a bold and harmonious fusion of flavours.
It also has a range of mini snowskin mooncakes, with eight exquisite creations that combine traditional flavours with contemporary twists.
From the signature Black Sesame Paste and the enticing Mao Shan Wang Durian to new inventions like Lemon Mascarpone Chocolate with Blue Pea Tea and Coconut Chocolate with Black Glutinous Rice, each mooncake unveils a symphony of textures and tastes, exemplifying the culinary artistry of the master chefs.
Conrad Singapore Orchard presents two gift box sets for the occasion. The Summer Palace Classic Treasures box set features the complete selection of traditional baked mooncakes, while the Summer Palace Snowskin Collection box showcases all eight of its mini snowskin mooncakes.
The full selection of mooncakes from Conrad Singapore Orchard is available for island wide delivery and takeaway till 29 September 2023.
For more information or to order mooncakes from Conrad Singapore Orchard, visit this website.
---
Andaz Singapore Mooncakes
Whimsical mooncake reunions await with four assorted handcrafted baked mooncakes from modern upscale Cantonese restaurant, 5 ON 25 at Andaz Singapore. Savour two new creative mooncake flavours, Citrus Surprise and Gula Galore, and two other all-time favourites, 5 ON 25 Signature Tea and Silver Lotus ++.
Citrus Surprise combines miso's salty notes with the richness of caramel and yuzu white chocolate for a refreshing treat. Gula Galore features lotus paste is infused with Gula Melaka and adorned with premium pecan nuts to evoke nostalgic memories of vibrant gatherings. For the Silver Lotus ++, there is delicate layers of white lotus paste and two golden egg yolks, encased within a golden baked crust.
The creations are housed in a two-tier box, with a playful bespoke design by homegrown lifestyle brand, Binary Style.
Get more details about the mooncakes at Andaz Singapore.
---
Sanrio-themed Mooncakes at Cheers and FairPrice Xpress
Cheers and FairPrice Xpress have Sanrio-themed mooncakes again this year, featuring beloved characters Hello Kitty and My Melody. Each set includes a limited edition character-themed cooler bag, and limited sets are available for sale exclusively at selected Cheers and FairPrice Xpress stores islandwide from 9 August to 29 September 2023.
The Hello Kitty Cooler Bag Mooncake set comprises a Hello Kitty themed cooler bag and four delightful flavours of baked mooncakes including timeless favourites, Classic White Lotus with Double Yolks and Pandan Lotus with Single Yolk. Coffee enthusiasts can indulge in the Coffee Lotus Hazelnut Caramel Lava mooncake while others can indulge in the Velvet Lotus Strawberry Lava mooncake.
The My Melody Cooler Bag Mooncake set features the same timeless favourites, with two new mooncake creations – Chocolate Lotus Oreo Hazelnut Lava mooncake and Matcha Lotus Adzuki Lava mooncake, along with a My Melody themed cooler bag.
Sanrio-themed Mooncake sets are available at $98 each.
---
Hilton Singapore Orchard Mooncakes
Hilton Singapore Orchard range of baked mooncakes features perennial favourites like Plain White Lotus ($82 for box of four), with classic lotus seed paste encased within a golden layer of delicately baked skin. Traditionalists can also savour the White Lotus with Single or Double Yolks ($85 and $88 for box of four).
For mooncakes with a contemporary twist, the Matcha Black Sesame ($88 for box of four) is made from a blend of finely ground matcha powder and roasted black sesame seeds, offering a delightful nuttiness with a hint of sweetness.
Those with a sweeter tooth, the Gula Melaka with Azuki ($88 for box of four) hits all the right notes with its pairing of gula melaka with red bean paste. Guests can also enjoy an assortment of all four flavours with the Traditional Baked Collection ($88 for box of four), which is also perfect for gifting during the mid-autumn season.
Mooncakes can be collected at Ginger.Lily located on Level Five of Hilton Singapore Orchard from 11 am to 7 pm from 28 August to 29 September 2023.
Enjoy 25% off the total bill for orders placed by 27 August 2023.
Get more details about the Hilton Singapore Orchard mooncakes.
If you are in town, you may also be interested to read about these interesting museums in Singapore.
---
Swensen's Ice Cream Mochi Mooncakes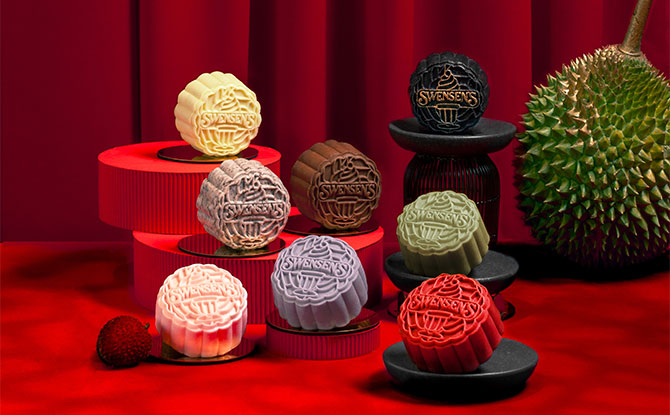 Swensen's mochi-snowskin ice cream mooncakes are a departure from the traditional baked mooncakes.
The 2023 ice cream mooncake line-up from Swensen's offers five new mainstays to discover. The eight ice cream mooncake flavours available include:
Mao Shan Wang Mooncake, made with 100% of the highest grade of the fruit.
Strawrry
Ube
Genmaicha
Lychee Rose
Sticky Chewy Chocolate
Cookies 'N' Cream
Durian King
Here is some further information about the new flavours on offer:
The Mao Shan Wang Mooncake ($16.00) comes wrapped inside a bold black exterior, the creamy and fragrant puree that is made with 100% of the highest grade of the fruit.
Strawrry ($13.50) boasts a delightful interplay of sweet and tart. Bits of strawberry are embedded within the filling. The purple Ube ($13.50) gets its hue from the namesake tuber. Relish its earthy notes and subtle sweetness.
Genmaicha ($13.50) has nutty and toasty notes of green tea while the fruity Lychee Rose ($13.50) is an enchanting blend that fuses the sweetness of lychees together with the floral notes of rose.
The Swensen's ice cream mooncakes are available from 1 August to 29 September 2023 at all Swensen's & Earle Swensen's outlets, via Swensen's e-Store and on GrabFood, FoodPanda and Deliveroo.
---
Peninsula Mooncakes
Since 1986, The Peninsula has been creating its own Mid-Autumn traditions with its signature offering – egg custard mooncakes. These pastries are known for its light, buttery casing with a dense and rich filling of light custard laced with the salted duck egg yolks.
Launched exclusively for this year's Mid-Autumn Festival, The Peninsula adds two new mooncake flavours to its lineup, which presents fresh iterations to a well-loved taste of tradition.
The Mini Chocolate Egg Custard Mooncakes fragrance the egg custard mooncakes with classic chocolate and a rich toffee filling and another with chocolate brownies, both encased in enticing pastry shells of chocolate.
The Mini Fruity Egg Custard Mooncakes imbue the creaminess of the egg custard mooncakes with two variations of fruit – one with the sweetness of strawberry and the other, with the tanginess of mango and passionfruit.
This mooncake collection in Singapore is available from 8 August to 29 September. It can be found on The Peninsula's official online store and will also be available at Takeshimaya Basement 2 from 24 August to 29 September 2023 and at Tangs L1 at VivoCity from 31 August to 29 September 2023.
---
RE&S Tsukimi Mooncake Collection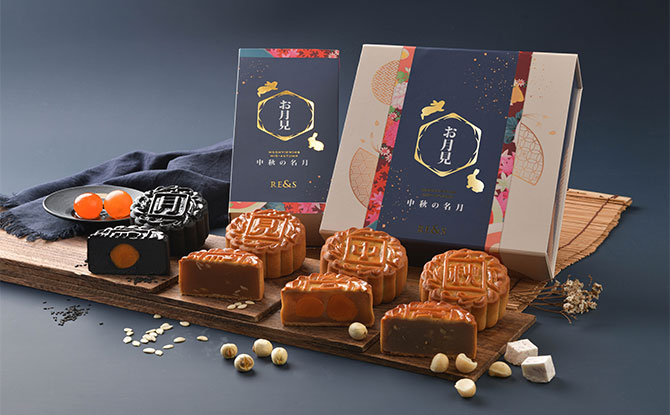 The RE&S's Tsukimi Mooncake Collection ($71.80) is made with less sugar and less oil for a healthier indulgence. Each box of mooncakes contains four assorted baked mooncakes, including a new exquisite flavour this year – a Baked Yam White Lotus Paste with Macadamia.
The four assorted baked mooncakes are:
Classic White Lotus Paste with Double Yolk Baked Mooncake: Creamy white lotus paste mooncake, encased with two indulgent salted egg yolks for double the golden prize
Charcoal Skin Kuro Goma Paste with Single Egg Yolk Baked Mooncake: Seduces in the stylish black shade, biting into fragrant black sesame paste
Lychee White Lotus Paste with Melon Seeds Baked Mooncake: Fruitiness bursts forth from the mooncake that laces each bite with a subtle floral perfume and melon seeds
Yam White Lotus Paste with Macadamia Baked Mooncake (New!): Buttery yam infused white lotus paste, embellished with macadamia nuts for subtle crunch
The Tsukimi Mooncake Collection is available in a box of four pieces for a limited time only from 8 August to 1 October 2023. Individual flavours are also available for sale singularly at $19.80 per piece.
Order online or purchase in-store at RE&S participating outlets. If you wish to enjoy an Early Bird promotions, do so between 8 August till 27 August 2023 with 15% off on all mooncakes when ordering in store.
---
Hua Ting Restaurant Mooncakes
Hua Ting Restaurant's mooncakes the finest ingredients, ensuring an indulgent experience with every bite. New flavours on offer at Hua Ting Restaurant for 2023 include Mao Shan Wang, Kumquat & Yuzu, Pineapple & Taro, Chendol Lotus with Melon Seed.
Other flavours of mooncakes available from Hua Ting Restaurant include White Lotus Paste with Macadamia Nuts, White Lotus Paste with Single Yolk with Macadamia Nuts, White Lotus Paste with Double Yolk with Macadamia Nuts, and Seeds of Harmony which has assorted nuts inside.
There are also various collections available including the Signature Teapot Collection, Artistic Teapot Collection and Traditional Treasure Gift Box.
For more details about the mooncakes available at Orchard Hotel's Hua Ting Restaurant, visit this website.
---
Deliveroo x PS.Cafe Mooncakes
PS.Cafe is launching its first ever edition of their mooncake set this year. These Cantonese-style baked skin boast a quartet of decadent flavours, each inspired by PS.Cafe's beloved classic menu. Each set includes flavours that exemplify the PS.Cafe brand, from White Truffle to Sticky Date, Superfood and Verandah. These are presented in collaboration with Deliveroo and come in Lantern Red and Midnight Black boxes.
The Mid-Autumn Festival Set ($98) is available for delivery orders only at selected PS.Cafe outlets including PS.Cafe Palais Renaissance, PS.Cafe Petit and PS.Cafe One Fullerton via Deliveroo, while stocks last.
---
WOK°15 Kitchen Mooncakes
The WOK°15 Kitchen collection for 2023 includes three sets: Exquisite Snow Skin Mooncakes Set, the Classic Baked Mooncakes Set, and the Dual Treasures Snow Skin & Classic Mooncakes Set.
WOK°15 Kitchen's Exquisite Snow Skin Mooncakes feature four flavours – Organic Japanese Genmaicha with Pecan Nuts, Superior Bird's Nest with Golden Custard Paste and Orangeat, Strawberry Mascarpone, and Premium Mao Shan Wang. The mooncakes retail for $79.
The Organic Japanese Genmaicha Mooncakes with Pecan Nuts is crafted with care to tantalise the taste buds with a delightful combination of warm and nutty flavours from Organic Japanese Genmaicha, Pecan Nuts, and Muscovado.
Another new highlight is the elegant Superior Bird's Nest with Golden Custard Paste and Orangeat, meticulously prepared with the finest ingredients, including Imperial Bird's Nest, Candied Orange Peel, and Golden Custard Paste.
A crowd-favourite last year, the Strawberry Mascarpone is also making a comeback for 2023. The mooncake is tinted in roseate pink, filled with light and creamy mascarpone cheese sourced from Italy, perfectly harmonised with the delicate sweetness of strawberry coulis simmered with lemon juice. To add a refreshing twist, a hint of Malibu rum is added, making it an irresistibly sweet treat for all to enjoy.
Durian lovers will be tempted by the Premium Mao Shan Wang mooncake. Encased in an alluring charcoal snow skin, this mooncake presents an extraordinary indulgent experience with 100% pure Mao Shan Wang durian flesh.
For the traditionalist, WOK°15 Kitchen's Classic Baked Mooncakes are produced in a Halal-certified and BRC-certified facility. Each mooncake is wrapped in traditional pastry skin and filled with creamy white lotus paste, together with either single or double yolk.
The Classic Baked Mooncakes set retails at $69 and comes with a selection of four traditional mooncakes including two with double yolk and two with single yolk. The sumptuous fillings are reduced in sugar, making it the perfect way to celebrate this festive occasion while being mindful.
---
Mooncake Fairs in Singapore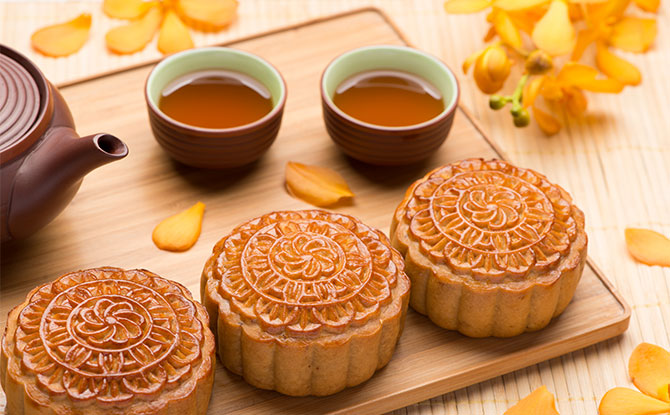 If you wish to head out and shop for mooncakes at fairs where you can find a whole range of shops selling mooncakes in Singapore, there are two venues that you should take note of.
Takashimaya Square at Basement 2 of Ngee Ann City will have a large mooncake fair. You can browse through the various vibrant stalls set up at the event space and shop for your favourite mooncakes in Singapore. The Mid-Autumn Fair will be running from 24 August to 29 September 2023.
VivoCity Level 1 also plays host to a large mooncake fair where multiple brands will have mooncakes on sale. It is also a convenient place to shop for a variety of mooncakes in Singapore, all at one location.
---
Enjoying the Mid-Autumn Festival in Singapore
Do remember to take the time to enjoy the mooncakes and the Mid-Autumn Festival in Singapore. Besides mooncakes, you can also head out to the parks and gardens around Singapore on a lantern walk or to play some games to make memories together, enjoy lantern riddles or rhymes, or even to enjoy the sight of the full moon during the festival.
Singapore is such a culturally diverse place so it wonderful to be able to enjoy different aspects of the country's culture, plus there is so many different types of cuisine to enjoy as well, whether it be local or from further afield around the region and beyond. Even though the Mid-Autumn Festival is not a public holiday, it is still a time when families and friends can come together and enjoy each other's company.
If you are a big mooncake and Mid-Autumn Festival fan, we think that you will also enjoy our other stories on easy to make mooncakes. Or you may also enjoy this other one about an upcoming event in September.